State Admits That Thousands of Oil Wells Are Dumping into Protected Aquifers, State says 2,500 wells are dumping into protected aquifers, up from 532 in February by Stephen Stock, Mark Villareal and Scott Pham, March 3, 2015, NBCBayArea News The Investiative Unit
In a stunning admission, the California Environmental Protection Agency wrote on Monday that state officials have allowed thousands of oil and fracking wells to dump waste water into protected underground aquifers.
In February, California's Division of Oil, Gas and Geothermal Resources (DOGGR) admitted that over 500 wells were injecting waste into clean aquifers protected by the EPA. Now, the state EPA has identified 2,500 wastewater disposal wells that are injecting waste into protected aquifers. 
The memo was sent to Governor Jerry Brown and John Laird, California's Secretary of Natural Resources. The letter indicated that 2,100 of the 2,500 offending waste water wells are currently active. The state Water Board has identified 200 of those wells that are of the highest concern. 
Oil extraction and hydraulic fracturing generates large amounts of waste water which can contain toxic chemicals such as silica and arsenic. That water is supposed to be dumped into underground aquifers that are already unusable for human consumption–so called "exempt" aquifers. "Non-exempt" aquifers are sources of clean water that could potentially be used for drinking or irrigation.
"It's inexcusable," said Hollin Kretzmann when NBC Bay Area first reported on this story in November. Kretzmann works for the Center for Biological Diversity in San Francisco. "At (a) time when California is experiencing one of the worst droughts in history, we're allowing oil companies to contaminate what could otherwise be very useful ground water resources for irrigation and for drinking. It's possible these aquifers are now contaminated irreparably." [Likely the intent. Since the aquifers are now already (intentionally) contaminated, industry, politicians and regulators will push to allow the waste injection to continue, yodelling about billions in revenues, jobs, and national security.]
At that time only nine wells were known to be dumping into clean aquifers. By February, that number would climb to 532, and now, 2,500.
Most, if not all, of these wells were regulated and approved by state authorities, the Division of Oil, Gas and Geothermal Resources(DOGGR). In the letter sent on Monday, the state EPA wrote that in half of the 2,500 cases, DOGGR did not review local district permitting decisions when approving the wells. Nor did the agency standardize guidance for which wells should or should have been permitted.
Since last summer, 11 waste water wells have been shut down. And now, DOGGR has ordered 12 more wells to be shut down. The agency says it is conducting a second review of all permits to correct any further errors. [Errors?  Or conduct a second review to figure out how to put the genie back in the frac waste bottle? Emphasis added]
Chevron, Linn Ordered to Shut California Wells on Water Concerns by Michael B Marois and Lynn Doan, March 3, 2015, Bloomberg
California regulators ordered oil drillers including Chevron Corp. and Linn Energy LLC to halt operations at 12 injection wells in the state because of concerns they may taint groundwater. The Division of Oil, Gas, and Geothermal Resources said 10 of the well operators shut down voluntarily, while two were issued cease-and-desist orders. All the wells are located in Kern County, northeast of Los Angeles, are within a mile of the surface and 500 vertical feet underground of a water supply, the agency said.
Oil and gas drillers have been using injection wells for more than 50 years to help push hydrocarbons out of the ground. More than 50,000 oil-field injection wells operate in the state, according to the oil and gas division. An extensive shutdown of the wells would threaten the operations of a $34 billion industry that employs more than 25,000 people in the state, based on agency estimates.
The agency said the orders were part of a "systematic statewide review" of injection wells. The state acknowledged that some well injections were taking place in zones that hadn't been approved by the U.S. Environmental Protection Agency, triggering the evaluation of all 50,000 injection wells. The order includes three wells operated by Linn Operating Inc., three by California Resources Corp., two each by E&B Natural Resources Management Corp. and Chevron Corp. and one well each operated by Modus Inc. and Western States International Inc. Modus Inc. and Western States International Inc. will receive cease-and-desist orders while the rest voluntarily relinquished their permits to inject.
… In November, voters in Athens, Ohio; Denton, Texas; and California's Mendocino and San Benito counties passed measures banning fracking.
The state's order follows a review conducted by federal regulators that found "serious deficiencies" in California's oversight of underground injection wells and required the state to come up with a plan that would bring its program into compliance by February 2017. The agency granted permits allowing oil companies to drill 170 waste-disposal wells into aquifers suitable for drinking or irrigation, according to a February report in the San Francisco Chronicle. The agency later acknowledged some of those permits should never have been granted.
California's oil and gas supervisor and the chief deputy of the state's water resources control board sent a joint letter to the U.S. Environmental Protection Agency on Feb. 6 outlining their plans to improve enforcement.
The state oil and gas division posted a list of more than 2,000 permitted injection wells under review because of EPA's request. Units of drillers Freeport-McMoran Oil & Gas LLC and Linn Energy account for more than half of the well permits listed. [Emphasis added]
Where's the Alberta Energy Regulator?  
See them inspecting Encana's waste dumping at Rosebud?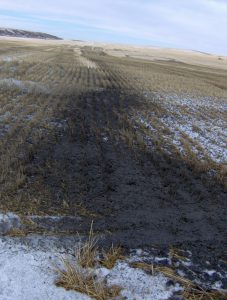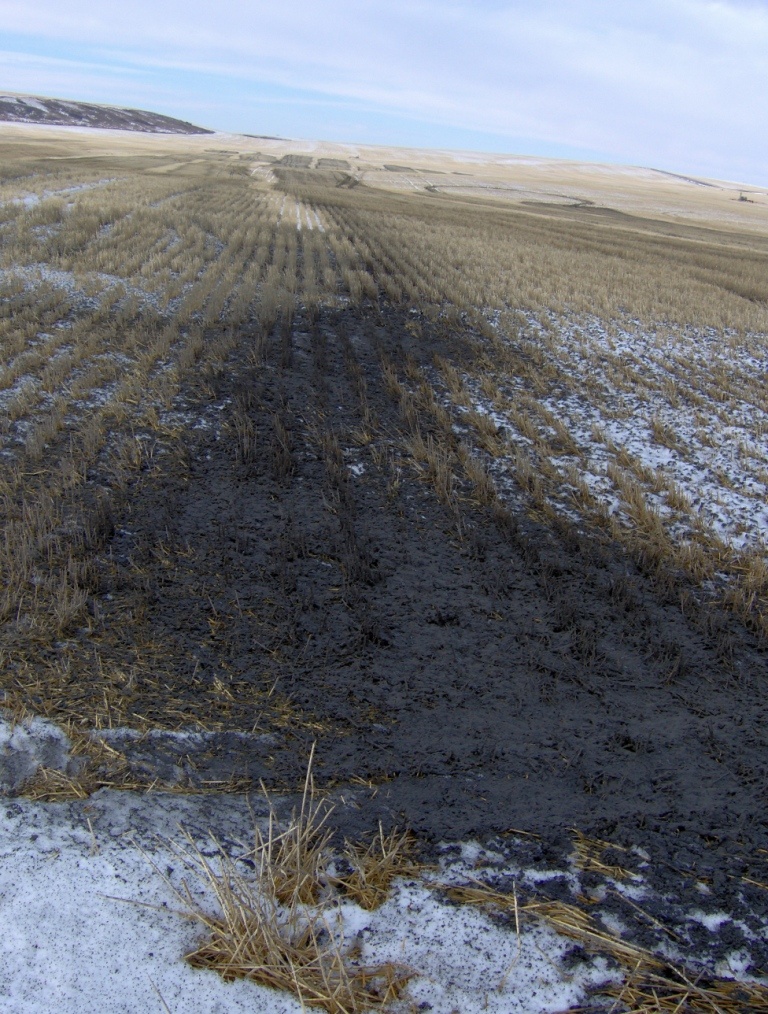 Is Encana's waste dumping at Rosebud compliant?