Only one industry is allowed to inject toxic chemicals into underground sources of drinking water – hydraulic fracturing or "fracking."
…
Who fixes aquifers frac'd by Encana?
When?
***
Impact to Underground Sources of Drinking Water and Domestic Wells from Production Well Stimulation and Completion Practices in the Pavillion, Wyoming, Field by Dominic C. DiGiulio and Robert B. Jackson, embargoed to March 29, 2016, Journal of Environmental Science and Technology
From Digiulio and Jackson's paper: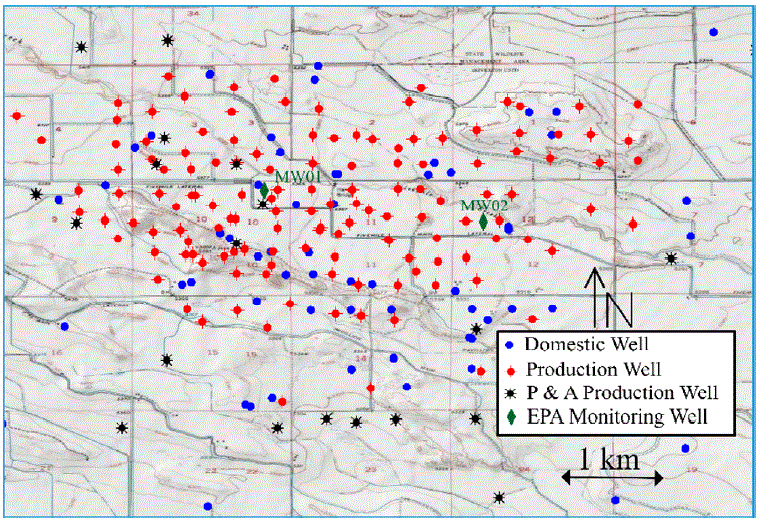 Figure 1. Central portion of the Pavillion Field illustrating locations of domestic water wells, production wells, plugged and abandoned (P&A) wells, and EPA monitoring wells (labeled). The entire Field, with labels for production and domestic wells and approximate
locations of unlined pits, is illustrated in Figure SI A5. The geographic area in which the Field is located is illustrated in Figure SI A1.
Compare to Encana's energy wells at Rosebud: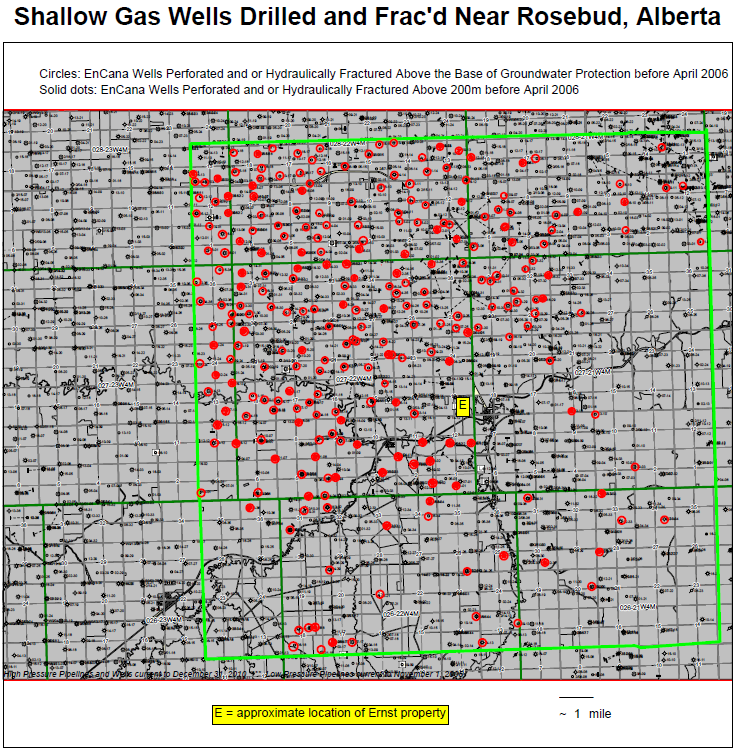 …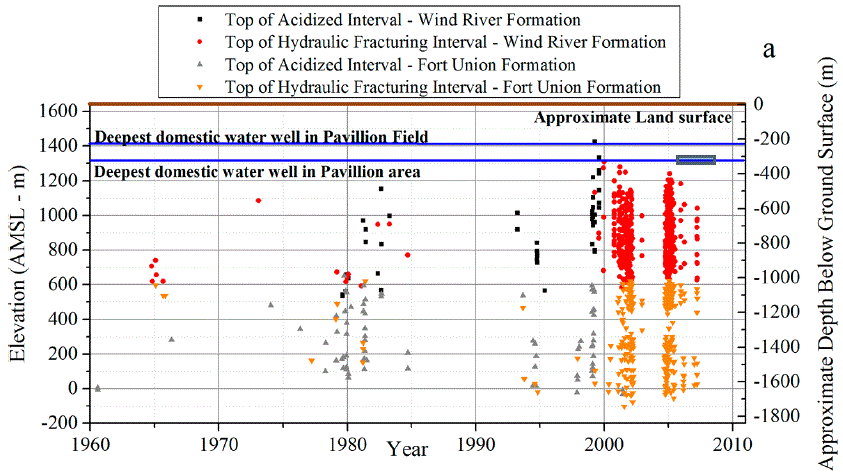 Figure 2. (a) Elevation in absolute mean seal level (AMSL) and approximate depth below ground surface of documented acid and hydraulic
fracturing stimulation stages.
Acid stimulation and hydraulic fracturing occurred as shallowly as 213 and 322 m bgs [m bgs = metres below ground surface], respectively, at depths comparable to deepest domestic groundwater use in the area (Figure 2a).
[Compare to Encana fracing about 200 gas wells into the fresh water zones at Rosebud, of which about 60 gas wells were more shallow than 200 metres bgs, including intentionally into the community's drinking water aquifers, the two most shallow gas wells perf'd at 100.5 m and 121.5 m bgs]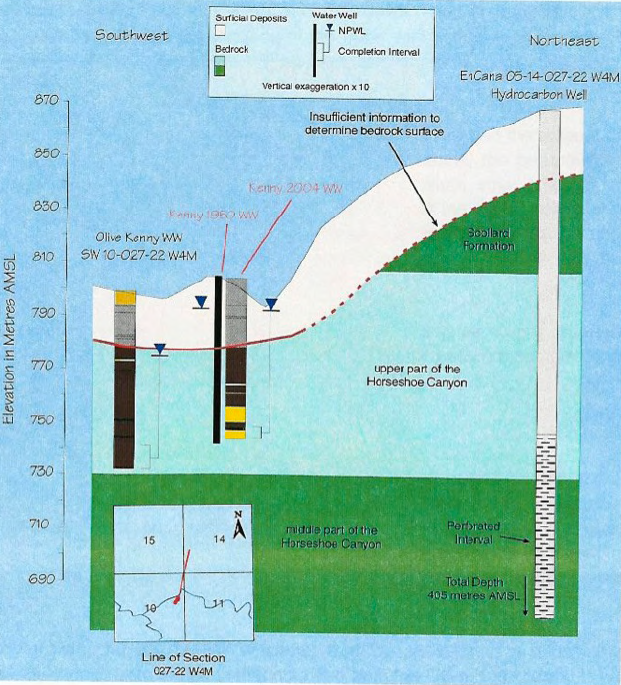 …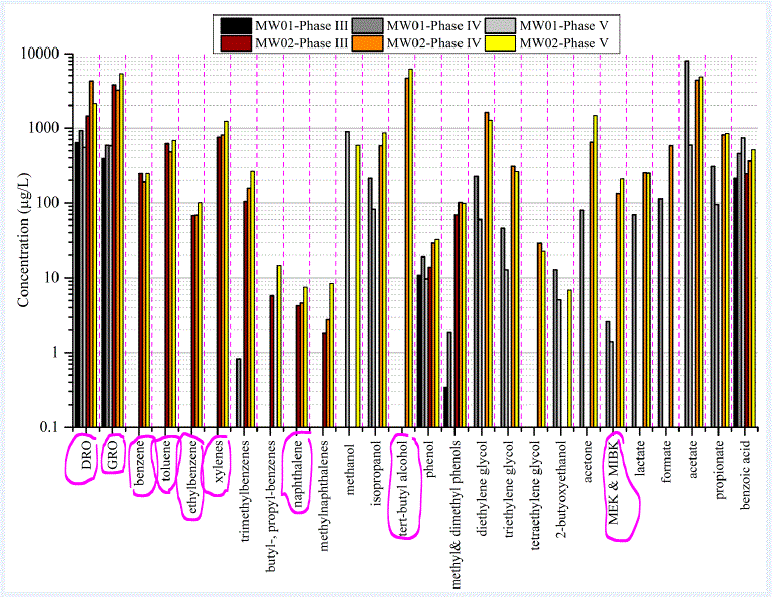 [Pink circles indicate contaminants found by regulator in Rosebud drinking water.]
Figure 4. Summary of organic compounds detected by EPA in MW01 and MW02 during Phase III, IV, and V sampling events. Glycols, alcohols, and low molecular weight organic acids were not analyzed in Phase III. Alkylphenols and methanol (GC-FID method) were only analyzed in Phase V. Organic compounds detections for MW01 and MW02 are summarized in Table SI E3a and Table SI E4a, respective
…
Our investigation highlights several important issues related to impact to groundwater from unconventional oil and gas extraction. We have, for the first time, demonstrated impact to USDWs as a result of hydraulic fracturing. Given the high frequency of injection of stimulation fluids into USDWs to support CBM extraction and unknown frequency in tight gas formations, it is unlikely that impact to USDWs is limited to the Pavillion Field requiring investigation elsewhere. 
Second, well stimulation in the Pavillion Field occurred many times less than 500 m from ground surface and, in some cases, at or very close to depths of deepest domestic groundwater use in the area. Shallow hydraulic fracturing poses greater risks than deeper fracturing does, especially in the presence of well integrity issues as documented here in the Pavillion Field.
Additional investigations elsewhere are needed. Finally, while disposal of production fluids in unlined pits is a legacy issue in Wyoming, this practice has nevertheless caused enduring groundwater contamination in the Pavillion Field. Impact to groundwater from unlined pits is unlikely to have occurred only in the Pavillion Field, necessitating investigation elsewhere. [Emphasis added]
Why haven't "experts" like Dr. John Cherry and frac patent holder Dr. Maurice Dusseault asked Encana and AER to hand over the data (or ask Ernst for copies of the data she complied from the regulator's database), analyzed it and published a paper like this on Encana illegally fracturing  much more shallow into Rosebud's drinking water aquifers in Alberta than Encana did/does at Pavillion Wyoming?
Too busy with this: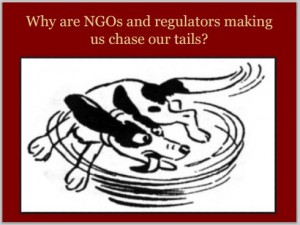 Stanford researchers show fracking's impact to drinking water sources Press Release by Rob Jordan, EMBARGOED UNTIL 9 a.m. PDT March 29, 2016
Media contact:
Dominic DiGiulio, Visiting Scholar in Stanford's School of Earth, Energy & Environmental Sciences, (580) 279-9283, email hidden; JavaScript is required
Rob Jackson, School of Earth, Energy, and Environmental Sciences: (650) 497-5841, email hidden; JavaScript is required Jordan, Stanford Woods Institute for the Environment: (650) 721-1881, email hidden; JavaScript is required
Bjorn Carey, Stanford News Service: (650) 725-1944, email hidden; JavaScript is required
Email subject line: STANFORD: TK
Video/photos: Various photo options (captions and credits in file names): https://stanford.app.box.com/files/0/f/7060645141/pavillion
Summary: Common industry practices may have widespread impacts on drinking water resources
Only one industry is allowed to inject toxic chemicals into underground sources of drinking water – hydraulic fracturing or "fracking." Concerns about this practice have riled the U.S. political landscape and communities around the country, perhaps nowhere more so than in Pavillion, Wyoming, population 231.
A new Stanford study published in Environmental Science & Technology finds for the first time that fracking operations near Pavillion have had clear impact to underground sources of drinking water. The research paints a picture of unsafe practices ranging from the dumping of drilling and production fluids containing diesel fuel and high chemical concentrations in unlined pits to a lack of adequate cement barriers to protect groundwater.
Fracking operators – the well field has gone through several corporate hands since the 1960s [Encana is the current operator there, and has been for over a decade] –used acid and hydraulic fracturing treatments at the same depths as water wells in the area. [Just like Encana did at Rosebud, Alberta, but hundreds of metres more shallow than at Pavillion]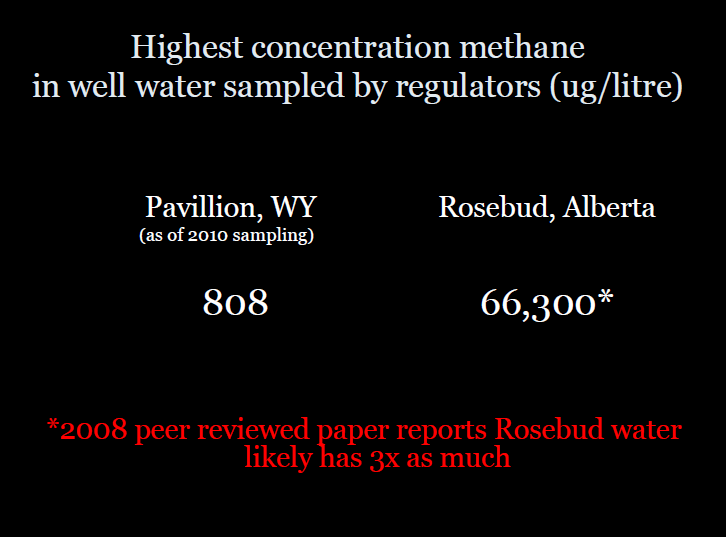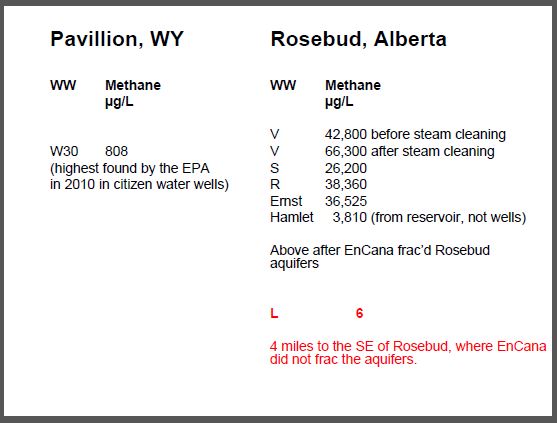 Slides from Ernst presentations
"This is a wake-up call," said lead author Dominic DiGiulio, a visiting scholar in Stanford's School of Earth, Energy & Environmental Sciences. "It's perfectly legal to inject stimulation fluids into underground drinking water resources. This may be causing widespread impacts on drinking water resources." [At the time of Encana fracing and contaminating the drinking water aquifers at Rosebud, Alberta, in 2004, it was illegal. Since then, Alberta regulators and politicians steadily & secretly removed water protections and deregulated (while lying to the public and claiming the opposite), making it now legal to frac drinking water supplies, vertically, horizontally, and with deviated or slant well bores, and making it legal to now divert fresh water from shallow frac'd zones without a permit under the Water Act.]
"Decades of activities at Pavillion put people at risk. These are not best practices for most drillers," said co-author Rob Jackson, the Michelle and Kevin Douglas Provostial Professor at the School of Earth, Energy & Environmental Sciences. "There are no rules that would stop a company from doing this anywhere else," added Jackson, a senior fellow at the Stanford Woods Institute for the Environment and at the Precourt Institute for Energy. [Meanwhile, every jurisdiction, including in Canada, boast (lie) they have the best regulations in the world protecting health and drinking water supplies and that fracing is absolutely safe]
As part of the so-called frackwater they inject into the ground, drilling companies use proprietary blends that can include potentially dangerous chemicals such as benzene and xylene. When the wastewater comes back up after use, it often includes those and a range of potentially dangerous natural chemicals.
The study, based on publically available records and documents obtained through the Freedom of Information Act, is part of Jackson's ongoing research on shallow fracking and its impact on groundwater. He and his colleagues have done various studies across the United States and in the Pavillion Field, an area of Wyoming's Wind River Basin pocked by more than 180 oil and gas wells, some of them plugged and abandoned.
Back in 2008 [residents of Rosebud began complaining of their water wells going dry or becoming contaminated in 2004], the residents of Pavillion complained of a foul taste and odor in their drinking water and questioned whether it was related to physical ailments. In 2011, the EPA issued a preliminary report putting the tiny town at the center of a growing fracking debate.
The EPA report, which linked shallow fracking to toxic compounds in aquifers, was met with heavy criticism from the drilling industry and state oil and gas regulators [globally, is there such a thing as a regulator, when it comes to fracking unconventional oil and gas?]. Three years late, having never finalized its findings, EPA turned its investigation over to Wyoming [which Encana took over with a $1.5 million US dollar donation, aka bribe to control the state's investigation outcome]. The state released a series of reports without firm conclusions, and, as of last month, has said there are no firm plans to take further action. In the meantime, the Agency for Toxic Substances and Disease Registry has advised area residents to avoid bathing, cooking or drinking with water from their taps.
The new Stanford study goes a step beyond the 2011 EPA report to document not only the occurrence of fracking chemicals in underground sources of drinking water, but their impact on that water, making it unsafe for use.
The ripple effect goes well beyond Pavillion.
"Geologic and groundwater conditions at Pavillion are not unique in the Rocky Mountain region," said DiGiulio. "This suggests there may be widespread impact to underground sources of drinking water as a result of unconventional oil and gas extraction."
To avoid what happened in Pavillion, Jackson and DiGiulio suggest further investigation and regulations to limit shallow fracking [What good will that do? Companies and regulators will just ignore them, as they did/do in Canada and everywhere else fracing occurs. Besides, Davis in the UK called for 600 metres minimum separation between fracs and drinking water aquifers in 2012, to zero action from regulators anywhere. A few months later, the AER (then ERCB) deregulated with Frac Directive 083 to enable further ultra shallow shale and sands frac impacts to drinking water without any mandatory baseline monitoring] and require deeper protective casings. [What good will that do when companies perforate the casing and frac directly into drinking water supplies, destroying the protection?] Wyoming does not require cementing to surface casing [no wonder, with companies like Encana perforating and fracing right into drinking water supplies!], and only two U.S. states, Colorado and Texas, have special requirements for shallow hydraulic fracturing [Is anyone investigating to see if those requirements are being heeded by companies?  With the many frac hits, damages and water contamination cases in Colorado and Texas, it appears unlikely].
Safeguards mean little, however, if they are not enforced – something the U.S. Environmental Protection Agency has done a mixed job with, according to Jackson. "The EPA has consistently walked away from investigations where people and the environment appear to have been harmed" by fracking's impact on groundwater, Jackson said. -30- [Emphasis added]