As Drought Continues, Farmers Fear Feds Could Seize Water bysanfransisco.cbslocal, January 28, 2014
With no end in sight to California's drought, farmers in the San Joaquin Valley fear federal officials could seize water in the San Luis Reservoir intended for their crops. The Fresno Bee says dropping reservoir levels across the state are leading to struggles over water set aside via the Central Valley Project, a federally-run network of reservoirs, pumping plants and canals. That includes about 340,000 acre-feet of water stored at San Luis Reservoir.
DROUGHT: Farmers ask Calif. governor for fracking moratorium to save water by Anne C. Mulkern, February 27, 2014, E&E News
A group of farmers yesterday asked California Gov. Jerry Brown (D) to impose a moratorium on hydraulic fracturing for oil and gas, saying that it wastes water in the drought-stricken state. Shafter, Calif., almond farmer Tom Frantz, California State Grange President Bob McFarland and Monterey County vintner Paula Getzelman delivered to Brown's office a petition signed by 145 farmers, according to environmental groups Food and Water Watch and the Center for Biological Diversity. California farmers grow fruits, vegetables and nuts sold all over the country.
"Water is the lifeblood of a farm — without clean, [non-explosive] affordable water we cannot grow food," Frantz said in a statement. "This drought has already put many of California's small and midsized farms on the brink. To allow fracking on some of California's most fertile agricultural land will further devastate California's bucolic heritage."
Also on the petition were 171 chefs, restaurateurs, brewers, purveyors, retailers and winemakers, including chefs Alice Waters, Stuart Brioza, Chris Cosentino, Dominique Crenn, Suzanne Goin, Joyce Goldstein, Daniel Patterson and Annie Somerville, the green group statement said. Jerome Waag, head chef of Chez Panisse restaurant in Berkeley, joined the farmers in delivering the petition.
…
Dave Quast, California director of Energy in Depth, an arm of the Independent Petroleum Association of America, accused the green groups of manufacturing controversy. … "It sounds like they called a few farmers and got quotes," Quast said. "You can always find people from industry who you can quote to say what you want. They're trying to gin up controversy. "When it comes to water use, there's no competition between oil and gas and agriculture," Quast added. "They tell farmers things that are untrue … that hydraulic fracturing uses millions of gallons of water."
California agriculture annually uses 34 million acre-feet of water, while in 2012, all hydraulic fracturing in the state consumed 202 acre-feet of water. In many cases, the drilling contributes water, Quast said. Fracking pulls [toxic, often radioactive] water from the ground, and afterward, it can be reinjected or sold to farmers, he said.
…
The state last month cut to zero the amount of water it would deliver to farms and water agencies supplying 25 million people and 700,000 acres of farmland (E&E News PM, Jan. 31). The price for water has increased tenfold, from $135 an acre-foot last year to $1,350 an acre-foot in the second week of February, the green groups said. [Emphasis added]
California drought drives up food prices by Associated Press, February 27, 2014, The Globe and Mail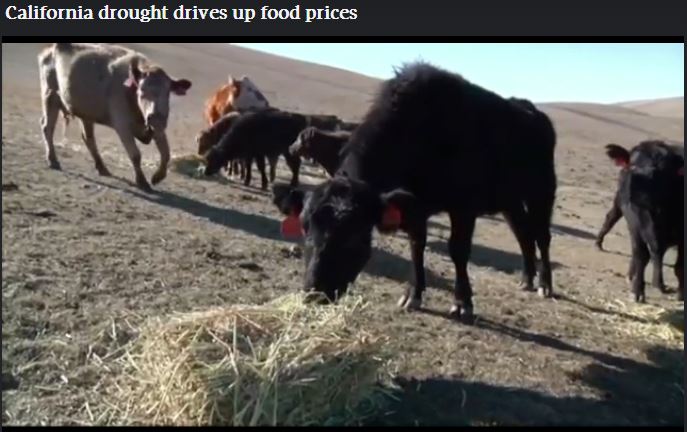 The hardest hit industry right now may be cattle.
In California, not a drop to drink by Omar el akkad, February 10 2014, The Globe and Mail
California, the world's eighth-largest economy, is going through what is likely the most severe drought in the state's recorded history – an environmental (and now political) calamity that is wreaking havoc on everything from tourism to livestock to drinking water. According to the United States Drought Monitor, almost 68 per cent of the state is facing "extreme" or "exceptional drought, the two worst categories in the agency's ranking system; at this time last year, no part of the state faced such conditions.
And barring significantly above-average precipitation for the next several months, California is likely to enter the traditionally dry period from May to October with an already dire water shortfall. In the Sierra mountains, the average water in the snowpack is at 28 per cent of the historical average, according to Ken Clark, a California-based meteorologist with AccuWeather. And that number is only as high as it is because of a large storm that passed through the area last weekend; before the storm, the water level was only about 15 per cent of the average. "We know that 2013 was the driest year on record for San Francisco, Fresno and Los Angeles counties – and some of those records go back to the 1800s," Mr. Clark said. … "The amount of water needed to supply California is certainly much greater than in those previous years," Mr. Clark said. "The chance of getting back to normal is now down to single digits – we had a huge series of storms over the weekend and we're still not anywhere near normal."
The culmination of nearly three years of below-average precipitation, California's drought has turned into an environmental and political time bomb. Virtually every aspect of the state's mechanics has been hit: Hydroelectric power, one of the cheapest and cleanest sources, is running dangerously low; forest fires in January were up nearly tenfold over the first month of 2013; and California's farmers are bracing for a year of massive losses.

The California Farm Bureau Federation expects as much as 500,000 acres to go unplanted this year – a significant portion of the state's eight million acres of irrigated farmland. That would deal a massive blow to the agriculture industry, which is responsible for about 6 per cent of California's economic activity. That shortfall, in turn, has the potential to significantly hike food prices throughout the United States and beyond, as California farms are responsible for a significant percentage of several of the country's crops, including strawberries, grapes and lettuce.
But while crop farmers can still hope that February and March bring enough rainfall to avoid catastrophe, the state's ranchers are already suffering, according to Dave Kranz of the California Farm Bureau Federation. Because much of the land is brown, Mr. Kranz said many ranchers have had to feed their livestock more expensive hay or sell their animals early and at much lower prices.
Faced with the likelihood that such droughts may not be so anomalous in the future, Mr. Kranz said his group is becoming more aggressive in pushing for long-term water solutions, such as better storage tanks and conservation efforts. "We're not going to just build our way out of this or just conserve our way out of this or recycle our way out of this," he said. "We're going to have to do all of these things."
In January, California Governor Jerry Brown declared a state of emergency to deal with the drought. Mr. Brown also urged all Californians to cut their water use by 20 per cent. So far, that request is on a voluntary basis, but should the drought continue into the summer months, it is likely that many jurisdictions will make such measures mandatory.
But the drought also threatens to reopen what the Governor described as "old water wounds," as various interest groups begin fighting over very limited water supplies. The state already admits there simply isn't enough water to satisfy the demands of California's largest users, including the agriculture industry and the biggest urban centres – to say nothing of the water needed to maintain conservation efforts for species such as California's salmon population. As the drought shows no signs of letting up, lawmakers and lobby groups seem poised to turn the crisis into something much more political – and nasty.
This month, Republicans in Congress pushed a bill that would allow California farmers to pump more water and would create a House-Senate group to deal with the drought – an effort that Republican House Majority Whip Kevin McCarthy described in a statement to The Associated Press as designed to end "the madness of putting fish before families." Mr. Brown vehemently opposes the effort, calling it an "unwelcome and divisive intrusion" on the state's affairs. But political infighting could give way to real water reform if the drought doesn't break before the dry summer months. A similar situation played out during Australia's Millennium Drought, which began in the late 1990s and didn't subside until 2009. The sheer length of the drought forced the country to enact several long-term conservation and water management efforts. Should California's drought follow a similar multiyear trajectory, the state will face increasing pressure to come up with more than just short-term solutions, according to Peter Gleick, president of the Oakland, Calif.-based environmental think tank the Pacific Institute.
"There's a growing awareness that things aren't the same as they used to be, that this kind of extreme weather … can no longer be ignored or attributed to the vagaries of nature, but increasingly to human impact, in particular climate change," Dr. Gleick said. "The severity of this drought is unlike anything modern California has ever experienced. In some ways, it's a sign of things to come – an indication of what the future is going to look like." In the next two to three months, as many as 17 small communities may run out of drinking water. In environmental disasters, it is often the smallest communities that suffer the most. [Emphasis added]
Study shows how much fracking occurs in 'water stressed' areas by Andrew Nikiforuk, February 6, 2014, The Tyee.ca     
Nearly half of all oil and gas wells in North America are now being hydraulically fractured with huge amounts of water in landscapes experiencing drought, according to a new report. The lengthy study by the non-profit Ceres Investor Network adds that much of the oil and gas fracking activity on the continent is happening in "arid, water stressed regions, creating significant long-term water sourcing risks." Nearly one-quarter of all wells drilled in Alberta, for example, are located in regions experiencing high or medium water stress. The report singled out British Columbia's chaotic shale gas plays as a major concern, due to a lack of transparency about the consumption of water resources in the region and the industry's cumulative impact on First Nations. "Lack of regulation around groundwater withdrawals has stirred concerns," reads the report. "Large-scale users of water previously could withdraw groundwater without any limits or costs. To address this issue and further improve water stewardship in the province, major changes to the provincial water act are now being proposed. "Another controversy in British Columbia is the alleged overreliance by industry on short-term water permits to gain access to water, which has resulted in a lawsuit filed against the British Columbia Oil and Gas Commission and Encana for alleged B.C. Water Act violations. These short-term permits avoid additional oversight provisions that would normally be required through water licenses."
Some other key findings of the study as highlighted by Common Dreams:
"Over 55 per cent of the wells hydraulically fractured were in areas experiencing drought and 36 per cent overlay regions with significant groundwater depletion — key among those, California, which is in the midst of a historic drought, and Texas, which has the highest concentration of shale energy development and hydraulic fracturing activity in the U.S.
…
"In Texas, which includes the rapidly developing Eagle Ford and Permian Basin shale plays, more than half (52 per cent) of the wells were in high or extreme high water stress areas. In Colorado and California, 97 and 96 per cent of the wells, respectively, were in regions with high or extremely high water stress. Nearly comparable trends were also shown in New Mexico, Utah and Wyoming.
"Among hundreds of hydraulic fracturing companies whose water use was evaluated, those with the highest exposure to water sourcing risk are Anadarako (APC), Encana (ECA), Pioneer (PXD) and Apache (APA). Most of the wells being developed by each of these companies are in regions of high or extreme water stress. The top three service providers, Halliburton, (HAL) Schlumberger (SLB) and Baker Hughes (BHI), handled about half of the water used for hydraulic fracturing nationally and also face water sourcing risks.
"Although water use for hydraulic fracturing is often less than two per cent of state water demands, the impacts can be large at the local level, sometimes exceeding the water used by all of the residents in a county." [Emphasis added]
Fracking's Terrifying Water Usage Trends Spell Disaster, New study shows that fracking boom is happening in places that can least afford to lose precious water supplies by Jon Queally, February 5, 2014, Common Dreams
Almost half (47%) of all U.S. wells are being developed in regions with high to extremely high water stress. This means that more than 80 percent of the annual available water is already allocated to municipal, industrial and agricultural users in these regions. (Source: Ceres)
The irony of fracking: It destroys the natural resource it needs most. The tragedy for those living nearby fracking operations: That natural resource is the fresh—and increasingly scarce—water supply on which they, too, depend. And not only does fracking—or hydraulic fracturing—demand enormous amounts of fresh water no matter where it takes places, a troubling new study released Wednesday found that a majority of places where the controversial drilling technique is most prevalent are the same regions where less and less water is available.
…
According to the report, Hydraulic Fracturing and Water Stress: Water Demand by the Numbers (pdf), produced by the non-profit Ceres investor network, much of the oil and gas fracking activity in both the U.S. and Canada is happening in "arid, water stressed regions, creating significant long-term water sourcing risks" that will strongly and negatively impact the local ecosystem, communities, and people living nearby.
"Hydraulic fracturing is increasing competitive pressures for water in some of the country's most water-stressed and drought-ridden regions," said Ceres President Mindy Lubber, in announcing Hydraulic Fracturing and Water Stress: Water Demand by the Numbers.
…
Richard Heinberg, senior fellow of the California-based Post Carbon Institute and author of a recent book on the "false promise" of the fracking industry, says the irony of the study's findings "would be delicious if it weren't so terrifying."
"Nationally," according to Heinberg, "only about 50 percent of fracking wastewater is recycled. Billions of gallons of freshwater are still taken from rivers, streams, and wells annually for this purpose, and—after being irremediably polluted—this water usually ends up being injected into deep disposal wells. That means it is no longer available to the hydrological cycle that sustains all terrestrial life."
…
The study drew on industry data detailing water usage from from 39,294 oil and gas wells from January 2011 through May 2013 and compared that information with "water stress indicator maps" developed by the World Resources Institute (WRI).
…
"In California, where I live," he said, "we're experiencing a 500-year drought. The grape-wine industry here in Sonoma County is facing disaster. Farmers in the Central Valley are weighing whether to plant at all this year. The fact that California's Democratic governor [Jerry Brown] wants to spend what little water we have on fracking…makes the report frighteningly relevant." [Emphasis added]
Study: In Midst of Drought, Fracking Industry Does Little to Recycle Water by Forrest Wilder, February 4, 2014, Texas Oberver
A newly-published study of fracking-related water use in North Texas' Barnett Shale provides new insights into what has been a murky topic. Authored by researchers at the University of Texas' Bureau of Economic Geology and published in Environmental Science and Technology, the paper describes the Barnett Shale as an "ideal case" to try to get a better understanding of how much water is being used in fracking, the source of the water, how much is actually recycled and how much of the wastewater ends up in injection wells—pressing questions in drought-stricken Texas. "This is the first paper, I think, to take a comprehensive look at water use in one play," said lead author, JP Nicot.
While researchers, journalists and regulators have slowly developed better estimates of how much water fracking consumes, especially at a regional or state level, less attention has been paid to where the water comes from and whether the industry is following through on promises to recycle and reuse water that returns to the surface after a frack job. What jumps out at me in this study is how little the industry has accomplished in using less water since the Barnett Shale took off in the middle of the last decade—even in the face of crippling drought.
Nicot found that the vast majority of water, about 92 percent, used to frack Barnett Shale wells in 2011 was "consumed"—never to return to the aquifer or reservoir again. Only around 5 percent of all the water has been reused or recycled "for the past few years." The remainder, about 3 percent, came from brackish water sources. The figures suggest that the industry is making very little progress in conserving water, despite a push from regulators and lawmakers to encourage the practice.
At one time, Nicot said, companies were doing more to recycle. "They started doing it even at a monetary loss," he said. "Then they realized well it doesn't seem like we are going anywhere with that recycling thing so let's cut our losses and let's not recycle anymore."
"I know a lot of recycling companies," he added. "They are kind of disappointed. A lot of people thought it would be the next big thing, the El Dorado. … The overall feel is that it's not working as well as it could have."
…
Indeed, the correlation between gas production and water use in fracking is nearly perfect. The more gas produced, the more water used, with little to no increase in efficiency. Cumulative gas production and water use track each other.
Other interesting findings from the study:
We know very little about the source of water used in Barnett Shale fracking. Nicot reports that data is "sparse" because "the industry is fragmented" and "water contracts are signed and expire in a very dynamic business environment."
Groundwater regulation in Texas is notoriously scattershot, spread over more than a 100 locally-run groundwater conservation districts, many of which don't collect information on fracking-related water use. There is nothing in state law requiring that the industry report the source of its water.
…
For now it appears to be business as usual, despite the hype about recycling and reuse. [Emphasis added]
Fracking is depleting water supplies in America's driest areas, report shows, From Texas to California, drilling for oil and gas is using billions of gallons of water in the country's most drought-prone areas by Suzanne Goldenberg, February 5, 2014, The Guardian
Of the nearly 40,000 oil and gas wells drilled since 2011, three-quarters were located in areas where water is scarce, and 55% were in areas experiencing drought, the report by the Ceres investor network found. Fracking those wells used 97bn gallons of water, raising new concerns about unforeseen costs of America's energy rush.
…
It can take millions of gallons of fresh water to frack a single well, and much of the drilling is tightly concentrated in areas where water is in chronically short supply, or where there have been multi-year droughts. Half of the 97bn gallons of water was used to frack wells in Texas, which has experienced severe drought for years – and where production is expected to double over the next five years.
…
"Shale producers are having significant impacts at the county level, especially in smaller rural counties with limited water infrastructure capacity," the report said. "With water use requirements for shale producers in the Eagle Ford already high and expected to double in the coming 10 years, these rural counties can expect severe water stress challenges in the years ahead." Local aquifer levels in the Eagle Ford formation have dropped by up to 300ft over the last few years. A number of small communities in Texas oil and gas country have already run out of water or are in danger of running out of water in days, pushed to the brink by a combination of drought and high demand for water for fracking. Twenty-nine communities across Texas could run out of water in 90 days, according to the Texas commission on environmental quality. Many reservoirs in west Texas are at only 25% capacity. [Emphasis added]
Fracking raising water supply worries by Julie Schmit, February 5, 2014, USA TODAY
The USA's domestic energy boom is increasing demands on water supplies already under pressure from drought and growing populations, a new report says. The water-intensive process used to extract oil and gas from shale underground — known as hydraulic fracturing or fracking — has required almost 100 billion gallons of water to drill more than 39,000 oil and shale gas wells in the U.S. since 2011, says Ceres….
…
Shale development is also occurring rapidly in areas where groundwater is already being depleted by other uses, including agriculture and residential development. Nationwide, more than 36% of the 39,000 wells drilled since 2011 were in areas already experiencing groundwater depletion, the study says.
…
The demands for the water are also "taking regions by surprise," she says. … Texas has the highest concentration of hydraulic fracturing activity in the U.S. More than half of its wells put in since 2011 were in high or extremely high water stress regions, Ceres says. In Colorado and California, 97% and 96% respectively of the wells were drilled in regions under high or extremely high water stress.
The oil and gas industry says it's doing more to reuse and recycle water. It also points out that overall water use by the fracking industry is small. In Colorado, oil and gas development accounts for 0.1% of the state's total water demand, while in Texas, it's less than 1%, says Katie Brown, researcher with Energy in Depth, a research arm of the Independent Petroleum Association of America. … More recycling will [When?] occur because companies "recognize the economic risk they have," with access to needed water, says Marcus Gay, water research director at IHS Global Insight.

Only about 5% of water consumed by oil and gas producers in the Barnett Shale in North Texas is currently being recycled, says a recent report by research scientist Jean-Philippe Nicot, of the University of Texas. That's probably about average for fracking throughout Texas, Nicot says.  [Emphasis added]
A Primer for Understanding Canadian Shale Gas – Energy Briefing Note by National Energy Board, November 2009. Flow-back water is infrequently reused in other fracs because of the potential for corrosion or scaling, where the dissolved salts may precipitate out of the water and clog parts of the well or the formation. ]
Hydraulic Fracturing & Water Stress: Water Demand by the Numbers by Ceres, February 2014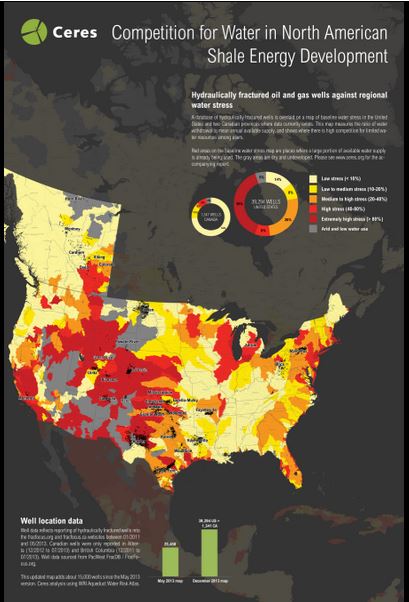 Map: Water Competition for Shale Development in North America from the Ceres Report: Hydraulic Fracturing & Water Stress: Water Demand by the Numbers
Drought forces water rationing on millions of Malaysians by channelnewsasia, February 28, 2014
KUALA LUMPUR: Malaysia said on Friday it will expand water rationing in and around its capital, in a move affecting millions as drought continues to scorch a tropical country usually synonymous with torrential rain. The national water commission said in a statement over 300,000 households in Kuala Lumpur and nearby Selangor, Malaysia's most populous state, will experience cuts for the whole of March, after a two-month dry spell depleted reservoirs. Some 60,000 households in Selangor — a central state which is the nation's economic hub — have already been hit by rationing since Tuesday. According to the commission, another 50,000 premises in the southern state of Johor have also undergone rationing last week as much of Malaysia suffers under bone-dry conditions and high temperatures. "The hot weather and lack of rain in catchment areas have caused all reservoirs in Selangor to recede," said the commission's chairman Ismail Kasim. Kuala Lumpur shares its water supply with Selangor, where the reserve level of dams have dipped below 50 percent.
A spokeswoman from the state's private water company also told AFP about 2.2 million people would be affected. Malaysia tends to experience dry weather early in the year, but the current spell has been unusually long, sparking bushfires and protests from communities whose taps have run dry. … The state of Negeri Sembilan, adjacent to Selangor, last week declared a water crisis, mobilising to supply treated water to thousands of households. … The hot spell has also contributed to more cases of dengue fever, as it speeds up the life cycle of the aedes mosquito that carries the virus and enhances replication of the pathogen, experts say. Deaths from the flu-like illness have risen to 29 this year, nearly triple the same period in the last year, according to reports citing the Health Ministry.
Drought Threatens Southeast Asia Food Prices as Haze Worsens by Jasmine Ng with assistance from Fitri Wulandari, Eko Listiyorini and Yoga Rusmana in Jakarta, Chong Pooi Koon and Ranjeetha Pakiam in Kuala Lumpur, Chanyaporn Chanjaroen in Singapore and Randall Hackley in London, February 28, 2014, Bloomberg
The drought parching Singapore and swaths of Malaysia and Indonesia threatens to raise food prices, slow economic growth and disrupt water supply in the region, home to the world's oldest tropical rain forests. Areas around Kuala Lumpur, Malaysia's capital, started water rationing this month. Neighboring Singapore, which had a record 27 days without rain from Jan. 13, is preparing for the dry spell to persist into the first half of March. In Indonesia's Riau province, officials declared a state of emergency as forest fires blanketed the region in haze. The drought's fallout may escalate to slower economic growth from just "discomfort" if it continues next month, Malaysia's international trade minister said yesterday. The price of palm oil, one of Southeast Asia's most important crops, is surging as the weather hampers production. "The impact will be on growth and inflation," said Wai Ho Leong, the Singapore-based senior regional economist at Barclays Plc who predicts higher prices may hurt consumers in the region. "The rise in vegetable and cooking oil prices will add to inflation concerns in Malaysia, which is already trying to contain a jump in inflation expectations."
…
Not Normal
Southeast Asia is under the influence of the Northeast Monsoon, which brings dry and stable air from the South China Sea and lessens the likelihood of rainfall, said Winston Chow, an assistant professor of geography at the National University of Singapore. "February is the driest month for Singapore," Chow said. "What's not normal is the length of the dry spell." The countries join Australia, Brazil, Kosovo and parts of Thailand and the U.S. as among those battling drought.
California Governor Jerry Brown declared a state of emergency after 2013 became the driest on record. Most farmers in California's Central Valley, the world's most productive agricultural region, will get none of the water they requested this year from a federally controlled system due to the drought, the U.S. government said this month.
With agriculture accounting for less than 8 percent of Malaysia's economy, the government is sticking to its forecast for 5 percent growth this year, Mustapa Mohamed, the trade and industry minister, said in an interview. Should the drought last through March, "agriculture could be affected."
Palm Oil
Palm oil, the world's most-used edible oil, is heading for the biggest monthly advance since October. Southeast Asia's dry weather is spurring speculation of lower output growth, according to Michael Coleman, a hedge-fund manager. Malaysia and Indonesia account for 86 percent of palm output, according to the U.S. Agriculture Department. Futures may advance to 3,000 ringgit ($915) a metric ton within four months, the highest price since 2012, said Coleman, who helps to manage the $143 million Merchant Commodity Fund from Singapore. The price settled at 2,779 ringgit yesterday. Investors are also betting that an El Nino weather pattern will return in 2014, potentially cutting palm output, Coleman said. El Nino affects weather worldwide and can parch Indonesia and Malaysia. Dry weather may limit Indonesia's increase in palm production in the first half, Martua Sitorus, the executive deputy chairman at Wilmar International Ltd., said Feb. 21. The Singapore-based company is the largest palm oil processor. Crude palm oil output fell 12 percent to 396,493 tons last year due to "unfavorable weather," London Sumatra Indonesia said in a statement today.
In Malaysia, the government is preparing funding to help Selangor state nationalize water assets in the region surrounding the capital. Water rationing began in parts of Selangor this week after the drought drained reservoirs, and will extend to 431,617 households, the Star reported on its website, citing Malaysia's water services commission. "The supply of raw water in Selangor state is in a critical condition," Khalid Ibrahim, the chief minister of Selangor state, said in a faxed statement on Feb. 24. "The water levels at a few dams have been shrinking to reach an alarming stage." Malaysia supplies water to Singapore, which consumes about 480 million U.S. gallons a day. The nation gets about 60 percent of its water from the Malaysian state of Johor and draws on local reservoirs and streams, its national water agency said.
Recycling Wastewater
Singapore plans to triple its wastewater recycling and increase desalination capacity almost tenfold to meet as much as 80 percent of water demand in 2060, according to the agency's report. The push to develop the industry has drawn businesses including General Electric Co. and Siemens AG to invest, and created local water companies such as Hyflux Ltd. Khon Kaen has growing water shortages as supplies drop in dams and rivers, with the most recent rainfall in the Thai province in December, the National News Bureau said. Farmers in the area have been urged by the Royal Irrigation Department to help by stopping any off-season rice growing, according to NNT.
Water Bombing
In Riau, the second-biggest province on Sumatra, an emergency was declared through March 12 because of smoke from fires, said Sutopo Purwo Nugroho, a spokesman at Indonesia's disaster management agency. Extinguishing the fires will require water bombing, according to local officials. Satellite images showed 11 fire hot spots in Riau on Feb. 24 compared with as many as 243 on Feb. 11, according to Indonesia's Forestry Ministry. "It's very likely that the lack of rain so far does promote conditions in which these hot spots can form," said Chow at National University of Singapore. Disputes over haze flare up regularly between Indonesia, Malaysia and Singapore. The latest was in June, when smog in Singapore reached a record because of Indonesian forest fires. While the drought is blamed for forest fires in Riau province, other parts of the country are grappling with floods.

Some western parts of Sulawesi island, the nation's main cocoa-growing region, got as much as 15 inches (38 centimeters) of rain this month, according to MDA Weather Services in Gaithersburg, Maryland. That's about two to three times normal and excess moisture is increasing the risk of crop diseases.
Coffee, Oil
Coffee shipments from Indonesia may decline 17 percent this year to the lowest since 2011 as rain cuts output. Sales may drop to 375,000 tons from 450,000 tons in 2013, according to the median of five exporter and roaster estimates compiled by Bloomberg. That's the lowest in three years, Central Statistics Agency data show. Weather is also affecting Indonesia's oil output, energy regulators said last month. Rain and large waves disrupted production at the West Madura and Mudi fields in East Java, Elan Biantoro, a spokesman at SKK Migas, the oil and gas upstream regulator, said in an interview last month. Weather-related price increases may be particularly unfavorable for legislators running for office this year in Indonesia, Leong of Barclays said. "Any rise in food prices on the street will be an election issue," he said. [Emphasis added]
Singapore experiencing record dry spell – and it could get worse by David Ee, February 27, 2014, The Straits Times
The nearly month-long dry spell from Jan 13 to Feb 8 has gone down in history as the country's worst since extensive data recording began five decades ago, according to the National Environment Agency (NEA). Barely any rain fell in Singapore for those 27 consecutive days, comfortably dwarfing the previous record, an 18-day dry spell in 2008. Though brief showers on Feb 8 and Feb 9 ended the dearth and brought respite to parched parks and gardens islandwide, the lack of rain has persisted. Apart from again short-lived showers in western Singapore on Feb 16, the island has seen no rain since. The dry weather is "likely to persist into the first half of March", the NEA predicted, which could set another record. The Meteorological Service Singapore defines a dry spell as a period of more than 14 days with less than 1mm of rain.
…
But "abnormal" and extreme weather patterns like this could be more common in the long term due to climate change, he added. The United Nations Intergovernmental Panel on Climate Change warned of the same in its latest report last year, which drew from the conclusions of scientists and politicians from 195 countries. "The concern is that these uncommon weather events may be happening more frequently sooner rather than later," said Professor Chow. He noted that in recent months, the United States has been hit by unusually freezing weather, Australia by extreme heat and Britain by devastating storms and floods. The NEA also said "climate change increases the risks of both wetter and drier extremes", but that further studies were needed to investigate exactly how this would affect Singapore. National water agency PUB has been pumping 20 million to 25 million gallons of Newater a day since late last month into reservoirs to maintain their water levels. Last week, it raised this to 30 million gallons, a spokesman said.
Meanwhile, the National Parks Board said it has started to water flora in parks and along roads, which is showing "symptoms of water stress". Malaysia is also grappling with one of its driest spells in years, with some states declaring a water crisis and planning cloud seeding this week. Selangor has started rationing water and other states might do the same. [Emphasis added]