Oil companies fracking into drinking water sources, new research shows by Neela Banerjee, August 12, 2014, Los Angeles Times
Some companies are fracking for oil and gas at far shallower depths than widely believed…according to research released Tuesday by Stanford University scientists. …
Fracking fluids contain a host of chemicals, including known carcinogens and neurotoxins.
Fracking into underground drinking water sources is not prohibited by the 2005 Energy Policy Act, which exempted the practice from key provisions of the Safe Drinking Water Act. But the industry has long held that it does not hydraulically fracture into underground sources of drinking water because oil and gas deposits sit far deeper than aquifers. Fears about possible water contamination and air pollution have fed resistance in communities around the country….
The study, however, found that energy companies used acid stimulation, a production method, and hydraulic fracturing in the Wind River and Fort Union geological formations that make up the Pavillion gas field and that contain both natural gas and sources of drinking water.
"Thousands of gallons of diesel fuel and millions of gallons of fluids containing numerous inorganic and organic additives were injected directly into these two formations during hundreds of stimulation events," concluded Dominic DiGiulio and Robert Jackson of Stanford's School of Earth Sciences in a presentation Tuesday at the American Chemical Society conference in San Francisco. …
"The extent and consequences of these activities are poorly documented, hindering assessments of potential resource damage and human exposure," DiGiulio wrote. … "If the water isn't being used now, it doesn't mean it can't be used in the future," said DiGiulio, a Stanford research associate who recently retired from the Environmental Protection Agency. "That was the intent of identifying underground sources of drinking water: to safeguard them."
The EPA documented in 2004 that fracking into drinking water sources had occurred when companies extracted natural gas from coal seams. But industry officials have long denied that the current oil and gas boom has resulted in fracking into drinking water sources because the hydrocarbon deposits are located in deeper geological formations. [Encana told the Rosebud community the same lie in public meetings in the fall of 2004. Encana took it few steps further, claiming they had done no CBM at Rosebud and would never because outcropping had caused the gas to escape long ago. Encana perf'd at 100.5 metres below surface in 2001, frac'd at 121.5 metres below surface in March 2004 directly into Rosebud's drinking water aquifers, and frac'd many other gas wells above the Base of Groundwater Protection from 2001-2004 and continues to do so]
"Thankfully, the formations where hydraulic fracturing actually is occurring…are isolated from USDWs by multiple layers and often billions of tons of impenetrable rock," said Steve Everley, a spokesman for Energy in Depth, an industry group. Industry officials had not seen the Stanford research.
DiGiulio and Jackson plotted the depths of fracked wells, as well as domestic drinking water wells in the Pavillion area. They found that companies used acid stimulation and hydraulic fracturing at depths of the deepest water wells near the Pavillion gas field, at 700 to 750 feet, far shallower than fracking was previously thought to occur in the area. "It's true that fracking often occurs miles below the surface," said Jackson, professor of environment and energy at Stanford. "People don't realize, though, that it's sometimes happening less than a thousand feet underground in sources of drinking water." Companies say that fracking has never contaminated drinking water. …
Jackson said the Stanford study's findings underscore the need for better monitoring of fracking at shallower depths. "You can't test the consequences of an activity if you don't know how common it is," he said. "We think that any fracking within a thousand feet of the surface should be more clearly documented and face greater scrutiny." The Stanford study focuses on Pavillion, in part because of DiGiulio's familiarity with the area when he served as an EPA researcher in the latter stages of the Pavillion water study.
Industry and the state of Wyoming questioned the EPA's methodology after its 2011 draft report found the presence of chemicals associated with gas production in residents' well water. In June 2013, the EPA turned over the study to Wyoming regulators, whose work is being funded by EnCana, the company accused of polluting the water in Pavillion.
The EPA study looked at whether chemicals migrated upward from fracked geological zones into people's well water. The Stanford research does not explore the possibility of migration, focusing instead on the injection of fracking chemicals directly into geological formations that contain groundwater.
The EPA does not keep track of whether underground sources of drinking water have been hydraulically fractured as part of oil and gas development, [Did/does the EUB, ERCB, AENV, AESRD, AER track when companies frac drinking water aquifers in Alberta? Does any regulator track shallow fracs in Canada?] said Alisha Johnson, a spokeswoman. "EPA does not maintain a database of all the wells being hydraulically fractured across the country," she said in an email.
In their presentation, DiGiulio and Jackson noted that the EPA considers the Wind River formation and the Fort Union stratum below it to be underground sources of drinking water. The conventional image of tight geological formations where fracking occurs is that they are monolithic stretches of rock. But the scientists say the geology of the two formations is mostly sandstone of varying permeability and water. "People think these formations are impermeable, and so they wonder, 'Why are you worrying about water?'" DiGiulio said. "But it is an extremely heterogeneous environment, with areas of low and high permeability mixed together and with many lenses conducting water." [Emphasis added]
[Refer also to: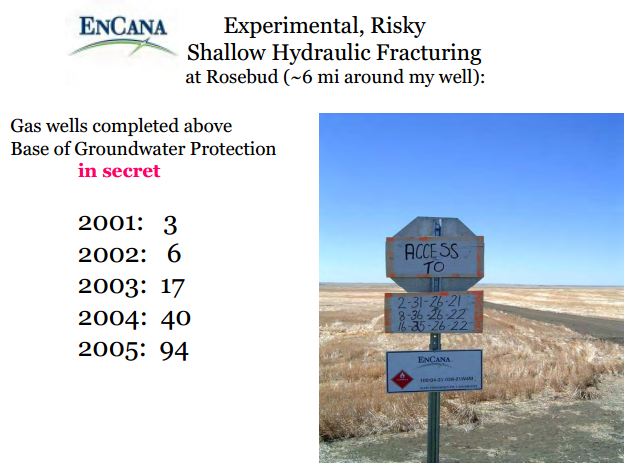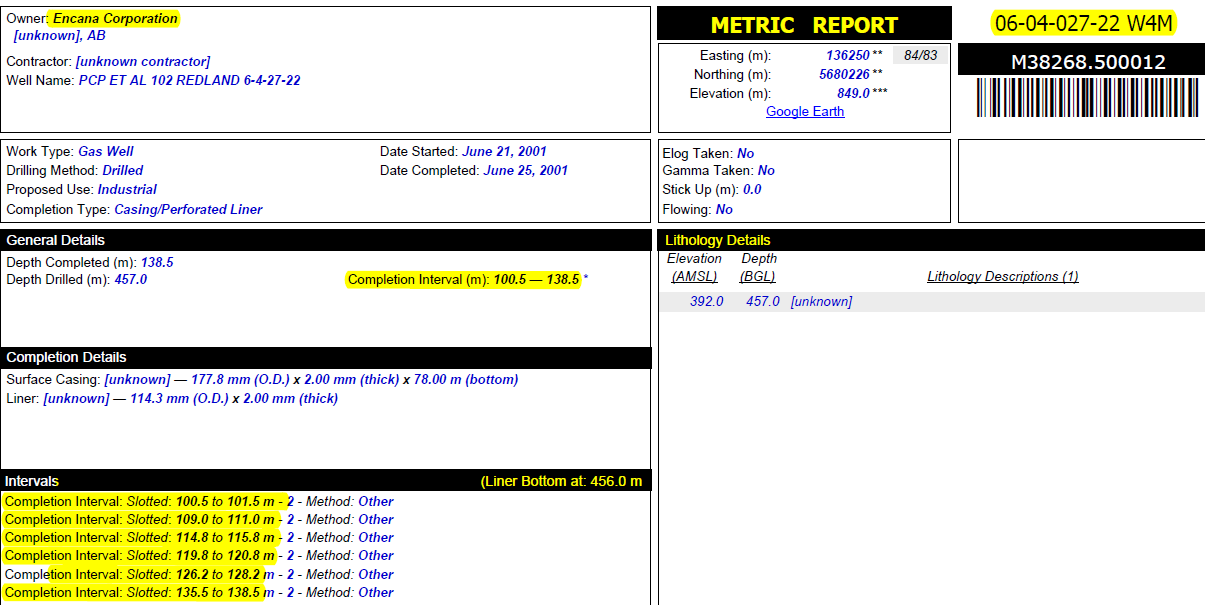 Encana gas well 06-04-27-22-W4M at Rosebud, most shallow perf at 100.5 metres below surface, data filed on Alberta's public water well database!
Encana's gas well data, before frac'ing Rosebud's drinking water aquifers, shows no gas present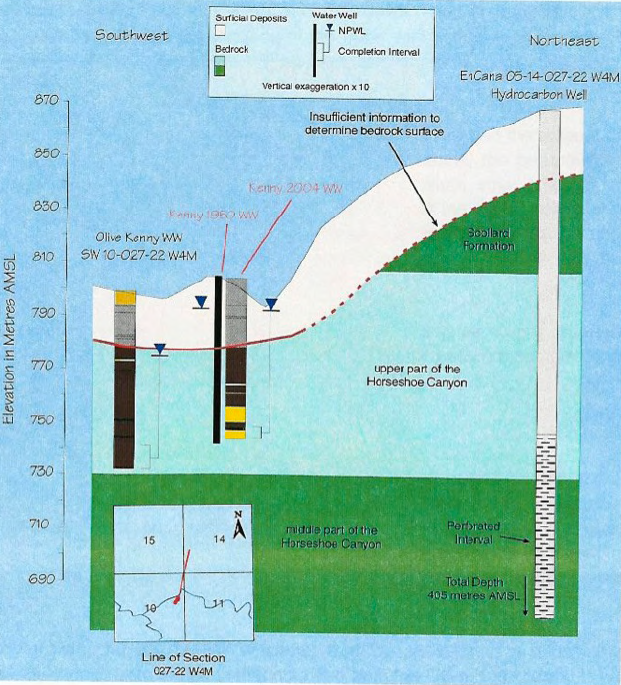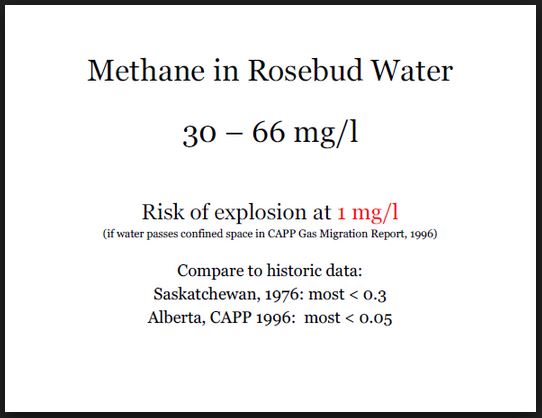 30 – 66 mg/l methane in Rosebud water wells, after Encana frac'd the aquifers that supply them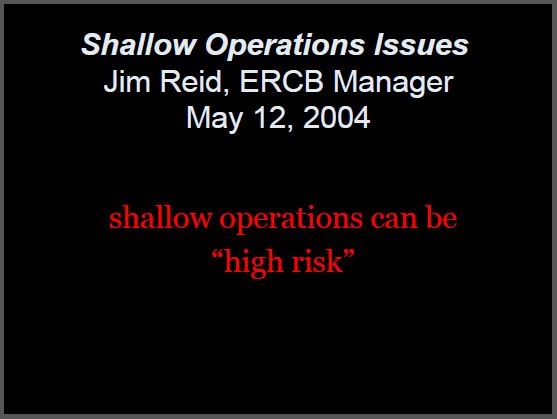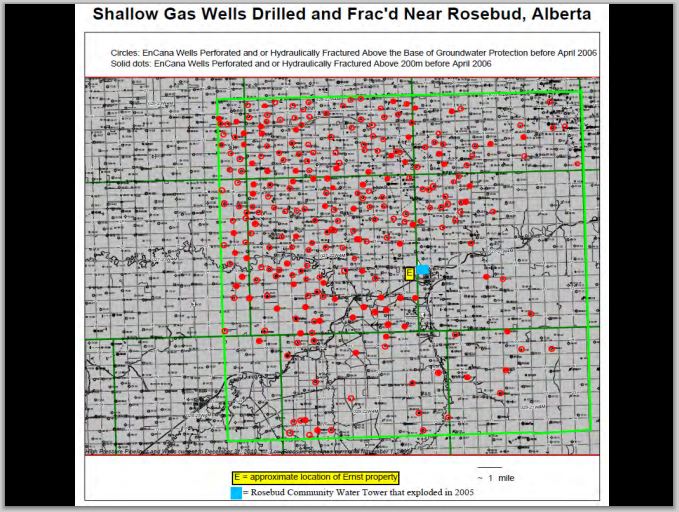 Slides above from Ernst presentations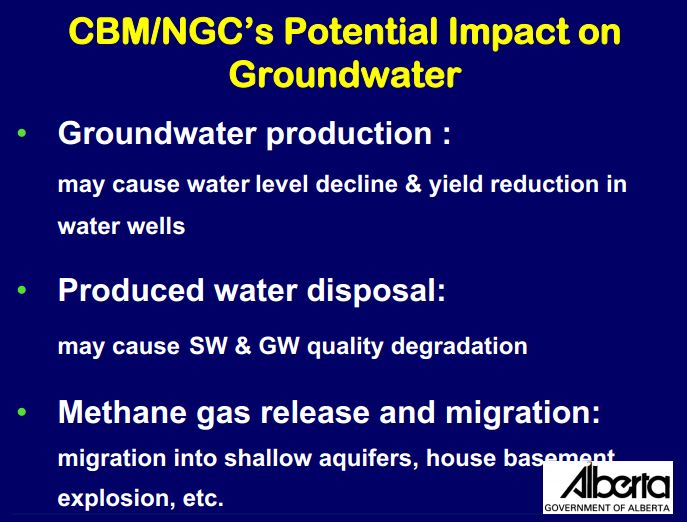 Slide above from 2006 presentation by Nga de la Cruz, Alberta Environment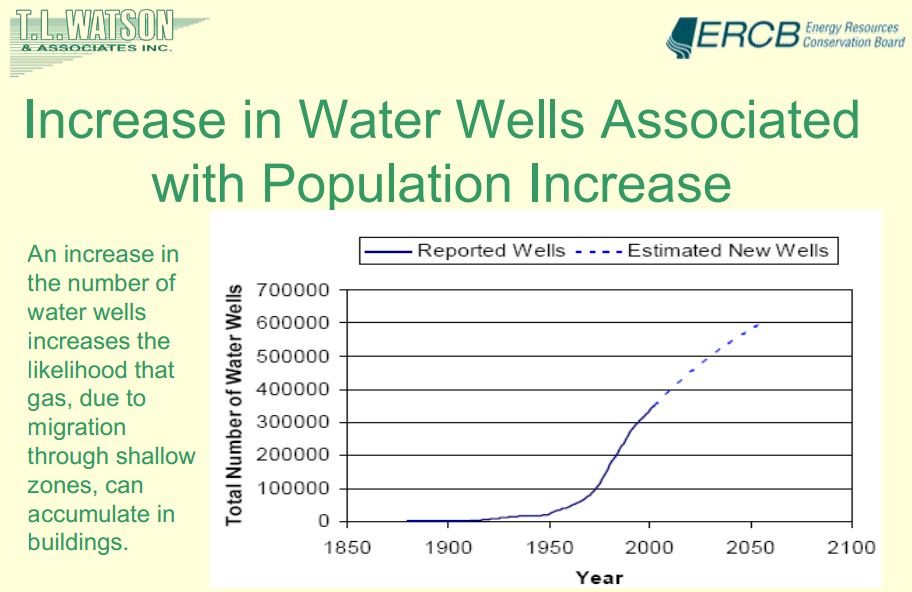 Slide from presentation by Watson and Bachu in Paris, France in 2008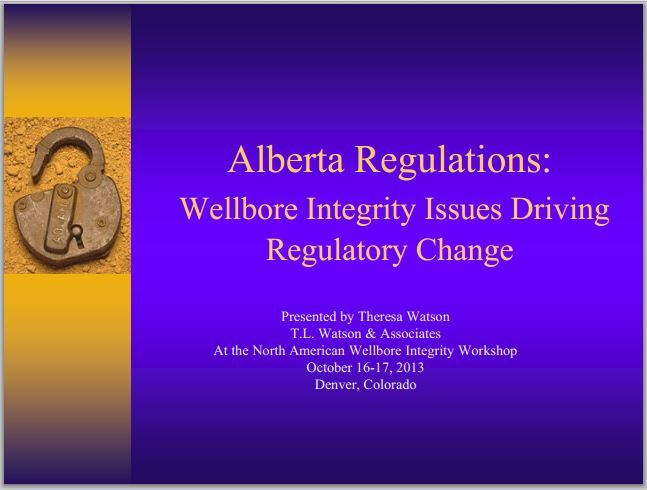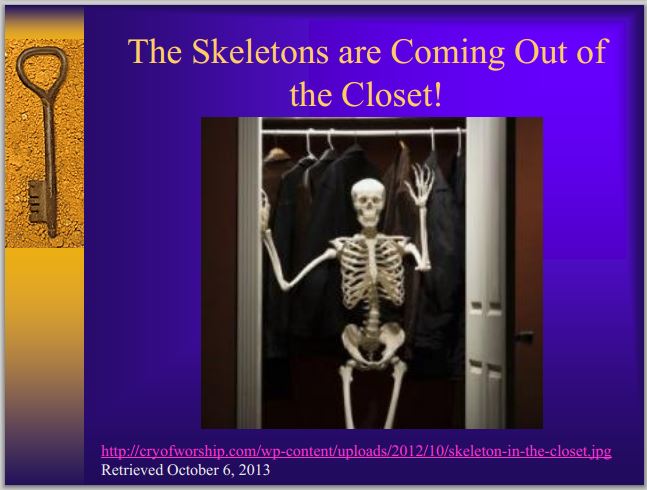 Above 2 slides in 2013 presentation by Theresa Watson, appointed to the ERCB board from 2009 to 2013
Encana on defensive over Pavillion groundwater fouled by fracking by Nathan Vanderklippe, December 8, 2011, updated September 6, 2012, The Globe and Mail
The U.S. Environmental Protection Agency has discovered drinking water contaminated by hydraulic fracturing in a U.S. natural gas field operated by Encana Corp., a finding that could have serious and far-reaching consequences for industry.
The EPA, in documents released Thursday, flatly contradicts contentions from Encana and the broader industry that its drilling practices in Wyoming are safe and do not harm drinking water. The Calgary-based company, however, continued to state that there is no link between its work and fouled groundwater.
There are considerable stakes to any finding that fracturing, or "fracking," is a danger to water supplies. Concerns about fracturing have already led to studies and even bans in numerous places, from New York state to Quebec to France.
The use of fracking has spurred a remarkable growth in oil and gas development across the continent, bringing massive new volumes of hydrocarbons surging to the surface from reservoirs once considered impossible to tap.
There are, however, important distinctions between the type of fracking used in new shale gas plays and the Encana field the EPA examined in its new report.
The agency began investigating groundwater in Pavillion, Wyo., three years ago, after local residents reported that some of their drinking water had been fouled with a gasoline-like odour and had become undrinkable. The gas industry has 169 production wells near Pavillion, which sits on a native reservation and has fewer than 200 people.
In a series of studies, which involved sampling dozens of water wells and drilling two of its own test wells, the EPA discovered the strong presence of numerous contaminants – including gasoline, diesel and substances used in fracturing.
Its conclusion, revealed in a draft report released publicly Thursday, states: "Data indicates likely impact to groundwater that can be explained by hydraulic fracturing."
Levels of potassium and chloride in some areas were 18 times expected levels. According to the EPA, "the formulation of fracture fluid provided for carbon dioxide foam hydraulic fracturing jobs typically consisted of 6-per-cent potassium chloride."
Other types of synthetic organic compounds, like tert-butyl alcohol – which is not expected to be found naturally in groundwater – were also discovered. Sampling showed the elevated presence of gasoline, diesel, benzene, toluene, ethylbenzene and xylene. Some of those substances matched with materials used in oil and gas work.
Fracking involves pumping huge amounts of water, sand and chemicals under high pressure into wells. That pressure cracks apart deep rocks, allowing oil and gas to flow through the fractures that are created.
Fracking techniques have spurred an energy revolution in the U.S., bringing on such vast new supplies of natural gas that prices have been severely depressed. A subsequent boom in fracking for oil has opened enough new crude output that some now believe North America could displace all OPEC imports with its own production.
The industry has long claimed fracking is safe.
If it is found to be dangerous, however, it could imperil some of the industry's biggest plans. Shares in several shale gas producers – including Encana, Talisman Energy Inc. and Chesapeake Energy Inc. – all fell about 5 per cent Thursday, although investors said the selloff was largely attributable to broader market malaise. The S&P/TSX energy index fell 2 per cent.
There are important distinctions between the fracking around Pavillion and the fracking used in major new shale oil and gas plays, such as Marcellus, Bakken and Haynesville. In shale plays, industry typically fractures rock from the horizontal leg of deep wells located at depths of one to three kilometres.
In Wyoming, the fracturing happens from vertical wells – an important difference – that are shallower, ranging from a kilometre to 372 metres below the surface. Some water wells in the area go down to 244 metres, creating a relatively close linkage.
In addition, the EPA notes what may be imprudent industry practices. Only two gas wells around Pavillion have "surface casing" – a protective metal sleeve inside a well that is cemented in place to prevent drilling fluids from leaking out – that goes deeper than the deepest water wells. That means almost every gas well has unprotected stretches at depths people draw water from.
The EPA itself, in a news release Thursday, said conditions in Wyoming are "different from those in many other areas of the country." But in an interview, spokesman Larry Jackson said it's possible that what's happened at Pavillion has "commonalities that could result in similar findings elsewhere."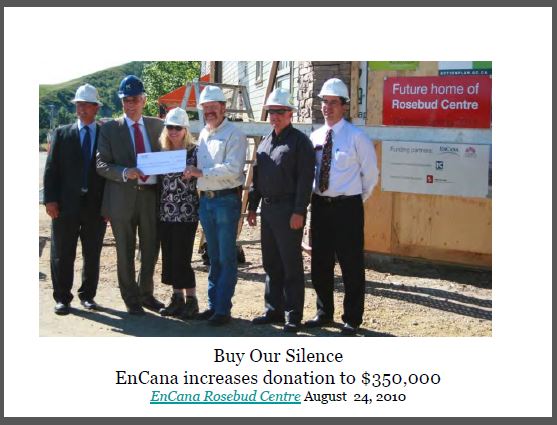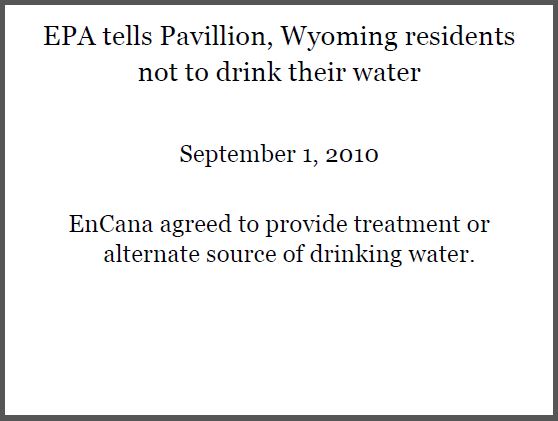 But not to the residents of Rosebud, with much more dangerous contamination after Encana illegally frac'd the community's drinking water aquifers: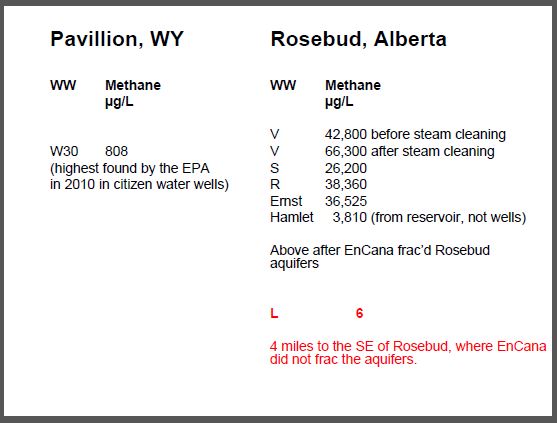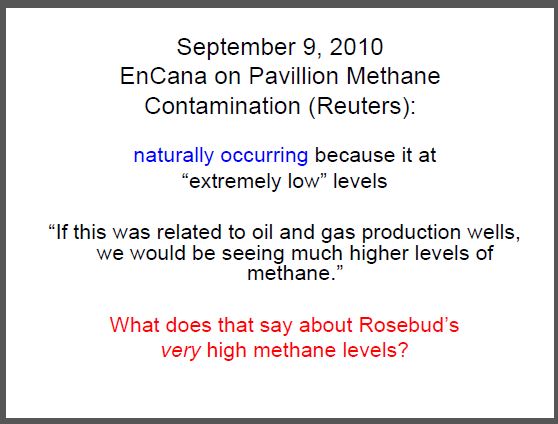 Slides from Ernst presentations