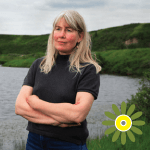 My condolences to the worker's loved ones and coworkers, and to area families and communities.
Drowning in a pit of frac waste or water hoarded for frac'ing would be a terrible way to die, and is preventable with adequate safety and education measures. Frac'ing is deadly. I've walked in some of those pits before they were filled. They're monstrous and challenging to get out of even when empty.
Frac'ing is evil, frac'ing must be criminalized.
Worker dead in apparent drowning at northern Alberta energy facility, Birchcliff Energy says emergency response crews responded to the scene Tuesday by The Canadian Press, Oct 11, 2023, CBC News with files from Reuters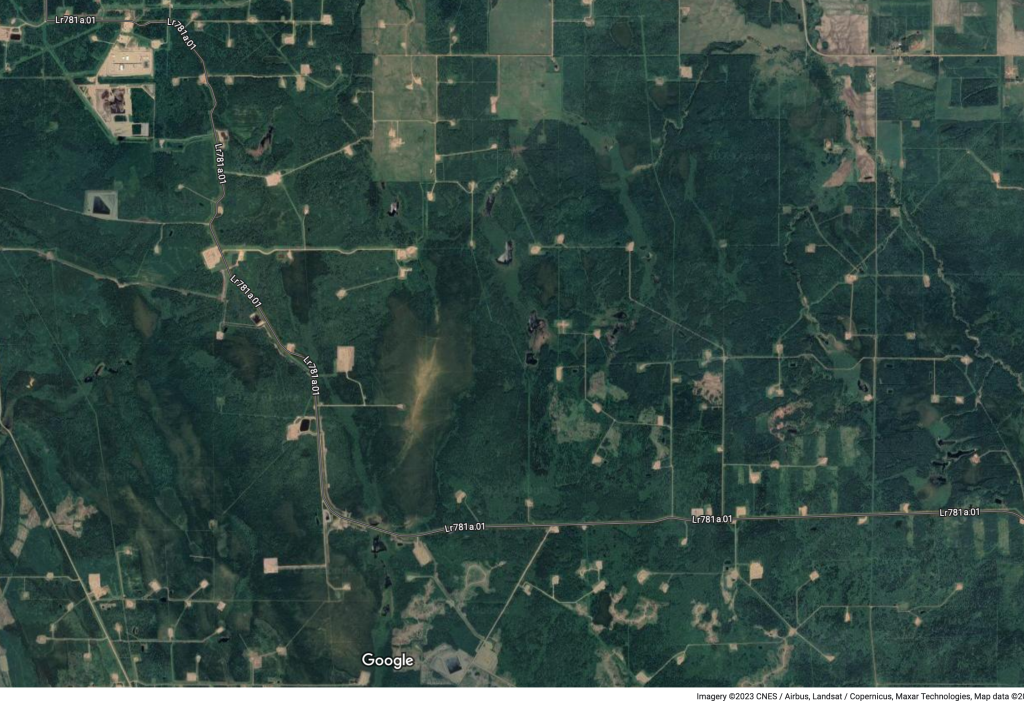 Some of the frac water hoarding pits south east of Bay Tree, Saddle Hills Co, Alberta. Snap taken Oct 12, 2023
Source, Zoom in and around, SE of Bay Tree: https://www.google.com/maps/dir/Bay+Tree,+Alberta//@55.7401265,-119.9506086,26391m/data=!3m1!1e3!4m8!4m7!1m5!1m1!1s0x5391737bdc5607e5:0x43c9b4928626d861!2m2!1d-119.9051597!2d55.8248163!1m0?entry=ttu
A contract worker has died in a water storage pit at a Birchcliff Energy facility in northern Alberta, the company said Wednesday.
The Calgary-based oil and gas company says the incident occurred at one of its water storage pits located south of Bay Tree, Alta., located about 600 kilometres from Edmonton.
"We have commenced an investigation into the cause of this tragic accident," said Birchcliff CEO Jeff Tonken.
Birchcliff says emergency response crews responded to the scene Tuesday evening.
The company says it appears the contractor may have drowned, though it adds the incident is still being investigated.
Birchcliff says the contractor's family has been notified.
The contractor's name has not been released.
Birchcliff produces around 80,000 barrels of oil equivalent per day from operations focused on the Montney and Doig resource plays in Alberta.
Birchcliff Energy Ltd. Reports Contractor Fatality by GlobeNewswire, Oct 11, 2023, Financial Post
CALGARY, Alberta, Oct. 11, 2023 (GLOBE NEWSWIRE) — Birchcliff Energy Ltd. ("Birchcliff") (TSX: BIR) regretfully reports that there has been a contractor fatality at one of Birchcliff's water storage pits located south of Baytree, Alberta.
Emergency response personnel responded to the scene during the evening of October 10, 2023. Although the circumstances surrounding the incident are still being investigated, it appears that the contractor may have drowned.
The contractor's family have been notified of the incident. The name of the contractor will not be released without the consent of the family. Birchcliff is working with the appropriate authorities to ensure a full investigation is conducted into the cause of the incident.
"On behalf of all of us at Birchcliff, I want to extend our deepest sympathies and condolences to the family, friends and co-workers of our deceased colleague. Our thoughts and prayers are with them during this difficult time.

Copying the USA MAGA Klan. Thoughts and prayers are useless, an apology to the family and workers is more appropriate, and quitting frac'ing.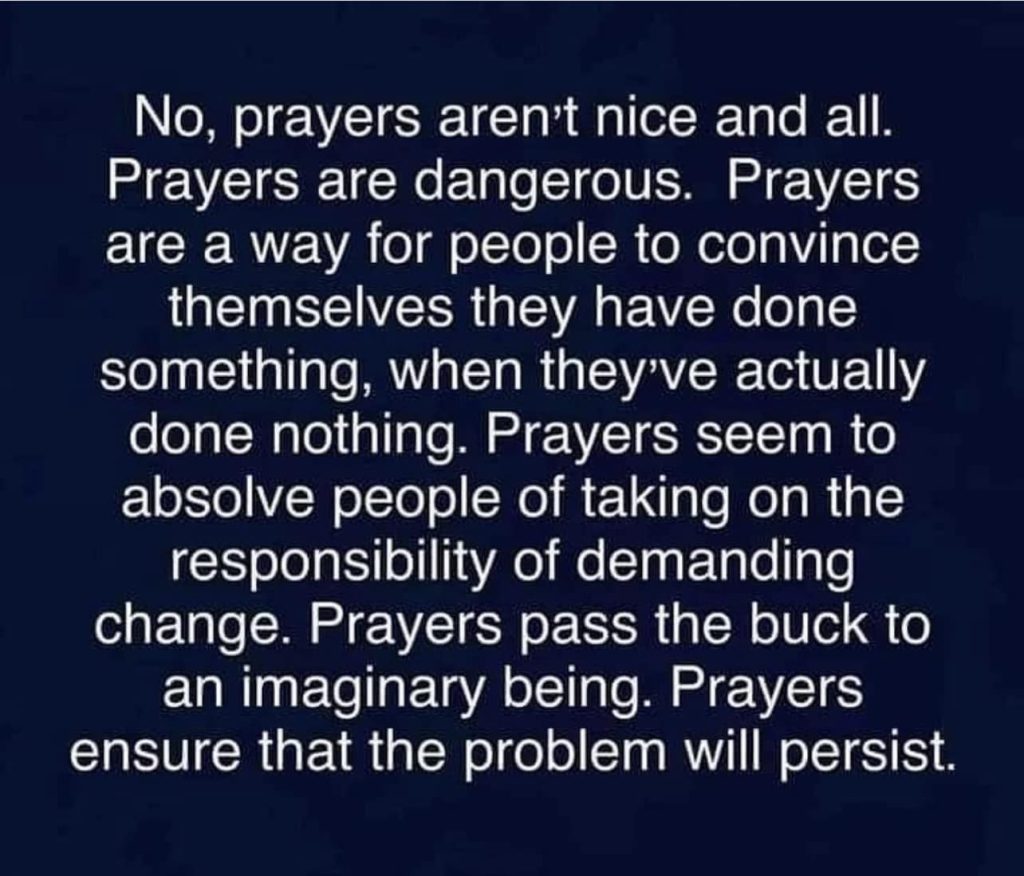 We have commenced an investigation into the cause of this tragic accident," said Jeff Tonken, Birchcliff's Chief Executive Officer.
Birchcliff's number one priority is the health, safety and well-being of its people and it will ensure that those impacted by the incident will have the support they need, including access to grief counselling services.

I beg to differ; I think Birchcliff's number one priority is profits. If it was "health, safety and well being" of people, the company would not be frac'ing, anywhere.

About Birchcliff:
Birchcliff is an oil and natural gas company based in Calgary, Alberta with operations focused on the Montney/Doig Resource Play in Alberta.
For further information, please contact:
Birchcliff Energy Ltd.
Suite 1000, 600 – 3rd Avenue S.W.
Calgary, Alberta T2P 0G5
Telephone: (403) 261-6401
Email:

email hidden; JavaScript is required

www.birchcliffenergy.com
Jeff Tonken – Chief Executive Officer Chris Carlsen – President and Chief Operating Officer

Birchcliff Energy Ltd. reports contractor fatality by Globe Newswire in BOE Report,

Refer also to:
A few frac water hoarding dams/pits; some fenced to protect wildlife, most are not (fencing is expensive and frac'ers are cheap and greedy). Photos by Will Koop: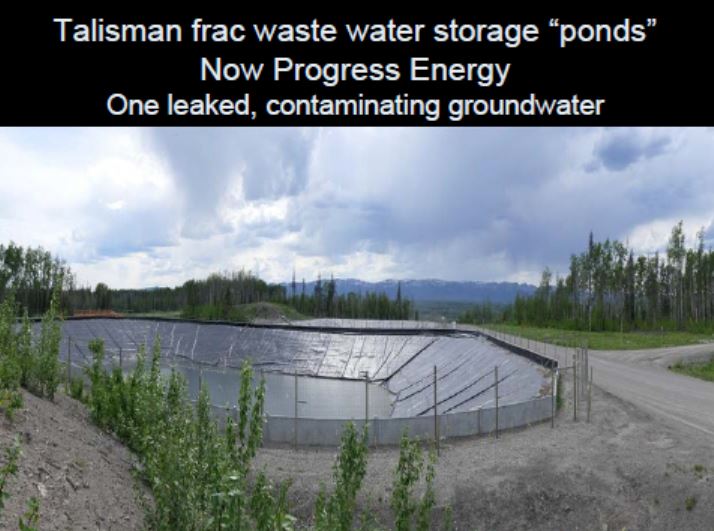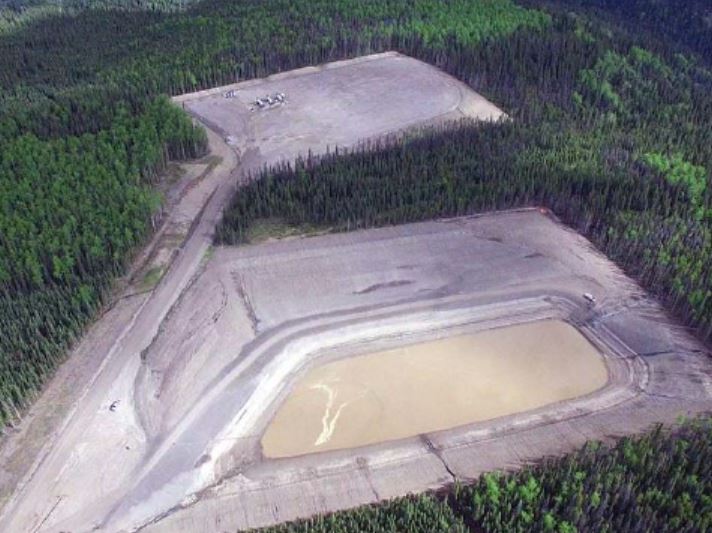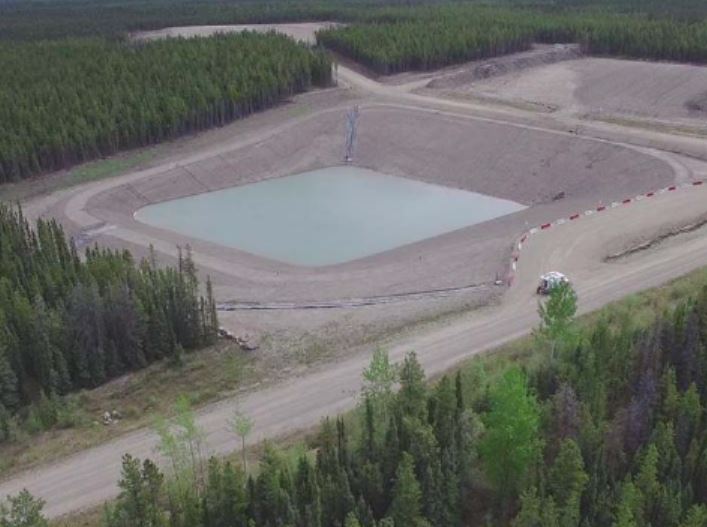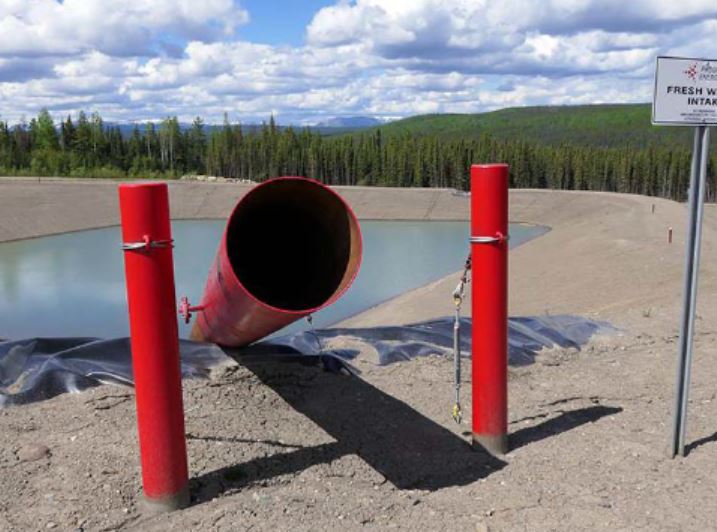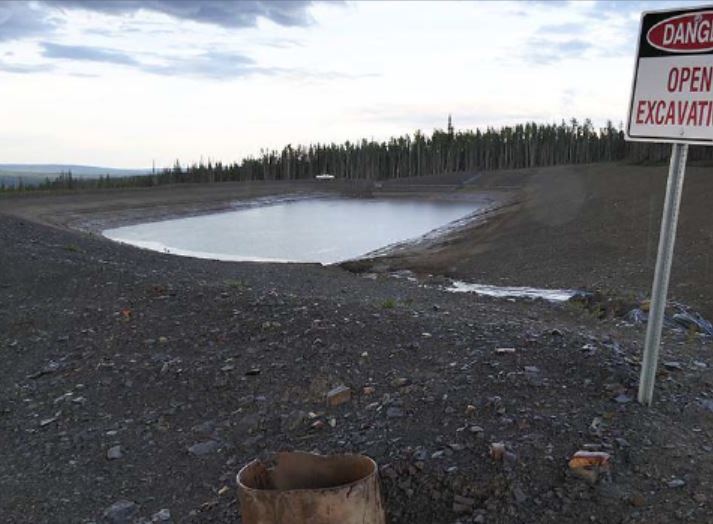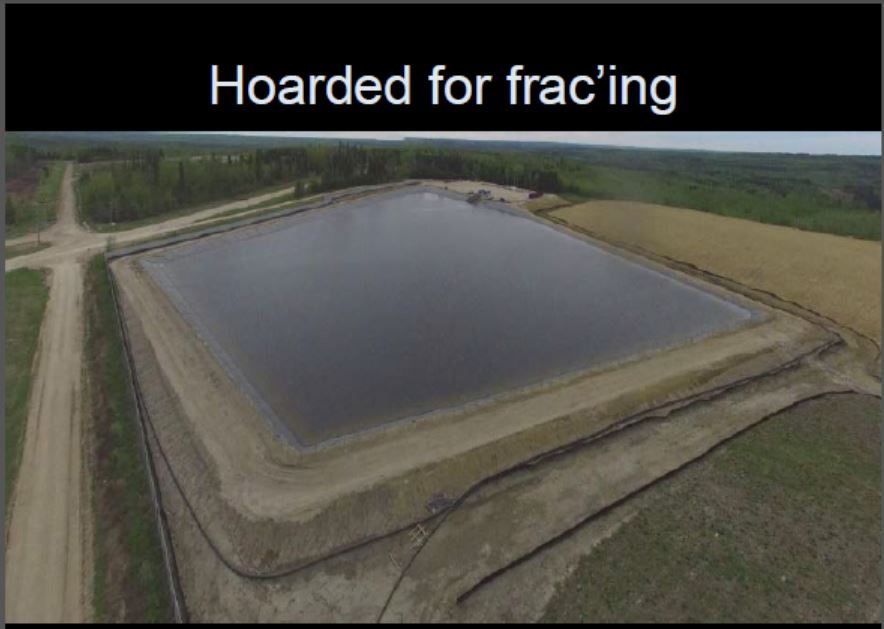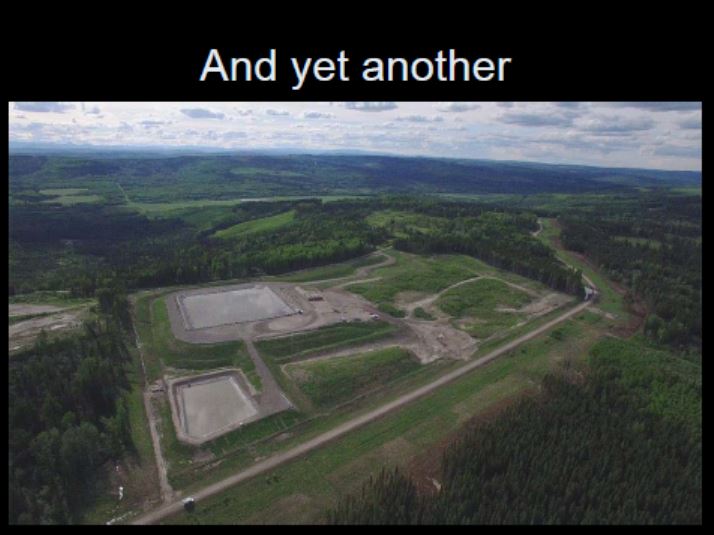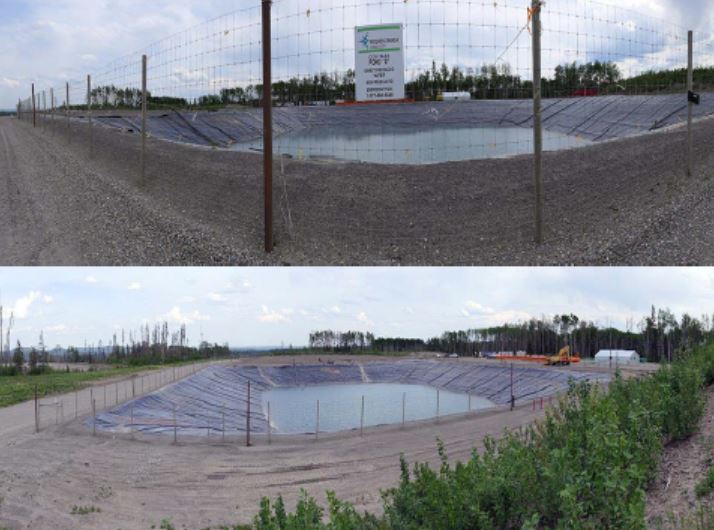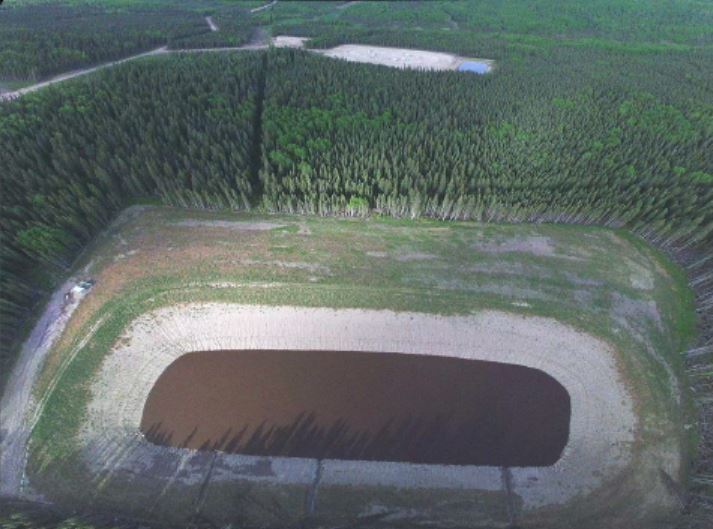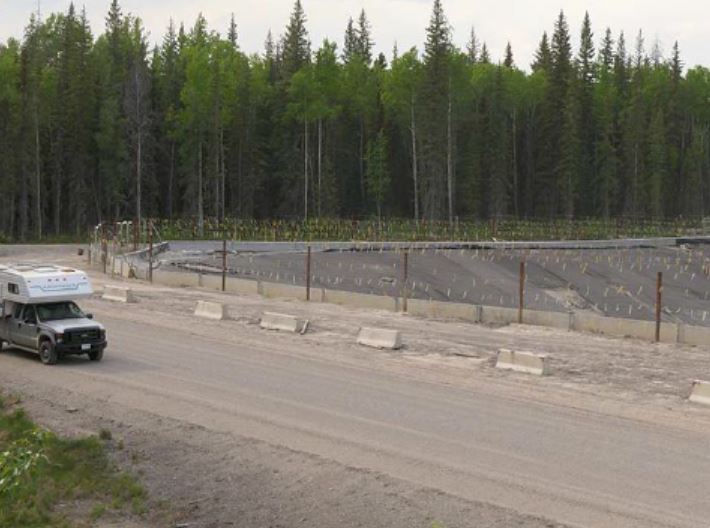 Many frac water hoarding pits are massive. 25 to 100% of water injected for frac'ing is lost forever to the hydrogeological cycle. Think of the severe droughts and wildfires occurring in frac fields around the world, and especially in Alberta, BC, SK.
Frac'ing is mega greed, mega stupidity and deadly.

2023 05 31: Belmont Co, Ohio: Father and 10 year old son drown in plastic-lined frac water hoarding impoundment. Younger son, age 8, went to get help. What terror all three endured.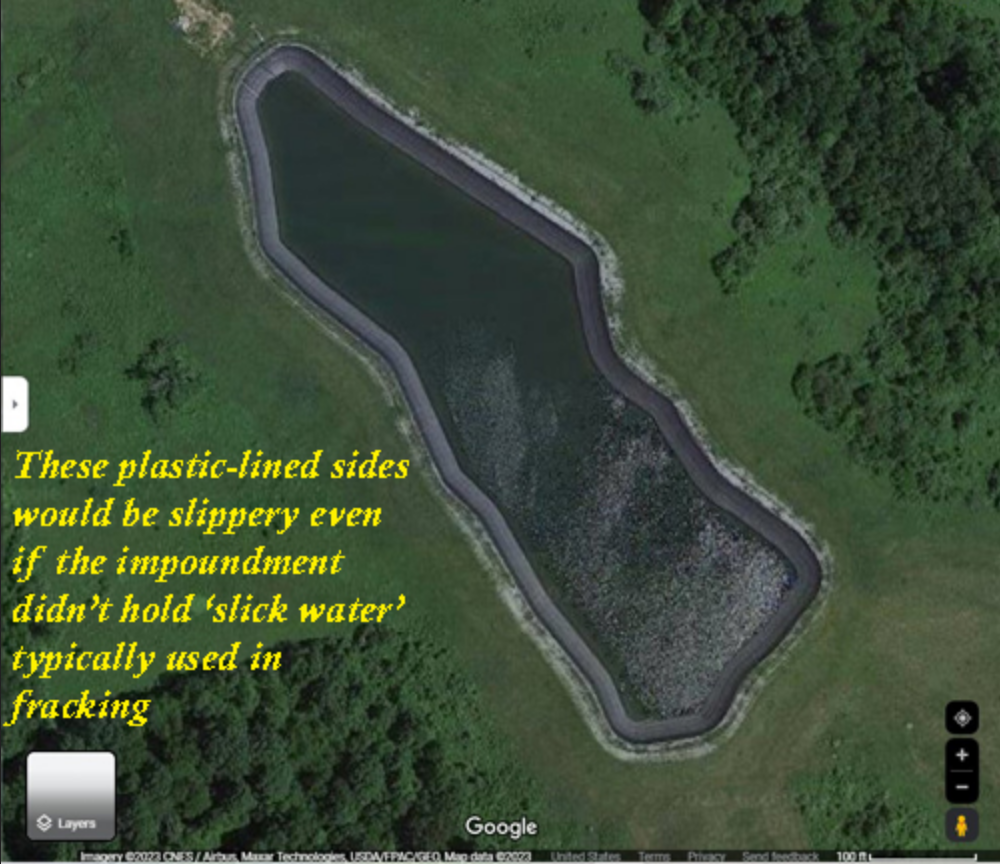 2023 10 10: When Is a Killed Alberta Coal Mine Really Dead? Never, according to the regulator's stance on Grassy Mountain. That's 'preposterous and illegal,' states a legal expert.
… Gordon Cartwright, a local rancher and member of the range-preservationist Pekisko Group, also expressed his outrage in a letter to the regulator. "Is our regulator going to entertain a dubious legal ploy to trammel on the values of Albertans, and our vital interest in water conservation, as a trade for votes from the coal mine community of the Crowsnest pass; the ploys of an Australian mining dominatrix; and the business-as-usual ethic of former Environment Minister Robin Campbell?" …
2021: Brilliant courageous Justin Nobel to PA DEP's Bureau of Radiation Protection at "Policy Hearing on Closing Hazardous Waste Loopholes" about oil & gas companies "screwing their own workers."
2021: Chevron and TRC head to trial over lost production linked to frac'd steam injection sink hole that killed Robert David Taylor. Frac'ers don't give a shit about what their greed is doing to air, water, land, subsurface, workers, communities, climate and poisoned families.
2020: Fracking is dangerous to our health, has ruined the lives of many. Workers "developed cancer, sores and skin lesions, chronic headaches and nausea, numbness in fingertips and face, and 'joint pain like fire.'"
2020: Texas, Burleson County: Chesapeake Energy Corp Contractor killed,three people severely burned after oil rig explosion. Will there ever be mercy for oil and gas industry workers and their families? For the killed, burned, blown up, steamed to death, fumed to death, dying tortuously by exposure to toxic secret chemicals and or radioactivity, suffering hideous cancers?
2020: America's Radioactive Secret: Oil & gas wells produce nearly a trillion gallons of toxic waste a year in America. It could be making workers sick and contaminating communities (in Canada too). "Us bringing this stuff to the surface is like letting out the devil … It is just madness."
2019: Two workers killed at Source Energy Services' Fox Creek Alberta Frac Sand Storage and Shipping Facility
2018: Nasty Nexen (subsidiary of Chinese state-owned China National Offshore Oil Corp., or CNOOC Ltd) pleads not guilty in Long Lake tarsands explosion that killed two workers
2018: Rolling Stone reports on Compendium 5: 'The Harms of Fracking': New Report Details Increased Risks of Asthma, Birth Defects and Cancer. Dr. Sandra Steingraber: "Fracking is the worst thing I've ever seen." Dr. Pouné Saberi: "There is a code of silence…." Workers rarely report injuries or hazards, for fear of losing their jobs.
2018: Worker killed during move of drilling rig at Cenovus Christina Lake tarsands site; Cenovus investigating itself. Will Cenovus find itself guilty if Cenovus is to blame?
2017: Fracking by Karve Energy Inc. at Consort Alberta killed Charles Oba, Calgary father of two; Family demands answers. Police not releasing name of the victim. Will Karve Energy blame Charles?
2017: Happy Alberta-Oil-Patch-Get-Away-with-Murder New Year? After 10 years to investigate and release report, CNRL fined $10,000 – maximum allowed – following regulation violations that killed 2 workers, injured 5 others, 13 in total trapped by devastating tank collapse. All 29 charges against CNRL dropped. Alberta's "No Duty of Care" energy "regulation" wins & kills, again.
2016: Shell Canada, Fox Creek Alberta: 47 year old worker killed by water hose in AER's Blanket Approval, "Brute Force & Ignorant" Frac Frenzy Pilot Project
2016: "My son was murdered" Drilling through Danger Chapter One: Regulatory vacuum compounds inherent risks; In 12-year span, an oil and gas worker died once every three months on average in Colorado, 51 workers died between 2003-14, victims of a system focused more on protecting industry than its employees
2016: NE BC, near Dawson Creek: Explosion at Encana fracking water facility injures worker. "We don't know the hydrological and geological implications of drawing the saline aquifer down. We may be creating a different kind of problem."
2016: NEXEN BLAMES WORKERS for major explosion that killed two at tarsands SAGD steam injection frac site near Fort McMurray
2016: Whistleblower: High Ranking EPA Official Covered Up Methane Leakage Problems Across US Natural Gas Industry; Inspector General called to investigate scientific fraud risking safety of workers, communities
2015: Jack Shawn Eyles, 28, from Kelowna, dies fracking in NE BC for Calfrac (Nitrogen Pumping Division) on Progress Energy Canada Ltd. Site: "Not an explosion as we usually think, but an explosive or sudden release of extremely high pressure"
2014: U.S.Centers for Disease Control Preliminary Study: Finds dangerous levels of benzene in frac workers' urine; Imagine the urine of children living beside frac'ing
2014: Big Oil, Bad Air: Where has the College been all these years? Why not SUPPORT ALL ALBERTA DOCTORS treating citizens and workers poisoned by oil and gas? Alberta College of Physicians and Surgeons tells Peace River doctors it will support them in face of intimidation
2014: Fracking Injuries, deaths and dangers for workers and communities
2013: B.C. school kids in danger, can suffer DNA damage illness from leaking sour gas several km away, yet B.C. allows wells within 100 m (~330 feet) of schools while Dallas City Council votes in 1,500 foot setback from homes and wells!
… Sour gas is lethal after five minutes of exposure at doses as small as 800 parts per million and has killed 34 petroleum industry workers since 1983….
2012: AEA: Support to the identification of potential risks for the environment and human health arising from hydrocarbons operations involving hydraulic fracturing in Europe
A proportion (25% to 100%) of the water used in hydraulic fracturing is not recovered, and consequently this water is lost permanently to re-use, which differs from some other water uses in which water can be recovered and processed for re-use.
2013: Former Gas Workers: Fracking Caused Health Problems and is Harmful to Environment
2012: Worker hurt in northern Alberta explosion
2012: Accident at Encana well in Colorado kills one worker, injuries three
2012: Oil industry workers oppose drilling and fracking in Calgary
2012: NASTY FRAC'ER! Encana sues top tribal judge to fend off Wyoming worker death suit
2011: For Occupational Safety and Health Research and Practice in the U.S. Oil and Gas Extraction Industry by NATIONAL OCCUPATIONAL RESEARCH AGENDA (NORA)
During 2003-2008, 648 oil and gas extraction workers were fatally injured on the job, resulting in an occupational fatality rate of 29.1 deaths per 100,000 workers – eight times higher than the rate for all U.S. workers.
Workplace Deaths Drop – But not in the Oil Industry
Alberta drastically under-reports workplace injuries
Karla Labrecque's doctor refused to do a blood test until he called the local MLA; Mike Labrecque gets sick working for Baytex, Baytex lets him go: "You're done."
Health report: some Alberta doctors refused to treat families exposed to toxic emissions by Baytex in Peace Country, one lab refused to process a test
Lack of adequate procedures cause of Suncor rig blowout near Hudson' Hope, Alberta
Worker hurt in northern Alberta explosion
Jury awards $4.1M to injured Rifle rig worker, Encana expected to appeal
Fire at gas well near Gleichen Alberta injures worker
***