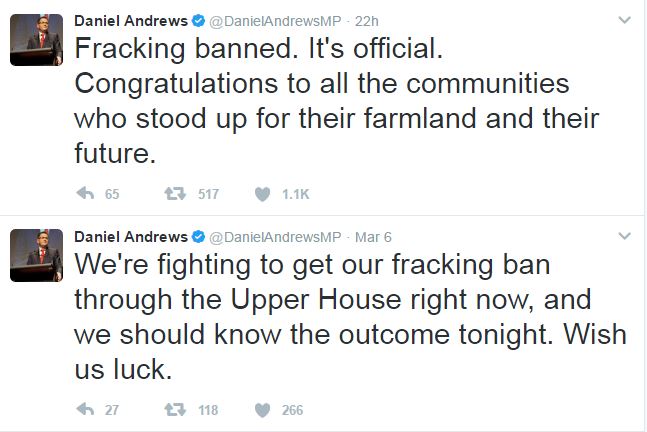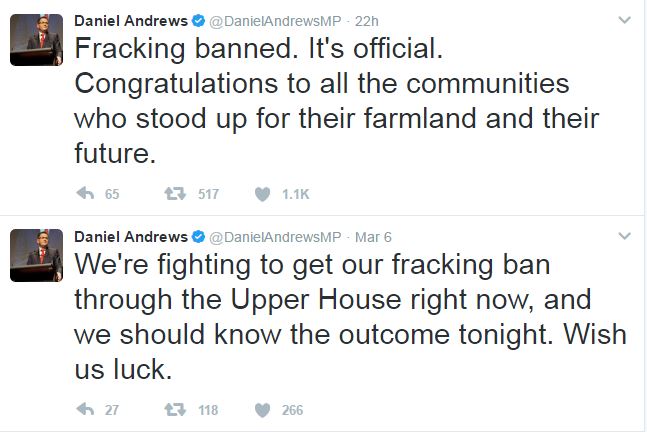 Tweets by Victoria Premier Daniel Andrews
Community campaign wins permanent #fracking ban in Victoria reports @takvera by John Englart, March 7, 2017, nofibs.com.au
To ensure it's clean green reputation of it's agricultural sector, and to guarantee the health of rural farming communities Victoria became the first Australian state officially banning fracking. It was motivated by a strong community lead campaign for a ban on gas exploration from 2011.
Legislation was passed in the Victorian Legislative Council, the upper house of the Victorian parliament, for a permanent legislative ban on fracking. Victoria's agriculture sector employs more than 190,000 people and relies on it's clean and green reputation.
The legislation was passed without amendment. The Coalition parties and Shooters and Farmers Party sought to amend the legislation regarding the onshore conventional gas exploration moratorium, but were defeated 20 votes to 18. Sex Party MLC Fiona Pattern and Western Region independent MLC James Purcell gave crucial support, along with the Greens, for passage of the bill.
…
Members of rural communities and the community campaign watched the final debate in the public gallery of the Legislative Council in Victoria's parliament house. They were after the last vote, ecstatic with the result. This makes Victoria the first Australian state to permanently ban fracking.
Friends of the Earth Melbourne said in a blog post: "This is an amazing day. It is the result of more than five years of hard work and dedication by many thousands of Victorians. 75 regional communities declared themselves gasfield free during this process. By 2012 we had built enough collective power that we were able to stop all development of onshore gas drilling in our state. Today the ban on fracking was made permanent."
The Australian Petroleum Production and Exploration Association on Monday May 6 called for the immediate removal of bans and moratoriums on natural gas supply on the east coast, arguing that more gas = lower emissions.
They are one party that will not be happy with the ban and moratorium.
Gas has not received good publicity with revelations today in The Guardian from AGL Energy executives that the gas market – not windfarms – was to blame for South Australia's energy reliability woes.
The permanent ban on fracking in Victoria will further embolden community activists in NSW fighting against Santos plans for fracking in the Pillaga region.
In Alice Springs over 250 people gathered for resounding support for a ban on fracking in the Northern Territory reports Lock the Gate. The Territory Labor government is conducting an Inquiry after which the Government would either ban fracking or allow it to proceed in tightly regulated areas.
The afternoon as it unfolded in Victoria's Parliament house via storify: Victoria first Australian state to ban #fracking
A few examples: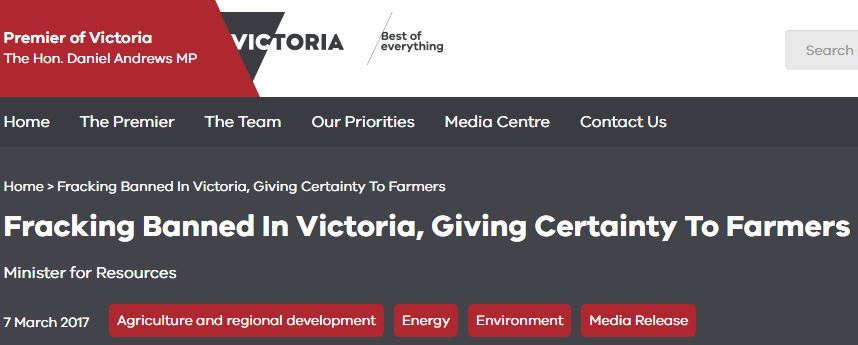 Fracking Banned In Victoria, Giving Certainty To Farmers Press Release by Minister for Resources, 7 March 2017, Government of Victoria, Australia
Victoria's farmers and our proud regional communities now have certainty after the Andrews Labor Government's historic Fracking Ban Bill passed the Victorian Parliament.
The Resources Legislation Amendment (Fracking Ban) Bill 2016 passed through the Upper House of the Victorian Parliament without amendment this afternoon.
Farming communities across Victoria have been calling for a ban on unconventional gas for years – while also expressing serious concern about the potential impacts of onshore conventional gas exploration and development.
Today, that uncertainty comes to an end.
This is a win for farmers. This is a win for regional Victoria. And this is a win for all the people who have campaigned to end fracking in this state.
The permanent legislative ban will protect the 'clean, green' reputation of Victoria's agriculture sector,
which employs more than 190,000 people.

The Bill:
permanently bans

all

onshore

unconventional gas exploration and development, including hydraulic fracturing ('fracking') and coal seam gas

extends the moratorium on conventional onshore gas exploration and development to 30 June 2020.
The extension to the moratorium will allow the Government to carry out a comprehensive program of geoscientific research – to look closer at Victoria's prospectivity, and the potential risks, benefits and impacts of onshore conventional gas and development.
That critical work will be overseen by Victoria's lead scientist in consultation with an expert panel made up of farmers, industry, local government and community members.
Unlike the Liberals and Nationals, the Labor Government will always back our farmers and do what's right to protect our world-class food and fibre heartland.
Quotes attributable to Minister for Resources Wade Noonan
"This is a historic day for our state. We promised we would ban fracking – and that is exactly what we have done."
"This is a win for people power and regional communities across Victoria who have campaigned for years to see this ban in place."
"We will now use the moratorium on conventional gas exploration to better understand its potential risks and benefits and we'll listen to the experts."
Quotes attributable to Minister for Agriculture Jaala Pulford
"Fracking has been resoundingly rejected in our regional communities."
"We're putting our farmers first and protecting their world-class produce and our environment."
2016 10 13: Chinchilla, Queensland: DEHP expands contamination testing of poisonous gases in Hopeland
Helen Bender is a woman of inordinate courage. Not only is she grieving for her father, who was so driven to distraction by coal seam gas company harassment that he committed suicide, she is continuing George Bender's fight and is challenging the system that pushed him take his own life.
This means she is taking on the combined might of the coal seam gas (CSG¹) companies and the federal and national governments that are complicit in devastating lives and livelihoods on the Darling Downs² and other areas of Australia.
…
On October 13 last year, 68-year-old George Bender reached the end of his tether with the stress he and his family were enduring because of Origin Energy's push to exploit CSG on his land. He went into his shed and ingested the weed killer that killed him. He died the next day.
George immediately bitterly regretted what he did, his daughter Helen says. He rushed back to the house and tried to rid himself of the poison, but it was too late. He survived for about 28 hours, and Helen was with him in the Chinchilla hospital for the whole night before he died.
"The one thing he kept on repeating to me over and over all night was 'They just wouldn't leave me alone'. There was huge emotion in his body. It was like he was so torn.
"I think he was really upset with himself that he'd let them get to him and that he did what he did. The very first thing he said to me was 'I am so sorry, Helen; I shouldn't have done it. My brain snapped'."
The Queensland coroner has not yet determined that George Bender's death was suicide and Helen is urging him to hold an inquest.
There was a great deal of bullying throughout George's dealing with Origin, Helen says. "None of it was in writing, obviously. The bullying was all verbal, although we did have some letters in which they hinted that they would take us to the land court if we didn't sign a Conduct and Compensation Agreement."
Origin are no longer pushing to operate on the Benders' property. "What makes me really angry," Helen said, "is the only thing that has changed is that George is no longer here.
"If Origin are prepared not to develop our property now, they were clearly in a position to not develop it when George was alive, or to accept the coexistence that he was willing to live with."
The 838-hectare "Chinta" property that Origin wanted to operate on is used for the cultivation of barley, chickpea, and cotton.
George Bender always insisted that he didn't want any gas wells within a kilometre of his house, and he wanted one paddock free of CSG infrastructure.
From 2005, George resisted overtures from another gas company, the Queensland Gas Company (QGC), and then he had to deal with the distress caused to his family by the Underground Coal Gasification (UCG) activities of Linc Energy on a site just six kilometres southeast of another family property, Valencia.
The odour from the Linc site was nauseating, Helen says, and the family's pigs started falling ill and dying. They had trouble breathing, broke out in rashes, and got swollen eyes, and sows delivered stillborn litters.
In 2012, it became clear that two of the Benders' water bores were affected by CSG exploitation.
The bores were identified in a government underground water impact report published this year.
The water in bores drops because the gas companies pump out water from the coal seams to lower the pressure within the seam and release the gas. Landholders can then find their bores blowing out gas.
The CSG companies are supposed to "make good" for all bores that lose water. [Just like Alberta Environment requirements that all impacts to water wells from coalseam gas activities – proven or not – must be resolved to the satisfaction of the water well owner, and alternate water supplied. Encana and other companies ignore the regulation and politicians, the AER and Alberta Environment let them.]
Helen (pictured left) says that, during negotiations about a make-good agreement in relation to the Benders' bores, Origin tried to bribe her father to the sum of AUD$200,000 to sign a Conduct and Compensation Agreement (CCA) "so that they could come on and drill wells and do whatever they wanted to do".
In the three years of negotiations about the make-good agreement, George had to deal with six different liaison officers. "They just kept on changing," Helen said, "so he would have to repeat himself and go over everything all over again.
"I think there was one point at which things were said to him that quite simply pushed him over the edge."
George needed a water supply, so he decided to opt for monetary compensation for the bores and to make his dams bigger.
"He wasn't one hundred percent happy with the make-good agreement he signed, but it was better than the pittance that Origin put in front of him at the beginning," Helen said.
"And the solicitors' fees were up over $70,000, and there was no guarantee that Origin would pay that.
"That's what scares landholders, and that's why they sign contracts; they are afraid of being landed with huge legal costs, and they fear that, if they don't sign a contract within the 'negotiation period' referred to in the legislation, the gas company will trigger the land court process. They are afraid they will end up losing their properties."

George signed a make-good agreement – with no CCA clause – on September 11, 2014. "In June 2014, the two water bores had started making a bubbling noise and leaking gas," Helen said.
Bore photos taken on November 22, 2015.
In November 2014, the Benders received an entry notice stating that only up to ten QGC employees would be coming on to their land. "On the Saturday morning, there were 13 people and six motor vehicles," Helen said.
Origin continued to push for the Benders to sell their Chinta property to the company, and the whole family was torn apart over what to do. This was something George Bender couldn't bear.
Helen told a hearing in Dalby in February 2016, which formed part of the Senate inquiry into unconventional mining, that the Benders consider the Queensland government to be one hundred per cent responsible for "lying to the people of this state and placing Queensland lives in the path of serious harm".
She told the senators:

"They have breached their duty of care

to all Queenslanders and, basically, they have forced this industry on our lives.
"There is the depth of the crime and corruption that they have committed and, I believe, are still committing and trying to cover up.
"They have cunningly deceived their way through legislative and regional planning changes, which were of no benefit to the state and just to the benefit of the government and the resource industry."
Helen said that, on the day that her father took his life, the Queensland government released a report entitled "Review of the socioeconomic impacts of coal seam gas in Queensland".
This report, Helen says, "is a complete disgrace and an insult to the local communities and landholders who have been directly impacted by this industry".
Helen told the senators of her complete lack of confidence in the Queensland GasFields Commission and in the government's CSG Compliance Unit, which, she says, "has absolutely no enforcement capabilities to even be effective".
It is a common consensus among landholders that the GasFields Commission has given them minimal assistance, Helen says.
"Essentially, they are there to help the resource companies come onto the land, as opposed to trying to assist the landholders with the negotiations to reach the best outcomes."
Helen is calling for a CSG moratorium across Queensland so as the right testing can be done.
"There should be no further approvals; no expansion. There needs to be real-time collection of data about contamination and the impacts on the water table and on the air and people's health. These need to be peer-reviewed independent studies. The right testing will prove that this industry is not safe."
The Bender family engaged an expert hydrogeologist to review QGC's Environmental Impact Statements, and those of Origin, along with half a dozen reports about the Surat basin, and the Condamine river in particular.
"She just punched holes through everything, and showed what the industry and the government have deliberately ignored," Helen said. "The Condamine is a major Groundwater Dependent Ecosystem, and that isn't even mentioned in the reports."

George Bender spent years immersed in paperwork about CSG. His copy of the 899-page Petroleum and Gas Act is tattered and filled with page markings and underlinings.
Now it is Helen who spends long hours lobbying, writing letters and emails, making phone calls, arranging meetings, and basically stirring up officialdom; doing all she can to correct misinformation and bring the truth out into the open.
Everyone involved in the battle against CSG has to deal with a mainstream media that mostly only scratches the surface of the issues.
Helen has a pessimistic and dramatic view of what could happen in the future. In a recent meeting with the Queensland premier, Annastacia Palaszczuk, she told Palaszczuk that the next thing that would happen because of CSG would not be a suicide.
"Someone will be killed," Helen said. "And it will be someone from the resource industry.  I know that people are at that point where they are prepared to protect themselves.
"I have heard a few landholders say they will shoot next time someone from a gas company trespasses on their property. It's going to get that bad."
That blood, Helen told the premier, would be on her hands because she had failed to do anything to try and remedy the situation.
"I think dad taking his life has thrown a lot of people, some of whom had contemplated it themselves. Dad actually doing it has shocked them out of that and they would now be more inclined to defend themselves."
George's wife Pam tends to stay in the background. Helen has become the public face of the Benders' struggle, and she does whatever she can to represent the family, but she works closely with her brothers. Her bother Brian also presented evidence at the Dalby inquiry.
When Pam speaks about the CSG companies, her comments are brief and direct:
"They are quite simply liars, cheats, and thieves."
More at link. [Emphasis added
2016 08 09: "Mr Bender's death was 'a snap decision' after Origin Energy tried to force him to sell." Family of George Bender Submission to Senate Inquiry into Regulation of CSG (CBM) Industry: 1,000 pigs dead due to gas industry pollution
2014 08 28: Canadian Association of Petroleum Producers Confession: Coal bed methane operations contaminate water resources
Yet CAPP's Alex Ferguson says many worries about water quality are based on past operations involving coal-bed methane — shallow deposits in closer proximity to groundwater. These did occasionally contaminate water resources, he says. In some of the more infamous instances, affected landowners could light their well water on fire.
Alex Ferguson was appointed Commissioner and CEO of the BC Oil and Gas Commission from 2007-2011
2013 11 12: French coalbed methane drilling presents risks even without fracking: joint study published by France's national geological & environmental agencies
2013 12 20: Pennsylvania Supreme Court Says It's Unconstitutional For Gas Companies To Frack Wherever They Want; Act 13, Gas Industry Takeover Law thrown out by State's Highest Court
"By any responsible account," Chief Justice Castille wrote, "the exploitation of the Marcellus Shale Formation will produce a detrimental effect on the environment, on the people, their children, and the future generations, and potentially on the public purse, perhaps rivaling the environmental effects of coal extraction."
2011 06 30: France Becomes First Country to Ban Extraction of Natural Gas by Fracking
2011 05 13: France bans 'fracking' after months of protest
2016 06 11: Radioactive Ranchers? Elements Found Downwind of Intensive Fracking
Nielle and Howard Hawkwood now want a moratorium on Alberta industry ]