Victoria extends drilling, fracing ban by Rick Wilkinson, January 30, 2015, Oil and Gas Journal
The new Victorian Labor government of premier Daniel Andrews has extended the coal seam gas (CSG) exploration and hydraulic fracturing ban in the state and launched another parliamentary inquiry. The previous Liberal government imposed a moratorium on approvals for new CSG exploration licenses and fracing approvals for all existing mineral and petroleum licences in August 2012. This was subsequently extended till July 2015. The new moratorium will ban drilling and fracing until at least 2016.
A previous inquiry recommended that the moratorium be lifted, but new Victorian Energy Minister Lily D'Ambrosio now says that report merely reflected how poorly the previous government dealt with the issue of CSG.
D'Ambrosio maintains that the inquiry dealt with the issue in a way that locked out the community and did not interrogate the science. She added that the new inquiry is about getting confidence back into the way government operates. She said she "wants to get to the bottom of people's anxieties and make sure the path forward on CSG is clear and guided by science."
The renewed bans have drawn scathing criticism from the industry, led by the Australian Petroleum Production and Exploration Association, which says the new government is not serious about welcoming investment. APPEA says that conventional gas resources are declining and Victoria's unconventional gas resources need to be defined and developed. APPEA says that restrictions, bans, delays and inquiries do not represent the "immediate action" called for by the 2013 Victorian Gas Market Taskforce to facilitate new supplies for the largest natural gas consuming state in Australia. "The decision raises serious questions about whether Victoria is a state that truly welcomes investment in developing onshore gas supplies, regional economic growth, job creation, and additional farming income that comes with it," said Paul Fennelly, APPEA chief operating officer, eastern Australia.
[Refer also to:
FrackingCanada The Science is Deafening Industry's Gas Migration
Australian Petroleum Association Confession: Coal seam damage to water inevitable by The Sydney Morning Herald, August 3, 2011.
The coal seam gas industry has conceded that extraction will inevitably contaminate aquifers. "Drilling will, to varying degrees, impact on adjoining aquifers," said the spokesman, Ross Dunn. "The intent of saying that is to make it clear that we have never shied away from the fact that there will be impacts on aquifers," Mr Dunn said.
Canadian Association of Petroleum Producers Confession: Coal bed methane operations contaminate water resources by The Calgary Herald, August 28, 2014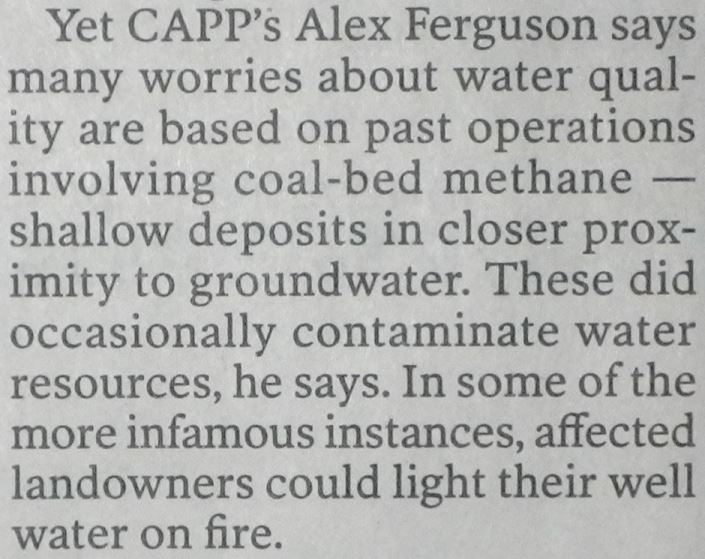 Yet CAPP's Alex Ferguson says many worries about water quality are based on past operations involving coal-bed methane — shallow deposits in closer proximity to groundwater. These did occasionally contaminate water resources, he says. In some of the more infamous instances, affected landowners could light their well water on fire.
Alex Ferguson was appointed Commissioner and CEO of the BC Oil and Gas Commission from 2007-2011 ]