The U.S. government has missed out on billions of dollars of revenue from overly generous and outdated terms for oil and gas leases on federal land in Colorado, according to a report by the Taxpayers for Common Sense advocacy group.
The report cited royalty rates "that lag the rates imposed on production from federal waters and Colorado state lands," as well as annual rental rates and minimum bid prices for leases "that have not changed in more than 30 years."
The group also cited venting and flaring of natural gas "that's ignored on federal lands," while the Bureau of Land Management (BLM) "refuses to charge producers for it," and noncompetitive leases that allow companies to lease land with no minimum bid requirement.U.S. Shale Coverage, Analysis, & Price Data at 15+ Key Unconventional Basins
The royalty rate of 12.5% on the sales value of oil and gas extracted from federal lands in Colorado is "considerably lower" than the corresponding rates for new leases on private or state trust lands in Colorado, the advocacy group said.
By comparison, the Colorado State Land Board increased the royalty rate for leases on state trust land stands to 16.67% from 12.5% in May 2011, and to 20% from 16.67% in February 2016.
New Mexico charges corresponding rates of up to 20%, while Texas charges up to 25%, the report noted. In federal waters, meanwhile, the royalty rates set by the Bureau of Ocean Energy Management are 12.5% for leases in shallow water, i.e. water depths of less than 200 meters (656.2 feet), and 18.75% for deepwater, or depths of 200 meters or more.
The Department of the Interior said in October revenue disbursements collected on federal and American Indian-owned land and offshore areas rose 31% year/year in fiscal year 2019 to $11.69 billion.
If the 18.75% offshore royalty rate had been imposed on federal oil and gas produced in Colorado from 2009-2018, the state's Office of Natural Resources Revenue (ONRR) "could have collected up to $1.3 billion more," the Taxpayers for Common Sense report said, meaning that "Colorado taxpayers would have received $600 million more in disbursements."
Rules implemented by Colorado in 2014 to reduce methane emissions from venting, flaring, and fugitive emissions of natural gas resulted in a reduction in the state by one-third between 2013 and 2018, the report said.
However, "Of the 3.9 Bcf of gas reported lost by operators on federal lands in Colorado between 2008 and 2017, ONRR reported collecting royalties on just 102 MMcf, or 2.6%."
Meanwhile, neither the annual rental rate nor the minimum acceptable bid rate for oil and gas leases awarded on federal land has been adjusted since 1987, the report noted.
If a parcel on offer in Colorado were to receive no bids, then a company may submit a noncompetitive offer with no minimum bid requirement, the report said, citing that BLM issued 129 noncompetitive leases covering 80,750 acres of federal land in Colorado.
The report's authors argued that BLM should exercise its "existing statutory authority to independently change each of the policies discussed here, including royalty rates, rental rates, and treatment of natural gas waste."
"Our federal laws and regulations are in place to ensure public benefit," a BLM Utah spokesperson told NGI's Shale Daily. "The BLM implements federal laws and regulations that determine royalty rates for activities on public lands.
"In fiscal year 2018, oil and gas development on public lands managed by the BLM in Colorado contributed an estimated $6.9 billion to the economy, with approximately 30,600 jobs tied to oil and gas development on BLM-managed public lands."
The state of Colorado receives 48% of the proceeds from each oil and gas lease sale, with the remainder going to the U.S. Treasury, the BLM spokesperson said.
The taxpayer report comes amid proposals from some Democratic presidential candidates to ban oil and gas drilling on federal lands altogether. Founded in 1995, Taxpayers for Common Sense is a nonpartisan budget watchdog group.
Refer also to:
Canada, the world's stupidest "petro" (fascist) state: Oil giants pay billions less tax in Canada than abroad
In Texas, energy companies cut nearly 6,000 jobs over past four months. In western Canada, Husky cutting hundreds of jobs, most cuts in Calgary. Kenney's $4.5 billion in corporate tax cuts obviously not enough to feed the greed.
World's Biggest Fund Manager, BlackRock, lost $90 Billion investing in fossil fuel companies over last decade
Jason Kenney gives multi-billion dollar profiting companies a taxpayer-funded war room to abuse citizens concerned about industry's rampant life-threatening pollution: Suncor tarsands revenue up from $11.2 to $12 billion between 2017 and 2018 when companies whined about how hard it was to operate in Canada; CNRL boosted its revenue from $7.1 to $11.5 billion
Frac Fraud on the Run: Pennsylvania attorney general sues Chesapeake Energy over shale gas royalties; When will Alberta's attorney general sue oil companies deceiving & robbing Albertans?
Letter by Ronalie Campbell: Frac Prosperity Alberta Gov't Style: Take $30 Million from Education and take more and more and more to Give Hundreds of Millions (how many Billions?) to Oil and Gas Industry (and zip in royalties)
2016 Study shows Alberta taxpayers missing out on $45 Million **every year** in surface rights fees. Just more Synergy bribery feeding the greed to keep rural Albertans obediently complicit to abuses by the oil & gas industry?
Failing grade, Auditor general slams Alberta Energy's way of tracking royalties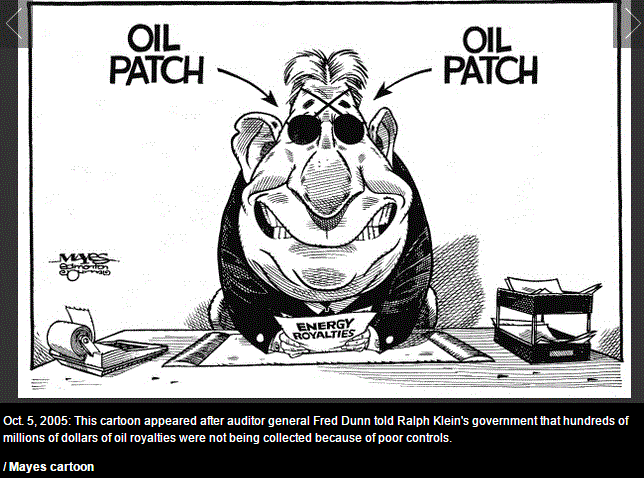 Kenney goes a beggin' to Trudeau for mega cash & tax cuts to give yet more $billions in corporate welfare to billion dollar profit raping oil patch; Kenney & CAPP want Canadians (and their heirs and their heirs and their heirs, etc.) to be forced to pay for oil & gas industry's rape & pillage & pollution of Alberta.
UCP Filthy Lucre Lust: Hands off our CPP! We don't want AIMCo rendering our pensions into "a pork barrel to convert into welfare payments for fossil fuel billionaires."
Kenney stealing $16.6 Billion from Alberta teachers to give yet more corporate welfare to polluting oil & gas & frac bankrupters via AIMCo? Includes revealing comments by Diana Daunheimer.
Kenney warns Albertans to brace for major cuts while giving massive tax cuts to rich corporations. CitizenWhoPaysTaxes: "Mom… how come we can't have any nice things? Shut up son and wave to the nice Mr Kenney."
Updated with comments. Lacombe Alberta: Herr Lecturer, Journalist Andrew Nikiforuk, warns $260B worth of oil and gas industry liabilities could be dumped on taxpayers. "Most companies that have gone into fracking are short of cash, highly indebted and barely making a go of it."
Hanky Panky Power Pimping Codswallop! Canadian & BC gov'ts forcing demand for Site C dam? Why give the failing frac 'n dash industry another near $Billion in corporate welfare? LNG & frac'ing, even electrified, are not green or clean or safe!
The orchestrated fraud & corporate welfare stench grows! Alberta municipalities abused by Petro-Pussy Premier Jason Kenney (Steve Harper/Koch Bros spawn?) to feed industry's insatiable greed "now own what they voted for!"
Jason kenney's billions of $$$ in corporate welfare not enough? Halliburton to cease cementing operations in Alberta by end of 2019 but "will continue to provide specialty cementing solutions, blends and **chemical additives** to our customers that require our ***proprietary*** products and processes."
Alberta increasing Oilpatch Welfare while enabling more harms and pollution and hundreds of $Billions in liabilities. Red Deer County caves, slashes taxes for shallow gas producers, gives zero tax relief for frac'd water well owners and farms. Where will the $5 Million shortfall come from? Why not from Kenney's $30 Million Oilpatch Pimping Propaganda Room?
End game of AER/CAPP/Alberta's putrid hundreds of billions in oilpatch liabilities stench has been known for decades. Yet another review not needed! Just get to work! Start cleaning up!
Mark Dorin synergizing for the AER? Study not needed of the 100s of billions of dollars in oilfield liabilities. Complete overhaul of petroleum ownership and its structure is needed, and to send AER, Synergy groups, CAPP, CSUR etc packing!
Cheapskate Aquifer-Fracker Encana, sitting on $Billions, kills $50,000.00 annual "corporate partnership" funding to Rosebud Theatre, blames economy. Greed & nastiness more likely reasons.
New Report: World governments make citizens pay billions to destroy their own health
Why commit to spend a billion to take on $billions in US Oilfield liabilities? Destroy the retirement of hardworking Canadians, burden us with US oilfield's toxic legacy? Canada Pension Plan arm commits up to $1 billion to buy oil assets in U.S.
Big Oil's NDP-Tory Dream Team "Free Market" Plan: Give $billions in loan (interest free?) from Canadian taxpayers to negligent, law violating companies to clean up $billions in messes intentionally left behind (intentionally ignored by the "No Duty of Care" AER) after taking $billions in profits, while causing $billions in pollution more; A loan that'll (intentionally) never be paid back
The Canadian Way: Taxpayers paying billions of dollars to remediate corporate profit-taking in N.W.T. that will be arsenic "contaminated indefinitely." Water used for drinking by Yellowknife and around Giant Mine may never recover
NDP Royalty Fraud? 3rd most profitable industry in the world assembles crack team to 'quietly' seek more subsidies, loyal media cheers. Alberta's Big Oil Bias: Billions in subsidies & lies for oil, gas, bitumen, frac'ing; $5 million for municipal solar, $0.5 million for farm solar, $0 for home solar, $0 for the many poisoned by oil & gas, $0 for families with frac health harms, 0$ for contaminated or lost water
Daunheimer April 13, 2015 Hearing Details. Frac it All. Frack Club Exposed: Banks Bail on Shale. What about those millions or billions in damages? Who pays for them?
Alberta courts stop publishing judgments to cut costs; Why not reduce the billions given to the oil and gas industry instead?
2012: Big Oil and Gas industry writing down billions in U.S. shale gas assets
Gwyn Morgan whines over the top? Blames Canada for Encana slinking off with Ovarytits (aka Ovintiv) to the USA. Why does Morgan live here if he hates it so much? Too many $Millions in freebies?
Shaun Fluker: Procedural Fairness and the Alberta Inquiry into Anti-Alberta Energy Campaigns. Since when has anything oil and gas related been "fair" except to companies profiting and bankrupting themselves to escape clean up, and politicians and regulators enabling them?
"Effectively, the shale boom is over." Colorado's 8 largest public oil & gas producers spent $27 Billion more than they made in past 5 years. Is that why Alberta gov't wants our pensions? To feed the bleed via AIMCo?