Alberta courts stop publishing judgments to cut costs by Matt McClure, January 11, 2015, Calgary Herald
Legal watchers are worried a decision to stop publishing judgments on the websites of Alberta's courts will make the judicial system less transparent.
While written rulings by the province's judges will still be available online through a countrywide database, U of C law professor Jennifer Koshan is concerned this week's move will result in delays of at least a day in the public release of precedent-setting decisions.
"Judgments are public goods and something is lost when the courts are not publishing their own work," Koshan said.
"An important function of the websites is to show that work to the public in as timely a fashion as possible."
A spokesperson for Alberta's Court of Queen's Bench said all three of the provinces's courts decided to axe website posting of their judgments as a cost-saving measure, but Michelle Somers was unable to provide dollar estimates of what staff time and technology costs will be saved.
While the move 14 years ago to make decision available on the court website facilitated easier research by the profession, media and general public, Somers said the subsequent launch of the Canadian Legal Information Institute's website meant there was another free alternative for online access to Alberta judgments and those from other jurisdictions.
"Our judgment database is simply not as necessary as it once was," she said.
"No staff reduction is anticipated, but the time savings will enable staff to address their other and more pressing tasks."
Koshan questioned the economics of the move given that she understands the same judgments will continue to be uploaded onto court systems and made available electronically to those working inside Alberta's judicial system.

"I'm not surprised they're looking for cost-saving measures given the deficit the government is running," she said.
"But this move just doesn't seem to make any sense."
While the written work of all the country's courts and many of its tribunals are available online through the CanLII system, provinces like Nova Scotia and B.C. still maintain websites that highlight recent judgments and offer a searchable database of previous decisions.
Through B.C.'s online court service, the public can also search by name for any criminal or civil matter at no charge.
For a$6 fee, they can view and print documents filed in those cases.
Searching for a case in Alberta requires a visit in person to the courthouse and payment of a $10 search fee. Viewing the file can often mean paying another $10. Photocopies are $1 a page.
"It would be great to see Alberta moving in the direction of other jurisdictions and making factums, webcasts and pleadings available," said Koshan, "instead of becoming less accessible." [Emphasis added]
[Refer also to:
2013 While justice grows unaffordable for many Canadians, Europe and Quebec offer a fix.
According to a newly-released summary report by the Canadian Bar Association, Canada now ranks ninth out of 12 countries when it comes to access to justice.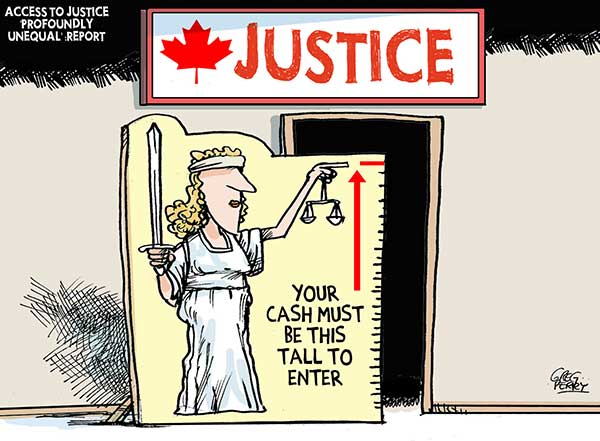 Cartoon by Greg Perry