Oilpatch bankruptcies add to backlog of orphan well reclamations by Stephen Ewart, April 18, 2015, Calgary Herald
An increase in oilpatch bankruptcies is adding to the backlog of "orphan wells" to be reclaimed to government standards as Alberta's election focuses attention on rural concerns and reveals strains on the [Alberta taxpayer and] industry-funded organization to address the problem.
Public health and environmental concerns over aging oilfield infrastructure are a long-standing issue in Alberta and the number of orphan wells has quadrupled to more than 700 in the past year.
There is growing apprehension that if more insolvent companies walk away from the full life-cycle financial obligations to their former facilities in the field amid a devastating plunge in the price of oil it will leave either landowners or taxpayers holding the bag.
Industry insists [talk is cheap] it will continue to fund the abandonment and cleanup of the oilfield facilities of failed companies through the Orphan Well Association (OWA).
In its 2013-14 annual report released last June — when benchmark crude was still selling for more than $100 US a barrel — the association was already warning companies it was "anticipating an increase in the number of orphans in the coming years."
The surge proved to be almost immediate.
The issue of oilpatch bankruptcies emerged in the first week of the election campaign as more than 400 people met in Trochu, near Red Deer, to complain the Alberta Surface Rights Board had stopped compensating farmers for defaulted lease payments — for access to their land — if companies go out of business.
Between 800 and 1,000 landowners are facing defaults on lease payments, lawyer Keith Wilson told the Edmonton Journal this week.
Wilson warned an increase in bankruptcies will put even more pressure on the OWA.
With rural ridings — where most oil and gas activity in Alberta occurs — crucial in the May 4 election, Premier Jim Prentice has called on the surface rights' board to review the decision.
Most of the companies that have failed in the current downturn are smaller ventures, including four little-known juniors — Tallgrass Energy, Winter Petroleum, Fairwest Energy and Stealth Ventures — that have each turned over more than 100 wells to the OWA.
Some of increase in the orphan well inventory is due to changes to the OWA's liability management program that had prompted it to double this year's budget to $30 million. The association is funded by industry but administered by the Alberta Energy Regulator. In fiscal 2013-14, the association funded more than $14 million on abandonment and reclamation work. [Pennies compared to what ought to be funded and what needs to be reclaimed]
The government started dealing with orphan wells in 1994 when a predecessor to the AER moved to abandon and reclaim old oilfield facilities from bankrupt companies in a province where some 400,000 wells dot the landscape after more than a century of drilling for oil and gas.
The Orphan Well Association was established in 2002. Since then it has spent $224 million and reclaimed more than 650 wells. It has been entirely funded by industry other than $30 million from the province to address a backlog of orphan wells and support job creation in rural Alberta. [Isn't the oil and gas industry supposed to do that without money given to it by Albertans?]
The OWA made a significant change to its mandate in 2012 allowing it to designate companies to the program that are not — in the regulator's opinion — likely to meet their ongoing financial obligations to operate in the province.
Several small producers complained those new financial obligations undermined their entire business.
The Canadian Association of Petroleum Producers has defended the levy and said it has no plans to ask the cash-strapped province for additional funds to clear the current backlog. [When companies walk from their responsibilities, what planning is involved?]
The industry has complained the province has changed its rules for wells that were remediated to the regulations of the day but it has adopted higher standards — especially in urban areas — and producers have pointed out it amounts to unlimited liability for them. [Then, they ought to change careers and get jobs at Walmart]
With a barrel of oil worth roughly half what it was last year, the number of companies that will fail and producing wells that will be suspended is bound to increase.
One concern that's being raised is whether all of the wells operated by a bankrupt company should be transferred to orphan status — and shut in forever — if there's potentially valuable oil and gas resources that could be produced from some of the wells if prices recover.
The new oil price paradigm is creating pressure throughout Alberta — on industry, government and landowners — but the spate of bankruptcies highlights the need to consider the future of what has been an invaluable program that must continue to evolve.
Just don't count on extra funds from government or industry to resolve it any time soon. [Emphasis added]
Alberta sees huge spike in abandoned oil and gas wells, Number of orphaned wells has quadrupled over the past year by Tracy Johnson, April 15, 2015, CBC News
LISTEN: Abandoned wells 6:21 Min.
2015 04 07: List of Orphan Wells
"The other thing about the ERCB is their dishonesty"
[What is the liability now, in 2015?]
September 10, 2011, Cochrane Alberta – From Award-Winning Journalist and Author Andrew Nikiforuk's Presentation on Hydraulic Fracturing. Here he talks about Alberta's Oil and Gas Regulator, the Energy Resources Conservation Board (ERCB).
It's no secret that Alberta's junior energy sector is struggling. Falling energy prices and tighter rules around the viability of oil and gas wells have meant many companies are abandoning their operations and turning their wells over to the province to be reclaimed.
In the past year, the number of so-called orphan wells has more than quadrupled from 162 to 702. At the current rate of reclamation, it will take 20 years to dismantle just this year's supply.
Orphan wells are not new to Alberta. They dot the landscape in the central and southern part of the province. Since 1994, the Alberta Energy Regulator has run a program to take over abandoned wells, pipelines and other facilities and reclaim them.
It's an expensive process, costing a minimum of $10,000 and millions in special cases. It also takes time. In the first 20 years of the program's operation, it reclaimed a total of 651 wells, around 30 a year.
In the past 12 months alone, 540 wells have been abandoned, almost as many as have been reclaimed in the past 21 years.
Why the huge increase? [Old fashioned greed? Shoddy workmanship by companies in a hurry? Lack of enforcement of regulations by the AER? Massive deregulation by the AER? ] 
"I think some of that is the economic conditions, but there's also a structural shift going on in the industry," says Brad Herald, a director of the Orphan Well Association. Herald says that the shift to more technical horizontal drilling in Alberta has made it harder for the juniors.
"There was a time when you could raise 10, 15, 20 million dollars and have a junior company in the shallow gas business. That's really not the case now, the cost of entry is much higher."
The Alberta Energy Regulator keeps a pretty close watch on the active oil and gas wells in the province. [By looking the other way and allowing masses of adverse cumulative impacts to go unaddressed and unmitigated and unpaid for?] Every month it calculates the production value and the cost of abandoning and reclaiming each well.
If the production value is not higher than the abandonment costs, there's a problem, and the company has to put down a security deposit. This ratio is called the LLR, or the licensee liability rating, and as energy prices fall, it has become the bane of junior oil and gas producers in Alberta, who are often cash-strapped and struggle to make the payments.
Two years ago, the regulator increased its expected or deemed cost to reclaim a well, which threw many companies out of compliance.
That's probably for the best, according to Barry Robinson, a lawyer with Eco-Justice in Calgary. "I think the [Alberta Energy Regulator] has set some more realistic security requirements. A lot of companies that aren't really financially viable were operating wells, and they didn't have the capability to clean up an abandoned well. Marginal companies that don't have the ability to clean up, and abandon a well after they've done operating it, shouldn't really be in the business."
Some of the wells could be sold
In the past 10 months, four companies: Tallgrass Energy, Winter Petroleum, Fairwest Energy and Stealth Ventures have turned over 100 or more wells each to the Orphan Well Association, raising questions about whether at least some of these wells could have been salvaged.
Andrew Basi is a partner at the accounting firm Grant Thornton who deals with corporate insolvency, and he feels that there's probably value in at least some of the wells that are being abandoned.
"We think it would be beneficial if there was a process in place where some of the productive wells that pay the government a royalty could be sold to solvent companies and those wells could continue into production," said Basi.
"And only those wells that have negative economics with them would be returned to the orphan well program."
Who will pay for the cleanup?
The Orphan Well Association is funded by the energy industry, except for a one-time cash injection of $30 million of provincial money a few years ago.

[If it is boasted that industry funds the AER 100 per cent, and it's a legally immune, Charter Violating, "No Duty of Care" corporate entity, why is Prentice giving and/or fronting industry public money to operate? Snap above from his 2015 Alberta Budget]
The association's budget has been doubled for this year to $30 million, which will help make a dent in the inventory of abandoned wells, but it will take more than one year of increased funding to deal with all 702 wells, along with hundreds of pipeline segments and other facilities.
"We have a rule of thumb on trying to retire them in a 10-year time frame," said Herald. "Will we see some elasticity in that? Potentially." Herald said there are no plans to ask for public money to clear out the backlog and that the industry sees this as extraordinary circumstances, not the new normal. [Have the funds paid by industry into the Orphan Well Program matched actual costs? How many hundreds of millions, or billions, in intentional shortfall to hang on Albertans? Emphasis added]
MUST READ: PCs declare energy wins, seniors lose by Ronalie Campbell, April 15, 2015 , Ponoka News
Dear Editor,
Since 2007, we tried to have a water contamination issue addressed by government. We wrote to every Environment Minister, Energy Minister and Premier since then. There were no actions taken to protect us from further impact. Instead, energy companies were allowed to drill, fracture and co-mingle gas zones, making identification of the source near impossible.
We were told we had no standing to object to future ongoing drilling even with proven deep gas showing up in our water. Our case was closed in 2014, leaving us to deal with it.
Our letters of concern have always been responded to first, by the Liberal party, then NDP and several weeks later by the Minister of Energy representing the Premier. Does that not tell you who really runs this province?
We received no response from the Wildrose party, yet they garnered the most rural seats
in the last election? That says a lot about their loyalty to their electorate.
Can it get more ridiculous? Sadly, yes it can. April 9, we attended a public meeting in Trochu hosted by Alberta Surface Rights Group, a landowner group that works to protect rights, particularly in dealing with oil and gas development on the land. The reason for this meeting was to inform the public of some recent Surface Rights Board (SRB) decisions which they believe have breached the Act. This Act was established in the 1930s to balance energy development and protect landowner rights. Lawyer, Keith Wilson, explained that oil companies can gain access to land, even when the landowner is not in favour,
through a Right of Entry Order granted by the government. To balance this taking, landowners were promised the right to be made "whole" or compensated by the company, or failing that, by the government, for leasing of their land. With low oil prices some energy companies are declaring bankruptcy and calling on protection under the federal Bankruptcy Act to not pay landowners. In the past, the government would make payment and seek restitution from the company. Not today!
One case involved an elderly couple who have not been paid for three years, total bill amounting to over $100,000.
Without the energy company present at the hearing to provide any defense, the SRB decided in favour of the oil company over the landowners. No payment required! This would be like the hockey team that doesn't show up to play being given the win. Have we now entered the world of bullies or just referees with a different set of rules? These are legal agreements being violated.
This government has been protecting the energy industry and has failed the people of this province.
Why would we support a government, which endorses the abuse of innocent people? Premier Prentice promised in his pre-electioneering that he would restore landowner rights removed in Bill 12. Isn't this just the opposite? Does he say one thing, but do another? The people of this province deserve to be protected from huge corporations, not to be their creditors and be left with their mess. It is time to change political thinking and put power back into the hands of the people. The PCs have failed and its time to tell them so.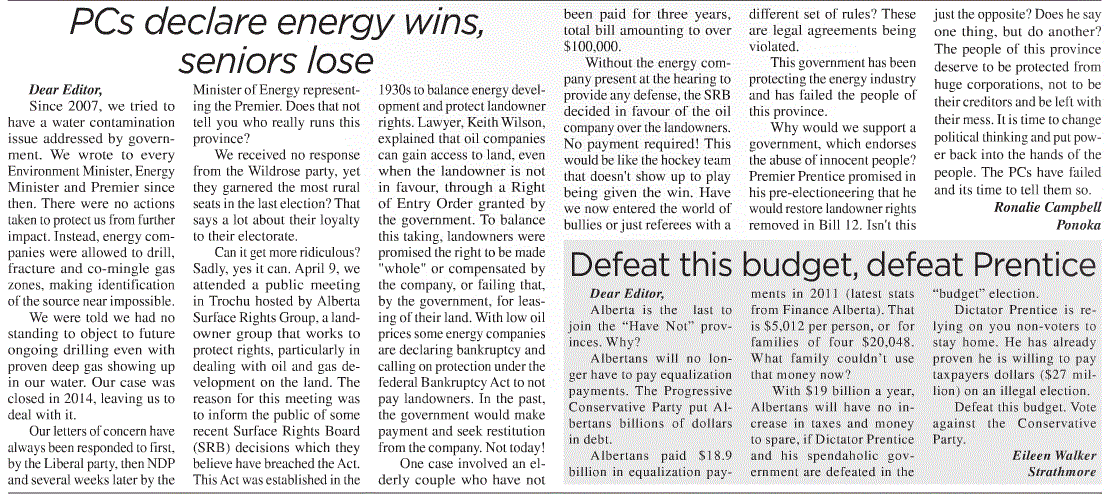 Alberta farmers face loss of lease payments as smaller oil companies go bankrupt by Sheila Pratt, April 15, 2015, Edmonton Journal
Dozens of small oil companies are defaulting on lease payments owed to farmers and ranchers.
The province refuses to provide compensation.
Facing losses of thousands of dollars, more than 400 landowners packed the Trochu hall southeast of Red Deer the last week in a growing campaign to regain their long-standing right to compensation.
Don Bester, a Red Deer area farmer, said there is a lot of concern after the Alberta Surface Rights Board abruptly reversed a long-standing policy of compensating land owners for defaulted lease payments.
"We're gearing up to have this decision reviewed by the courts," said Bester, president of the Alberta Surface Rights Group.
The board's 2013 ruling to deny compensation to Warburg area farmer Doug Lemke "is dead wrong," said Bester, who estimated about 40 small oil companies with scores of wells could be facing financial difficulty.
By law, rural landowners must let oil companies on their land to drill wells and lay pipelines. The companies must pay rent for farmland they use and for disturbance to farming. If they default, the government steps in and makes the payments.

In an interview, Lemke said he is owed three years of lease payments — about $10,000 — by bankrupt Petroglobe. He was shocked when the board turned him down in 2013 and again in 2014.

The loss of rental income is just one issue, he said.

"The even bigger problem is with a bankrupt company. How do I get the well site cleaned up so the land can be returned to farming?" he asked.
"There are a couple of buildings there and a pipe sticking out of the ground."
Lawyer Keith Wilson, a specialist in land rights, said the board's decision to deny compensation under Section 36 of the Surface Rights Act is "grossly unfair" and disrupts "the social contract" between landowners and oil companies. [What else is new in "No Duty of Care" (except to oil and gas companies) in Alberta?]
"Landowners are forced to take the wells and it's always been the law that government would step up the plate if the company went bankrupt," said Wilson, who attended the Trochu meeting.
"Something has gone off the rails." [In about 2001, hydraulic fracturing unconventionals went off the rails in Alberta (in many more ways than defaulting on lease payments)]
Wilson estimated 800 to 1,000 landowners could be facing defaults on lease payments.
Some small oil companies are writing landowners, asking to delay payments or offering shares in the company instead of cash.

Wilson also warned that given the increasing number of bankruptcies, more and more abandoned well sites will fall to the Orphan Well Fund for clean-up. The fund is partly covered by taxpayers.

"We need to make sure companies clean up their liability while they have the cash flow," said Wilson, urging the government to increase the pace of well reclamation.
Wilson said he was pleased Conservative Leader Jim Prentice called this week on the surface rights board to review the Lemke decision in the wake of the Trochu meeting. "It's a good step forward," he said. [Or more like the usual Tory/Wildrose Party promise to get rural votes that will mean nothing after the election?]

Lemke also said he recently received a letter dated April 7 from the surface rights board, inviting him to make another submission. [Three times foolish? Like the AER wanting Ernst to endure a third, non-compliant noise study by Encana, while doing nothing to enforce the regulations and laws Encana violated?]
Officials from the surface rights board did not respond to Journal queries. [Emphasis added]
CBE defies government rules, votes to pull funding out of reserves by Eva Ferguson, April 14, 2015, Calgary Herald
In a defiant move to maintain funding for student growth, trustees with the Calgary Board of Education voted unanimously Tuesday to pull up to $18 million out of their reserves to make up for provincial funding shortfalls.
Administrators warned in a special report to trustees of a new provincial directive, which states: "beginning with this budget and by government direction the CBE must present a balanced budget without the use operating reserves."
The CBE's own legal team warned that the move may be considered "defiant" and that the ramifications may have to be explored further.
But trustees, enraged that the province's tough budget introduced last month will mean the district faces a $29-million shortfall, said they have no choice but to at least provide funding for each one of the new 2,500 students expected to enter the public system.
[While Prentice gives billions via freedom from liabilities and bankruptcies to the oil patch?]
"I'm not prepared to make our students suffer because of this provincial budget," said trustee Trina Hurdman, who introduced the notice of motion to pull $18 million out of reserves for this fall's budget to maintain existing class sizes. [BRAVA!~]
"We're not being defiant, we're protecting students. That is our job. Public education serves the common good."
Trustee Judy Hehr agreed, adding that last year the province encouraged the board to dip into reserves to make up for shortfalls, "but this year we're being asked to do the polar opposite." [Courtesy of the WildroseHarperPrentice Party]
Provincial advice to boards has been to stay away from reserves in case budget cuts will have to go deeper in future years, particularly if the economy doesn't recover quickly and oil continues to slump.
But trustee Amber Stewart added, "to say to people for the next three years, sorry, you're not funded to grow, I can't bear saying that to families. Our kids deserve better.' "
CBE administrators presented a dire report to trustees entitled Budget Assumptions, as preparation for the kinds of cuts and the larger classes the local district will have to prepare for heading into the next school year in light of cutbacks by the province.
Despite a projected 2,500 additional students coming into Calgary's public system this September, the provincial budget released in March has full-time equivalent teacher numbers remaining flat at 33,500, causing deep concern across Alberta that class sizes will grow, and learning will suffer.
"If we don't provide our kids with access to their teachers, they will not be engaged, they will not be motivated to learn. [ALL THE BETTER TO CREATE UNTHINKING, UNQUESTIONING WORKERS FOR THE OIL INDUSTRY?] They will get lost and they will slip through the cracks," said Julie Hrdlicka, who was elected Monday as the new trustee to represent Wards 11 and 13.
"Knocking on doors, I was hearing from a lot of people that they are taking their kids out of the public system. And they are even going into debt to pay for the special needs schooling their kids aren't getting in the public system. [FRAC PROSPERITY?]
"Is that the kind of society we want? We need to completely revisit our funding model. It's not working."
David Heyman, press secretary for Tory Education Minister Gordon Dirks, said the minister may be open to allowing school boards to tap into reserve funds but only for this year, and only for front-line services.
And even though the CBE has $37 million in its reserve, Heyman noted the ministry specifically wants school districts to steer away from using up reserve funds because budgets over the next several years will continue to be lean.
"This year won't be unique," he said. [Emphasis added]