Canada is behind on environmental rights. Will the courts help? Last month, 15 children and youth asked judges to hear their claim to a constitutional right to a livable climate. The federal government wants to stop the case before the courts can even hear their argument by Zoe Grames-Webb,  Annabel Webb,  and Margot Young, March 9, 2023, The Province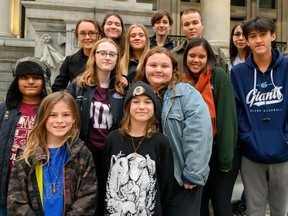 We are failing our children, imperilling their future by government inaction — and sometimes government action — that makes climate change worse.
But, it turns out, when adults fail, youth step up.
Last month, in La Rose v. His Majesty the King, 15 courageous children and youth were in court asking three Federal Court of Appeal judges to hear their claim to a constitutional right to a livable climate.
The federal government, meanwhile, wants to stop the case before the courts can even hear the youths' argument.
In 2020, the Trial Court allowed the government's preliminary motion to dismiss. But now, with that decision under appeal, judges have another chance to take up the job that Canada's Constitution gives them: hold governments to their constitutional obligations. The Canadian Charter of Rights and Freedoms requires governments to respect and protect the rights to life and security of the person — rights the climate crisis puts at risk. To date, Canada is one of the biggest climate polluters in the world and has failed to meet every climate target that has been set.
Young people have little power over climate policy. Sure, these youth tell us, they can turn off the lights, recycle containers and put apple cores in the compost. But at this crisis point, it's not enough, and they know it. Youth need governments to take urgent, broad and science-based action.
But it's not happening. And when government refuses to act like a responsible adult, young people are forced to take to the streets, and to the courts.
It's not fun to leave school early for meetings with lawyers, or spend hours preparing speeches. No one wishes for a childhood of protesting, school striking, or sitting in court. But today, younger generations have no choice: their future is literally at stake.
But wait — isn't Canada a global climate leader? How does this legal context compare to elsewhere in the world?
The youths' arguments in La Rose find broad support from law in other countries and from the net of international human rights obligations that Canada itself has helped build. The UN has accepted environmental protection as a human right, identifying the triple planetary crisis of climate change, nature loss and pollution as the top human rights challenges of our time. More than 150 countries recognize and protect the right to a healthy environment through their constitutions, national laws and judicial decisions.
Sadly, Canada has fallen behind.
Concepts like incrementalism — when taken to mean that courts must take baby steps to evolve what the Canadian Charter of Rights and Freedoms protects — are dangerously out of touch with the rapid and dramatic impacts of climate change.
But adapting to a changing world is not new to the courts. They have long accepted and ensured that the "living tree" of our Constitution responds to emerging Canadian realities. Constitutional legitimacy demands that our judges engage with novel arguments.
For example, in 1929, the Privy Council expanded the Constitution's use of the term "persons" to refer to both women and men, despite that when written in 1867, the term clearly meant men only.
Today, at a concentration of 419 parts per million of atmospheric carbon (when 350 ppm is considered "safe" and "stable"), we need an evolved constitutional understanding to include protection from disastrous climate change within the rights to life, security of the person and equality. Scientists believe 350 ppm is the threshold for serious danger to people and the planet. The La Rose case was filed in 2019, at 407 ppm.
It is shameful that Canada's federal government wants this case to go away before it even gets started. Is this the legacy we want to leave our children — judicial avoidance of the most pressing issue of our time?
Human rights are broadly understood as standards that recognize and protect the dignity of all human beings. Well, the climate crisis is here — and its impacts are already putting the well-being of children and future generations into question. If our constitutionally protected Charter rights won't help protect our children and grandchildren from a dangerous future, are they really fulfilling their purpose?
Our message is simple: Give our youth their day in court. And when they get there, listen carefully to what's at stake for them. Consider what constitutional protection of key individual rights must include to be relevant in a world gripped by climate disaster and scarred by environmental destruction.
Zoe Grames-Webb is a 16-year-old plaintiff in La Rose v. His Majesty the King; Annabel Webb is a human rights fellow at the David Suzuki Foundation; Margot Young is a professor of constitutional law at Allard School of Law, UBC.

Refer also to:
2011: How Unconventional Gas Threatens our Water, Health, and Climate
2012: Using shale gas over coal does not help climate, says big gas investor
2015: 'Natural Gas as a Bridge Fuel' Fraud? Another study: "Considering only physical climate system effects, we find that there is potential for delays in deployment of near-zero-emission technologies to offset all climate benefits from replacing coal energy systems with natural gas energy systems…."
2015: A Duty to Protect. "It is also not at all certain, that stricter climate policies will seriously harm our competitive position, or lead to companies leaving…supposed dangers that the State put forward in its defense. But even if this were the case these grounds are insufficient to assume that the Netherlands is not neglecting its duty of care."
2017: Damaging the Charter: Ernst vs Alberta Energy Regulator by Lorne Sossin, Dean Osgoode Hall Law School, York University. Comment: "It causes one to question how much both the plurality and the dissent were driven by the desired end-state of the judgment, rather than consistency in applying principles of public law."
2017: Wow, University of Alberta's Centre for Constitutional Studies & Legal Education Society of Alberta haven't yet realized that Canada's Charter of Rights and Freedoms is a mangled, oil-soaked paper airplane flown out of a 26th storey window in downtown Calgary, fueled by Supreme Court of Canada knowingly publishing lies in their rulings.
2017: Encana named in 3 lawsuits by 2 California counties and 1 city claiming damages, that Encana and other companies deliberately presented misinformation about climate change and hindered action to address it
2017: Texas: New Study by TAMEST, State's Top Scientists (mostly industry supporters, so findings especially damning): Drilling in Shale causes pollution, earthquakes, billions in road damages annually, billions in trucking industry damages annually, 75% increase in rural crashes involving commercial vehicles. Health & Climate Change Impacts Not Assessed. Why Not? Too terrible?
2017: From Smokes to Smokestacks: Lessons from Tobacco for the Future of Climate Change Liability. Do Comparisons Between Tobacco and Climate Change Liability Withstand Scrutiny?
2019: What about us? Shell, ExxonMobil, Chevron & BP Could Be Legally & Morally Liable for Climate Crisis in Philippines
2019: Encana, one of the world's 47 most polluting companies, named "morally responsible" for death & destruction; First time a human rights body stated fossil fuel companies can be found legally and morally liable for harms linked to climate change.
2019: Lawsuits in USA testing "attribution science." Researchers can link weather events to emissions and companies responsible. "This body of literature…tells us that dangerous climate change is upon us, and people are suffering and dying…and it's going to get worse." For any potential uncertainty about climate attribution, there's at least one truth that should override the rest: Fossil fuel companies "were aware decades ago what trouble climate change would be."
2019: Lawsuit Targets Feds' Failure to Consider Colorado Fracking's Climate Harm. "And despite several court decisions making it clear that this failure is illegal, the BLM continues to allow oil and gas leasing to go forward without considering the climate impacts."
2019: Judicial Tragedy: U.S. District Judge William Alsup wanted to "stick to the science" and avoid politics, presided over standing room only tutorial on climate change, but let big oil off using politics. Science is on humanity's side, the law is not.
2019: Frac'ing is not safe, it does not improve the environment! Compendium 6 Released: Review by doctors & scientists of more than 1,700 references conclude frac industry poses threat to air, water, climate and human health
2019: Rhode Island vs 21 Oil & Gas Companies: Judge William Smith characterized operations "leading to all kinds of displacement, death (extinctions, even), and destruction….Defendants understood the consequences of their activity decades ago…. But instead of sounding the alarm, Defendants went out of their way to becloud the emerging scientific consensus and further delay changes – however existentially necessary – that would in any way interfere with their multi-billion-dollar profits."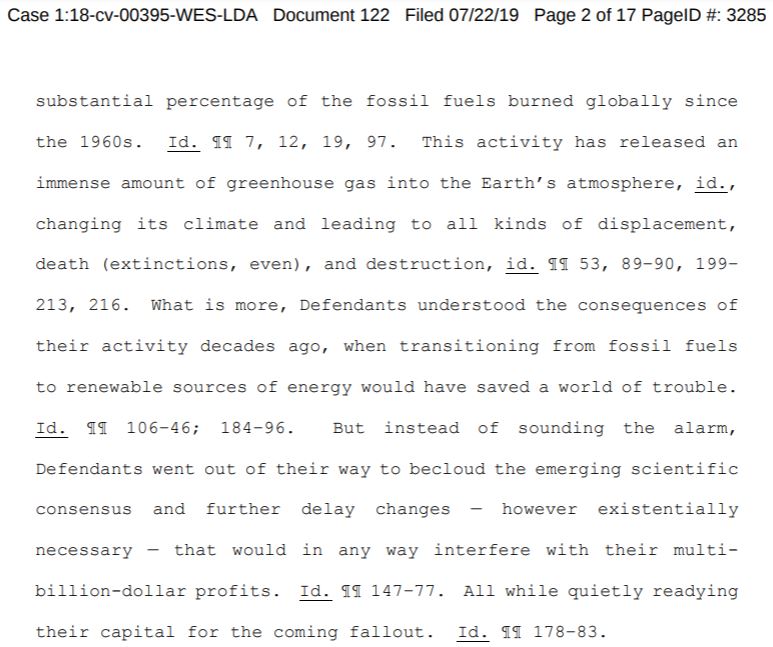 2019: Ruling now available in English: Dutch gov't loses appeal against Urgenda; Holland's high court rules gov't must reduce emissions to protect rights of citizens
2020: Kids tried to sue Canada over climate inaction. They lost, Not for the courts to decide, Harper Gov't appointed judge says. Kids plan to appeal. Bravo kids! I am grateful and in awe of you, but don't expect "justice" to be served by our oil-soaked Supreme Court of Canada, or your Charter rights respected.
2020: "The stakes are formidable." California communities' climate lawsuits, key hearing this Wed, allege fossil fuel companies actively worked to discredit climate science and block limits on greenhouse gas emissions.
2020: Scientific Truth: "Fracking has been an unmitigated disaster for the planet's climate system."
2020: Another cowardly North American judicial pass the buck? Federal appeals court throws out Juliana v. United States climate lawsuit in 2 to 1 ruling. In her blistering dissent: Judge Josephine Staton criticized the notion that courts have no role to play, saying govt itself acknowledged "the United States has reached a tipping point crying out for a concerted response – yet presses ahead toward calamity."
2021: Happy 39th Birthday Canda's Tar 'n Frac'd Charter of Rights!
2021: Dr. Sandra Steingraber on IPCC AR6 Climate Report: "The science is clear: the fossil fuel industry needs to disappear from the face of the earth as soon as possible. … Promoting any expensive false solutions LIKE CARBON CAPTURE AND STORAGE is treachery."
2021: New Study on Climate Litigation: Failing to heed latest science or lawyers intentionally working to ensure their clients' lawsuits fail to keep big polluters, judges and enabling "regulators" and gov'ts happy?
2021: World Premier of Bedrock Rights: A New Foundation for Global Action Against Fracking and Climate Change
2021: Book Launch of Bearing Witness, The Human Rights Case Against Fracking and Climate Change. "Governments are in deep collusion with oil and gas companies, abdicating their responsibilities to protect the rights of their citizens."
2021: Jim Cramer was right. It *is* happening really quickly. World first! New Zealand introduces legislation requiring banks, insurers and investment managers to report effects of climate change on their business. "This law will bring climate risks and resilience into the heart of financial and business decision making."
2021: City of Annapolis sues oil and gas companies, naming some of the biggest, including ExxonMobil, Chevron, BP and Shell, for their role in contributing to climate change; Will argue the companies violated Maryland Consumer Protection Act and five other actions, including public and private nuisance, negligence, failure to warn and trespass. Anne Arundel County considering similar litigation
2021: "Affair of the century!" Paris court convicts French gov't of failing to address climate crisis and not keeping its promises. Fossil fuel pollution quote of the century by Jean-François Julliard: "No more blah blah."
2021: Centre for Biological Diversity to President-Elect Biden, Re: Climate Emergency Executive Order, on behalf of 380 organizations representing millions of members and supports. Big Wow: "Holey macaroni!!! SCHUMER says declare climate emergency… ok who said dem prayers?"
2021: Big Tobacco had to pay $206B. Is Big Oil next? Trade associations like American Petroleum Institute are "really just engines of deception." Canadian Association of Petroleum Producers too.
2022: Climate Courts: Let trials proceed without gov'ts if politicians care so little about rights of youth and fail to show up or are too ashamed about giving the rich and corporate polluters everything and nothing to our kids and their future.
2022: Australia High Court "full bench of dinosaurs" unanimously rules Environment Minister owes no duty of care to protect youth from climate change when assessing fossil fuel projects (similar to Alberta courts ruling AER owes no duty of care to residents harmed by companies, not even when their drinking water supplies are illegally frac'd)
2023: Bankruptcy, Deregulated & Weaponized: Used by the rich and powerful, judges, lawyers, corporations (including churches), politicians, etc. to hide truth, evade liability and accountability so as to keep polluting and poisoning us (as earth becomes increasingly unlivable). "Using bankruptcy, corporations get to eat their cake and lie about it too." 
2023: How can an intelligent species be so stupid? Trout River, my favourite town in NL, ignores destructive reality of the up and incoming sea (created by our greed induced over population and pollution)
2023: Newfoundland: First the sea collapsed. Now comes the crisis everyone is talking about