Originally posted in 2018; Reposted July 23, 2019
The saddest aspect of life right now is that science gathers knowledge faster than society gathers wisdom.
— Isaac Asimov
Comment to the March 21, 2018 article:
Debbie MacLeod · Calgary, Alberta
Why stop at the energy companies. An every bit as valid a case could be placed against all levels of all governments for a myriad of reasons not to mention every major corporation in the western world. How about the legal profession for not bringing this to the forefront years ago. How do we explain this idiocy to our children?
A federal judge accepts climate change science, but throws out a lawsuit blaming oil companies by Michael Hiltzik, June 26, 2018, LA Times
Federal judge William Alsup was straightforward Monday in ruling against Oakland and San Francisco in their lawsuit to force five big oil companies to pay for the cost of climate change.
Science is on their side, the San Francisco district court jurist ruled — "This order accepts the science behind global warming" — but the law is not. The problem, he concluded, lies beyond the competence of "a district judge or jury in a public nuisance case." Rather, it's up to Congress and the president.
This president?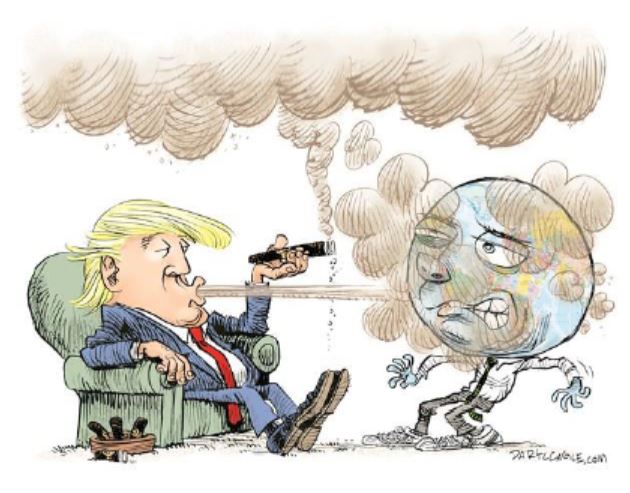 But for all its bluntness, Alsup's order merely injects a large dose of confusion into the law on climate change. That's because it runs counter to a ruling in a similar sheaf of cases by another San Francisco federal judge — Vincent Chhabria, who ruled in March that the proper venue for lawsuits brought by Marin and San Mateo counties and the city of Imperial Beach against 29 oil companies is state court. The Oakland/San Francisco lawsuit named only five: BP, Chevron, Exxon Mobil, ConocoPhillips and Royal Dutch Shell.
The issue is not over science. … The issue is a legal one.
The city and county of Santa Cruz and the city of Richmond joined that case after it was filed. Chhabria rejected the attempt by the oil companies to move the lawsuit into federal court.
"These lawsuits are on dramatically different tracks right now," says Sean Hecht, an environmental law expert at UCLA.
Both lawsuits were based on the doctrine of "public nuisance." The plaintiffs contend that the oil industry knew that its products would contribute to global warming, but continued to market them anyway, and even suppressed scientific evidence of the harm. The lawsuits seek compensation for the rise in the sea level that results from global warming and will cost coastal communities dearly.
"Public nuisance" is an old common-law doctrine, but its appearance in the climate change cases is novel. More frequently, it's mustered against landlords who allow drug dens on their premises or factories with noxious emissions. In California, the climate-change plaintiffs have taken heart from a California state appeals court decision in November holding three paint companies responsible for the dangers of lead paint used in residences until 1951. At the federal level, Hecht says, public nuisance doctrine is not as well-established.
Judge Alsup took the scientific issues underlying the Oakland/San Francisco case seriously, presiding over a one-day standing-room-only tutorial by the parties' experts in March. His ruling included more than five pages of analysis of the history of climate change science.
But ultimately, he concluded, "the issue is not over science. … The issue is a legal one." Federal nuisance law requires the public harm alleged against the defendants to be balanced against the positive effects of their behavior. Those positives are considerable, he wrote.
"Our industrial revolution and the development of our modern world has literally been fueled by oil and coal. Without those fuels, virtually all of our monumental progress would have been impossible." Under the circumstances, it's impossible to say that "the sale of fossil fuels was unreasonable," a necessary finding for a public nuisance.
"There are sound reasons why the worldwide problem of global warming should be determined by our political branches, not by our judiciary," Alsup wrote.
Alsup's ruling won't have any direct impact on the cases Chhabria returned to state court. Victor Sher, an attorney representing the municipalities in those cases, termed Alsup's ruling "disappointing," but said it would have "virtually no bearing on the lawsuits brought by our six clients, which are moving forward under a variety of state common law claims."
The municipalities' claims are somewhat broader than those of Oakland and San Francisco, and include allegations that the industry engaged in a "pseudo-scientific" campaign to suppress knowledge of their impact on climate change.
Even though those claims will be aired in state court, it's possible they'll land in federal court in time as a result of appeals.
Lawsuits vs. big oil lead to court lessons on climate change by The Associated Press, March 21, 2018, Calgary Herald
SAN FRANCISCO — A federal judge presiding over lawsuits that accuse big oil companies of lying about global warming to protect their profits turned his courtroom into a classroom Wednesday in what could be the first hearing to study the science of climate change.
U.S. District Judge William Alsup asked lawyers for two California cities and five of the world's largest oil and gas companies to present "the best science now available on global warming." He said at the start of the hearing that he wanted to "stick to the science"and avoid politics.
"This is a serious proposition to try to educate the judge," Alsup said.
Myles Allen, a professor at the University of Oxford who studies human influences on climate, discussed the history of climate change research and explained how carbon dioxide concentrations affect global temperatures.
Alsup next heard about sea level rise from Gary Griggs, an earth sciences professor at the University of California, Santa Cruz, who studies coastal hazards.
Legal observers say they have never heard of a court holding a tutorial on climate change, and they are eager to see how the oil companies explain global warming.
Alsup may want to get the companies' views in the court record, said Michael Wara, a lawyer at Stanford University's Woods Institute for the Environment who studies climate and energy policy.
"That could speak to the lawsuits' claims that these companies were not forthcoming about their internal thinking about climate change," Wara said.
Alsup is considering two lawsuits, one by San Francisco and the other by neighbouring Oakland, that accuse Chevron, Exxon Mobil, ConocoPhillips, BP and Royal Dutch Shell of long knowing that fossil fuels posed serious risks to the climate, but still promoting them as environmentally responsible. They also allege the companies mounted campaigns to downplay the risks of global warming and discredit research that human activity was to blame.
The companies have asked the judge to dismiss the lawsuits. Federal law controls fossil fuel production, and Congress has encouraged oil and gas development, they said in court documents. They say the harm the cities claim is "speculative" and part of a complex chain of events that includes billions of oil and gas users and "environmental phenomena occurring worldwide over many decades."
"The relief that plaintiffs seek would require a single judge sitting in San Francisco to unilaterally change the nation's energy and environmental policies," Joshua Lipshutz, an attorney for Chevron, told reporters.
The lawsuits say the companies have created a public nuisance and should pay for sea walls and other infrastructure to protect against the effects of climate change — construction that could cost billions of dollars.
New York City, several California counties and another California city have filed similar suits.
San Francisco City Attorney Dennis Herrera said the city looks forward to providing the "objective history of climate change science."
"We'll see whether big oil acknowledges the scientific consensus and its role in causing climate change or doubles down, once again, on deception," he said in a statement.
Chevron will not engage in a debate about climate change but instead present the conclusion of an international panel of scientists that said it is extremely likely people are the dominant cause of observed warming since the mid-1900s, said Avi Garbow, another attorney for Chevron.
Alsup said in a court filing about Wednesday's tutorial that he wants to know whether the collective heat from burning fossil fuels contributes to warming, and if so, how. He also wants to know the main sources of carbon dioxide that account for the buildup of the gas in the atmosphere. [Will industry's leaking methane and it's many harms and dangers be taught in this judicial tutorial?]
Deciding the lawsuits in favour of Oakland and San Francisco would be "revolutionary" and open the door to similar lawsuits, so Alsup may want to establish a strong base of scientific knowledge on climate change, said David Takacs, a professor at the University of California, Hastings College of the Law, who studies climate change.
"He has to dot his i's and cross his t's," he said. "It has to be a long public display that,'The science is making me rule on behalf of the plaintiffs."'