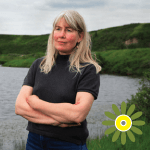 This article has some translation glitches, but is excellent with stunning photos. Aftenposten, based in Oslo, is Norway's largest printed newspaper by circulation.
I too, am afraid of the future. I grieve daily for the endless harms humans cause while destroying this magnificent planet's ability to sustain life. I live in dread.
My only consolation is that I chose not to have kids, mostly because I learned early how hideous the human species is. I was also terrified that if I had a boy he would grow up to be a rapist; if I had a girl, she would be raped like I was, with authorities doing nothing but enable the rapes the same way authorities enable rape of other species, our environment, health, drinking water, families, communities and climate to make a few billionaires richer.
I have never regretted not having kids; it's the smartest thing I ever did. I regret hiring, trusting and being conned by Murray Klippenstein and his law firm, and every harm I cause by being alive; trusting my lawyers was the stupidest thing I ever did.
Original article with photos: Først kollapset havet. Nå kommer krisen alle snakker om. The visuals are excellent.
Translation of the article with some of the photos: First the sea collapsed. Now comes the crisis everyone is talking about by Ole Mathismoen with photos by Nora Savosnick, Dec 18, 2022, Aftenposten in News Breezer
NEWFOUNDLAND (Aftenposten): 30 years ago the sea off Newfoundland was empty. Cod collapses overnight. Oil and gas saved the finances of thousands of families. Now the island is hit by a new crisis.
Salty drops lash your face on the beach on Canada's Fox Island River. But the sea is actually calm that day. It's often much worse.
Jocelyn Hynes-Reid, her husband Sean, Uncle Augustus and all the other neighbors in the sprawling hamlet know only too well what happens when people abuse nature.
Newfoundland shares the North Atlantic with Norway. Nature is quite similar to ours.
Cod has been extremely important to both countries for centuries. But where Norway had strict quotas, it was free beyond Canada's east coast.
What began on July 2, 1992 is a painful memory.
After many decades of completely free cod fishing, the stock on the Grand Banks collapsed. Boats from many countries had wealth in the East. The richest cod stock in the world was empty.
In a desperate attempt to save the cod, the Canadian government issued a two-year grace period moratorium
moratoriumA moratorium means a temporary cessation of an activity.. This is still true after 30 years, even though people are now fishing cautiously with strict quotas.
history repeats itself. Slow.
Now Newfoundland is being thrown out of balance again by nature. Hurricane Fiona wreaked havoc in Newfoundland this fall.
– There are so many abnormal things happening. I have no doubt that humans are behind much of the new climate here, says Jocelyn Hynes-Reid.
– Although I know nothing about science.
They do not follow the climate negotiations. Or the debate about a new nature treaty. It's set to be adopted this weekend during a summit a little further west — in Montreal.
But unlike the traders and politicians of Norway and the rest of the world, the fishing family lives close to the elements.
You constantly notice the changes in your body.
Jocelyn summarizes:
Now it often rains in winter.
There is no telephoto lens on the ground, so the snow stays for a short time.
Erosion continues throughout the year.
New species appear in the sea.
In the last 20 years, the sea has come 15-20 meters closer to the houses. There are only 20-30 meters left.
– In my childhood there were no mild winters. Never. There was always ice on the fjord. It's over, she says.
The brother-in-law and the uncle see two different consequences in this. One is positive.
Less ice cream, more lobster
– After the sea warms up, more lobsters are coming north to join us in Newfoundland. In southern Nova Scotia it has become less. Now we have one of the best lobster fish, says Jocelyn's brother-in-law, Jeff Leroy.
– It's good.
Their catches end up in the US and China. Lobster has become an increasingly important part of livelihood.
– At the same time, however, the warmer water eats away at every storm and every flood. The ice in the bay used to protect us from storms, says Uncle Augustus Hynes.
The family starts lobster fishing in April and fishes until late summer. After that, they just wait for the next spring.
Many of Newfoundland's fishing villages were emptied as the cod fishery disappeared. Those who stayed now face the threat of climate change. Photo: Nora Savosnick
There are no quotas for lobster fishing in Canada. But there are size restrictions and strict fishing times. Some believe this solution is key to Hummer's success.
– Our son wants to be a fisherman. I try to talk him out of it. It's so unpredictable. No one knows how that will play out if climate change just keeps going, says Jocelyn Hynes-Reid.
– It happens so fast.
"No one" wants to be a climate fighter
Simon Jansen lives a few kilometers north of the fisherman's family. Teacher and longtime environmentalist. Together with friends he has been fighting for years to protect the environment and climate change on the big island in north-eastern Canada – which Leiv Eiriksson christened Vinland when he arrived here a little over a thousand years ago.
Previously there was a soft grassy slope down to the Kippens beaches. Now it is a dangerous abyss.
The path has long since disappeared. Simon and Noah have to find a new route for every journey. At least one meter disappears into the sea every year.
But getting Newfoundlanders involved in the climate fight has been difficult. Large parts of the island are wilderness and people live close to nature.
Many people shoot their own moose on state land. An important part of the culture since moose were released in 1904 to help poor people get food.
Climate change without mentioning the climate
When cod disappeared and tens of thousands lost their jobs, many found jobs in the oil industry. Thousands still commute back and forth to Alberta's oil sands farther west.
– Many people think that nature is doing well. And few people care about climate change, if they trust the science at all. Although most people watch the episodes every day. The oil has helped many people to great wealth, says Simon Jansen.
Big houses with new, nice cars outside confirms what Jansen says.
– But when the oil companies wanted to start fracking
frackingFracking is a method of extracting crude oil from fossil rocks. The method involves injecting fluid under pressure through a well. This causes the gas-rich layers of shale to break, releasing the gas. The method is discussed. In our nature, we chose a different strategy. Instead of arguing that global warming can't take any more oil, we explained to people how the chemicals that must be used to force oil out of shale would endanger clean drinking water, explains Jansen.
They were successful with the strategy. People and all kinds of organizations protested wildly and flatly said no. A temporary fracking ban was issued.
– Everyone pulled together because it threatened those close to them, explains Jansen.
– A very successful climate protection campaign, without the word climate being mentioned even once, he says.
And smiles very broadly.
A silent environmental fighter
We continue north. There we find a man with a special commitment.
This man is a warrior.
Every day, Raymond Cusson, often in silence, tries to get skeptical Newfoundlands to open their eyes and ask why the ice is almost gone.
On the west coast, Raymond Cusson strolls along the beach behind the small fishing village of Woody Point in Bonne Bay. The retired consultant is an environmental campaigner without banners and loud screams.
He points to the village of Norris Point on the other side of the fjord.
Just under a decade ago, the fjord was always frozen over in winter.
– People drove their pickup trucks and snowmobiles across the ice to collect firewood and meet people. Several found lovers on the other side. Now the fjord is open all year round. The contact is less, he explains.
– Then they have to find spouses somewhere else.
The water got five degrees warmer.
– Much of the year is too hot for cod and mackerel. The fishermen have to travel farther to find the fish. The fish need cold water to spawn.
Down on the beach by the ice-free fjord, Raymond's anger spreads.
Raymond Cusson. Photo: Nora Savosnick
– I think we are witnessing a silent death of everything that the industrial revolution has given us, he sighs.
A few years ago, a landslide happened not far from his house. Dozens of other landslides can be seen in the wooded sides along the bay. This is due to the increasing heavy rain.
– The politicians promise and promise. They sign agreements but do not implement them. Even though they know what is happening to the climate. Our government is making nice promises, while the provincial government here wants to double oil procurement in the next few years.
He snorts at politicians who claim that nobody produces oil that is as climate-friendly and sustainable as Canada.
– Maybe that's what they say in Norway, too, asks Raymond.
But there are some who have figured it out.
They're in a fire station in Woody Point.
The volunteer firefighters say it took them some time to realize what was happening.
Now they are convinced. They know that a new climate will give them more to do in the future. Much more.
Ian Sharpe sells and repairs snowmobiles. Before a secure job, now less secure.
Ian, Bill Coates and John Gillam are adult workers. Not the types you'd expect to be particularly concerned with climate change and the destruction of nature. But they've spoken to Raymond before and see their world changing.
– We're definitely seeing climate change here. And they're coming much faster than scientists thought. Much faster, but Ian.
He lives on a flat lot right on the bay. He has four water pumps permanently installed in the basement because the sea keeps getting in.
– A few years ago, a researcher who visited us said that we had to prepare for a new world. He was right. I'm just waiting for the first house here to be swept out to sea.
– This summer there were many sharks in the bay that ate the bait before the hook fell on the cod. There has never been a shark here, says Bill.
– And the bay is being invaded by green crabs that we've never had before. They eat everything they come across.
One thing is what's going on beneath the surface. But what happens to the village if the water rises another meter?
Horace Crocker and his wife, Jackie Crocker, in Trout River are concerned.
Houses and fisherman's huts stand side by side on the beach below. Each year houses are plastered with some protection to delay the inevitable.
Horace has ten siblings. Some of them live down by the beach.
The fishermen of the Trout River live between mighty plateaus with high, white, treeless mountains. 602 people live here by the sea in the Gulf of Saint Lawrence. They live off the sea.
Ex-Mayor Horace Crocker and his wife Jackie Crocker also show how the sea wears them down.
– When I was a kid, we certainly had strong winds sometimes. The sea washed in and sometimes there were floods. But not like now. Now powerful storms rage several times a year. The sand will wash away and our beach will disappear, says Jackie.
The scientists tell us that the sea could rise here perhaps by 90 to 100 centimeters. If that happens, Horace says, half the city will disappear.
Anyone who lives here sees no chance of stopping this. They also don't believe that the many climate summits will make it.
Jackie Crocker desperate.
– I am afraid of the future. It's so frightening.

Refer also to:
2020: Kids tried to sue Canada over climate inaction. They lost, Not for the courts to decide, Harper Gov't appointed judge says. Kids plan to appeal. Bravo kids! I am grateful and in awe of you, but don't expect "justice" to be served by our oil-soaked Supreme Court of Canada, or your Charter rights respected.
2019: Rhode Island vs 21 Oil & Gas Companies: Judge William Smith characterized operations "leading to all kinds of displacement, death (extinctions, even), and destruction….Defendants understood the consequences of their activity decades ago…. But instead of sounding the alarm, Defendants went out of their way to becloud the emerging scientific consensus and further delay changes – however existentially necessary – that would in any way interfere with their multi-billion-dollar profits."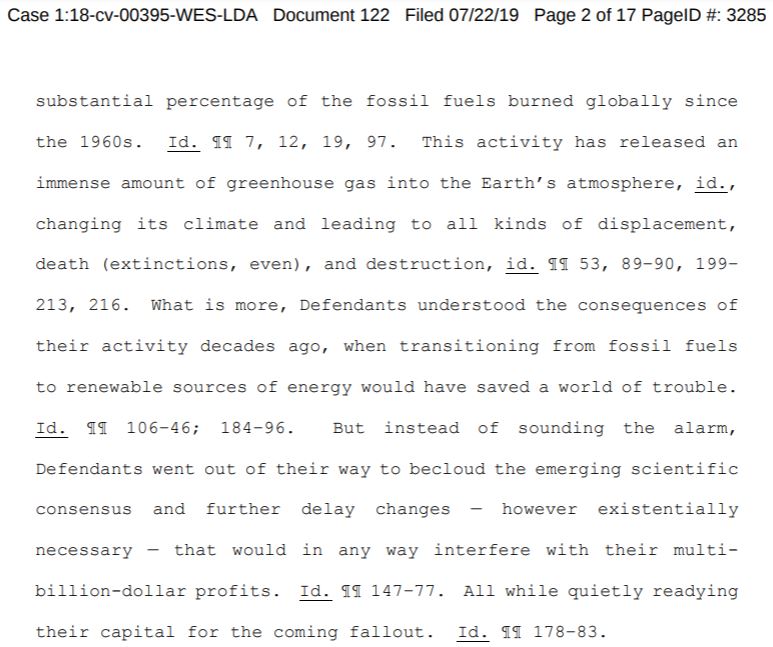 Must watch:
Robert McNees (email hidden; JavaScript is required)@mcnees Dec 20, 2022:
Carl Sagan passed away #OTD in 1996.
In his final interviews he left us with two messages that are even more relevant today:
one emphasizing the importance of a science literate public,
the other a warning about how hard it is to extract ourselves when we've been conned.