Family's fracking lawsuit just got a boost from a federal judge by Heather Richards, Jun 15, 2017, Casper Star-Tribune
A Wyoming family won the right to call one of Gov. Matt Mead's advisers to provide evidence in its case alleging that a gas company polluted groundwater and then lied about it.
U.S. District Judge Alan Johnson's decision Wednesday calls for former Mead policy adviser Jerimiah Rieman to testify under oath regarding the natural gas company's involvement in a state report that hydraulic fracturing and disposal pits could not be linked to water contamination in the Pavillion gas field.
Encana Corp. executive Lemuel Smith will also be deposed. He cooperated with Rieman on the state's investigation [Cooperated or told the state what to do, how and when?], according to court documents.
The small legal victory for Jeff and Rhonda Locker of Pavillion continues a lingering saga in Wyoming over whether fracking and other operations polluted groundwater. That question led to opposing reports from state regulators and the Environmental Protection Agency.
Federal investigators said in 2011 that gas operations had contaminated groundwater. They cautioned locals about drinking water from nearby wells.
The findings drew a handful of neighbors from a small town on the Wind River Reservation into a national debate over potential risks of hydraulic fracturing, now a common drilling practice.
The state took over the investigation in 2013. Encana provided Wyoming $1.5 million for the study. State regulators concluded that the unpalatable drinking water in the Pavillion area could not be tied to oil and gas operations. The bad taste was likely due to existing naturally occurring minerals and compounds in the water, they determined. Without pre-drilling sampling, the state said it could not link contaminants to operations. [Sounds like Alberta regulator's protect Encana baloney, but without Alberta Environment Investigator Kevin Pilger's Gopher Shit sampling! Even with pre-drilling sampling, would the regulator, led by Encana money, concluded anyway other than to protect the polluter?]
Court documents show that Rieman, who now leads the governor's economic development initiative ENDOW, played a pivotal role in moving the investigation from federal to state control. The Lockers' attorneys are seeking information on how much influence Encana then had over the state's study.
Encana denies the Lockers' claims and had fought the depositions, arguing that Rieman was protected from subpoena by the state constitution. The Encana executive, meanwhile, did not have extensive knowledge of the various Pavillion studies, having joined the company after original investigations, they said.
In the opinion filed Wednesday, the judge ruled the Lockers had the right to introduce evidence backing up a claim of bias due to Encana's funding of the Pavillion investigation.
Deposition of Rieman will be limited to information that cannot otherwise be gleaned from the copious court documents already in the record, the judge wrote.
A spokesman for Encana declined to comment on the ongoing litigation. Mead's office did not respond to a request for comment.
The lead investigator in the EPA's report, Dominic DiGiulio, criticized the state's investigation after leaving the agency. He published a subsequent study with Stanford University again linking Encana's activities with polluted groundwater.
State regulators have repeatedly stood by their investigator's work and their report's findings. [Emphasis added]
[Refer also to:
2017 01 04: Federal Judge: Lockers' Pavillion water contamination case against Encana can go to trial. Jeff and Rhonda Locker: "They've dragged us through the mud long enough. I've got the fight on now"
2016 11 29: After years of delays & after reporting 1.5 years ago that industry (Encana) frac'd drinking water aquifers in Pavillion Wyoming & Rosebud Alberta & contaminated water wells with natural gas, etc, & reporting numerous other water supplies contaminated by frac'ing, US EPA's Final Frac Report expected "soon."
2016 06 16: Air Monitoring & Biomonitoring finds Industry's Natural Gas is not "Clean" and "Safe." Toxic Chemicals Linked To Natural Gas Operations Detected In Pavillion, WY Residents
2016 03 31: No Canadian Mainsteam Media Reported on Standford Peer-Reviewed Study Proving Encana Frac'd, Contaminated Aquifers at Pavillion, Wyoming. In Germany, Mainstream Magazine, Der Spiegel, Did! How Corrupt Did Harper Frack Canada?
A2016 03 30: Another Encana Frac Fraud Bribe? Why is Encana buying "best practices" now, years too late? Buy the company out of Pavillion's frac'd & contaminated aquifers bad news – again?
2016 03 30: Why did no Canadian media or blogs, other than The Tyee, report on Digiulio & Jackson's damning new study confirming Encana frac'd & contaminated drinking water aquifers at Pavillion, Wyoming?
2016 03 29: The Bie Lie Unravels: Scientists Digiulio & Jackson Slam EPA For "Walking Away" From Pavillion Frac Pollution Study in 2011 (Alberta regulators, gov't walked from Rosebud frac pollution in 2008, never enforced Encana's 2004 law violations), Encana's fracking contaminated underground water reservoirs in Wyoming, finds study by former EPA scientist who led preliminary investigation. EPA never followed up
2016 03 29: New peer-reviewed published paper by Digiulio & Jackson, Pavillion Wyoming aquifers contaminated by fracking: Only one industry is allowed to inject toxic chemicals into underground sources of drinking water – hydraulic fracturing
2014 07 12: Pavillion citizens with contaminated groundwater file state records request for draft investigation reports, object that Encana can review them and make comments, but harmed citizens and the public can't
2014 06 14: Pavillion Wyoming Groundwater Pollution Reports funded by Encana and the State plan to allow review by Encana, the EPA and "independent" experts (like Dr. Alexander Blyth?) before public release
2014 03 30: Finally some good news for some harmed citizens at Pavillion; still no fix or good news for the aquifer there
2014 02 14: Former Wyoming regulator recants: Encana polluted the drinking water at Pavillion! Wyoming to spend another $400,000 for Pavillion to provide safe alternate water after refusing to for years, the money is from Encana's $1.5 Million donation [Guilty Guilty Guilty?]
2013 12 23: Look Back: EPA abandons Pavillion investigation into fracking and groundwater contamination
2013 08 04: Encana funded and Encana-enabling-State led Pavillion area groundwater investigation begins
2013 07 08: EnCana co-opts EPA's Study showing Encana's fracturing and pits contaminated drinking water at Pavillion, Wyoming
2013 07 03: Fracking company Encana suspected of contaminating ground water at Pavillion Wyoming, takes control of investigation, EPA refuses to finalize study blaming fracking for water pollution
2012 12 08: Pavillion driller EnCana blasts EPA findings of hydraulic fracturing contaminating ground water and well water [Isn't that ass backwards? EPA ought to be blasting Encana for fracking drinking water supplies and contaminating them!]
2012 11 27: EnCana shallow fracturing and contaminated water at Pavillion Wyoming, Tests, controversy, more testing
2012 10 10: Phase V Documents, Pavillion Wyoming, Summary of Methods & Results (including Section A and B) released by the EPA October 10, 2012
2012 10 10: EPA: Pavillion, Wyo., Natural-Gas Site Tests 'Consistent' With Earlier Data
2012 10 03: New Study Supports Water Contamination Due to Fracking, U.S. Geological Survey Verifies EPA Findings in Pavillion, WY
2012 10 02: Wyoming Gov. Mead: Wait for analysis of Pavillion data
2012 10 01: USGS Fracking Study Confirms Methane Contamination of Drinking Water in Pavillion, Wyoming
2012 09 28: Testing by USGS Demonstrates Contaminants Are Still Present in EPA Deep Monitoring Well Water Near Pavillion, Wyoming
2012 089 28: USGS Aquifer Tests Near Pavillion, Wyoming Reveal Petroleum-Based Pollutants In Samples
2012 07 10: Pavillion cisterns a go
2012 07 13: Enana touts envt'l responsibility while Pavillion debate rages
2012 07 07: Top Wyo Official says Pavillion fracking investigation motivated by greed
2012 07 07: Wyoming official pins Pavillion pollution complaints on greed
2012 05 23: State of Wyoming proposes cisterns for Pavillion residents
2012 05 04: Pavillion Area Concerned Citizens (PACC) statement on The AP Exclusive: Wyo. got EPA to delay frack finding
2012 05 01: Review blames fracking for water contamination in Pavillion
2012 02 13: EPA rebuts Encana's claims bad testing led to fracking link in Pavillion water testing
2011 12 08: EPA Releases Draft Findings of Pavillion, Wyoming Ground Water Investigation for Public Comment and Independent Scientific Review
2011 11 04: Encana sale in Pavillion area raises concerns
2011 11 03: Citizens Call for Investigation and Halt to Encana's Proposed Sale of Pavillion Gas Field [Guilty Guilty Guilty?]
2010 09 01: Pavillion, Wyoming-area residents told not to drink water
2008 02 14: Encana Randy Teeuwen to Casper Star Tribune re Louis Meeks' contaminated water, Pavillion Wyoming
2008 01 01: Encana Passes the Buck on Contamination in Pavillion, Wyoming
2008 07 10: Cover Story: Citizen EnCana The double life of Calgary's greatest corporation, Good Corporate Citizen or Evil Empire
Cover, Fast Forward Weekly, Encana Bow Building & CEO Gwyn Morgan: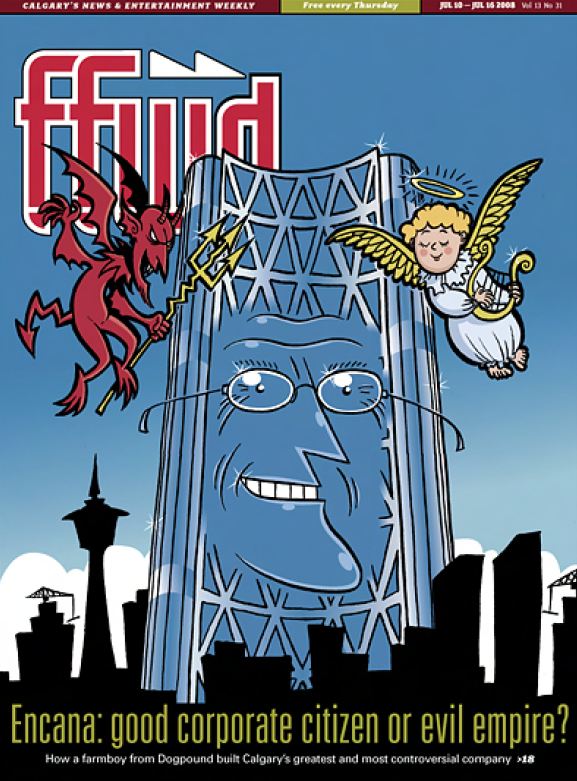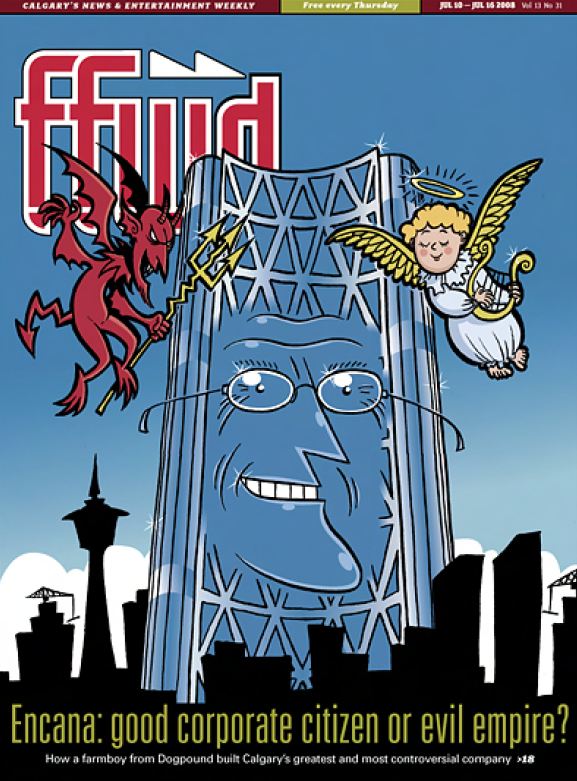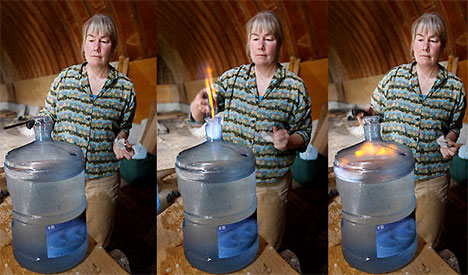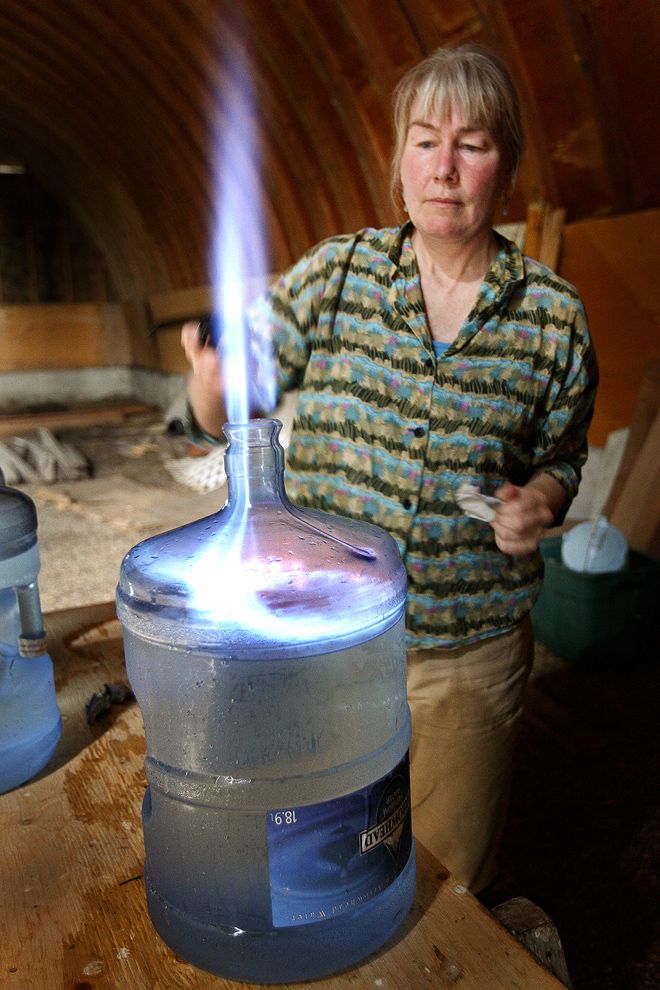 Jessica Ernst has so much natural gas in her water she can set it on fire. Photos above and below by Wil Andruschak [Photo later used by National Geographic May 10, 2011]
The CEO leading Encana at the time of the company illegally fracking drinking water aquifers = none other than Gwyn Morgan]


Above image was the banner for www.gwynmorgan.ca  before Gwyn Morgan threatened the owner of the website, and demanded transfer of the name of the site to Gwyn Morgan and removal of the banner.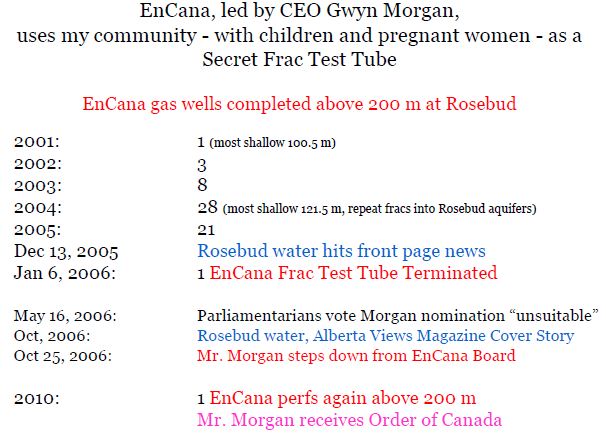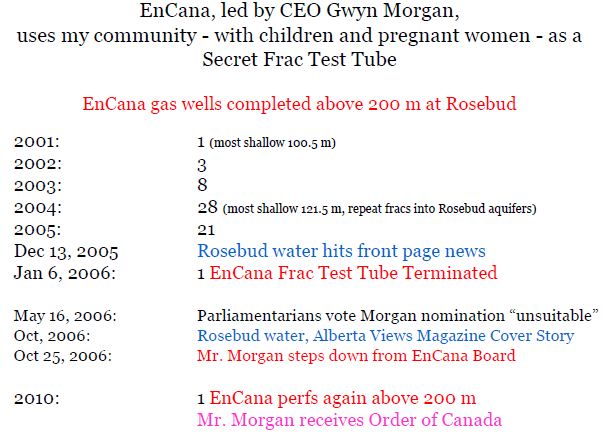 Slide from Ernst presentations.  What Encana did to Rosebud's aquifers was illegal. Instead of enforcing the laws and regulations in place to protect Alberta's water, the regulators bullied, shamed, and harassed the harmed families while engaging in fraud to cover-up Encana's crimes.