Encana calls on EPA to abandon Pavillion test wells by Adam Voge, December 06, 2012, Star-Tribune
Officials representing Encana Oil and Gas said on a conference call Thursday that the federal agency's investigation into whether natural gas production has contaminated groundwater in the Pavillion gas field is flawed and needs a clean start. The call was scheduled two days before the one-year anniversary of an EPA report tentatively linking hydraulic fracturing to groundwater contamination east of Pavillion. During the call, company officials were critical of EPA methods used in the drilling, collection and sampling processes used by the agency to test local groundwater. "The EPA should withdraw its draft report," said David Stewart, environmental, health and safety lead for Encana's Wyoming operations. "The data is inaccurate and their conclusion is not supported by the data." The agency didn't respond directly to the company's requests Thursday, but issued a statement detailing its history in the Pavillion field. The agency added that it is accepting comments on the Pavillion investigation until Jan. 15 and that investigation data will be peer-reviewed.
…
Encana said the focus of the investigation is one of the company's larger problems with what the EPA's done in the Pavillion area. "This has been a misguided response," Stewart said. Stewart said the agency drilled monitoring wells that were far too deep rather than following up on tests of domestic water wells, which Encana believes indicate the real problem in the gas field. "Most wells sampled exceeded palatability criteria," he said. "Yet the EPA decided not to respond to or investigate or understand why those exceedances were occurring." Stewart also questioned several "assumptions," which he said the EPA must have made while drafting its report. He said the agency's report indicates it used false information about water flow direction, a sign of failure to understand the geology of the field. According to Stewart, the agency drilled a monitoring well into one geologic formation which the company targeted. "Hydrocarbons have always been there," he said. "That's why we drilled there in the first place." Stewart said the company hopes the agency will abandon its deep monitoring wells in the area and shift its attention back to domestic wells. "Domestic well samples need to be looked at more from a bacterial standpoint, what's contributing to taste, odor and palatability problems," he said. "That was not done." [Emphasis added]
Pavillion driller blasts EPA contamination findings by Ellen M. Gilmer with contributions by Mike Soraghan, December 7, 2012, E & E News
Encana Corp., fighting accusations that its gas wells contaminated drinking water in Pavillion, Wyo., is calling on U.S. EPA to withdraw a draft report that linked hydraulic fracturing in Wyoming to groundwater contamination there. Encana, the main driller in the Pavillion field, said in a press call yesterday that any contaminants detected in EPA's monitoring wells were either naturally occurring or were introduced by the agency during "sloppy" well construction or lab testing.
…
Encana's David Stewart, who handles environment, health and safety issues in Wyoming, said EPA's analysis of deep groundwater was misguided, and "EPA should withdraw the draft report." He said the agency was assuming natural gas development was the culprit instead of considering naturally occurring contaminants and other sources. The criticism is similar to that voiced recently by the American Petroleum Institute (EnergyWire, Oct. 19).
…
Both federal agencies detected methane, propane and ethane in the deep groundwater. All are components of natural gas that Encana says are naturally occurring. They also both detected phenol and benzoic acid. The company contends that those also occur naturally and leach from polyvinyl chloride plastics used by EPA to construct the monitoring wells. "The important point is that these are naturally occurring and have existed in these zones for eons. Encana didn't put them there; nature did," company spokesman Doug Hock said in an email. Stewart acknowledged that robust base-line water quality information would have headed off many of the discrepancies over whether compounds are natural or drilling-related. Encana now has a standard practice of examining base-line data for groundwater in all oil and gas plays and new wells, he said. [Emphasis added]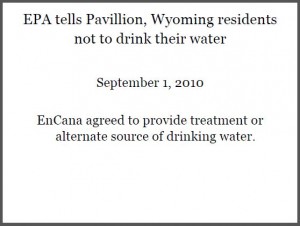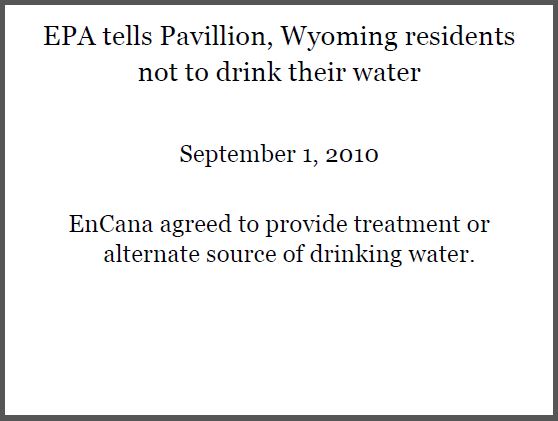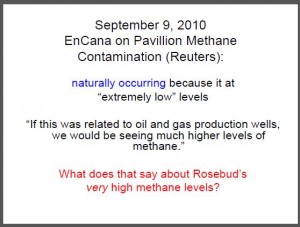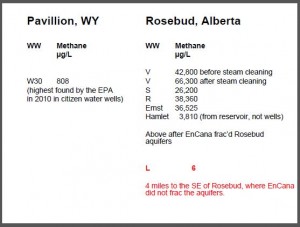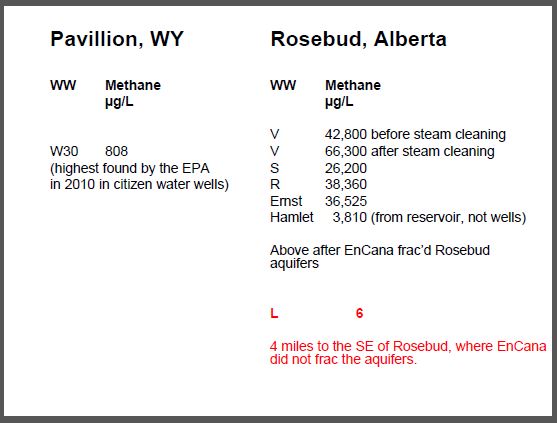 Note especially the dramatic increase in methane after professional steam cleaning of and killing of bacteria in the "V" water well at Rosebud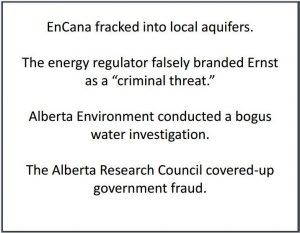 [Refer also to:
Scientist wants EnCana to be held accountable by Jessica Ernst, September 25, 2007, Drumheller Valley Times
I am delighted that Wheatland County Council had the courage to deny new gas wells within 1.5 km of Rosebud. There are already many wells and compressors here. EnCana's rotting straw bale wall around two of these compressors indicates the level of disrespect the company has for the legal rights of Albertans and our environment. EnCana has violated my legal right to quiet enjoyment of my property for years.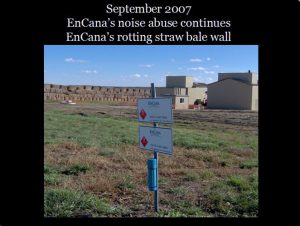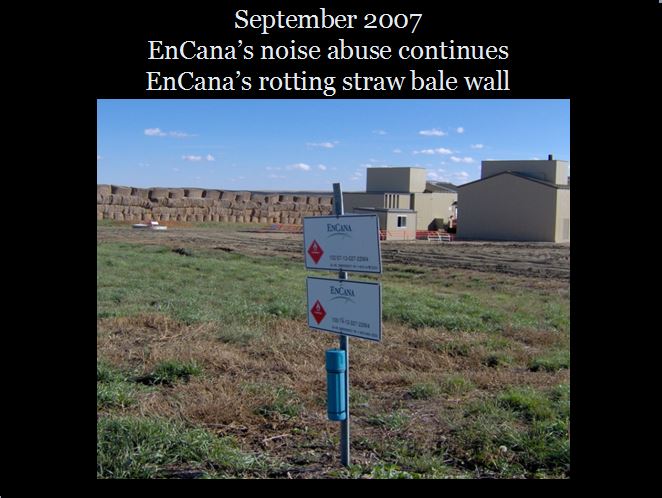 Considering that EnCana perforated and fractured our drinking water aquifers, without conducting any appropriate data collection first, telling us, or fulfilling the regulatory requirements in place at the time (including applying for a permit from Alberta Environment before diverting water from the CBM well), I am pleased to see our council stand up to the rogue company.
…
I am disappointed that you did not publish Mr. Bill Barnett's August 7, 2007 letter regarding EnCana's refusal to conduct vital tests on his water – even though he offered to pay for them himself. Mr. Barnett is not the only citizen EnCana has refused this – I know of others.
Alberta Environment found methane, toluene and kerosene in the hamlet water. Kerosene is a red flag indicator of petroleum industry contamination. The community's concrete water tower lid exploded off in January 2005 seriously injuring a worker, months after EnCana fractured the aquifers and diverted fresh water from its CBM. A propane torch was blamed. What if EnCana's shallow fracturing caused methane to release? What if kerosene caused the explosion? The new water tower cost nearly $700,000. The $150,000 that EnCana promised the Rosebud Theatre (a few months after the first water well went bad) seems a cheap solution. EnCana gave millions to a school in the United States after the company was heavily fined in Colorado for failing to protect a creek and groundwater from methane migration caused by the company's CBM. Indeed, EnCana publicly announced in the government's water meeting in Strathmore last June that the company fractured over 40 wells in our county above the base of groundwater protection – without appropriate data collection first. EnCana declared publicly that it does not have to cooperate in the regulator's investigation at Rosebud.
To the best of my knowledge, the required gas samples for fingerprinting (from EnCana's gas well that fractured our aquifers) have still not yet been taken and analyzed at the U of A, as promised in writing on March 13, 2006 by Alberta Environment's Compliance Investigator. I think many of your readers would welcome the truth in Mr. Barnett's letter. I read the report by Mr. Alan McCaan, and have spoken with the hydrogeologist a number of times. There is nothing I read in Mr. Barnett's letter that I think puts you or your paper at risk; I saw Mr. Barnett's letter in other papers. Our water is much too precious to let fear of EnCana keep the truth from the people.

Why is EnCana not willing to test our water beyond the minimum standards? by Bill Barnett, in Red Deer Advocate, Drumheller Valley Times and Strathmore Standard, August 7, 2007
I am a member of the Wheatland Surface Rights Action Group (WSRAG) and have been since it started up in 2001. WSRAG has tried to be pro-active with information so that landowners can make good decisions when energy companies want on the land. In particular members have been concerned about the effect of hundreds of CBM wells being drilled and fractured and the effects on our water wells. There have been many stories as to damage caused by the energy companies and WSRAG wanted to ensure that we minimized the likelihood here, or at least be able to prove or disprove who is at fault if a water well fails. WSRAG hired an independent hydro-geologist, Alan McCann from Edmonton, to study the area and to give us his opinion on what we needed to do to protect our water wells and to be able to identify who may be responsible if there are changes or damages in the future. He has a written report (copied to EnCana) with a list of tests and procedures that help us protect our asset of water. This list also included recommendations that landowners should follow.
EnCana wants to drill a well on land next to me. They came and asked permission to test my water wells, which I granted. I also asked them if they would take two extra water samples; for Barium and Strontium (as recommended by Alan McCann) and also test for dissolved gas. Encana gave me a flat answer of "NO". They would only follow the AB Environment standards (which I and others believe are not stringent enough), and if I did not agree to that, they would not perform the tests at all, and note that I had refused the testing. I thought perhaps my information may be out of date so I called Alan McCann, who told me that his suggestions were current and strongly advised, as they will help to identify who may be responsible or what may have caused future water problems, if there are any.
EnCana sent someone from Komex to do the testing, and I asked their employee if he could take the extra two water samples suggested by McCann, and I would pay for them from my own pocket. He told me it would be no problem. We discussed costs and I gave him an address for invoicing. Imagine my surprise – at the end of the day – after he had packed up all of his equipment, when he told me that he had relayed my requests for the extra sampling to his boss (who reports to EnCana) and was advised that he was not permitted to take the extra water samples…. Even if I was the one paying for them! I had been in close proximity to the testing site all day – yet the young fellow was reluctant to come and tell me prior to his shutting down the testing site. What was he or his supervisor afraid of? Me? I'm just a farmer. EnCana?
A long story short – I had to ask an independent person to come back and open the wells to take samples of Barium and Strontium and send them to the labs. I will have the results sent to EnCana and AB Environment. Will EnCana recognize these samples as valid if there is a future problem? I doubt it, there was a reason they did not want to have these samples included in the first place. Was it because they could pin point responsibility in the future? I don't know. After relaying my frustration and concerns to neighbours and friends, I have found that other companies have been very cooperative with extra testing, but that EnCana has not. I also heard that EnCana refused to do the same tests for a landowner near Hussar. Have others had the same or a similar experience? Have they requested these tests? Have they been refused? Why would EnCana not want as much information as possible about these water wells? At the end of the day, one has to ask, what is EnCana afraid of? And if they are not afraid, why won't they allow me to have the tests done, at my expense but be recorded on their records? [Emphasis added]
2008 11 01: Here's what Encana thinks of the media investigating matters of serious impacts to the public interest and safety:
Encana workers give media the finger: