Trucking company withheld information, taking insurer off the hook for hazmat violation by Tyson Fisher, May 26, 2021, Landline Now
An insurance company for Dual Trucking is off the hook for covering an environmental violation on the company's property, in a case highlighting the consequences of withholding information on a policy application.
On May 5, a federal district court in Montana dismissed a case filed by Houma, La.-based Dual Trucking against Admiral Insurance. The trucking company claims Admiral Insurance breached its contract by not defending or indemnifying it under six policies for violations handed out by the Montana Department of Environmental Quality.
However, the court found that Dual Trucking left out pertinent information in its policy application, thus absolving Admiral Insurance from providing coverage for the incident.
In 2011, Dual Trucking leased three tracts of land in Montana for its operations. In July 2012, the Montana Department of Environmental Quality received a complaint accusing Dual Trucking of placing oilfield exploration and production waste on the property without a solid waste management facility license. The department sent a warning letter to the trucking company in September 2012.
Per the warning letter, the environmental department advised Dual Trucking that if allegations were correct it was operating in violation of the Montana Solid Waste Management Act. It had 15 days to hire an environmental consultant and create a corrective action plan for cleaning up the waste. Additionally, the trucking company had 30 days to legally remove and properly dispose of the waste and 60 days to provide the state department a cleanup report completed by the environmental consultant.
However, Dual Trucking disputed the significance of the warning letter, claiming it reported an unsupported hearsay allegation void of any facts and that it was merely advisory.
The Montana Department of Environmental Quality stated in the letter that failure to follow stated requirements would result in formal enforcement action that could include penalties.
Subsequently, Dual Trucking applied for two environmental impairment liability policies from Admiral Insurance. The first policy period ran from October 2012 to October 2013, with the second policy period good for another year from October 2013. Those policies provided coverage for certain pollution conditions on Dual Trucking's property. In the application, the trucking company was asked whether it operated in compliance with applicable environmental laws and whether it knew of any conditions on the property that could lead to a claim.
Dual Trucking neglected to mention the September 2012 warning letter from the Montana Department of Environmental Quality.
Additionally, Admiral Insurance issued four contractor pollution liability policies to Dual Trucking. Those policies were for the same periods as the environmental impairment liability policies.
After those policies were issued, the Department of Environmental Quality sent three violation letters to Dual Trucking within two days in March 2013. On June 10, the department received a letter from Dual Trucking with an application for a Solid Waste Management Facility license. A fourth violation letter was sent to the trucking company in August 2013 informing it that it is still found to be in violation of environmental laws.
About a month later, Dual Trucking received a letter from the landowners informing it that it had breached the three lease agreements. Landowners accuse the trucking company of having "caused environmental impairment to the property" and had "used the property in a manner that has caused pollution of waterways flowing through or underneath the property."
When renewing its insurance policies, Dual Trucking failed to mention any of the four violation letters or the breach of contract letter from the landowner.
Dual Trucking received a settlement offer from the Department of Environmental Quality in December 2013. In response, the trucking company hired someone to prepare a site characterization and environmental condition report, which it submitted to the department. In the report, the company admitted three "suspected or known release" events, which it described as nothing more than stormwater-related with a berm breach lasting three hours.
Not satisfied with the response, the Department of Environmental Quality sent Dual Trucking a fifth violation letter in April 2014. The trucking company responded by claiming it had since ceased all operations on the property in question. Regardless, a sixth violation letter was issued in June 2014.
Dual Trucking canceled its policies with Admiral Insurance in July 2014. The policy allowed a 30-day extended reporting period after cancellation. The next day, the trucking company provided Admiral Insurance with the first notice of any claims related to the environmental violations. Dual Trucking told the insurance company that the incident occurred in July 2013 and provided the sixth violation letter for proof.
In November 2014, the Department of Environmental Quality finally filed an enforcement action that dates the alleged events from July 2012 to April 2014.Unbelievable how regulators coddle frac'ers and their waste handlers, even after law violations.
Concurrently, the landowners filed a civil action against Dual Trucking for breach of contract. The trucking company then hired an environmental consulting firm to test pollution allegations. The consultant found no contamination had left the property onto neighboring property.

Do I trust the polluter's consultant? No.

Admiral Insurance filed its lawsuit against Dual Trucking in February 2020. The insurance company claims that the trucking company:
Provided alleged misstatements in its policy application, which violated the terms of the policy.
Had knowledge of the pollution before the policy periods, which violated the policy terms.
Rented, occupied or controlled the property, which precluded coverage.
The court agreed with Admiral Insurance, putting Dual Trucking on the hook for any penalties and litigation related to the matter.

Refer also to:
2010: Encana/Ovintiv dumping its waste on foodland near Rosebud, Alberta: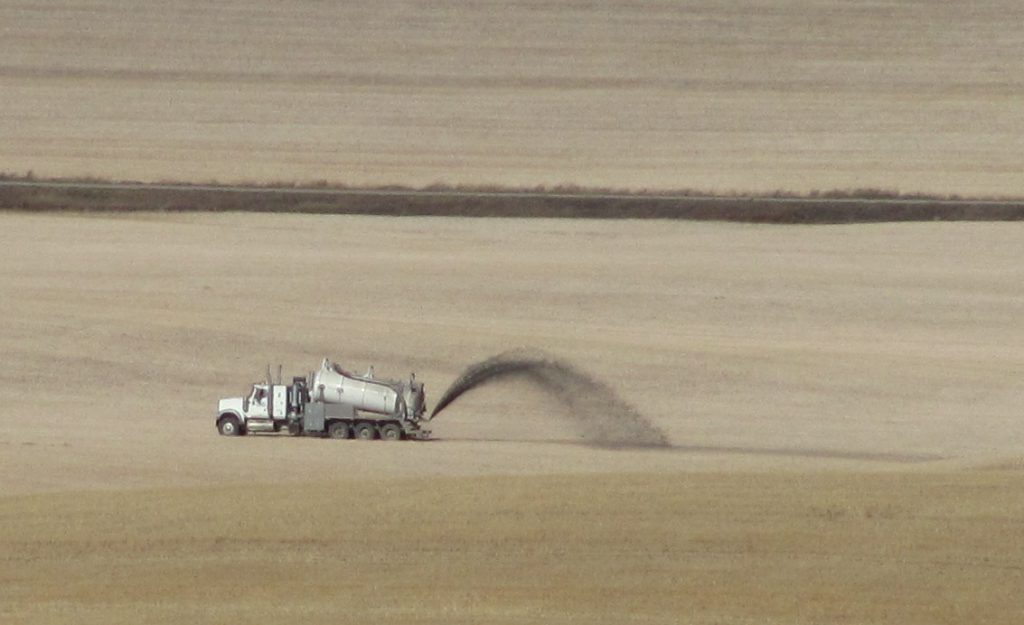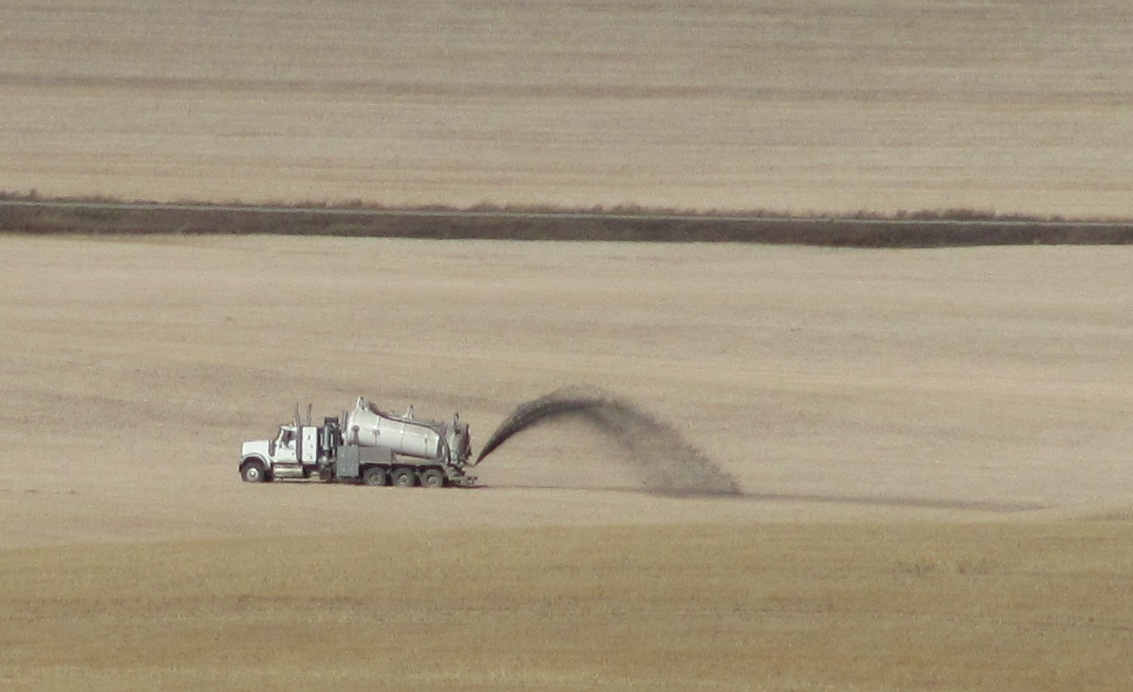 2011: Encana/Ovintiv waste dumped on the same foodland: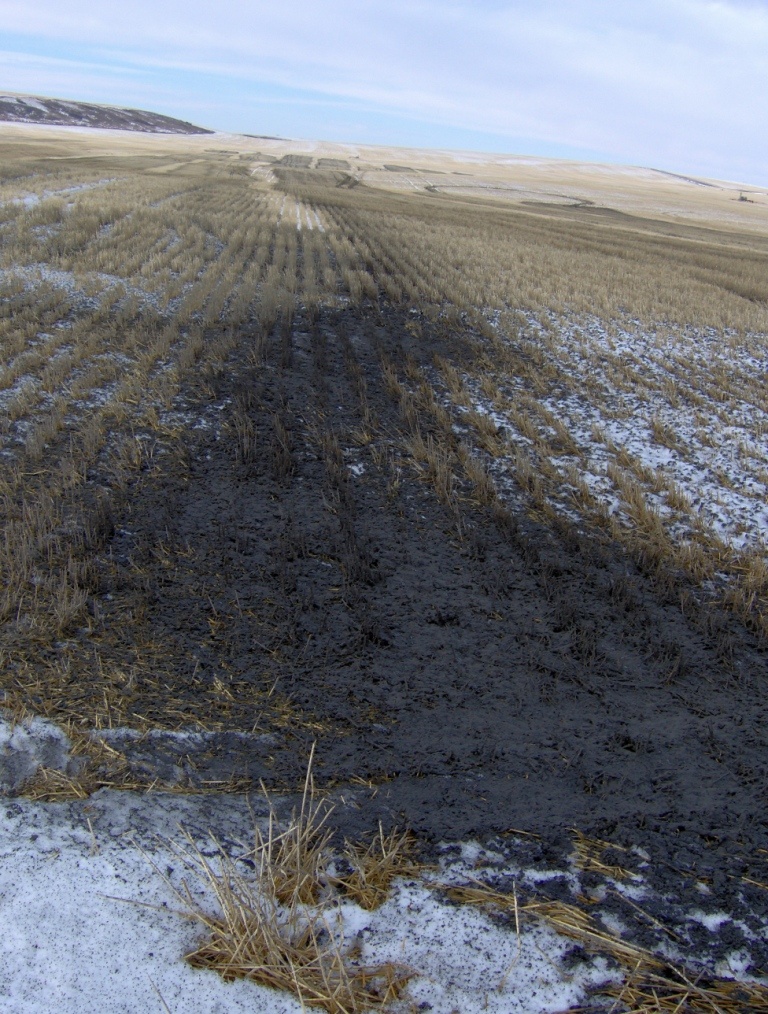 2014: Dual Trucking suspected of dumping radioactive Bakken frac waste in Montana ordered to stop, but doesn't, says waste will go to Canada

No wonder, given the oil gas and frac industry's brazen dumping of its waste in Canada with regulators nowhere to be seen but pimping for the law breakers while shaming, blaming, and bullying the harmed.

2014: Benedict Lupo, owner of Youngstown oil and gas drilling company, sentenced to 28 months for dumping frac waste; "The creek was essentially dead"
2014: Companies Illegally Dumping Toxic Fracking Chemicals in Dawson Creek (Canada) Water Treatment Systems, City to pay $4 Million and more for monitoring to try to stop illegal frac waste dumping
2014: Kathleen Kane Wins Criminal Charges Against Exxon for Illegal Dumping of Frack Waste; Judge Rules Exxon Must Face Criminal Charges Over 50,000 Gallons waste dumped
2015: California now says 2,500 wells dumping frac waste into protected aquifers, up from 532 in February.
2016: The Oil & Gas Industry Way: Lie (a lot); Pollute you and your loved ones, communities, livestock, air, land, food and water; Arrogantly & smirkingly violate laws, regulations and promises knowing the legally immune, "No Duty of Care" AER violates laws and citizen rights to protect polluters; Rip you off while dumping their legal liabilities on you after taking $billions in profits
2016: Will waste water kill fracing? EPA bans disposal of frac waste at public treatment plants. Injecting it causes seismicity, recycling it is costly, using it to irrigate and landspraying it contaminates food, dumping it into waterways kills fish, pits filled with it leak, breathing it in aerosols corrodes lungs. What will companies do with it?
2017: Justice & Illegal Dumping for all? Investigation reveals oil & gas drilling waste dumped illegally (even after told to stop) at multiple Fayette County locations, including Magisterial District Judge Richard Kasunic II's office and a Dairy Queen
2021: Another study: Preliminary Results Find Increased Cancer, Health Risks From Road Dumping Drilling Wastewater, Especially For Children; Arsenic, lead, manganese, nickel, hexavalent chromium in road dust contaminated by wastewater
2021: Largest inland spill in history: U.S. Dept Justice files criminal and civil charges against Summit Midstream Partners LLC, $36Million in fines for discharging (dumping?) 111,284,642 litres frac waste over 5 months, contaminating land, groundwater, and 30 miles of tributary waters with crude oil, chloride, sodium, ammonia, aluminum, arsenic, boron, copper, nickel, selenium, zinc, barium, benzene, thallium and more. When will cowardly AER and Canada's Dept Justice charge/fine Encana/Ovintiv for illegally frac'ing and contaminating Rosebud's aquifers and diverting water without the mandatory permit under Alberta's Water Act?
2021: Yet another dirty judge? Farley Toothman, who let serial oilfield wastewater dumper Robert Allan Shipman walk (98 criminal counts charged against Shipman and 77 charges against his company across six counties from 2003 to 2009), claims health issues could impede him from testifying at his misconduct trial.
2021: Frac'ers' Friends in High Places: Past Greene Co President Judge Farley Toothman (let criminal frac waste dumper Allan Shipman walk) violated state Constitution: "engaged in misconduct so extreme that brought the judicial office into disrepute"
2023: Canada needs to start jailing law-violating polluting frac'ers too. Ohio: Benjamin Altier and his company ordered to pay more than $20,000.00 in fines and sentenced to 30 days in jail, 50 hours community service, three years of community control for theft (fabricating wastewater disposal tickets and taking money for them), dumping waste on land, improperly storing the rest.