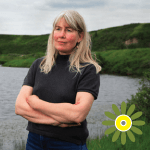 It's clear to me that Canada's judicial industry is dirty, shameful, partisan and abusive to the citizenry even though we pay for it, and became hideously and blatantly more so under Herr Harper. Ex Justice Russell Brown, who recently resigned from the supreme court of Canada in creepy disgrace, was appointed by Harper and promoted quickly up and up, and was on the court (7/9 of the judges appointed by Harper) when it pissed on Canada's charter, me and my case. Harper hates our Charter; his judges served his hatred well.
Why do so many lawyers boast (lie) publicly about our fabulous, non partisan, non political, just and fair justice system, when it's clearly not true? (Their self regulators, the law clubs, disallow negative public talk by lawyers about our corrupt judicial industry, for obvious reasons – gotta keep the gravy train rolling smoothly for the rich, but that doesn't mean lawyers need to lie about and pimp something that is clearly rotten as pure and wonderful.) Oh right, their careers and future fortunes depend on enabling the sick system and conning us, their potential fountains of money, and keeping dirty judges safe and stuffy in their overloaded egos (too often abusive to rape victims) on the bench (as they let convicted rapist after rapist off).
I think lawyers/judges enabling our unjust judicial industry, and enabling rapist/abusive lawyers/judges and law societies licencing known convicted pedophiles (giving them protected access to kids, supervised or unsupervised) is similar to this:
"A lot of pastors have to encourage women to stay with abusive husbands because if they taught women how to recognize abuse and leave it, women would be leaving their churches too."
Mandy Nicole
It galls me still, how often my ex lead lawyer, Murray Klippenstein, tried to make me lie to the public, media and on my speaking tours, tried to get me to tell tale tales of how fair and just and great our justice system is in Canada. We do not have a justice system, and what we have is not great, and Klippenstein knows it; we have an inaccessible and prohibitively expensive legal industry that nearly always fails ordinary Canadians while bankrupting them. Klippenstein even warned me initially how grossly unfair our system is for ordinary people like me and that I would likely walk down the street with nothing, after spending a million dollars in legal fees that I would not get back, even if I won. After I was asked to present on my case at the UN in New York City, and as more and more communities globally invited me to speak and help them keep frac'ing out, Klippenstein became more and more insistent that I lie to them and the public about Canada's great justice system. Just galling.
Canada's legal-judicial industry selfishly serves itself first – its lawyers and judges (and the politicians who appoint them); then it serves the rich and powerful, rapists and pedophiles (notably raping religions), criminals and life-harming corporate polluters like AER and Encana/Ovintiv; and lastly, the odd token citizen (so it can pretend to be a justice system).

***
Glen McGregor @glen_mcgregor Aug 28, 2023:
On past political donations by appointed judges… same as it ever was. (Story from March 3, 2010.) …
(The key point here: it's not that judicial appointments were for sale for a $1,200 contribution; it's that governing parties chose to appoint those who are of like mind politically, and some of those will have made donations to their party of choice.)
(Also: lawyers are over-represented in any sample of largest party donors, and by definition, judges were all lawyers before they were appointed.)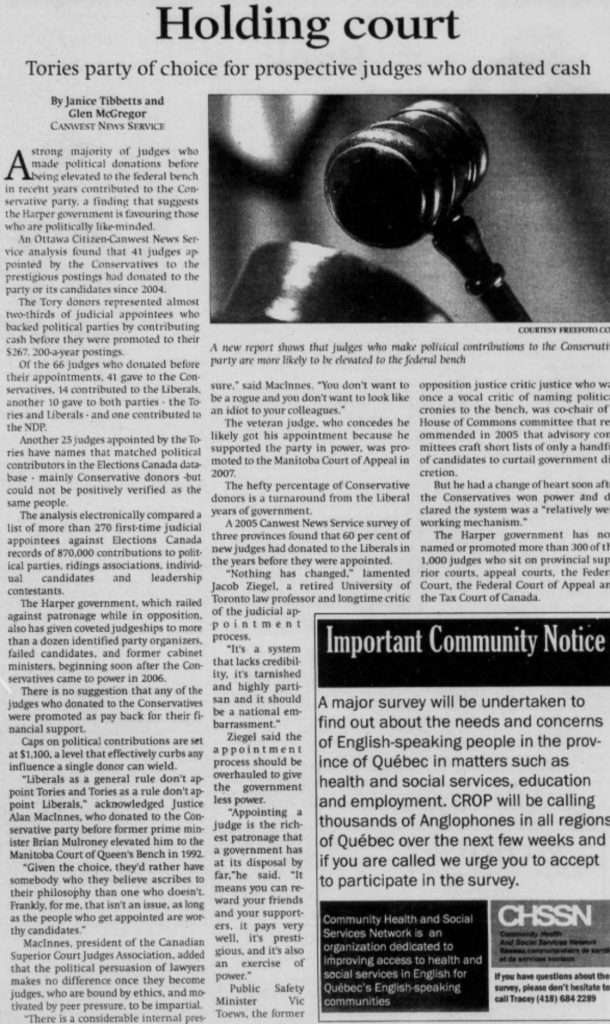 "The Harper government…has given coveted judgeships to more than a dozen identified party organizers, failed candidates, and former cabinet ministers, beginning soon after the Conservatives came to power

reportedly illegally

in 2006."
Long time critic of Canada's judicial appointment process, retired law prof Jacob Ziegel:
"It's a system that lacks credibility, it's tarnished and highly partisan and it should be a national embarrassment. Appointing a judge is the richest patronage that a government has at its disposal by far. It means you can reward your friends and your supporters, it pays very well, it's prestigious, and it's also an exercise of power."

Refer also to:
2023 09 04: 'Freedom Convoy' organizers' criminal trial begins Tuesday

Unfortunately, the real criminals in my view, are the lawyers representing these fucker trucker organizers and money grubbers, and even more unfortunately, these two organizers are white, racist, misogynistic with millions of dollars in funding from rich white racist misogynists facing a mostly white, racist, misogynistic judicial industry, so I fully expect them to be set free, much like our judges set rapists free, again and again.

2023 09 03 @JHawr11:
I'm 33 years old, have worked in farming for the last 15 years in some way or another. The freedom convoy was one of the very few times over ever been embarrassed to be Canadian. All the farmers I knew, truckers I have met over the last decade all kept working while your little Pity party was happening in Ottawa.
Please cry more. It's hilarious watching the Karen Convoy keep crying this much after the fact.
2023 09 02 Cris Thorne@Thor_Beats:
Interesting. I'm 42 years old, and I have lived in Canada my whole life.
The freedom convoy was the first time and only time in my life where I truly felt embarrassed to be Canadian.
And I run a Transport/Logistics company. Every trucker I know was working.

The Alberta fucker truckers at Coutts, blockading the USA-Canada border, prevented many truckers from working and or returning home from work! Sums up evil, sums up stupid.

2023 09 03 GeeJay@Aviewfromabroad:
I'm 48 years old and I've never seen a bigger collection of idiots in this country than the #Freedumbconvoy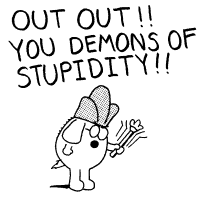 I'm 66 and have never seen a bigger collection of follow-the-con-man idiots in this country than the fucker trucker convoyers, and have never seen a nastier more bigoted hate-filled collection of white lawyers than the "Justice" Centre for ConOnly Freedumbers.

2015: Scary! Stephen Harper's courts: How the judiciary in Canada has been remade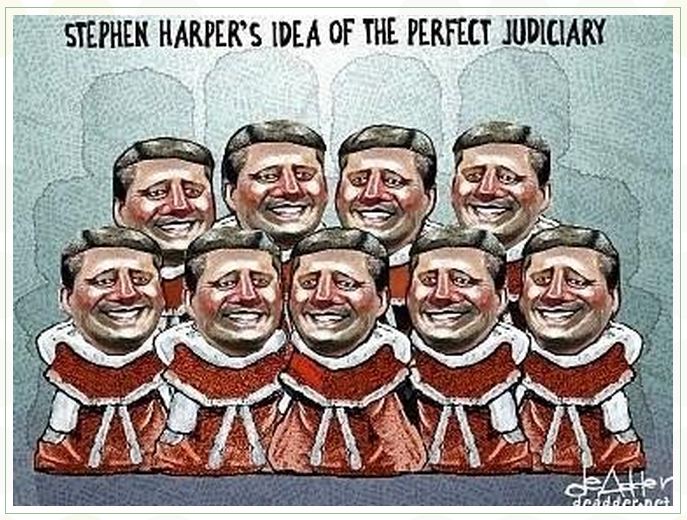 2015: Appointment of Russ Brown extends Harper's influence on Supreme Court

Keep in mind that John Carpay and the Justice Centre for Constitutional Freedoms (but freedoms only for conservatives/libertarians, not the rest of us) helped organize, present to the media, serve and represent the cruel, abusive, law-violating, shitting and pissing on resident doorsteps, kid, senior and health care worker assaulting, anti public health care, anti health protections Fucker Truckers (they called themselves peaceful). John Carpay (and another lawyer at that vile anti-justice, anti-freedom centre) were hit with criminal charges and tossed in the slammer after they had the judge on one of their cases spied on. Some freedom for that judge. Both "lawyers" are now no longer allowed to practice law in Manitoba (they ought to be disbarred Canada-wide, given how low they and their crimes go). In my view, the misogynistic white supremacist "justice" centre is about shoving demented republican beliefs and harmful evangelical bigotry, religion and practices down all our throats; destroying public health care to give it to American-for-profit corporations (thus in my view why they helped organize and represent the illegal Fucker Trucker invasions); taking women's rights and freedoms away; undoing laws that protect the marginalized taking their rights and freedoms away too; deregulating polluting corporations, and setting Canada back centuries to please their dark money foreign funders. Domestic terrorism.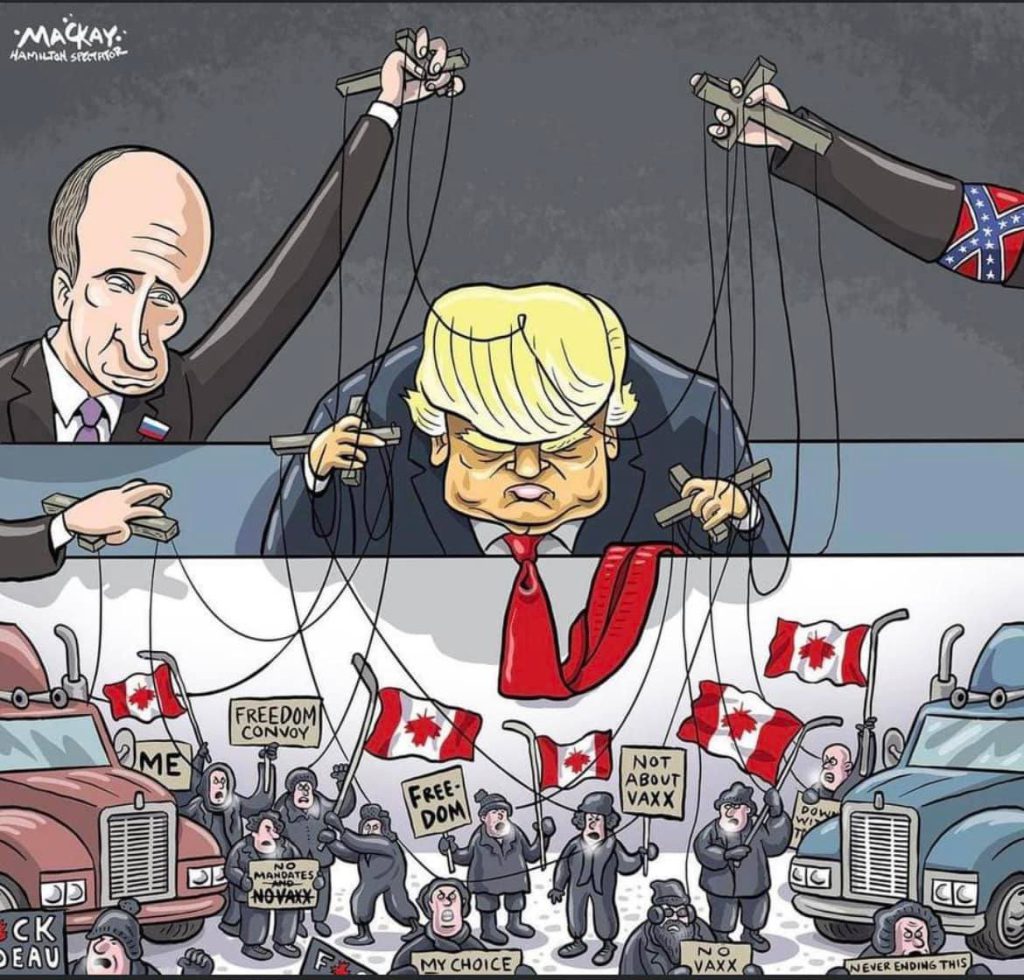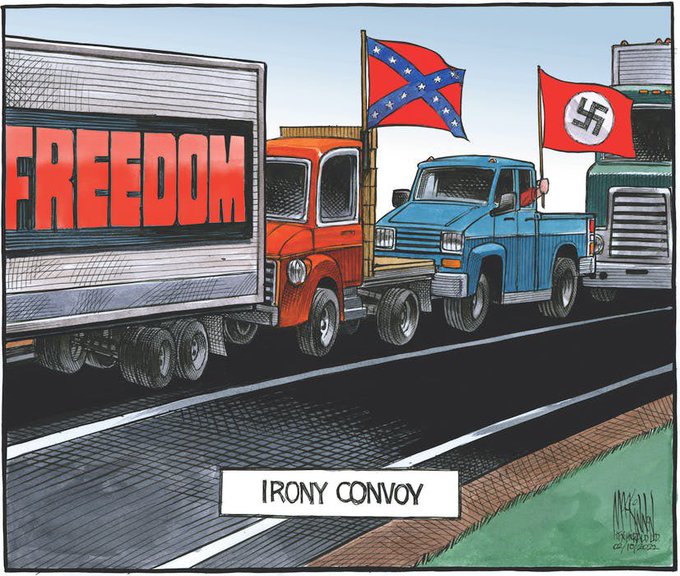 Prime Minister Stephen Harper has named Russ Brown, a conservative judge from Alberta, to the Supreme Court of Canada – the third appointment in 15 months to the country's most powerful court without parliamentary involvement.
In his early 50s, Justice Brown gives Mr. Harper the possibility of a quarter-century of influence on the court. Some see him as a future chief justice when Alberta-born Beverley McLachlin reaches the mandatory retirement age of 75 in four years.
With a doctorate in juridical science from the University of Toronto, Justice Brown has been fast-tracked by the Conservative government. He was associate dean of the University of Alberta law school when the government appointed him in February, 2013, along with another rising conservative star, lawyer Thomas Wakeling, to the Court of Queen's Bench. Just 13 months later, the two were promoted again to Alberta's top court, the Court of Appeal.
The married father of two is a former member of the advisory board of a conservative legal group in Alberta, the Justice Centre for Constitutional Freedoms. Its website says its core views include a belief in "economic liberty," including property rights as part of the Charter of Rights and Freedoms – which has never been accepted by the Supreme Court. It also says equality before the law means "special privileges for none," which also runs counter to the Supreme Court's view that the Charter's equality clause is primarily for individuals from historically disadvantaged groups and its second part permits affirmative action for the disadvantaged.
"Current events remind us that the notion of limited government – particularly as it pertains to freedom of conscience and freedom of expression – can never be taken for granted in Canada," Justice Brown said in a website endorsement of the JCCF and its executive director, John Carpay, a former candidate for the Wildrose Party in Alberta.
His endorsement appeared to have been removed from the website Monday evening.
***
[The endorsements before they were changed on Monday, July 27, 2015:
Endorsements
"This is a critical time in Canada, and we need to draw attention to the erosion of freedom in Canada, particularly on campus. It's good to have the Justice Centre for Constitutional Freedoms there to ensure the rights of all students are upheld."
– Andrea Mrozek, Executive Director, Institute of Family and Marriage Canada
---
"John Carpay's fight for the individual liberties of Canadians is of the utmost importance and should be supported by all those who care about the future of Freedom." –
– Michel Kelly-Gagnon, President and CEO, Montreal Economic Institute
---
"I have great confidence in John Carpay's leadership abilities to build the new Justice Center for Constitutional Freedoms into a formidable organization to defend Canadians' right to free speech against censorship, especially in universities."
– Clive Seligman, President, Society for Academic Freedom and Scholarship
---
"For many years, Canada has desperately needed an organization to properly defend freedom of speech. At long last, we have just that: the Justice Centre and its talented leader, John Carpay."
– Michael Taube, columnist and former speechwriter for P.M. Stephen Harper
---
"John Carpay has an impressive track record of commitment to the constitutional rights of Canadians, and with his leadership I am confident that the Justice Centre will be successful in achieving its goals. A free society will always need to be defended against those who wish to limit the rights which we enjoy. The Justice Centre brings another voice for freedom to the Canadian scene, and we can never have too many of those."
– Matt Bufton, Executive Director, Institute for Liberal Studies
---
"Current events remind us that the notion of limited government – particularly as it pertains to freedom of conscience and freedom of expression – can never be taken for granted in Canada. More help is needed to preserve these rights. Because John Carpay has a demonstrated record of effective advocacy in just such matters, I expect that the Justice Institute will quickly
join the ranks of Canada's most important watchdogs."
– Dr. Russell Brown, Faculty of Law, University of Alberta
---
"Free speech is the most important freedom. All of our other freedoms, such as freedom or religion and the right to vote, depend on it. Canada desperately needs the Justice Centre's commitment to free speech, and Canadians of all political stripes should support it."
– Ezra Levant, author, columnist and free speech activist
---
"Free association and free speech are the foundation of democracy. Without them, accountable government is not possible. Far too many Canadians assume these rights are protected when in fact they are being eroded. It's urgent that Canadians support groups and leaders that go beyond the usual platitudes and begin to meaningfully champion these principles that are fundamental to the human spirit. John Carpay's leadership and contribution on these important issues is unassailable."
– Troy Lanigan, President and CEO, Canadian Taxpayers Federation
---
"John Carpay is one of this country's stoutest defenders of our individual liberties."
– Brian Lee Crowley, Managing Director, Macdonald-Laurier Institute
---
"The Justice Centre for Constitutional Freedoms is a new and welcome institution, especially dedicated to the defence of free speech at universities. At first thought this is a curious idea, as free thought and speech is of the essence of the university ideal. Unhappily political correctitude can on too many occasions subvert this ideal, and a watchdog is needed to defend those students and even professors who cannot afford to defend themselves. Founder John Carpay has a demonstrated, vigorous and successful track record in this regard."
– Gordon Gibson, Senior Fellow, Fraser Institute
The Endorsements after they were changed on July 27, 2015

Now ALL GONE!

***
Justice Brown could not be reached for comment. …
Deborah Hatch, Past President of the Criminal Trial Lawyers' Association in Alberta, said the appointment is welcomed by both the defence and Crown prosecutors.
"I have appeared many times before Justice Brown and have always been impressed by his thoughtfulness, his keen intellect, his sense of fairness and restraint, and his respect for and understanding of judicial discretion," she said in an email. "He is definitely worthy of a position as important to a parliamentary democracy as a seat on the Supreme Court of Canada."
An Alberta source said he has the respect of other judges for being a hard-working, excellent judge with a strong personality. "Nobody's going to push him around down there," the source said of Ottawa. "He's a good guy but he's strong."
A criminal defence lawyer, Brian Hurley, said his impression of Justice Brown is that he is a balanced, thoughtful, academically minded judge. "The left-wing defence lawyers I know breathed a sigh of relief," expecting a more right-wing judge to be chosen.

OMG! Can't get much more extreme white male right wing than Russ Brown.

The Prime Minister's announcement does not say whether Justice Brown is bilingual – though Canada does not require that of its Supreme Court judges.
By convention, the appointment was to be made from a Western province. Some in Saskatchewan hoped that province would be tapped because it has been decades since the last judge from Saskatchewan, Emmett Hall, retired from the Supreme Court in 1973.
Justice Brown served as the thesis supervisor for John Rooke, Associate Chief Justice of the Alberta Court of Queen's Bench, when as a sitting judge he obtained his master's from the University of Alberta. Justice Rooke had political connections to the Harper government, and the experience would have helped Justice Brown earn the government's trust.

I doubt that's why Harper plunked Brown up to the supreme court; I think it's his creepy connection to the extreme right, racist, misogynistic republican "justice" centre.

Mr. Harper promised to bring in parliamentary hearings for new appointees to the Supreme Court – and he did, in 2006, for Justice Marshall Rothstein of Manitoba, his first appointee. But after The Globe and Mail revealed his secret short list of candidates from which he made the failed appointment of Justice Marc Nadon in 2013 (the Supreme Court said Justice Nadon lacked the legal qualifications to join), the government cancelled the hearings and Parliament's involvement in the selection process. Since then, justices Clément Gascon and Suzanne Côté from Quebec and now Justice Brown have been chosen without parliamentary involvement.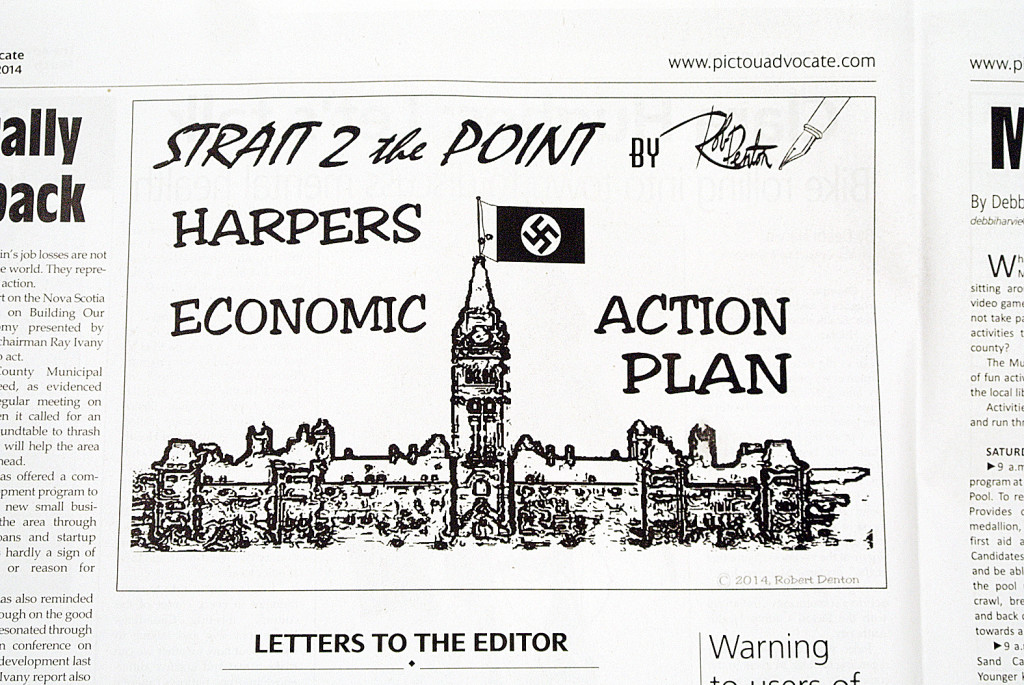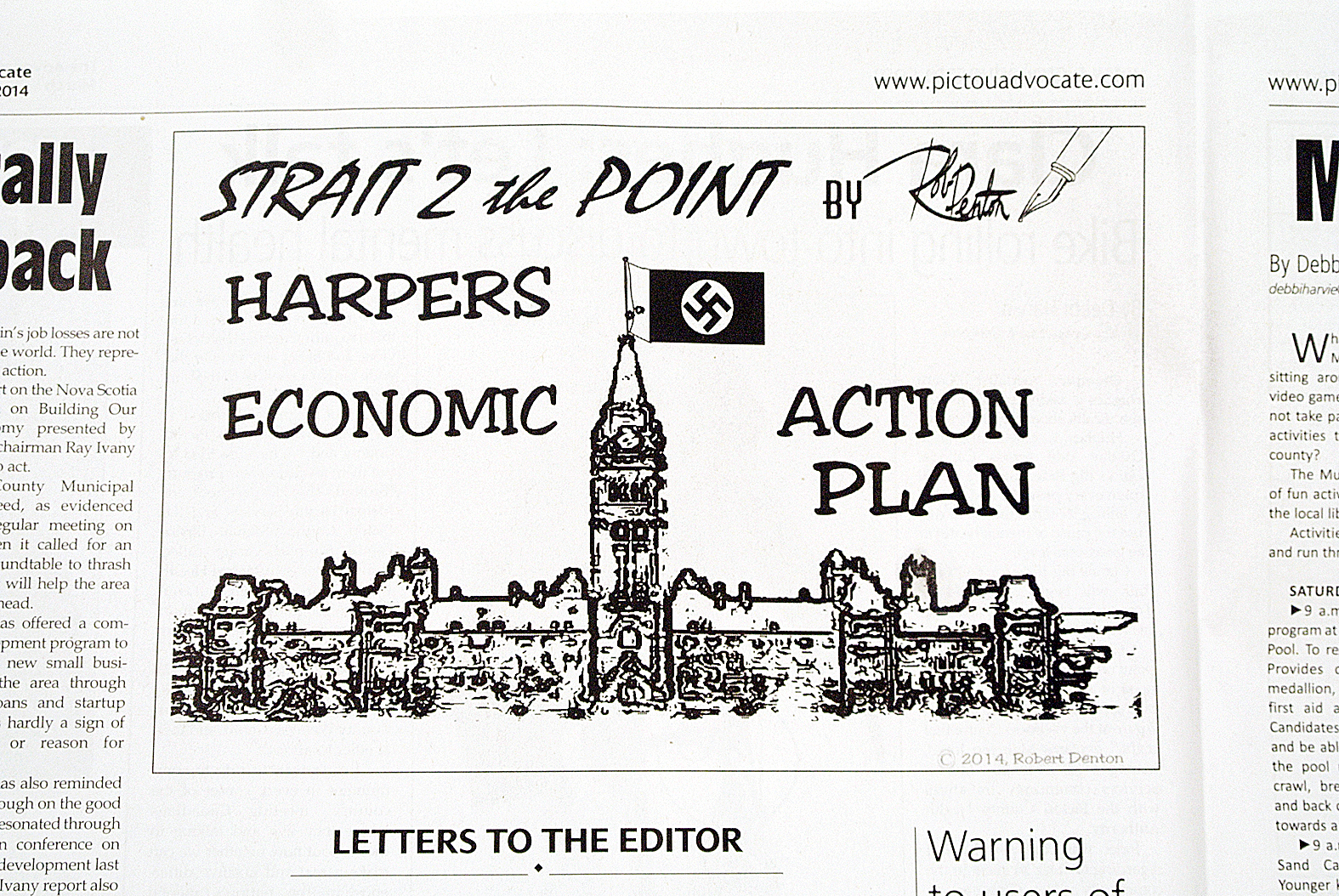 Justice Brown's specialty is economic loss in tort law. He replaces Justice Rothstein, a conservative member of the court who specialized in commercial law. The replacement will not alter the balance between conservative and liberal members of the court. Mr. Harper has appointed all but two members of the nine-person court.
Image above by Montreal Simon
One of the comments:
Alceste 5 hours ago
1. Mr. Justice Rothstein, Stephen Harper's first appointment in 2006, and a distinctly conservative Supreme Court Justice reaches retirement age in December this year – after the federal election. He chose to retire 4 months early – before the election. This is unprecedented in Canada, but done fairly often in the US.
2. The tradition (not the law) is for two SCC justices from the 4 Western provinces, by rotation. At the moment, we have McLaughlin from British Columbia and the retiring Rothstein from Manitoba – who had replaced John Major from Alberta (1992 to 2005). As the article points out, the last Saskatchewan SCC justice was Emmett Hall, who retired in 1973. It was clearly Saskatchewan's turn. Harper has broken tradition to appoint another justice from Alberta.
3. Russ Brown was fast-tracked from the University of Alberta to trial judge to court of appeal to Supreme Court of Canada in 2 years and 5 months.

Herr Harper had to get Mr. Creepy on the supreme court super fast!

4. As the article states, while a law professor, Brown was a member of the advisory board of the Justice Centre for Constitutional Freedoms. The Centre has only ever intervened in two legal cases, both in support of Trinity Western University in its disputes with the Law Societies of Ontario and Nova Scotia. (both actual hearings took place a year after Brown had ceased being a member.)
Not a promising appointment.

No kidding. Proof is in the pudding, as they say.