Toothman claims 'health issues' could impede him from testifying at misconduct trial by Mike Jones, March 11, 2021, Observer-Reporter
Former Greene County judge Farley Toothman is shown in his chambers in this file photo by Mike Jones
WAYNESBURG – Former Greene County judge Farley Toothman's "ongoing health issues" may not permit him to testify at his own judicial misconduct trial, his legal team wrote in a filing last week.
The filing by Toothman's attorney, Bethann Lloyd, was in response to the state Judicial Conduct Board's pre-trial memorandum that laid out details accusing the former president judge of misconduct while handling multiple cases in 2017.
Toothman, 64, of Waynesburg, took what was supposed to be a temporary leave from his position Oct. 5, but never returned to the courthouse. He eventually relinquished his duties as president judge and resigned from the bench in January.
In Toothman's legal response, Lloyd wrote that he took leave due to a "temporary inability to perform his duties due to mental and physical illnesses" and was hospitalized at one point.
"(Toothman's) health issues are not resolved, even at this time," his legal team wrote in its response Friday. "Counsel remains concerned Judge Toothman will not be able to testify at trial without risking a setback to his health conditions, although he is able to cooperate with counsel to discuss the case."

Then, if true, he can testify via zoom from his sickbed; keep the questions for him simple, non-combative and easy.

The filing does not indicate what health issues Toothman is facing, and Lloyd politely declined to comment Wednesday, citing medical laws and attorney-client privilege.

I'd like to know how many lawyers violate attorney-client privilege in general and especially when drinking booze with opposing counsel. I think it's only a "privilege" that is protected for powerful people, and rapists, pedophiles, corrupt politicians, dirty judges and lawyers, law violating corporations, etc. In other words, Attorney-Client Privilege When It Suits Them.

Toothman was accused of judicial misconduct in the handling of several cases when the state Judicial Conduct Board filed a 21-count complaint against him last May.
The accusations stem from a 2017 incident in which he allegedly interfered with a retail theft investigation into his law clerk at a Waynesburg convenience store. He was also accused of interfering with a county probation staff meeting to learn who was handling the probation for a woman, who accused his law clerk of shoplifting at that store, involved in an unrelated lower court case.
Other complaints include retaliating against a janitorial employee and improperly handling a case involving the division of marital property and another over a protection from abuse.
Toothman's pre-trial response acknowledged most details from the Judicial Conduct Board's account except for two statements, which his lawyers said they could probably agree to eventually. The agreement to those stipulated facts are "a means to move the case to conclusion," according to the response.
It was not known when the trial would begin in the state's Court of Judicial Discipline, or if it could be avoided if the two sides can agree to the facts of the case. An order released by the court Wednesday gives the two sides until April 20 to file "joint stipulations in lieu of trial" and then another two weeks to submit briefs in support of their positions. That could allow the process to bypass a trial and head straight to a sanction hearing that would determine Toothman's punishment, which could include a reprimand, fine or barring him from future service.

Why no year of weekends doing dishes at the local shelter or cleaning frac waste tanks? Because he's a white legal man of privilege?

"I think we'll have a better idea after that period passes," said Richard Long, the chief counsel for the Judicial Conduct Board that brought the charges. "We're still in discussions, as you can see from that order with opposing counsel."
Long said there also could be "collateral consequences" depending on the court's findings, including the potential loss of Toothman's state pension and benefits.

I doubt that any serious punishment will happen, he's a legal man, he's not coloured and not poor.

The board has granted Toothman's legal team deadline extensions for filing responses due to his recent medical issues.
"We're aware of their claim in that regard. We're working through all that," Long said.
Only two witnesses are listed to testify on behalf of the former judge – Toothman and retired Blair County judge Jolene Kopriva, who is listed as a "judicial mentor" to him. In comparison, 19 witnesses are listed by the Judicial Conduct Board to testify at trial, many of whom are lawyers or current county or courthouse employees.
The vast majority of Toothman's pre-trial response was a laundry list of "positive contributions made to the court and community" since being elevated to president judge in 2015.
Toothman was nominated by former governor Ed Rendell in March 2009 to fill the seat vacated when H. Terry Grimes retired, and he was confirmed by the state Senate seven months later. Toothman won a full 10-year term on the bench in 2011, and took over as president judge upon William Nalitz's retirement. His term was set to expire in January 2022.

Refer also to:
2012: Toxic Wastewater Dumped in Streets and Rivers at Night: Gas Profiteers Getting Away With Shocking Environmental Crimes, Allan Shipman was found guilty of illegally dumping millions of gallons of natural gas drilling wastewater. But he's part of a much bigger problem
… On top of it all, he pled guilty. The tentative plea agreement called for imprisonment of up to 16 months. He admitted to the crimes against him. Case closed.
Sheriff Ketchem stood beside the deputy attorney general after eight hours of testimony and deliberations as the judge was set to announce the sentencing. … [He] became convinced fairly quickly into the judge's reading that Shipman was going to walk. …
By the time Judge Toothman began crying it was easy to see things were swaying towards the polluter. …
Needless to say when Judge Toothman sentenced Robert Allan Shipman to probation, "[Deputy Attorney General Amy Carnicella] was irate," Ketchum says….
… Ten days after the sentence hearing, the deputy attorney general filed a motion for modification of sentence. Toothman denied the request on June 28, 2012.
… Of note in the DEP's statement to AlterNet on the Shipman case is that Shipman has already appealed the DEP's administrative orders "revoking the operating permits for Allan's Waste Water Company and prohibiting Allan Shipman from any involvement in the waste business including transportation, storage, processing or disposal."
2012: State wants jail sentence for Shipman's illegal wastewater dumping
2012: This is how Encana/Ovintiv and other frac'ers get rid of their waste in Alberta, on our food lands and near communities: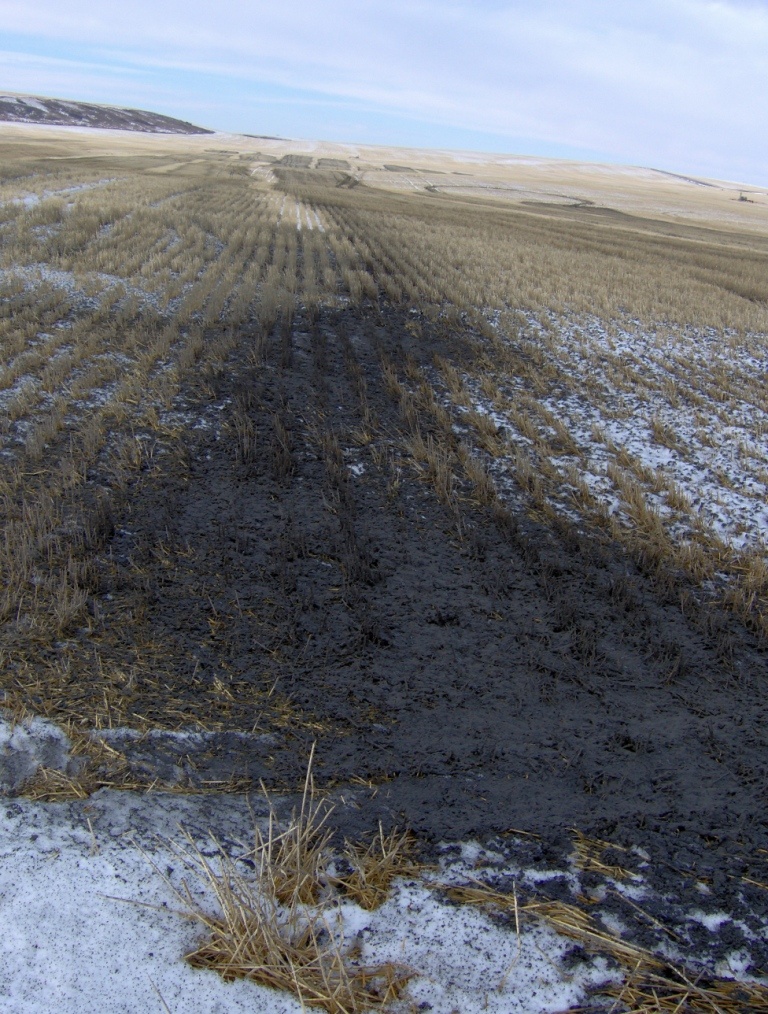 ***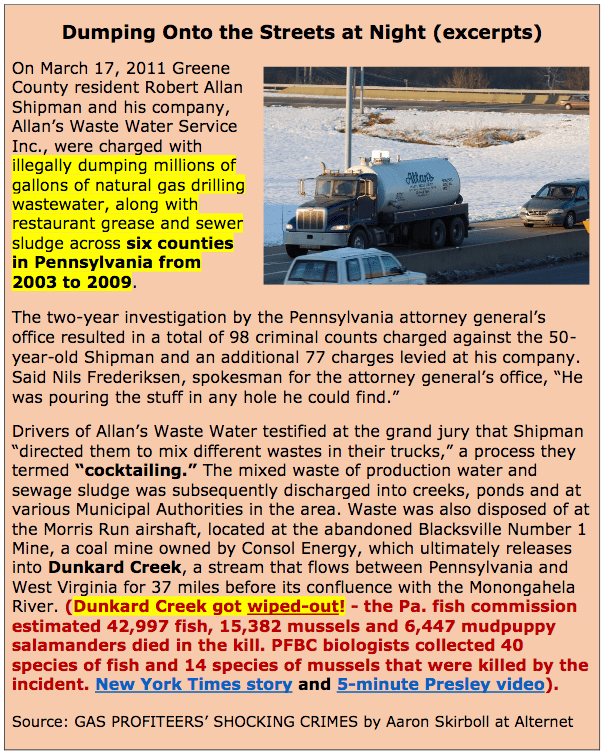 Above snap by Bob Donnan
North Dakota Turns Blind Eye to Dumping of Fracking Waste in Waterways and Farmland, Releases of drilling and fracking waste, which is often laced with carcinogenic chemicals, have wiped out aquatic life in streams and wetlands
America's Radioactive Secret: Oil & gas wells produce nearly a trillion gallons of toxic waste a year in America. It could be making workers sick and contaminating communities (in Canada too). "Us bringing this stuff to the surface is like letting out the devil … It is just madness."