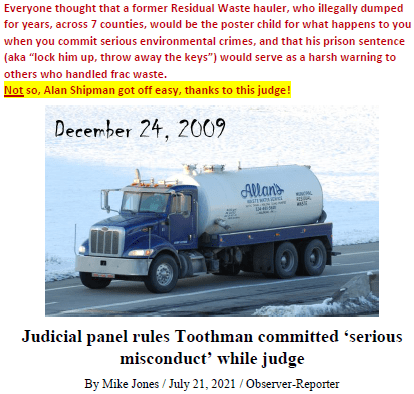 Former Greene County president judge Farley Toothman violated the state Constitution and "engaged in misconduct so extreme that brought the judicial office into disrepute," the state Court of Judicial Discipline ruled Monday.
The nine-judge panel found Toothman abused his time on the bench and "committed serious misconduct" in two cases that violated judicial conduct rules in 10 of the 21 counts brought against him last year.
The state Judicial Conduct Board filed the complaint in May 2020 accusing him of misconduct in five situations while Toothman was president judge. A sanctions hearing will be held later this year to determine what punishment Toothman should face.
The court found that Toothman "crossed ethical lines" when he used his power as judge to interfere with a retail theft investigation into his law clerk at a Waynesburg convenience store in September 2017. The clerk was never charged with a crime, but Toothman was later accused of intervening in a county probation staff meeting about the woman who accused his law clerk of shoplifting at the convenience store. Toothman later found information that the woman had not paid a $10 monthly fine since, prompting him to order her to appear in his courtroom rather than report to her community service location.
"No judge can act in such an arbitrary manner based on personal whim," the judges wrote in their opinion.
Toothman held the woman in "civil contempt" during the impromptu legal proceeding and ordered her to spend 25 days in the Greene County jail. The judges called Toothman's decision to imprison the woman "inexcusable."
"It is obvious Judge Toothman misused his power as judge to punish (her) for offending his law clerk," the judges wrote.
In another case, the board found Toothman violated judicial conduct rules when he retaliated against a courthouse custodian by posting her union grievance, which contained personal information, on a public bulletin board outside the two courtrooms in January 2018. The judicial panel said his actions were "very serious" and violated judicial canons and the state Constitution.
In total, Toothman was found to have violated several judicial rules, including two counts of compliance with the law; two counts of promoting confidence in the judiciary; one count of impartiality; one count of demeanor; and one count of investigating facts independently and considering evidence and facts not properly presented. He also was found to have violated the state Constitution on three counts due to his actions as judge.
In three other cases included in the complaint, the judicial panel found there "may have been violations of law or procedure," but the board did not establish clear and convincing evidence of an ethical violation.
Richard Long, the chief counsel for the Judicial Conduct Board that brought the charges, was pleased with the ruling.
"There's a lot of strong language," Long said. "Obviously, the court gave voice they were troubled by the conduct."
Long said the process will move into the next phase in which both sides will be permitted to file objections before the sanctions hearing. There is no date set for that hearing, although Long expected it would be months away. He declined to say what punishment the board will be requesting during the hearing.
"It would be premature to say that. I don't think it would be appropriate to opine in advance," Long said. "We'll be prepared to advocate for what the board believes is appropriate at that time."
Toothman's attorney, Bethann Lloyd, declined comment Tuesday afternoon.
Toothman took a temporary leave from the bench Oct. 5, but eventually relinquished his duties as president judge and resigned Jan. 3. He had been a judge since 2009 after he was appointed to the seat and won a full 10-year term in 2011. His term was set to expire this coming January, and he'll be replaced on the bench by Jeff Grimes, who won both the Democratic and Republican nominations for the position during the May primary.
Visual at top of this post thanks to Bob Donnan

Refer also to:
2021: Yet another dirty judge? Farley Toothman, who let serial oilfield wastewater dumper Robert Allan Shipman walk (98 criminal counts charged against Shipman and 77 charges against his company across six counties from 2003 to 2009), claims health issues could impede him from testifying at his misconduct trial
2021: Pennsylvania: Judge J. Andrew (Drew) Crompton, who helped craft Act 13 (parts later struck as unconstitutional) and publicly boasted of his "Shell shirt" in 2016, recuses himself from Murrysville frac appeal case How many oilpatch-friendly judges are there in North America?
2012: Judge Toothman defends sentence for waste dumper
2012: Toxic Wastewater Dumped in Streets and Rivers at Night: Gas Profiteers Getting Away With Shocking Environmental Crimes, Allan Shipman was found guilty of illegally dumping millions of gallons of natural gas drilling wastewater. But he's part of a much bigger problem
2012: State wants jail sentence for Shipman's illegal wastewater dumping
… In a motion for reconsideration filed in Greene County on Monday, the attorney general's office said Judge Toothman granted Mr. Shipman leniency after improperly considering his charitable works, a personal tragedy in his family and the fact that he sold his company and cannot work in the wastewater business again. The attorney general's office also noted that the judge described the case as a "clarion call" to all those who would pollute the state. But probation, prosecutors said, does not meet the definition of a "clarion call." "To the contrary," wrote Amy Carnicella, a deputy attorney general, "a probationary sentence will have absolutely no deterrent effect and sends a clear message to the business community, including the oil and gas industry, that enforcement of environmental crimes is little more than the cost of doing business." … Prosecutors said the dumping polluted Tom's Run, Rush Run, Morris Run, Dunkard Creek and Pigeon Run. In fashioning a sentence, however, the judge said the attorney general could not quantify the amount of damage. Ms. Carnicella said that's because Mr. Shipman hid what he was doing from the Department of Environmental Protection for seven years. "Nonetheless," wrote Ms. Carnicella, "the damage caused by unleashing thousands of gallons of toxic waste into the environment will have a lasting effect that can never be properly assessed or remediated."
2012: Probation Given for Dumping Shale-Drilling Waste
A Pennsylvania man who pleaded guilty to illegally dumping millions of gallons of wastewater from shale-gas drilling over several years was sentenced to seven years of probation in a closely watched criminal prosecution. Greene County Judge Farley Toothman said Robert Allan Shipman engaged in a "pollution spree" that was "dastardly," but cited mitigating factors including Mr. Shipman's cooperation and the recent suicide of his stepdaughter.