Shale gas driller fined $1.2M for contaminating drinking water in Westmoreland by Don Hopey, February 28, 2017, Pittsburgh Post-Gazette
More than four years after a WPX Energy Appalachia wastewater impoundment leaked and contaminated the drinking water of five Westmoreland County families, the shale gas company has agreed to pay the state a $1.2 million penalty.
But the families still don't have sufficient, permanent water supplies

, said Melissa Marshall, community advocate for the Mountain Watershed Association, an environmental organization.

[Ernst remains without safe water at Rosebud too, nine years after the government broke their legislature made promise to provide permanent alternate safe water and quit their water deliveries to Ernst and other families; 10 years into Ernst's go nowhere but into bankruptcy lawsuit; and 13 years after Encana broke the law and frac'd the community's drinking water aquifers: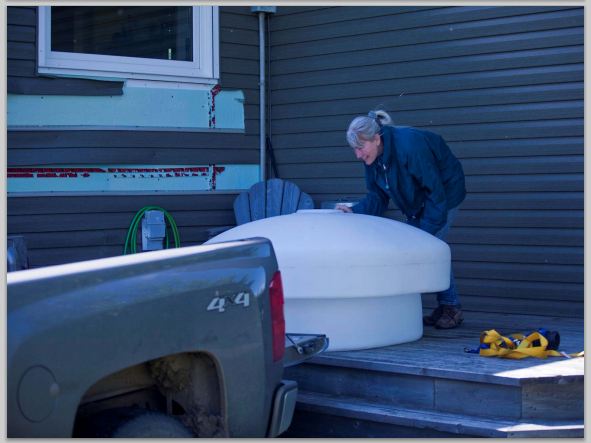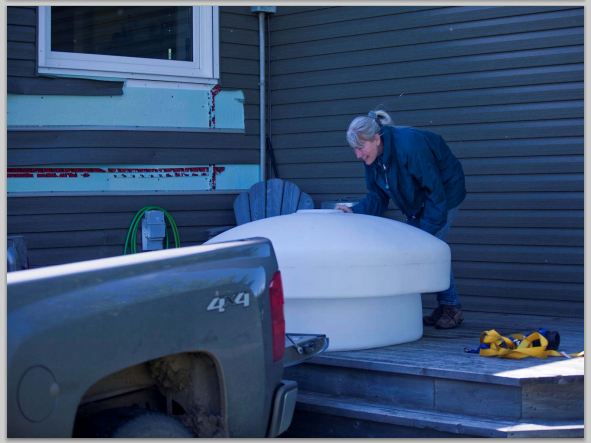 Ernst loading her water tank to get water, a 45 minute drive one way]
The WPX penalty, contained in a consent order agreed to on Dec. 20, was announced Monday by the state Department of Environmental Protection.
The Oklahoma-based energy company with an office in Canonsburg also is required to remediate soil, groundwater and surface water contaminated by the impoundment. It is next to Donegal Lake, which drains into Loyalhanna Creek, a tributary of the Allegheny River. [When is the Alberta government going to order Encana to remediate the aquifers the company illegally frac'd and clean up the contaminated water?]
Kelly Swan, a spokesman for WPX , issued a statement saying the consent order "resolves a legacy matter in an area where we no longer operate." He said the company has plugged its Kelp Well, located along state Route 711.
"We quickly worked to rectify the situation from its onset, immediately emptying and ultimately closing a containment pond for recycled water as soon as we became aware of potential issues," Mr. Swan said. Reclamation at the drill site and drained impoundment is nearly complete and groundwater monitoring is ongoing, he said. [In Alberta, the AER continues to permit Encana to frac above the Base of Groundwater Protection at Rosebud, in one case, granting Encana approval in less than one day to drill and frac under Ernst's land, and on a non-compliant application]
"Importantly, no individual's health was ever at risk even by the most stringent state and EPA standards," he said. [Perhaps not by the standards, instead by the company violating them]
The company also installed single-faucet water filtration systems in the five homes, but according to Ms. Marshall, those systems
don't provide enough water.

The families, who live near Stahlstown, must supplement the filtered water with bottled water. The company also installed water softeners at the homes, but those do not filter out or otherwise treat wastewater chemicals.
"The filtration systems are completely insufficient in providing for the water needs of the families, and that's been true for years," Ms. Marshall said. "As a result, the residents are depressed and disillusioned, and still cooking and cleaning and living on bottled water.

This settlement doesn't help the residents, who are still in dire need."
She said DEP consent orders issued over the past three years requiring WPX to replace the permanent residential water supplies

don't specify the amounts of water the company needs to provide,

and the filtration systems the company installed in the five residences don't come close to meeting the families' needs.
"We did house visits and saw the point of entry filtration systems," Ms. Marshall said. "My interview notes say that on the high end, one family estimated the reverse osmosis system made three gallons every six hours. A different family estimated theirs produced one gallon every two days."
She said she wrote a letter to DEP Secretary Patrick McDonnell in October, noting the hardships the water supply problems were causing the families, but received no reply.
DEP spokeswoman Lauren Fraley said Tuesday that the single-faucet filters are "not sufficient restorations," and the bottled water supply is a "temporary measure." She said the DEP is still reviewing the the success of the "whole-house water treatment systems." [How many decades is that going to take?
"DEP is reviewing quarterly sampling data to determine if conditions have returned to baseline or if the whole-house treatment systems are producing water with an adequate quality and quantity," she said in an email. "DEP staff have been regularly meeting with the affected residents." [Ernst gets no water provided, no filtering system and no methane/ethane bomb diffuser. Emphasis added]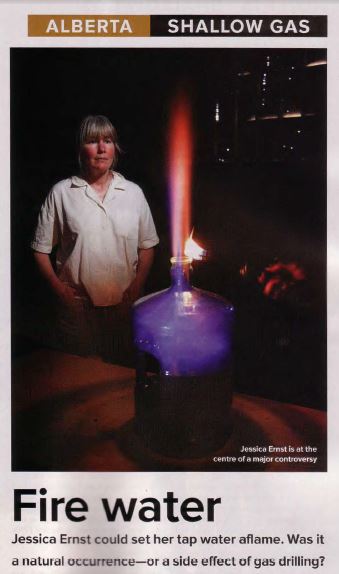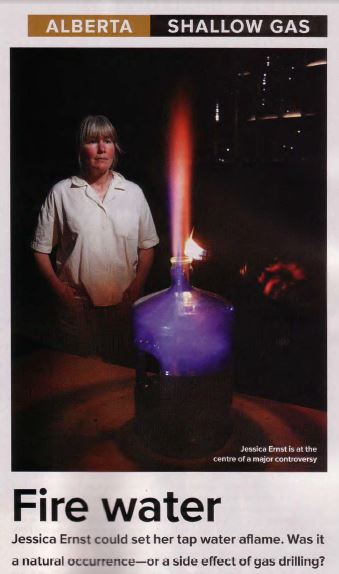 Cut out from 2006 Canadian Business Magazine article of Ernst's contaminated water. Eleven years later, Ernst can still set her water to explode. It's too dangerous to even use to flush toilets.
"TO HELL WITH US" – RECORDS OF MISCONDUCT FOUND INSIDE PA. DRINKING WATER INVESTIGATIONS by Melissa A. Troutman, Sierra Shamer and Joshua B. Pribanic, Project: Invisible Hand, February 14, 2017, Public Herald
"I think the state is in bed with the gas companies. My husband calls them DGP – Department of Gas Protection – because that's what they're about. To hell with us."
[Refer also to:
2016 06 15: Will waste water kill fracing? EPA bans disposal of frac waste at public treatment plants. Injecting it causes seismicity, recycling it is costly, using it to irrigate and landspraying it contaminates food, dumping it into waterways kills fish, pits filled with it leak, breathing it in aerosols corrodes lungs. What will companies do with it?
2015 06 16: Encana suing WPX Energy for trespass, for knowingly drilling a well horizontally through Encana's mineral "estate." What about Encana intentionally drilling and trespassing through Ernst's "estate?"
2014 09 17: WPX Energy Leaking Frac Waste Pit Contaminates Three Families' Well Water, Company Fighting Regulator Order to Provide Permanent Safe Water for Bathing; if you shower in contaminated water, "you end up breathing water droplets and any contamination in the water enters your lungs
2014 08 29: "Moving Forward" to Hell: Pa DEP finds third home's water supply contaminated by WPX's leaky waste pit; Ken and Mildred Geary, in their 80's, without safe water
2014 08 18: Pennsylvania DEP: Range Resources Inc.'s fracking waste pits contaminated groundwater and soil at three Washington County sites
2014 07 25: Encana builds water treatment facility in Wyoming after taking over funding of EPA study that showed Encana's frac'ing and waste pits contaminated drinking water in Wyoming
2014 07 08: Lignoier PA: WPX's leaking frac waste water pit contaminates three family water wells; DEP orders company to permanently replace water for one of the families
2013 12 17: Water Buffalo Battle Comes to an end for two homes in Franklin Forks, Pa, with methane contaminated water after fracturing by WPX Energy
2013 11 02: BC OGC orders closure, drainage and remediation of Talisman's leaking toxic frac waste water pit, Talisman says tests show soil and groundwater contaminated with chemicals
2013 11 01: Concerned citizens and harmed home owner face to face with WPX frac company representative reportedly trespassing at Tammy Hadlick's home in Franklin Forks