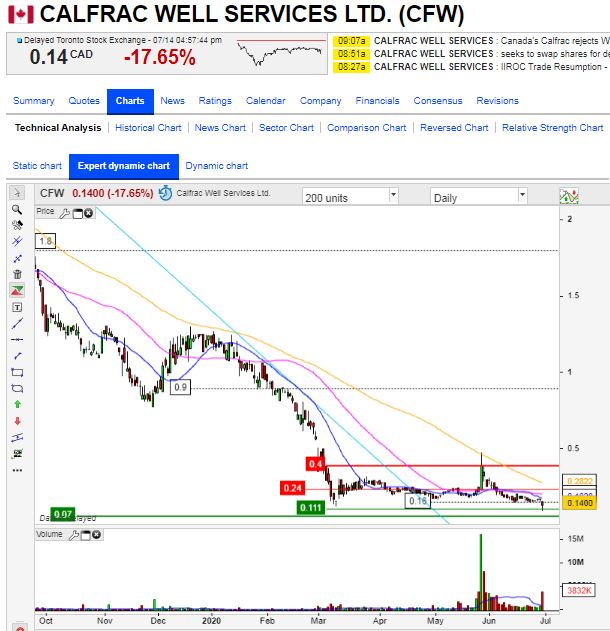 Will AIMCo execs pitch in to cover Calfrac's clean-up costs since bailing the company out in 2016?

Great comment to the June 10, 2020 CBC article (below):
Jim Harrison
Closed at $0.395/share yesterday? Ma, we need to take the kids' education savings and dump it in to calfrac! Desperate times for a dying industry…

You got that right Jim! Alberta's UCP/Kkkenney have been very busy stealing from education and health (yes, during a pandemic) to give billions to oil and gas and frac companies. And AIMCo is giving penions of hard working Albertans to those companies too.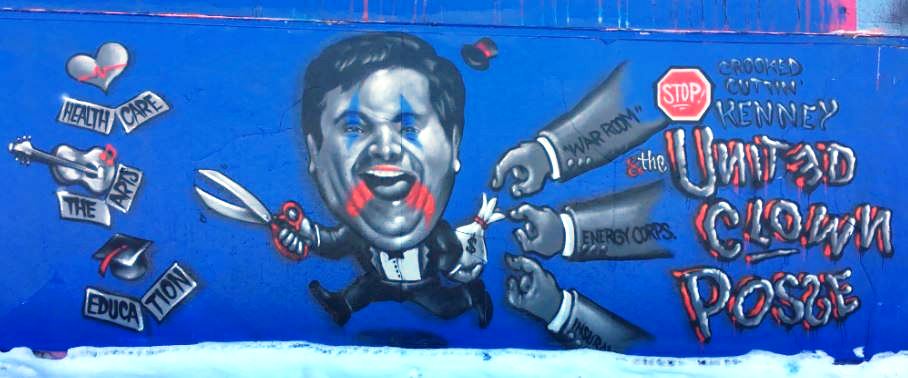 Calfrac Well Services seeks to swap shares for debt in recapitalization plan by The Canadian Press, July 14, 2020, BNN Bloomberg
CALGARY — Calfrac Well Services Ltd. is seeking to restructure in a plan that will see its debtholders swap unsecured notes for shares in the company.
The company says it has obtained a preliminary interim order under the Canada Business Corporations Act as part of its plan.
Calfrac noted that all trade debt and obligations of the company to employees, customers, suppliers and service providers will be unaffected.
Under the plan, holders of the Calfrac's unsecured notes will receive shares in the company in exchange for the debt.
The existing holders of Calfrac's common shares will hold an eight per cent stake in the company once the transaction is complete.
As a result of the recapitalization plan and offering, the company's total debt will be reduced by approximately $570 million and annual cash interest expenses will be cut by approximately $52 million.
Calfrac Well Services : Canada's Calfrac rejects Wilks Brothers proposals to buy U.S. business by Arunima Kumar, July 14, 2020, Thomson Reuters, Market Screener
Calfrac Well Services said on Tuesday it had rejected two proposals submitted by share and debt holder Wilks Brothers to buy the Canadian oilfield services firm's U.S. business in exchange for some of the company's debt.
Calfrac said the two non-binding proposals submitted last month "significantly undervalued" the unit and would leave its first-lien senior creditors with less than one-third of the collateral they currently hold, with no debt reduction.
Last month, the Canadian company said it would work with advisors to examine its options as its market value had collapsed and it deferred an interest payment on debt that does not mature for six years.
The company, which had a net debt of C$987.4 million ($725.34 million) as of March 31, said on Tuesday that it agreed with some debtholders to restructure some of its debt and issue some new shares.
Wilks Brothers LLC holds about 19.78% of Calfrac's shares and more than 50% of its second-lien notes, and also owns ProFrac Services Ltd, a competitor of Calfrac in the U.S.
(Reporting by Arunima Kumar in Bengaluru; Editing by Amy Caren Daniel)
Calfrac reports deeper loss on 36% drop in revenue by The Canadian Press, June 25, 2020, BNN Bloomberg
CALGARY — Calfrac Well Services Ltd. is reporting a sharply deeper loss on lower revenue as demand for its oil and gas well completion services slumped in the first quarter.
The Calgary-based company's net loss jumped to $123 million or 85 cents a share in the three months ended March 31 from a loss of $36 million or 25 cents in the year-earlier period.
Its first-quarter report, which was delayed under a temporary regulator exemption because of the COVID-19 pandemic, shows that revenue plunged 36 per cent to $305.5 million from $475 million in the same period of 2019.
In a news release, the company says it is continuing to consult financial advisers about alternatives to bolster its balance sheet, a process it confirmed in early June after a sudden jump in its share price.
Calfrac operates in Canada, the U.S., Argentina and Russia. It specializes in hydraulic fracturing, or "fracking", of wells, which involves injecting liquids and chemicals under pressure to break up tight rock formations deep underground to allow trapped oil and gas to be produced.
A slump in drilling activity as energy demand falls due to measures to control the pandemic had forced the company to cut 70 per cent of its North American workforce, park about three-quarters of its equipment, halve capital spending plans and reduce salaries for management, directors and remaining staff.
Calfrac shares rise 75%, prompting Calgary oilfield company to hire advisers, Firm said in April it's laying off more than two-thirds of its North American field employees by CBC News, Jun 10, 2020
Calfrac Well Services Ltd. says it is seeking advice on changes to its capital structure but doesn't know of any "material change" that would account for a 75.6 per cent increase in its share price on Tuesday.
In a news release after markets closed, the Calgary-based well completion company says it has retained Perella Weinberg Partners LP and Tudor, Pickering, Holt & Co., along with RBC Capital Markets, as financial advisers.
Calfrac's shares closed at 39.5 cents on Tuesday, up 17 cents on the day. Its stock has varied between 13 cents and $2.24 in the past 52 weeks. …
The current slump in drilling activity as energy demand falls due to measures to control the COVID-19 pandemic has forced the company to cut 70 per cent of its North American workforce, park about three-quarters of its equipment, halve capital spending plans and reduce salaries for management, directors and remaining staff.
The company said in April it will postpone its first-quarter financial report, normally published before May 15, until no later than June 25.
A few more of the comments:
Jas Morrison
Talk about a non story, a 75% rise in a penny stock.
Dean chapman Reply to @Jas Morrison:
Anything to prop up the oil industry.
John Adams

Interesting jump in share prices. I'd be worried about a pump and dump scheme.
One of Canada's largest oil and gas well completion companies is laying off more than two-thirds of its North American field employees as oilpatch activity slows dramatically.
Calfrac Well Services announced Tuesday it is reducing the number of field staff by 70 per cent, pointing to a "rapid and unforeseen deterioration in business conditions" due to COVID-19 and an international oil price war.
The Calgary-based company did not release a precise number of staff affected, but the company had about 1,600 field personnel working in North America last year, with about a third of those employed in Canada.
The double-blow of the pandemic and the price war has seen "essentially all" of Calfrac's clients make reductions in their planned spending, the company said in a release.
"The production cut announced by OPEC+ members on April 12 … has to date been insufficient to counterbalance the combined impact of the demand destruction," the company said.
The oil industry worldwide has been under increasing strain due to the collapse in demand and worries about a lack of storage for all of the excess crude, particularly in the United States.
Last week, the U.S. benchmark price for oil went negative for the first time.
Oil companies have made steep cuts to this year's spending plans and production, meaning there is less work for business such as drillers and oilfield services firms.
Calfrac had already announced last month it was cutting this year's capital program to $55 million from $100 million. It also said it was taking several other steps to reduce fixed costs, including salary cuts.
"It is difficult to predict how the COVID-19 pandemic will continue to affect the demand for Calfrac's services," it said.
However, Calfrac said its management will monitor and assess the evolving circumstances to determine what further measures will need to be taken to mitigate the impacts "of this unprecedented market challenge."
Earlier this month, Calgary rival Trican Well Service said it had cut its employee costs by half through salary reductions, layoffs and job sharing in reaction to a severe slowdown in drilling activity.
A couple of the comments:
Heywood Floyd
What happened to all of that cash AIMCO has been throwing at Calfrac?
James Fish

Don't bail out unprofitable businesses. Oil and gas aren't profitable!! Simple business decisions!! Don't waste taxpayers dollars!!

Refer also to:
2020 07 01: Alberta picks yet another hanky panky "Dickhead." Blackrock (lost $90 Billion in fossil fuel investments last 10 years) rule breaker Mark Wiseman to chair AIMCo (money-losing launderer of funds from pensioners to bankrupt frac firms).
2020 06 22: US frac'ers face $300 Billion in writedowns in Q2. "The boom in fracking was largely financed by debt" and we the people are being robbed to pay for the frac'ers' greed 'n rape fest.
2020 04 22: BlackRock Takes Command; "Literacy is Power," meanwhile Alberta's AIMCo Loses $4 Billion on bet gone wrong. Bet gone wrong or laundering (aka stealing) more money from ordinary citizens and pensioners to give to the rich?
2020 02 07: "Merriest fossil fuel stories" of 2019 show frac industry melting down. Roaring 20s speed into "tragedy on the horizon" where investments could "go to zero quickly." Vital warning for AIMCo by Bank of England Governor Mark Carney: Pension funds could be hit by 'worthless' fossil fuels
2020 01 21: Ovintiv/Encana, Chevron, Exxon et al deeply deserve this! CNBC's Jim Cramer: "I'm done with fossil fuels … they're just done. We're starting to see divestment all over the world. … It's going to be a parade that says, 'Look, these are tobacco and we're not going to own them.' … Younger people don't want to own them. The dividends are great…but you can tell that the world's turned on them. It's actually happening really quickly."
2019 12 18: Look out Albertans whose pensions Kenney gave to AIMCo. Crazy Days in Alberta: The Poison Wells File. The province let oil and gas firms create a $100-billion disaster. New example? Shell Pieridae Briko Ikkuma Alberta Foothills Sour Gas Marriage financed by AIMCo and about $10Billion in liabilities.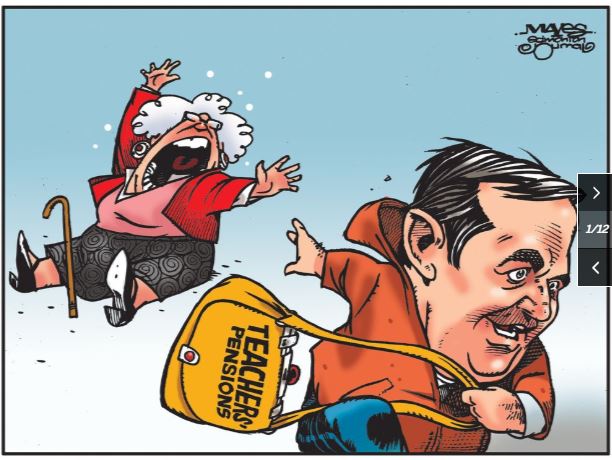 2019 12 12: If AIMCo were independent, trustworthy and believable would its CEO need to boast so loudly and dishonestly in the media? Will King Kenney fire Mr. Uebelein if he refuses to give bankrupting oil and gas frac'ers a billion more dollars here and a billion more dollars there?
2019 11 05: Over $19 Billion in retirement savings for teachers, state troopers and public workers lost over last decade by California & Colorado state pension funds investing in fossil fuels.
2019 08 02: Where did all those promises of endless frac riches & jobs go? Two of Canada's biggest frac companies report double-digit percentage revenue declines: Calgary-based Trican (36 per cent fall) and Calfrac (21 per cent fall)
2017 12 11: Alberta Greed Marches Stupidly On: Trican to reactivate full fracking fleet by end of 2018
2017 02 17: BNN Interviews Alberta Oil Patch Consultant Brent Nimeck on Lexin and AER's Orphan Wells: "This problem is 30 years in the making. … I would call it a Ponzi Scheme…. This is an orchestrated fraud from multiple angles: Industry, CAPP and the Alberta Energy Regulator have enabled this to happen. … Through our independent analysis and we've confirmed this at multiple sources within the energy regulator, the liabilities are over $300 billion. That's what's on the hook for Alberta taxpayers right now – $300 billion."
Four years before covid! 2016 06 12: Meet Alberta's Frac'd Radioactive Ranchers: Nielle and Howard Hawkwood. Timing is everything. Why did AIMCo announce $200 Million "investment" (gift?) in "Quite leveraged" Calfrac on same day NDP Rural Caucus are prevented from getting Hawkwood's frac ban resolution on floor of NDP's Annual Convention?
2016 06 02: How fast the greedy frac'ers fall, Part Two? Trican sells global well completion tools business for $53.5M to pay debt
2016 01 28: Didn't industry, politicians, regulators promise that fracing creates endless jobs, riches for all? Trican, 10th Largest US Frac Fleet Sold For 38 Cents On The Dollar
2015 08 14: Trican sells Russian business for 181.6 M, will apply proceeds to debt. Who fixes Trican's hundreds of fracs for Encana into Rosebud's fresh water zones?
2015 04 29: Colorado Supreme Court: Antero/Calfrac lose 'Lone Pine' Order Escape in Frac Contamination and Health Harm Case, Win for William and Beth Strudley, forced to move their children after toxic chemicals contaminated their property
2015 03 30: What happened to those endless promises that fracing brings jobs jobs jobs and prosperity for all? Trican lays off 137 workers in Odessa, how many in Alberta?
2015 03 12: Jack Shawn Eyles, 28, from Kelowna, dies fracking in NE BC for Calfrac (Nitrogen Pumping Division) on Progress Energy Canada Ltd. Site: "Not an explosion as we usually think, but an explosive or sudden release of extremely high pressure"
And, to be perfectly frank, when you do energy law, as I do, or corporate litigation, you're not dealing with life and death situations and people whose lives have been turned upside down, plaintiffs who are weeping. It's just about money.
2012, Calgary managing partner for Osler Hoskin Harcourt, Maureen Killoran (lawyer representing Encana in Ernst vs Encana)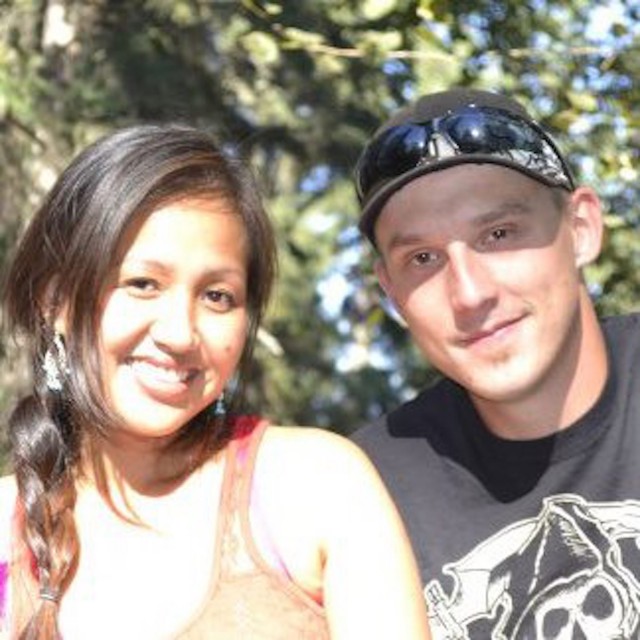 Jack Shawn Eyles in a Facebook photo from 2012
Six years before covid! 2014 07 05: "Quite leveraged" Calfrac doubled capital spending for 2014 to expand in Argentina, Canada and US
2012 10 03: Marcellus lawsuits claim pay abuses, including one against Calfrac of Alberta
2011: Trican Donates $5 million for cancer research
2004: Trican, on contract to Encana/Ovintiv, illegally frac'd Rosebud's drinking water aquifers, injecting 18 Million litres secret frac fluid directly into them. I still do not know what frac chemicals my loved ones and I bathed in, ingested and breathed blowing out of my water taps (the frac'd gases sometimes forced my kitchen tap open with such force, I was unable to close it).