10th Largest US Frac Fleet Sold For 38 Cents On The Dollar by Joseph Triepke, January 26, 2016, oilpro.com
Until Tuesday, Canada-based Trican Well Services was the tenth largest pressure pumping company in the US by frac horsepower. On Tuesday, the company announced a deal had been reached to sell their US frac fleet to Keane Group, a privately-held, U.S. based well completion services company. The deal marks Trican's exit from the US market.
Under the agreement, Keane will acquire the majority of Trican's U.S. assets, including equipment, key employees and its engineering capabilities.
The deal has been expected, and we previously reported that it was coming, but the price had not been known until today's announcement. The total consideration paid by Keane amounts to $247mm, which is comprised of $200mm in cash and a 10% minority stake in Keane (20% participation above certain thresholds if Keane has a liquidity event (i.e. a sale or IPO) is also part of the consideration).
Trican has 16 frac spreads (645,000 horsepower) in the US. But only 6 of Trican's 16 US spreads are currently active – the rest have been parked due to the downturn. In severe downturns such as the one we are in [induced by industry's severe greed and abuses?], fair market value for frac equipment can move south of build cost fast. This deal provides an important marker for what pressure pumping equipment is worth.
The purchase price implies about $380,000 per 1,000 horsepower, a standard unit measure of pressure pumping equipment. Although new frac horsepower construction has ground to a halt, the build cost (or replacement value) was about $1mm per 1,000 horsepower during the shale-driven upcycle. This is likely close to what Trican originally spent to build these assets. Thus, this deal implies an exit from the US frac market at about 38 cents on the dollar.
Importantly, this may be the high end of the range for 2nd hand frac equipment in the current market for several reasons:
Trican is one of the few players that has committed to full R&M spending for its parked fleet. Its repair costs have not declined on a $/horsepower basis as the company has parked equipment ring fenced and available to go to work immediately.
Analysts had expected Trican to get far less than the $247mm paid, with some speculating that $175mm would get the job done. Trican's shares surged 89% on the purchase price announcement Tuesday. [Have investors lost their marbles?]
Trican has some contract coverage that is attractive to Keane. 5 of of the 6 working crews are committed to Q2 2016, the other is working in the Marcellus spot market. And 4 of the 6 crews are committed to 2017.
… If the deal is completed as expected by mid-March 2016, Keane will move into the top ten US frac companies in terms of fleet size with nearly 1mm horsepower under management. [Emphasis added]
[Refer also to:
2015 08 14: Trican sells Russian business for 181.6 M, will apply proceeds to debt. Who fixes Trican's hundreds of fracs for Encana into Rosebud's fresh water zones?
2015 03 30: Trican lays off 137 workers in Odessa, how many in Alberta?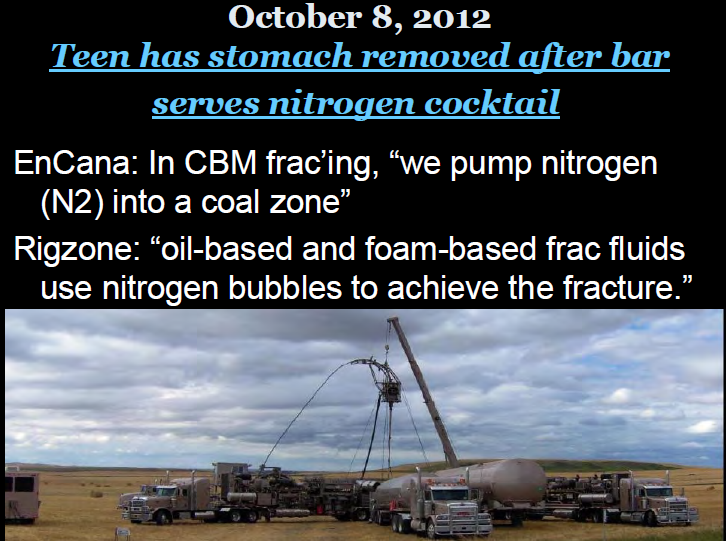 Slide from Ernst presentations
August 2006 photo of Trican frac'ing for Encana into fresh water zones less than a mile from Ernst's contaminated water well during Alberta Environment's shoddy, fraudulent "investigation" of community-wide methane, ethane, heavier hydrocarbon drinking water contamination, before gas sampling Ernst's water after Encana illegally frac'd the community's drinking water aquifers in 2004.
2011 12 14: Trican Donates $5 million for cancer research
2011 12 14: Frac Company Trican Donates $5 Million to Fight Childhood Cancer ]