Russian giant's fracking entry factored in Trican's decision to sell, says CEO by Dan Healing, August 14, 2015, Calgary Herald
If Calgary-based Trican Well Service Ltd. hadn't sold its Russian well-fracturing business to Rosneft Oil Co. for $182 million, it faced the prospect of having the mammoth Russian state-controlled oil company as its biggest competitor instead of its biggest customer, its CEO said Friday.
On a conference call with analysts after announcing the deal, chief executive Dale Dusterhoft said Trican decided to sell when a subsidiary of Rosneft made an unsolicited offer for several reasons, including the imposition of Western trade sanctions on oilfield equipment due to Russia's involvement in the Ukrainian conflict.
"A pretty significant part, and this can't be understated, is that Rosneft is now in the pressure pumping business," he told analysts.
"When they wanted to enter the pressure pumping business, that's certainly something you have to pay attention to because Rosneft does over half the work in the country and they were half of our customer list. If they are going to have their own equipment in there, that makes it pretty tough to compete against."
Pressure pumping units are required for hydraulic fracturing or fracking, where water, sand and chemicals are injected under high pressure to break up rock deep [SHALLOW AND VERY SHALLOW, INCLUDING INTO FRESH WATER ZONES] underground and allow trapped oil and gas to flow.
In a five-paragraph news release on its website, Rosneft confirmed the purchase and said the deal will allow it to "increase economical and production efficiency" in oil recovery and downhole operations.
"Rosneft plans to actively develop in-house production stimulation service on the basis of the acquisition of Trican Well Service LLC asset, which will lead to a significant increase of financial transparency and contracting of drilling services," it said.
Dusterhoft said a non-compete agreement with Rosneft means Trican will not be able to re-enter the Russian pressure pumping market for an undisclosed length of time.
Calgary-based Calfrac Well Services Ltd. also has a large Russian pressure pumping branch. It did not respond to a request for comment on Friday.
Trican chief financial officer Mike Baldwin said on the call that closing of the Russian sale removes a major impediment to concluding negotiations with lenders to head off a potential financial default in September — its poor share price and low earnings mean it is currently offside on debt-to-capitalization and interest-to-earnings agreements.
In its news release, Trican said the situation casts doubt on the company's ability "to continue as a going concern."
Trican, hit hard by a 50 per cent decline in oilfield activity in North America this year and the collapse of world oil prices, also announced Friday it has shut down its unprofitable Australian operations and is leaving the Saudi Arabian market it entered last year.
Shareholders were taken on a wild ride Friday. The stock traded up as much as 27 per cent to a peak of $2.53 in early trading in Toronto but closed at a new 15-year low of $1.32, down 66 cents or one-third from Thursday's close. The stock traded as high as $15.99 last August.
The company announced in May it was negotiating the sale of its Russian and Kazakhstan pressure pumping units to an undisclosed party. Dusterhoft said Friday the sale of the Kazakhstan assets to Rosneft will likely occur in the fourth quarter after that country's monopoly regulator issues its final ruling.
Analyst Dan MacDonald of RBC Dominion Securities said in a note the price Trican got for its Russian business was much better than his expectation of $100 million to $125 million and suggests a price for the Kazakhstan assets of as much as $22 million US. Trican had 11 fracturing crews in Russia and two in Kazakhstan and they made up the most profitable part of its international arm.
MacDonald said Trican's second-quarter loss adjusted to remove interest, taxation, depreciation and amortization of $37 million beat his estimate of $39 million but missed consensus of $31 million.
The net loss per share of 57 cents was higher than consensus estimates of 46 cents.
Analyst Scott Treadwell of TD Securities pointed out Trican's revenue for the second quarter of $231 million, a decrease of 57 per cent versus the second quarter of 2014, missed both his and consensus estimates of about $272 million, due to lower than expected activity and prices in North America.
In an e-mail to the Herald, Dusterhoft said Trican will retain a small completion tool business in Russia after the sale closes Aug. 20. He said the company has 1,685 workers in Russia, 37 of whom are Canadians who serve on a rotational basis and who will gradually be repatriated.
In Australia, he said 35 people who manned five well-cementing units have been laid off. No decision has been made about what to do with the equipment.
Dusterhoft said the company has hired back a few people back in Canada as activity recovers. It trimmed 58 per cent of its North American staff, including about 1,000 out of 2,600 people in Canada and 1,100 in the United States, since the downturn started.
Canadian operations at Trican generated $82 million of revenue and an operating loss of $13 million during the second quarter compared to revenue of $172 million and an operating loss of $8 million in the year-earlier period. About 35 per cent of the Canadian equipment has been parked.
U.S. operations generated $79 million of revenue and an operating loss of $25 million during the second quarter versus revenue of $268 million and operating income of $12 million. Trican parked eight of its 16 crews in the U.S. in the second quarter and said utilization on the remaining eight fell to 20 per cent in April and May. [Emphasis added]
Trican sells Russian business by Allison McNeely, Bloomberg News, August 14, 2015, Calgary Herald
Trican Well Service Ltd. agreed to sell its Russian pressure pumping business to RN Assets LLC for $181.6 million and will apply the proceeds to debt, it announced Friday. The company's shares rose.
The sale has received approval from the Russia Federal Antimonopoly Service, Trican said Friday in a statement.
Trican is also continuing to negotiate the sale of its Kazakhstan pressure pumping business to the unit of Moscow-based OAO Rosneft.
Morgan Stanley Canada acted as a financial adviser to Calgary-based Trican on the deal.
[Refer also to: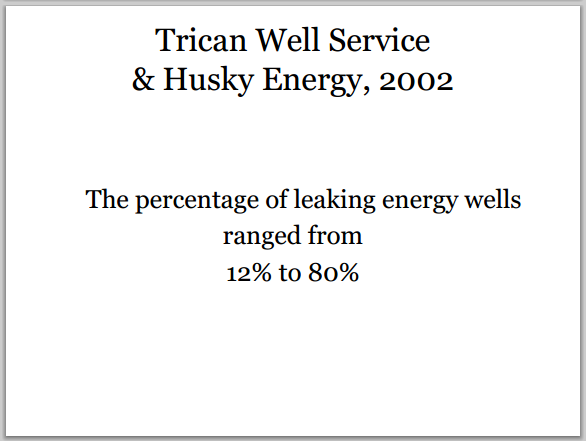 2004 03 02: Encana 05-14-27-22-W4M Frac'd, in secret, with about 70 Million litres of undisclosed frac fluids – 18 Million directly into Rosebud's drinking water aquifers: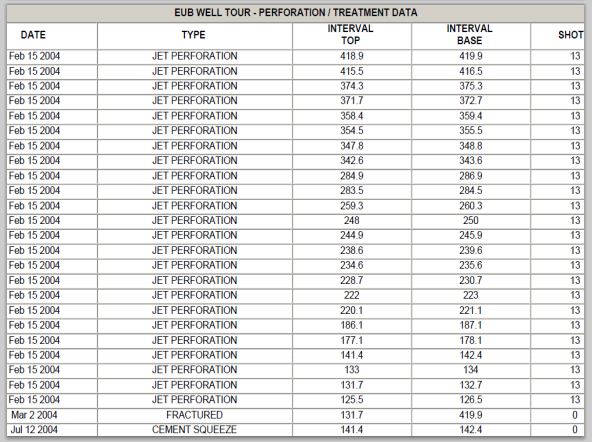 2004 07: Encana repeatedly pumped cement (chemical additives also not disclosed in document exchange December 19, 2014 in the Ernst lawsuit) into Rosebud's drinking water aquifers to try to stop the fresh water production at the 5-14.
Alberta Canada MSDS for API Oilwell Cement, Class 'G'
However, exposure of sufficient duration to wet oilwell cement can cause serious, potentially irreversible tissue (skin or eye) destruction in the form of chemical (caustic) burns, including third degree burns. …
Medical Conditions That May Be Aggravated By…Dermal Exposure: 
… Unusual (hyper) sensitivity to hexavalent chromium (chromium+6) salts
US EPA MSDS for oilfield cement:
Allergic contact dermatitis is caused by sensitization to hexavalent chromium (chromate) present in cement. The reaction can range from a mild rash to severe skin ulcers. 
Australia Austwell MSDS for Class G, Oilwell cement:
Austwell Class G (HSR) Cement is a special purpose cement for the oil and gas exploration industry. This product is classified as hazardous according to criteria of NOHSC. … Prolonged and repeated skin contact with cement in wet concrete, mortars and slurries may cause both irritant dermatitis and allergic (contact) dermatitis. The latter is due to the prescence of traces of water soluble hexavalent chromium in cement.
2006 08 31: During the Alberta government's community-wide drinking water contamination investigation at Rosebud, Trican continues to frac Rosebud's fresh water zones for Encana, including within about one mile northwest (in groundwater flow) of Ernst's already dangerously contaminated water well: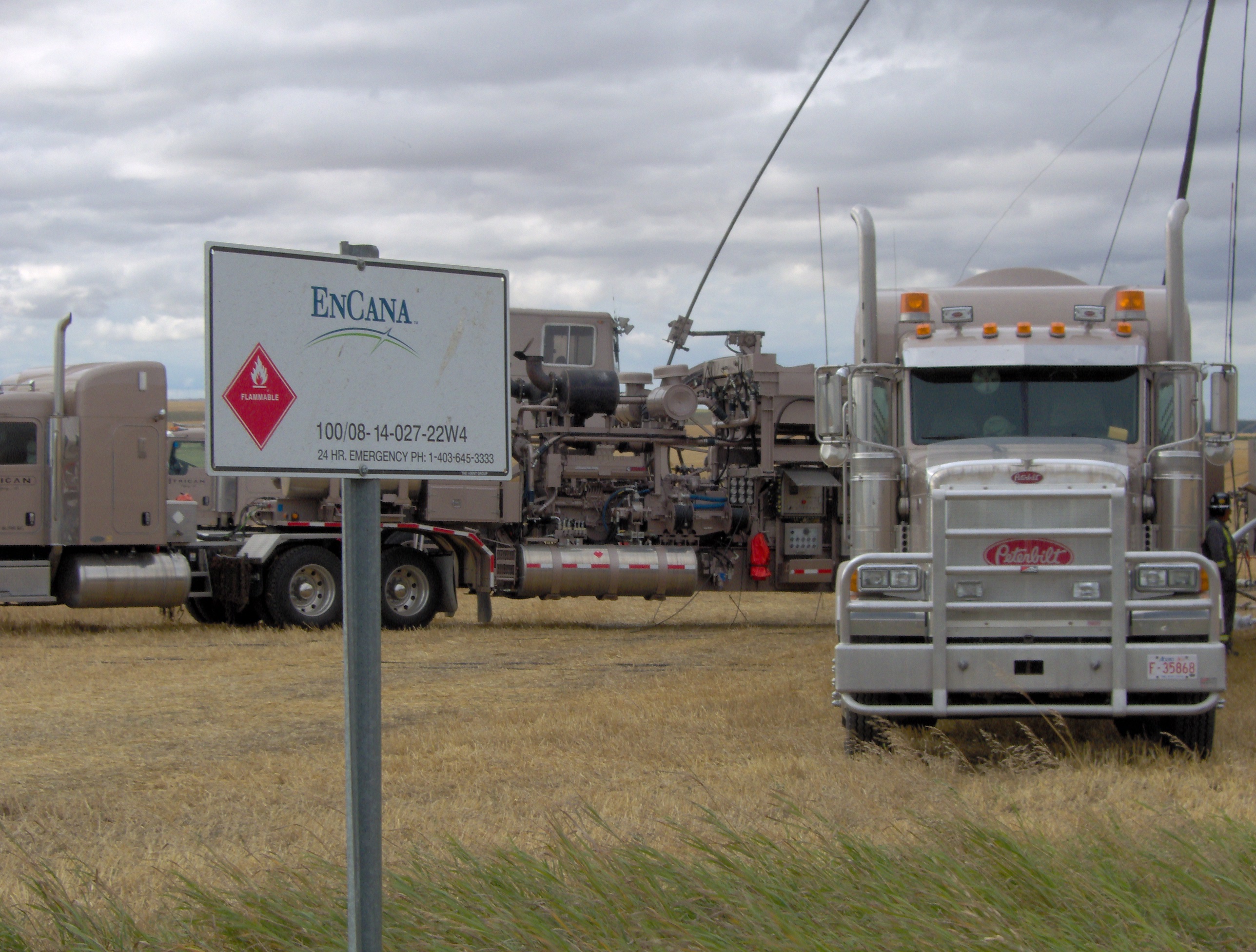 2011 12 14: Frac Company Trican Donates $5 Million to Fight Childhood Cancer
2012 04 01: Full Disclosure [STILL NOT HAPPENING IN CANADA, NOT EVEN IN DOCUMENTS FILED DEC 19, 2014 BY ENCANA IN THE ERNST LAWSUIT] Rapid spread of hydraulic fracturing hastens move to greener additives and transparent reporting
2012 09 06: Fear of fracking: How public concerns put an energy renaissance at risk
Chad Winters keeps his hand on his radio, politely giving orders to co-workers toiling at an oil property in a stretch of Alberta farmland. "One tonne of 40/70," Mr. Winters requests over the radio. "Three thirty-three, then hold till I tell you otherwise." Mr. Winters speaks a language few understand. He runs the show in the field when Trican Well Service Ltd. is called in to perform a controversial technique used to gather oil and natural gas from impermeable rocks. On this day, Trican is working for NAL Energy Corp. near Bowden, about 100 kilometres north of Calgary. Trican is there to pump water, chemical and natural additives, and nitrogen down a well at frighteningly high pressure, with hopes of forcing fissures in the rocks thousands of metres below the surface. …
Mr. Winters sits in the site's computer van as he calls out changes to fracking fluid mixtures to his workers, eyeing a large-screen TV relaying data from above and below ground. Computer monitors manned by other team members fill the van. Mr. Winters has worked his way up through Trican; his days of spitting sand out of his teeth and keeping chemicals away from his eyes are over. The pipes outside the van are pulsating as the pumper trucks shoot the fracking fluid down the well. The air smells of diesel exhaust due to the row of trucks powering the operation. Then it goes quiet inside the van. Everyone focuses on their screens, watching coloured lines move their way up the graph. Pressure levels are nearing the danger zone. But finally the rock below cracks, and there's a sense of relief in the van as chatter resumes. "That was a bit stressful," says Lance Berg, an NAL executive on site. [What's that multi-pumper truck pressure and stress doing to Alberta's drinking water aquifers and water wells?]
The Trican crew is part of a growing army that is bringing 21st-century technology to the job of recovering crude oil and natural gas from far below the ground. Using computer-assisted drilling and fracking techniques, the energy industry is in the early stages of a revolution that has overturned decades-old assumptions about North America's depleting oil and gas resources. But the industry is now at a critical crossroads. It must prove that fracking is environmentally safe, before a growing public backlash stops the practice in its tracks or seriously slows development of massive new oil and gas pools trapped in shale rock and tight formations. … The public fear of fracking has come to encompass all the risks associated with development of shale gas and tight oil: from seepage of fracking fluids into aquifers, to methane in well water, to pollution from wastewater, and to earthquakes caused by re-injecting the wastewater underground.
Whether drilling wells and fracking is environmentally destructive remains a raging debate [or a vile coverup?]. A panel established by U.S. President Barack Obama last year concluded that there are "serious environmental impacts" from new high-tech oil and gas development. Industry officials insist that the risks are minimal, and say fracking's effects are misunderstood. At a conference this week in Houston, the panel's chairman, John Deutch – a professor emeritus at the Massachusetts Institute of Technology and former director of the Central Intelligence Agency – said the unconventional oil and gas boom offers "astonishingly important benefits" for North America. But he added a warning to the industry. "Unless the environmental impacts associated with shale gas and oil from shale in the United States are not only acknowledged but addressed in a serious practical way," he said, "there is a very real danger that the great benefits we should be enjoying from this unconventional production will be delayed, or even stopped, because of public concern and public opposition." But the Deutch panel said the industry and its government regulators have the means to reduce the risks to acceptable levels, so long as they act decisively. [Which they are not doing, except lie longer, harder, louder and nastier, in Canada and elsewhere in the world too]
The task is complicated by the fact that each well is an experiment, with its own geophysical characteristics. …
But fracking is a complex business. Trican's luck ran out shortly after the second successful frack, and what should have been a 10-hour job turned into two days. The property is in the Cardium B zone, a tricky play that stumped NAL and Trican's engineers and geologists this round. Between 80 and 90 per cent of frack jobs go as planned. The Bowden effort wasn't so smooth. NAL and Trican tinkered with the frack fluid recipe. They played with pressures. [What happened to the caprock?] They adjusted the amount of nitrogen they used. But only four or five of the 12 fracks that NAL and Trican planned worked. Clive Mountford, an engineer at NAL, thinks of a word to describe how those days feel. "Frustrating," he says.
Regulation and science … In Canada, federal Environment Minister Peter Kent has asked the Council of Canadian Academies to undertake a review of the environmental impact of shale gas extraction. The independent, not-for-profit council is in the midst of that work – which involves a literature review, rather than field research – and expects to report in the latter half of 2013. [Released in spring 2014, a lie-filled, damning-data-&-scientific-evidence-avoiding report including much regurgitated industry and regulator propaganda]
Reaction among the provinces varies. Shale gas and tight oil development is booming in British Columbia, Alberta and Saskatchewan with little additional regulatory oversight, while Quebec has imposed a moratorium while it reviews the science.Industry associations in both Canada and the United States have published new standards for disclosure of chemicals, well construction and handling of wastewater [that companies and regulators are ignoring]. …
And then there's the EPA study on Encana Corp.'s Pavillion play in Wyoming. After homeowners complained there, the EPA undertook a study and released a preliminary report concluding that some chemicals associated with fracking had migrated into well water. …
Water worries
While the industry insists fracking itself is safe, industry officials concede shoddy drilling, cementing, and casing techniques can lead to leaks of methane and frack fluid. … While industry claims that there has been no evidence of fracking fluids contaminating groundwater, they can't make the same assertion with regard to methane, the basic component of natural gas that has been blamed for tainting well water in dozens of cases. Another Duke University study sampled 68 wells in Pennsylvania and New York State and found elevated methane levels that, on average, were 17 times higher than normal. …
Talisman's Mr. Smith insists that any methane found in water wells is there naturally, and dismisses dramatic scenes of homeowners setting aflame their tap water.
[2014 08 Reality check published CAPP ad in the Calgary Herald: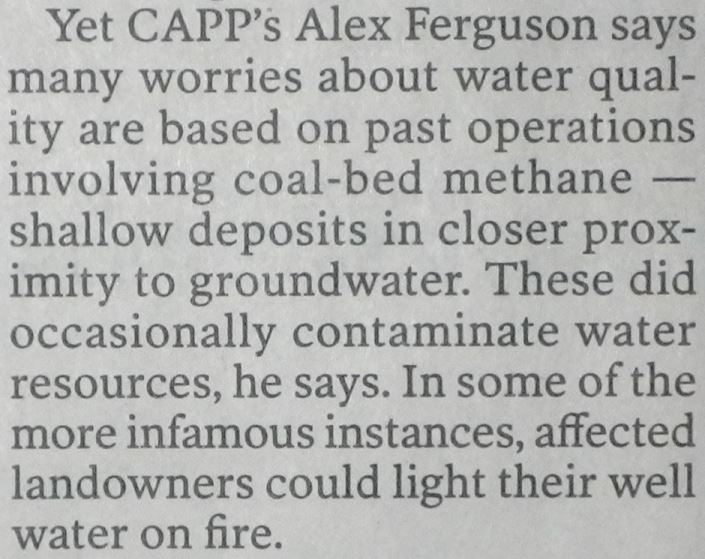 2012 09 06: The potent mixture behind fracking fluids
You can find guar gum in barbeque sauce, ice cream, chocolate milk and cheese. You can find in it face creams, shaving cream and toothpaste. And you can find plenty of it in the oil patch, where guar bean gum serves as one of the most common frack fluid additives.Trican Well Service Ltd. , Canada's largest pressure-pumping outfit with operations around the globe, buys guar bean gum powder, which looks and acts like cornstarch, from India. The Calgary-based company says guar gum is the frack fluid additive it uses most, as well as the most cost-effective thickener. Hydraulic fracturing companies use dozens of additives – plenty of which are harmful chemicals – when trying to crack rocks below the surface so the oil and natural gas trapped inside them can escape. Water is the No. 1 ingredient in frack fluid, and the additives – used to control the fluid's viscosity, carry sand, kill bacteria, and perform other functions – are a key part of the rock fracturing process. The recipes change depending on geology.
… In short, hydraulic fracturing involves pumping frack fluid, sand, and sometimes nitrogen, down a well at extreme pressures, forcing fissures in rocks that are otherwise impermeable. …
The fluids used in so-called foam fracks and gelled water fracks are thicker – indeed, the stuff is nicknamed "ploppy gel" because of the way it would splatter if it hit the ground. Ploppy gel feels silky, and the off-white colour changes depending on the additive blend. If the snotty mixture is poured from a beaker, it moves as a blob rather than stream of water. 
… Pumper trucks push frack fluid through a pipe connected to the wellhead and down the wellbore. A separate pipe containing nitrogen may also be used, with the fluid and nitrogen mixing below the surface. They are pumped at extremely high pressures, and, if all goes according to script, will cause the target rock layer to crack.
… Geologists and engineers watch frack jobs in real time from offices such as Trican's headquarters in Calgary. They can change the frack fluid recipe, size and amount of the sand grains, pressures, and nitrogen levels on the fly when the job does not go according to plan. They are in constant communication with the fracking supervisor on site, who radios orders to folks running the pumper trucks, the blender and other machines. They are all watching screens with graphs and charts detailing different pressure levels, fluid blends and location of the blends in the pipes. Once all the fracks are complete – this can be done in a day, or it may take several – the frack fluid is removed from the pipes. It may flow back to the surface naturally, due to pressure changes, or it may have to be "swabbed" out – a pumping technique. … With the fracking process over, oil or natural gas will start to flow through the wellbore [and the gas that frac pumper trucks forced free starts to flow into aquifers, homes and water wells].  [Emphasis added]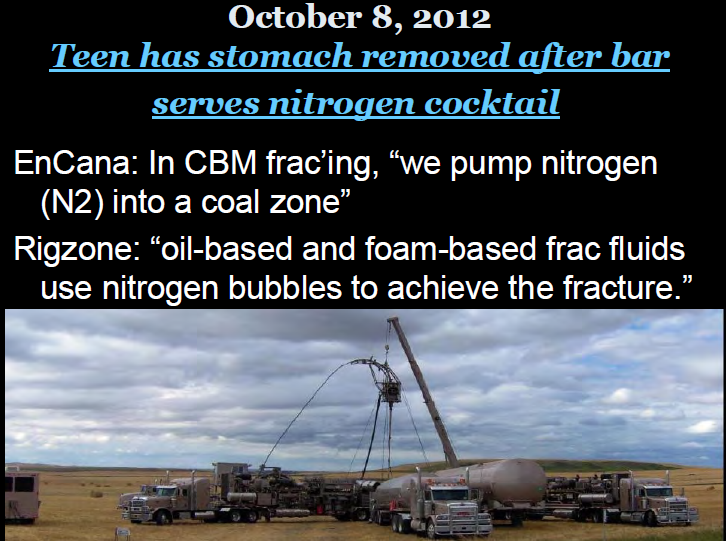 2013 04 30: Alberta announces new cancer-care plan, but won't stop hydraulic fracturing or disallow trade secrets of the toxic chemicals injected
2015 03 30: What happened to those endless promises that fracing brings jobs jobs jobs and prosperity for all? Trican lays off 137 workers in Odessa, how many in Alberta?