A tiny taste of toxic frac history:
2016: IMPERILED AQUIFERS: Texas flouted federal aquifer rules for 34 years, Failed to get federal approval to inject oil, drilling waste into groundwater, Promised 34 Years Ago to Track Waste into Aquifers. It Didn't.
2016: The Most Horrific Frac Deregulation Yet? US EPA preparing for "widespread" radioactive frac waste contamination of drinking water or because it's already happened? EPA's proposed "protective regulation" to allow dramatically higher levels of radioactivity in drinking water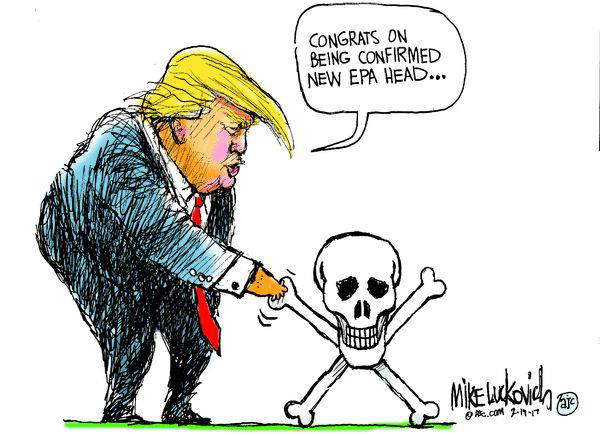 … Salty, contaminated water — held in porous rocks formed hundreds of millions of years ago — is also drawn to the surface during oil production. ….Texas wells were producing more than 26 million barrels of the ancient and contaminated water a day, according to an analysis by S&P Global Platts.
In the oil patch, figuring out how to dispose of this water "is something that only gets worse," said Rene Santos, an energy analyst for S&P Global Platts. "Every time (companies) produce, they have to do something with the water."
Usually, it's later injected back underground, into separate wells — a practice that has been linked to increased seismic activity. Sometimes it's reused in another fracking well. But a new U.S. Environmental Protection Agency decision allowing Texas to regulate the discharge of the water after it's treated could be a first step toward new uses of the water — at least that's what some Texas lawmakers and oil and gas producers hope.

In my observations, nothing but harm comes out of hope, notably in our dirty oil patch and its corrupt pollution and public health harm enabling regulators.

The EPA told the Texas Commission on Environmental Quality last week that the state could take charge of the federal government's responsibilities to regulate discharging so-called "produced water," if the water met certain toxicity standards. Previously, operators had to obtain permission from both the Texas Railroad Commission, which regulates the state's oil and gas industry, and the EPA before discharging the water.
For now, oil and gas operators may apply for individual permits from the TCEQ on a case-by-case basis, an agency spokesperson said. State regulations for the discharges will remain the same as current federal standards, according to a TCEQ press release Wednesday. No applications have yet been received, a spokesperson said.
For every barrel of oil produced in the Permian Basin of West Texas, an average of six barrels of water come up with it, according to an S&P analysis. State Sen. Charles Perry, R-Lubbock, argues that the water could eventually help the state replenish its diminishing water supplies.
As chairman of the state Senate Committee on Water and Rural Affairs, he helped produce an interim report ahead of the 2021 legislative session that included such a vision — and now Perry says the recent EPA decision will help get federal regulation out of the way.
"This is a water supply that hasn't been cultivated or tapped," Perry said. "It's a sin to waste that resource."

Ya, sure, let's all drink, bathe in, and breath toxic frac chemicals venting from our water taps!

The industry, too, has "a lot of excitement" about turning the water into something of value rather than an expense, said Jason Modglin, president of the Texas Alliance of Energy Producers.

If industry is excited, Texans and the environment are in huge trouble, so are the rest of us.

But scientists and industry observers say the idea is a long shot. Produced water contains high amounts of salt, as well as other minerals and toxins in varying amounts depending on the shale formation it comes from, and technology to make the water potable is still expensive.
Bridget Scanlon, a hydrogeologist and senior research scientist at the University of Texas at Austin, said little is known about what risks produced water could pose after treatment, and significant scientific analysis needs to be conducted before it is discharged into the environment.
"We don't know as much about this" compared to other sources of water, she said. "At the end of the day, you need to have confidence in what you are doing."
A first step?
Perry said he will soon introduce a bill that would direct research and analysis on the technology, costs and feasibility of using produced water for new purposes. His vision in the coming decades: big plants in West Texas and the Panhandle that transform the salty, contaminated water into something that can replenish aquifers on a mass scale.
"This was the first step, really — one of the steps that had been a barrier,"

That "barrier" was there for a damned good reason. What a bunch of brain-dead, greedy f*cking slaves to a deadly industry politicians are these days. Their evil and ignorance never ceases to amaze me.

Perry said of the change in regulations. Now, he said, "the regulatory environment is set up to have the produced water conversation."
But reusing produced water is far from financially viable today, industry analysts said. It's much cheaper to dispose of the wastewater in a well than to treat it.
And it's usually cheaper for companies to buy fresh water for hydraulic fracturing than to treat produced water for that purpose.
"The technology is there, but it's the expense," said Santos, the energy analyst. For small operators, especially, "it's economically prohibitive to clean the water."
An entire industry has sprung up around supplying fracking operations with water and disposing of the produced water: The water management market for oil and gas production in the U.S. was worth $33.6 billion in 2018, according to IHS Markit, a London-based energy analysis firm.
"It's a big business," said Parker Fawcett, another S&P Global energy analyst.
What's in the water?
Environmental groups and some scientists warn against releasing the produced water, even after treatment, into Texas streams and rivers.
"We don't have standards for produced water — we've never had to deal with it," said Scanlon, the UT hydrogeologist. "I think we need to look at it in a different way than municipal wastewater."
She said the "lowest hanging fruit" is to use the water for other fracking wells. Less treatment is necessary to do so, and more reuse of the water by industry would ease the strain on limited freshwater resources in Texas.
Environmental groups say current federal standards for treatment and discharge of produced water — which Texas says it will match as it takes over regulation — are too low to adequately protect the environment.
"Federal regulations haven't been updated at all," to respond to the rising problem of disposing of produced water, said Alex Ortiz, a water resources specialist for the Sierra Club's Lone Star Chapter. "The EPA doesn't have enough knowledge (about produced water)."
He said the Sierra Club will challenge the decision to give Texas regulatory authority, with the hope that an EPA led by the Biden administration may find a way to reverse the move. The group also aims to push state lawmakers to create tougher water discharge standards.
But Perry, who will soon push his bill in the Legislature, said environmental groups are creating an issue "when there's not an issue." As for the costs, he said the state government may have to find a way to help fund a pilot project for reusing produced water.

As always, steal money from taxpayers to give to industry to further harm us with. Pure evil.

"As a state, our water supply and ability to guarantee the water supply is a No. 1 priority," Perry said. "People think we have plenty of water. Truthfully, we don't."

Refer also to:
Texas wanting to copy "clean" California?
2019: California regulators still allowing industry to inject toxic oilfield waste into drinking water aquifers, violating Safe Drinking Water Act; Companies will sue if ordered to stop. Alberta regulators break the law too, letting industry frac into drinking water aquifers, AER's law violations even enabled by Canada's top court
2017: Oil and Gas Lobby Fights California Regulators to Keep Injecting Drilling Wastewater into Protected Aquifers
2017: California Farmer Blames Fracking Waste Water Injection For Water Quality Issues; Files Lawsuit Against Companies Involved While "Regulator" Enables the Pollution
2016: US EPA Takes Frac Deregulation to the Extreme: California and EPA Poised to Increase Oil and Gas Waste Injection into Protected Aquifers, Even as Need for Safe Groundwater Grows
2015: California now says 2,500 wells dumping frac waste into protected aquifers, up from 532 in February. Regulators order oil drillers including Chevron Corp. and Linn Energy LLC to halt operations at 12 injection wells (two were issued cease and desist orders) because they may taint groundwater suitable for drinking and irrigation
2015: California authorizes oilfield waste dumping into drinking water aquifers
Refer also to:
2020: USA oil & gas produced 1.02 trillion gallons wastewater in 2017 (2.8 billion gallons daily). "The fluid can be several times saltier than ocean water, and it can also be contaminated with drilling chemicals, minerals and radioactive material…. About 1% was reused…as drilling fluid or frack fluid."
Will waste water kill fracing? EPA bans disposal of frac waste at public treatment plants. Injecting it causes seismicity, recycling it is costly, using it to irrigate and landspraying it contaminates food, dumping it into waterways kills fish, pits filled with it leak, breathing it in aerosols corrodes lungs. What will companies do with it? Inject it into our drinking water aquifers. Nice.
Oil & gas & frac companies poisoning Alberta families, injecting toxic chemicals into community air, on roads & food land & in drinking water aquifers Go Free while Edmonton dry cleaner first person in Canada to get jail sentence for using dangerous chemicals
Frac'd Food: Could using toxic oilfield waste to irrigate crops be the end of food as we know it?
Yet another study: Fracking plays active role in generating toxic metal wastewater
In California, Big Oil finds water is its most prized commodity. Isn't it everywhere in the world, where there is still some?
Water Raping Frackers Remain Jail Free. Another Alberta drought-stricken county declares agricultural disaster; California drought regulators fine farmers with historical water rights $1.5 Million for taking water
Hell Called … They want their 'Salad Dressing' Back: California farmers use oil firms' waste to irrigate food. "There has been a gentleman's agreement to promote deregulation"


Encana dumping its waste on foodland at Rosebud, Alberta, just east of where the company illegally frac'd the community's drinking water aquifers eight years earlier.
This waste spray reeked (wind was spreading it, and one of the dumpers suddenly veered off lease to spray immediately upwind of where I stood on a county road). It burned my nostrils, sinuses, eyes and throat during this filming and for three pain-filled weeks after it. My little dog, Magic, was with me during the filming (horrid mistake by me, but he insisted on always coming along to protect me from the endless Albertans trying to bully and threaten me silent); he became terribly ill and died an agonizing death less than a year later.
California farmers rely on Chevron's wastewater to irrigate. Some refuse: "I would rather let my trees die" than use Chevron's water. Compare to the Chevron Tapes that allegedly show the company covering up contamination in Ecuador
California: first ever, statewide, mandatory water restrictions "to save water in every way possible" except "the water-intensive industry of enhanced oil production or 'fracking'"
How regulators "regulate" to make fracing safe: Let industry inject toxic frac waste into federally protected drinking water aquifers; "Levels of benzene up to 700 times federal standard have been found in waste water from fracking"
Frac'ing = "Bottomless" Moneypit – built on lies, cons, law violations, corrupt officials (and courts), divided communities, endless harms to water, land, air, fish, livestock, pets, humans. "If you're not a crook yourself, it's very hard to figure out how somebody would lie like that."
Jan 25, 2020, Youngstown Ohio: "Big Oil's Dangerous Secret." Rolling Stone Magazine Science Journalist Justin Nobel and City Senior Battalion Chief Sil Caggiano to Present Crucial Information on Harms of Radioactive Oil & Gas Waste
Radioactive frac waste piling higher and higher; Groundwater used by families showing significant increases in radium. Montana regulator, DEQ, trying to increase radiation limit for frac waste up four times, four times more than allowed in any other state.
Dual Trucking suspected of dumping radioactive Bakken frac waste in Montana ordered to stop, but doesn't, says waste will go to Canada
Pennsylvania regulator allowing radioactive frac waste discharged into rivers as landfill leachate, Impacting Chesapeake Bay & Ohio River Watersheds
UK fracking firm plans to dump likely radioactive frac waste into the sea, Ineos company emails reveal huge amounts of frac waste need to be dumped
Radioactive water from Lancashire fracking site
2012: Triangle Petroleum fracking radioactive waste water cleanup target missed in Nova Scotia
2013: Colchester County Appeals Committee Unanimous Vote: Fracking waste water banned from Debert sewers, Atlantic Industrial Services wanted to dump 4.5 million litres of radioactive frac waste
2013: Out Of Control: Nova Scotia's Experience with Fracking for Shale Gas, Analysis Reserve Pit Sludge from Fracing for Radioactive Material (TENORM)
2013: What to do with all the oil field dregs, some of it radioactive, some of it toxic, and there's more and more of it
Toxic Insanity: DEP issued permit to Range Resources for experimenting, adding radioactive waste to aggregate for paving well pads and access roads
Pennsylvania is Fracking Wasted
"For every barrel of oil produced, ten barrels of waste are produced—with eighteen billion barrels of fluid waste produced each year."
As the years pass, we learn more about the highly toxic nature of that waste and the gaping regulatory loopholes in its handling and disposal. One such reminder, Hydraulic Fracturing, Radioactive Waste, and Inconsistent Regulation was published by Hella B. Zelleke.