North Dakota grapples with waste, Industry, regulators try to determine what to do with all the oil field dregs by Maxine Herr, December 8, 2013, Petroleum News Bakken Vol. 18, No. 49
With county officials in North Dakota reluctant to approve special waste landfills, oil companies are forced to haul waste to neighboring counties or out of state. In July, McLean County commissioners rejected a proposal to transform a former coal ash pit into a landfill for oilfield waste. In November, Mountrail County officials denied two special waste landfill requests and put a moratorium on landfills for a year. "Because of that moratorium, now Mountrail waste has to go to Williams, Dunn or McKenzie county landfills," said Lynn Helms, Director of the state's Department of Mineral Resources. "In the case at McLean County, they acted on fears of NORM so it wasn't a real well-informed decision."
NORM, or naturally occurring radioactive material, is found throughout the earth's crust and can be concentrated in oil and gas recovery processes. It is found in sludge, drilling mud, water filtration socks and pipe scale. North Dakota has a NORM limit of 5 picocuries of radium per gram at its special waste landfills. … Some of the public's fears stem from reports of illegal dumping where some operators attempt to sneak high amounts of NORM contaminated waste into landfills. Williston landfill foreman Brad Sepka sees it at his site."They'll take the (filter) socks and throw them in 5-gallon buckets and try to hide them," Sepka said. "That's probably the biggest problem we have right now. A lot of these people we've rejected don't want to do it the right way, so they'll just go throw them in someone's dumpster in the alley, and then it comes out on our garbage trucks."

There currently are no laws or rules requiring operators to report where each load of waste is disposed. Scott Radig of the N.D. Department of Health waste management division said that is something the state may consider changing, but they are starting with a study to assess the risks of NORM in North Dakota. The agency has contracted with Argonne National Lab to determine if the 5 picocuries per gram limit is too rigid. "We want to know the risks at the facility that's generating it on the well site," Radig said. "We want to figure out whether going higher than 5 picocuries can be safely done." … To put it into perspective, two bananas contain more than 5 picocuries of radium per gram. Coffee grounds and granite countertops each contain 27.
Despite the industry's efforts to educate the public about NORM, Helms doesn't expect another landfill to be approved until further studies are done. … Meanwhile, his office is expecting permit applications for injecting the waste into disposal wells. Companies are looking at the Dakota formation, where currently Class II disposal wells inject saltwater. Another option is to go deeper, into the Mission Canyon formation. Each formation has its unique attributes so treatment before injection will vary. "There are two paths to pursue," Helms said. "For the Dakota, they intend to grind it into small particles and dilute it with lots of saltwater. Whereas Mission Canyon has deep carbonate formations that are fractured, so the solids can go into the fractures and the liquid goes into pore spaces. And being a carbonate, you can pump acid periodically to reopen those fractures or extend them." [Emphasis added]
West Virginia Landfills Will Now Accept Unlimited Amounts Of Often Radioactive Fracking Waste by Katie Valentine, December 8, 2013, Think Progress
A memo released earlier this year in West Virginia gives the state's landfills the ability to accept unlimited amounts of fracking waste, the AP reports.
The memo will create an exception for the state's natural gas industry to longstanding laws on landfill waste, which stipulate that landfills can only take 10,000 or 30,000 tons of solid waste each month, depending on their classification. Now, fracking operations can send unlimited amounts of their solid waste — known as "drill cuttings" and composed of dirt, water, sand and chemicals — to landfills each month. … The Marcellus shale formation, which sits under much of West Virginia, has been found to have a higher level of radioactivity than other formations — last year, nearly 1,000 trucks hauling Marcellus Shale waste to Pennsylvania landfills were stopped after setting off radioactivity alarms. But unlike Pennsylvania, where waste that is deemed too radioactive is sent to radioactive waste disposal sites out of state, West Virginia doesn't require waste to be tested for radioactivity.
Bill Hughes, chairman of the Wetzel County Solid Waste Authority in West Virginia, told the AP he thinks the state needs to look into the potential health risks of drill cuttings. This October in Wetzel county, a landfill that before was only able to accept 9,999 tons of solid waste each month accepted more than 40,000 tons, about 75 percent of which was from drill cuttings. "Landfills have never seen a ton of waste they don't want to take," Hughes said. "Our state just sort of trusts the garbage guys." But while some residents of West Virginia question the state's new rules, they aren't the only ones to struggle with the problem of solid fracking waste. According to one report, Ohio's municipal landfills are filling up with fracking wastes from other states, creating a "serious problem" in the state. [Emphasis added]
Fracking waste fills WV landfills under new rule by Matthew Barakat, Associated Press, December 7, 2013, seattlepi
A memo released quietly by regulators earlier this year has carved a major loophole in West Virginia's rules restricting the amount of waste that can be accepted by the state's landfills, all with the intent to ease a burgeoning problem caused by the boom in gas drilling….
What lies beneath Alberta's man-made lakes? A plan to store oil sands waste underground by Aaron Hutchins, December 9, 2013, McLeans
Until now, a temporary solution has been to pump the waste into tailings ponds, but those ponds won't be big enough to contain what's on the horizon. … There's also a question of scale, says Semenchuk. According to CEMA, various oil companies have plans for 30 end-pit lakes in northern Alberta. It may be possible for one or two lakes to fit in naturally with the environment, he says, "but can you do 30? The natural system can only tolerate so much." The question of waste is, of course, only one of the challenges facing oil-sands developers. To head off criticism, the Harper government announced last week a $40-million taxpayer-funded publicity campaign for the resource sector. [Emphasis added]
Water Board Ends Waiver That Allowed Unregulated Dumping of Toxic Drilling Muds in California's Central Valley Press Release by Centre for Biological Diversity, December 4, 2013
A coalition of environmental and public-health groups scored an important victory today when a regional water board voted 4-1 to kill a waiver that for years has allowed oil companies to dump toxic drilling muds in California's Central Valley without regulation or reporting. The Central Valley Regional Water Quality Board initially proposed to renew the existing regulatory waiver, which allowed oil and gas well drillers to dump drilling muds without complying with requirements that apply to other types of waste discharge, such as such as pollution-control measures, monitoring and reporting. But after several advocacy groups raised concerns about the health and environmental risks of chemical-laden drilling muds, the board withdrew its proposal and decided to allow the waiver to expire. "Oversight of these toxic drilling muds is long overdue, so we applaud the water board's decision to begin protecting our water and our health," said Hollin Kretzmann, an attorney at the Center for Biological Diversity. "The next step is for the board to study dangers linked to the oil industry's discharging of millions of gallons of this harmful waste. People in the Central Valley deserve to know how their health is affected by this chemical-laden goop being dumped into nearby open pits."
…
Drilling muds contain numerous chemicals known to have adverse human health effects. Exposure to the chemicals in drilling muds can damage the skin, eyes and other sensory organs, liver, kidney and brains, as well as the respiratory, cardiovascular, gastrointestinal, immune and nervous systems. Drilling waste also contains dangerous heavy metals such as aluminum, mercury, cadmium, arsenic, chromium, copper, lead, nickel and zinc, as well as radioactive materials like radium. The regional board agreed with the advocacy groups that it must study the chemicals used in drilling muds, and the potential for environmental damage that can result from discharge. About 4,600 new wells were drilled in California in 2012, according to state oil and gas officials, and the majority of the state's oil production takes place in the Central Valley. Fracking, acidization and other unconventional oil-production techniques could dramatically raise the number of new wells in the area. [Emphasis added]
Montana landfill becomes destination for oilfield waste by Amy Dalrymple, November 23, 2013, Forum News Service
An oilfield waste landfill that opened last June in eastern Montana is getting about half of its waste from North Dakota. "It seems to be getting larger," said owner Ross Oakland. "North Dakota's starting to find out about me." The Oaks Disposal landfill in rural Glendive is the closest destination to the Bakken that can accept naturally occurring radioactive material, or NORM. The landfill accepts NORM waste at levels up to 30 picocuries per gram, compared with North Dakota's limit of 5.
Before Oaks Disposal opened, operators in the Bakken had to send waste to Colorado, Idaho, Texas or other states. Sending waste such as filter socks, tank sludge and other materials to Oaks is about half the cost of sending it to facilities farther away, Oakland said. Oaks Disposal has about 23 acres that are permitted for disposal, which will be added in phases. It is expected to have enough capacity to last about 14 years. It features a double liner, a leachate collection and removal system that captures moisture, monitoring wells around the perimeter to monitor groundwater and a stormwater detention pond. The Montana Department of Environmental Quality, which permitted the facility, has requirements for how such landfills are constructed and operated. Rick Thompson, the department's solid waste section supervisor, said Oaks Disposal has been inspected and is in full compliance. The department recently received an application for a second oilfield waste landfill near Bainville, about 23 miles from Williston, Thompson said.
That proposal, from BAC Disposal, is for a landfill of similar size to Oaks, Thompson said. Staff are still working with the company to finalize its application. Once it's complete, the department will conduct an environmental assessment and seek public comment. "We're still early in the process on that," Thompson said. The department received some comments in opposition to Oaks Disposal, with most focused on concerns about increased truck traffic, Thompson said. Terry Punt of the Montana-based Northern Plains Resource Council said he's concerned about Montana becoming a destination for North Dakota oilfield waste. Punt, a member of the council's oil and gas task force, said residents are worried about traffic and the potential for contaminated water supplies and contaminated dust. The group also worries whether there's enough oversight for the landfills. "It could be a nightmare, or has the potential to be," said Punt, who lives near Birney. The group wasn't aware of Oaks Disposal during the permitting process, but they plan to follow the new proposal. "It wasn't really on our radar. Now it is. Now we're watching more closely," Punt said.
Oakland, a farmer who has lived in the area his entire life, said he's proud of his facility. Oakland, who worked as a driller in the 1980s before switching to farming full time in 1986, said he'd prefer to see the waste disposed of properly in a regulated facility. "It's a very, very safe, high-tech system," he said. Oakland and his employees drink water from a well not far from the disposal area. He and his family live near the facility and continue to farm the land adjacent to the landfill. "I would never jeopardize something in our future," Oakland said. "Money doesn't mean that much to me." NORM accounts for about a third of the waste Oaks Disposal has received so far, Oakland said. The landfill has been able to accept about 95 percent of it, but it has rejected some loads and sent them to Colorado, which accepts a higher level of radiation. "Some of it is still too hot for us," he said.
[Refer also to:
Another Chapter in Jimmy McAllen's Long-Running Case Against Forest Oil
Nova Scotia government wants to ban dumping of fracking waste in province, Lafarge applied for pilot project to use frack waste water to make cement!
Radon — #9 In "Top 10 Toxic Ingredients Used By The Fossil Fuel Industries"; Cochrane Alberta home tests high for radon
St. Paul Fire and Marine Insurance Co. Settles Coverage Fight Over Toxic Drilling Waste Case
Alberta residents fret over oil and gas industry fluid used for dust control, Is it frac flow back or waste or molasses as Rocky View County promises?
USA Sues Exxon Fracker for polluting public drinking water with toxic waste in Pennsylvania
Rockland Bans Processing or Dumping Toxins from Hydrofracking
Alberta Environment needs to stop lying about water contamination: One billion litres of waste water contaminated Athabasca River with mercury levels 9 times more than normal, PAHs 4 times more than allowed
Brock University study finds oil drilling wastes leaking into Northwest Territories lakes because of poorly built and designed waste disposal and degrading permafrost
Fracking produces annual toxic waste water enough to flood Washington DC, Growing concerns over radiation risks as report finds widespread environmental damage on an unimaginable scale in the US
Pennsylvania regulator allows radioactive, toxic drilling waste dumped as fill in city
Dangerous levels of radioactivity found at fracking waste site in Pennsylvania, Hundreds of disposal sites for frac wastewater could be similarly affected
Radioactive water from Lancashire fracking site
Energy future may be swamped in fracking wastewater, scientists warn
Nova Scotia: Atlantic Industrial systems (AIS) calls fracking wastewater decision 'political'
Colchester County Appeals Committee Unanimous Vote: Fracking waste water banned from Debert sewers, Atlantic Industrial Services wanted to dump 4.5 million litres of radioactive frac waste
Out Of Control: Nova Scotia's Experience with Fracking for Shale Gas, Analysis Reserve Pit Sludge from Fracing for Radioactive Material (TENORM)
Colchester approves fracking water disposal in county sewer system, but Mi'kmaq chiefs want more information
Oil patch eyes potential North West Territories shale boom but has to haul all waste to Alberta, including drilling muds and non-potable water
Lupo has history of brine dumping; repeat violations stretch back to 1970s, Lupo fights off the law, dumps unabated with no convictions and small fines
WV-DEP Issues Consent Order: M3-Gathering Fined $38K For Five (5) Drilling Mud Incidents
Youngstown residents react with rage to dumped frack waste, Criminal probe under way
Ohio revokes permits of two firms tied to illegal Youngstown dumping 
Loophole Lets Toxic Oil Water Flow Over Indian Land
Loosing the Yellow Monster: Fracking and Radioactivity
Frack Waste-Water Trade? Imaginary stop-orders, questionable origins, missing documents – all part of fracking in Nova Scotia
Nova Scotia's Missing Fracking Wastes – Another 4 Million Litres Unaccounted For, Just How Little About This Does Our Regulator Want to Know?
Triangle Petroleum fracking radioactive waste water cleanup target missed in Nova Scotia
DA office dismisses dumping charges
Radioactive Drilling Waste Shipped to Landfills Raises Concerns
Radioactive Frac Wastewater worries in Windsor
Fracking water sent through Windsor treament plant, Wastewater from process contained naturally occurring radiation
Federal clean-up won't get it all, Need another $40 billion to remove contamination
Lawsuit challenges frackers' waste disposal practices in Arkansas
Fracking Wastewater the new NORM in Nova Scotia? Colchester County Council Considers Application to Treat Frack-Wastewater
N.S. deadline to clean up fracking waste site impossible to meet: company
Radioactivity worries hold up treatment of fracking wastewater
Hunt launched after Halliburton loses radioactive rod in Texas desert, Fears rod containing americium-241/beryllium could fall into hands of terrorists
Radioactive device for fracking is lost
Wyoming DEQ cites Cheyenne business for illegal oil dumping
Toxic Wastewater Dumped in Streets and Rivers at Night: Gas Profiteers Getting Away With Shocking Environmental Crimes, Allan Shipman was found guilty of illegally dumping millions of gallons of natural gas drilling wastewater. But he's part of a much bigger problem
Radioactive Fracking backwash frustrates oilman
Safety Rules for Fracking Disposal Wells Often Ignored, The growing number of wells used to dispose of wastewater from fracking are subject to lax oversight
'Fracking brine' Gas-well waste full of radium
Landfill poised to take fracking debris
Water Disposal Most Severe Fracking Environmental Threat, Says Report
Fracking: Radiation Now in Discussion
Radon threats are grounds for precaution
Spill site is free of radioactive waste, says Corridor Resources A resource company says it has cleaned up 3,000 litres of material containing a low-level radioactive substance it spilled while drilling for natural gas in the Sussex area in August. The material that Corridor spilled is called frac sand…. Frac sand contains some low-level radioactive isotopes. … An official with the Department of Environment said it has never had to deal with a radioactive spill before. It has handed the case over to the Canadian Nuclear Safety Commission.
BJ Services radioactive frac blowout document relating to the 2006 spill, Corridor Resources put in mailboxes of landowners and concerned citizens Penobsquis, New Brunswick  The BJ Services frac'ing equipment was in the final stages of the stimulation operation when a washout of a segment of the frac iron occurred (piping between the pump trucks and the wellhead). (Part 2 of 4) (Part 3 of 4) (Part 4 of 4)
Natural Gas: Avoidable Health Hazard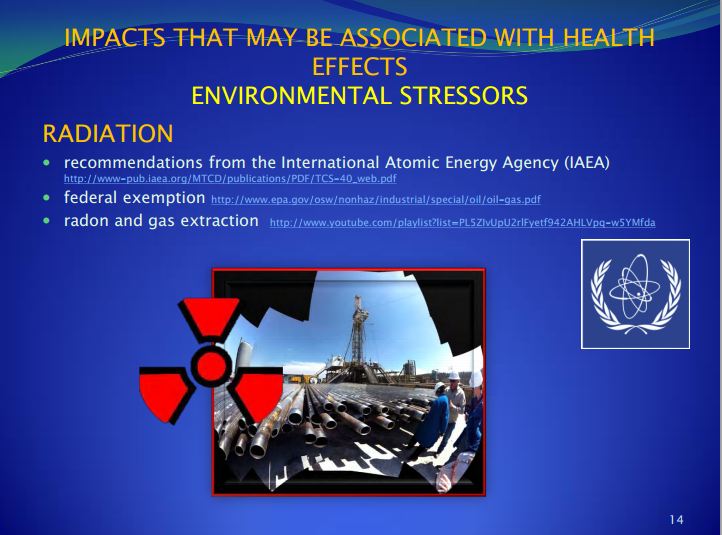 Slide above by Larysa Dyrszka MD, September 2013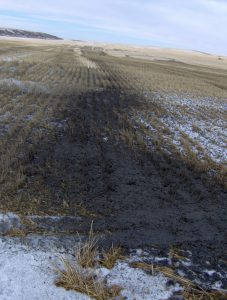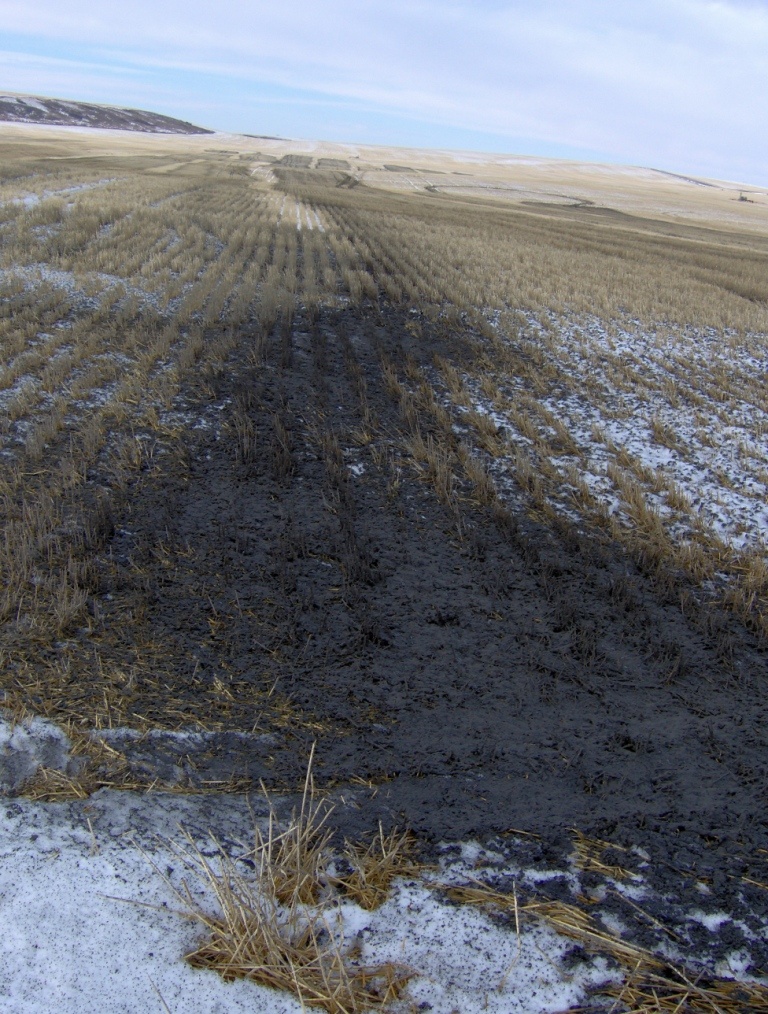 Encana waste dumping on foodland at Rosebud, Alberta

Waste dumping north of Calgary, in the Lochend, Rocky View County, also on foodland. Photo: FrackingCanada: Fracking Rocky View County