[Excellent visuals with the article at link above]
Canadian police were prepared to shoot Indigenous land defenders blockading construction of a natural gas pipeline in northern British Columbia, according to documents seen by the Guardian.
Notes from a strategy session for a militarized raid on ancestral lands of the Wet'suwet'en nation show that commanders of Canada's national police force, the Royal Canadian Mounted Police (RCMP), argued that "lethal overwatch is req'd" – a term for deploying snipers.
The RCMP commanders also instructed officers to "use as much violence toward the gate as you want" ahead of the operation to remove a roadblock which had been erected by Wet'suwet'en people to control access to their territories and stop construction of the proposed 670km (416-mile) Coastal GasLink pipeline (CGL).
In a separate document, an RCMP officer states that arrests would be necessary for "sterilizing the site".
Wet'suwet'en people and their supporters set up the Gidimt'en checkpoint in December 2018 to block construction of the pipeline through this region of mountains and pine forests 750 miles north of Vancouver.
On 7 January, RCMP officers – dressed in military-green fatigues and armed with assault rifles – descended on the checkpoint, dismantling the gate and arresting 14 people.
The checkpoint lies 22km east of a camp operated by a house group of the Wet'suwet'en called the Unist'ot'en, which has been at the center of the struggle against the pipeline.
The camp is one of several instances where Indigenous people in British Columbia have reinhabited ancestral territory that falls outside of demarcated reservations, in what they refer to as "reoccupation".
Unist'ot'en spokesperson Freda Huson (Howilhkat) said that the RCMP's militarized posture during the raid was consistent with a long history of colonial violence.
"In our experience, since first contact, RCMP have been created by the federal government to dispossess Indigenous peoples of their lands," Huson said. "They have proven [that] through their harassment of my people to support Coastal GasLink in invading our territories."
Police records seen by the Guardian include transcripts from police strategy sessions, reports filed after the raid and audio and video files.
One document noted that the Wet'suwet'en possessed "firearms for hunting/sustenance" but police intelligence indicated that there was "no single threat indicating that [land defenders] will use firearms".
An RCMP spokesperson declined to comment on the specific content of the documents, saying they were merely carrying out a December 2018 injunction against people who interfere with the CGL pipeline. [RCMP, politicians and courts are cowardly sleaze bags, paid for by Canadian taxpayers, but working for private profits for mostly foreign oil and gas profiteers]
"During the planning for the enforcement of the court-ordered injunction, the RCMP took the remote location of the Morice River Bridge into account and ensured that enough police officers were present in the area to keep the peace," the spokesperson said. "We also took into consideration the unpredictable nature of what we could face in the remote area, and so we moved additional police resources including members of the tactical and emergency response teams to provide support."
The revelations come as the Wet'suwet'en camps brace for a provincial supreme court ruling on an injunction applied for by the pipeline builder TC Energy (formerly TransCanada), which seeks to permanently restrict the Wet'suwet'en from blocking access to pipeline work sites. [Of course the company will get what it wants from Canada's courts.]
The pipeline would run from the Dawson Creek area of northern British Columbia to a facility near Kitimat on the Pacific coast. CGL has begun road-building and clear-cutting on the right-of-way, and the company intends to start construction in early-2020.
Founded in 2009, Unist'ot'en camp was the first among a constellation of Indigenous-led uprisings against fossil fuel pipelines in North America – including Keystone XL, Trans Mountain, Enbridge Line 3, Dakota Access and Bayou Bridge.
Like most Indigenous people in British Columbia, the Wet'suwet'en have never relinquished their land to the Canadian government by treaty, land sale or surrender.
In a 1997 ruling, the supreme court of Canada determined that aboriginal land ownership had never been given up across the Wet'suwet'en's 22,000 km sq of territory.
Wet'suwet'en leaders say they are defending their right to protect themselves and future generations from irreparable harm. The pipeline would run directly beneath the Morice River, a river system several municipalities rely on.
The documents show that ahead of the raid, the RCMP deployed an array of surveillance, including heavily armed police patrols, a jet boat, helicopter, drone technology, heat-sensing cameras and close monitoring of key land defenders' movements and social media postings. [How much money did that cost Canadian taxpayers? And little, if any of it, for Canadians!]
Police established a "media exclusion zone", blocking reporters from accessing the area. They took care to hide their carbine rifles on the approach to the roadblock because the "optics" of the weapons were "not good", according to one of the documents.
The documents also show close collaboration between the RCMP and TC Energy: police officers attended company planning sessions and daily "tailgate" meetings, and were privy to CGL's legal strategy. [Oh! That's dirty! Forever shame.]
The RCMP were prepared to arrest children and grandparents: "No exception, everyone will be arrested in the injunction area," a document reads. Another makes reference to possible child apprehension by social services – a troubling disclosure given the violent history of residential schooling in Canada and the disproportionate number of Indigenous children currently in the child welfare system.
"The police are here to support the invasion of Indigenous territories," said Tlingit land defender Anne Spice. "It is what they've always done. Now, they watch us when we travel to pick berries. They 'patrol' the roads where we hunt. They harass us and profile us under the guise of 'public safety'."
Since the January raid, an RCMP detachment known as the Community Industry Safety Office has maintained a large presence in an effort to forestall any resistance to pipeline construction.
Armed RCMP officers can be seen patrolling the area, and three police trailers are tucked away in the woods alongside the access road. Drones and helicopters often circle overhead. CGL has also retained two private security firms that track Indigenous people's movements.
According to the RCMP spokesperson, the police detachment will remain in place in Wet'suwet'en lands "as long as deemed necessary". [How many hundreds of millions of dollars for police abuse of citizens saying No?]
The RCMP Community Industry Response Group (CIRG) has also recently been deployed to monitor and suppress Indigenous people fighting the proposed Trans Mountain tar sands pipeline, which would pass through a separate area of British Columbia and which officially began construction last month.
One of the Gidimt'en land protectors, Molly Wickham (Sleydo'), from the clan's Grizzly House, described the CIRG detachment in her people's territory as a violation of "free, prior and informed consent" between a settler state and Indigenous people — a principle enshrined in the United Nations Declaration on the Rights of Indigenous People.
"What I've witnessed over the last year is not only violent oppression by RCMP and the state on 7 January, but the continuing occupation of our territories and surveillance of our people and camp by CIRG," she said.
The RCMP's suppression of Indigenous dissent against resource extraction is rooted in its founding as a paramilitary entity 150 years ago.
In the late 1800s, the RCMP (formerly the Northwest Mounted Police) carried out surveillance, violent displacement and relocation of Indigenous peoples onto reserves, and the forcible removal of Indigenous children from their families in order to place them in residential schools. Advocates say it was the police force which enabled the Canadian government to seize Indigenous homelands and undermine Native sovereignty.
More recently, the Canadian state has thrown its national security apparatus behind oil and gas development – often directly at Indigenous people's expense.
The 2015 Anti-Terrorism Act, Bill C-51, sanctions the criminalization of Indigenous environmentalists by enhancing surveillance and legal powers against any potential interference with Canada's "critical infrastructure" or "territorial integrity". Land defenders such as Freda Huson have been identified in RCMP intelligence reports as "aboriginal extremists".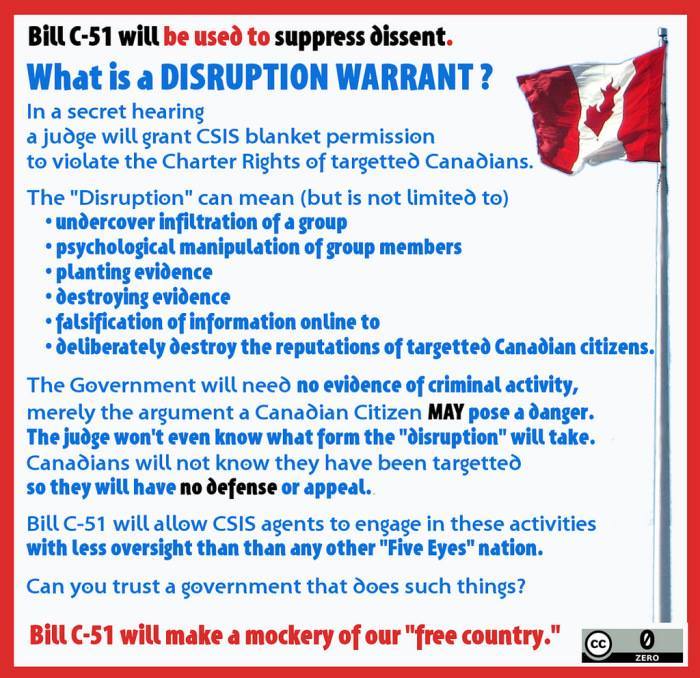 Despite the onset of winter, Wet'suwet'en land defenders remain at the camps to protect their lands and waters. As construction crews dynamite the land in preparation for laying pipe, and RCMP and private security forces patrol the territory, they trap for food and build new cabins.
"We will continue to resist, to insist on respect for our way of life," said Spice.
Refer also to:
1999: Alberta Energy Corporation, became Encana, CEO Gwyn Morgan defends company conspiring with RCMP for staged bombing of a gas well

Banner of website with collection of articles on Alberta Energy Corporation/Encana's notorious ex CEO Gwyn Morgan (taken down after the creator was threatened by Bennet Jones lawyers working for Gwyn Morgan)
Charter Freedom of Expression rights in Canada? Pfffft, only for a few select chosen.
2000: RCMP [Royal Canadian Mounted Police] bombed oil site in 'dirty tricks' campaign
2007: Ernst testimony to Parliamentary Committee on water contamination and non-disclosure of chemicals used in shallow hydraulic fracturing in Alberta
2007: When to call a spy a spy? Word wars over the EUB's hiring of private investigators
2007: EUB fails integrity test by spying on residents
2008: RCMP blows pipeline-bomb investigation and Encana workers give press the finger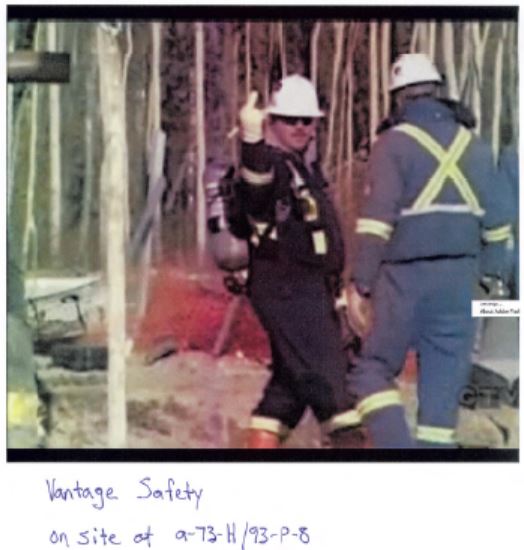 2009 Alberta in Harper & Encana's Canada:

February 12, 2009: Following a CTV W5 National News segment of Ernst's explosively contaminated well water and the ERCB's Charter violating treatment of her in 2005, "undercover" Royal Canadian Mounted Police with Canada's anti-terrorist squad arrive warrant-less at Jessica's home in Rosebud to interrogate. EnCana, Alberta Environment and the ERCB had been served legal papers two months previously.
More information, including video clip: The Intimidation of Ernst: Members of Harper Government's Anti-terrorist Squad Intimidate and Harass Ernst after her Legal Papers were Served on Encana, the EUB (now AER) and Alberta Environment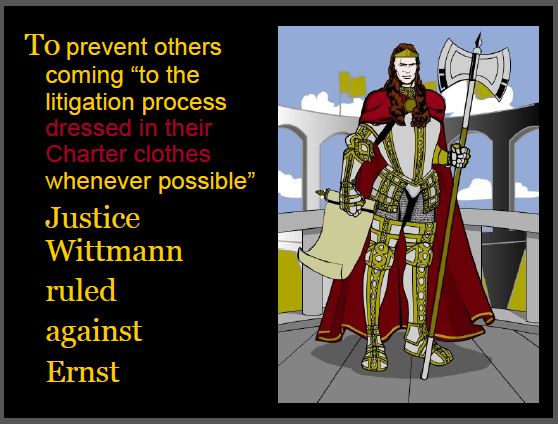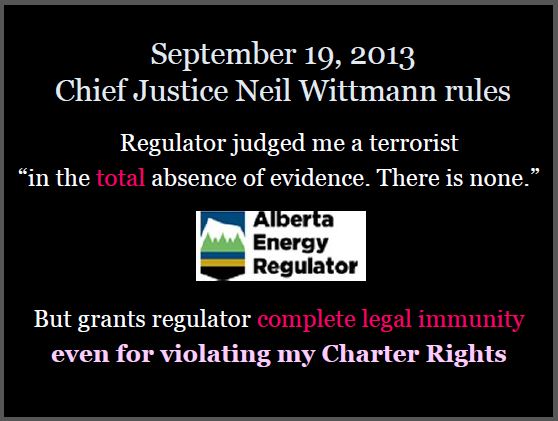 In the 2017 Supreme Court of Canada ruling in Ernst vs AER, Justice Rosalie Abella pulled shit out of the air, changed AER's finding Ernst a criminal in 2005, then terrorist in 2012, to "vexatious litigant" – without allowing Ernst any due process to file the AER documents proving Abella a liar.
"I've been accused of bad taste, and I'll go down to my grave accused of it and always by the same people, the ones who eat in restaurants that reserve the right to refuse service to anyone."
"I'm sorry I haven't been funny. I am not a comedian. I am Lenny Bruce.
"Lenny Bruce died from an overdose of police"
phil spector
2012: Counter-terrorism unit set up by Harper (on Encana's orders?) to protect Alberta energy industry
2012: RCMP spied on B.C. natives protesting pipeline plan, documents show
2012: Mi'kmaq group protests Cape Breton oil exploration, About 20 Mi'kmaq protesters set up tent and campfire near Canso Causeway
2012: A Dead Man's Prints, RCMP request to fingerprint Wiebo Ludwig's corpse refused
2013: Canada's spy agencies chastised for duping courts; CSIS deliberately breached its "duty of candour" to the courts
2013: Judge rejects Elsipogtog injunction application to stop SWN seismic testing for shale gas in New Brunswick
2013: Shale gas: the RCMP and CSIS on high alert; Les fractivistes rendent la GRC nerveuse, RCMP and CSIS watching citizens concerned about hydraulic fracturing very closely
2013: 200 RCMP? Snipers descend on Mi'kmaq-led camp, children and Elders on site, Rexton, New Brunswick, Canada
2013: Mi'kmaq Warrior [youth] risks losing leg after being shot by RCMP rubber slug in Thursday's cop attack. Internal bleeding went untended for two days due to shock
2013: The often-ignored facts about Elsipogtog, The majority of Canadians have been woefully under-informed about what is really going in Elsipogtog
2013: Texas fracking company SWN Resources Canada Inc. sues Mi'kmaq warrior youth
2013: Chevron halts Romania shale work after using riot police to harm concerned citizens in Romania, RCMP use riot police against concerned Canadians, Mi'kmaq in New Brunswick refuse to back down, defy another court injunction
2013: Is there enforcement of New Brunswick's "toughest in the world" frac regulations? One month later, aquifer still broken due to SWN's seismic testing. Energy Minister Craig Leonard blames protesters
2013: Standing in Solidarity with Elsipogtog: Help Protect our Water and our Land; Alberta upholds ban of aboriginal groups' concerns contrary to urging of Appeal Court judge
2013: Faced with injunction, Lubicon ponder next move, Lubicon Lake Nation defies court injunction over fracking blockade
2013: We're Being Watched, How corporations and law enforcement are spying on environmentalists
2013: Hey CSIS, farmers are not terrorists, Anti-fracking activists have been labelled a security threat
2013: Petro-state politics prompts CSIS to spy on citizens at alarming rate, FOIs reveal
2014: UK Police attack Barton Moss anti-fracking protestors after judge rules their protests are legal
2014: NWT: heila Karkagie receives death threat, 'If you don't keep your mouth shut somebody is gonna kill you,' someone said on the phone
2014: Is this Canada? "Up all night with a license to kill" Miles Howe reports on the trial of Germaine 'Junior' Breau and Aaron Francis, Mi'kmaq Warriors
2014: Suzanne Patless, Mi'kmaq Warrior, in Calgary, presents her experience of the "good cop-bad cop" RCMP heavily armed sniper attack
2014: Elsipogtog man says RCMP officers visited home with questions about Facebook comment
2014; Chuck Strahl, CSIS Watchdog Chair, Federal Former Reform-Conservative MP, Registers As Northern Gateway Lobbyist
2014: Ex-MP Chuck Strahl shouldn't mix spy committee and pipeline lobbying; Canada's chief spy watchdog, Harper Govt Appointee Chuck Strahl, working for Enbridge since 2011
2014: RCMP ignore "volley of gunfire" to concerned citizen's home but warn government and industry: "Environmental extremists pose 'clear and present criminal threat' to Canada's energy sector – more likely to strike at critical infrastructure than religiously inspired terrorists." Canadian and Australian oil and gas lobby groups warn: Industry operations "impact aquifers" and "contaminate water resources" as pre-determined "bullshit" investigations, cover-ups and court rulings fix everything. No word if "religiously inspired terrorists" plan to retire because of the intense competition
2014: Complaint filed over alleged illegal searches of private information on Northern Gateway pipeline opponents by RCMP, CSIS and handing the information over to oil companies and Canada's national energy regulator
2014: Communications Security Establishment Canada (CSEC) illegally spied on Canadians; Harper government insisted CSEC never spied on Canadians; Spy agency's work with CSIS, RCMP fuels fears of privacy breaches
2014: Meet ASSIST: Alberta's very own Spy Agency, "Alberta Security and Strategic Intelligence Support Team;" Did ASSIST break into Carmen Langer's home and steal his files?
2014: Peace River, Alberta: Thieves stole computer, files but left cash, reports farmer Carmen Langer (who spoke out for years about Baytex's toxic emissions)
2015: Did Harper and the oil and gas industry order RCMP/CSIS/Snipers to attack innocent mothers and grandmothers, and set aflame stripped police cars in New Brunswick to discredit all Canadians concerned about frac harms and lay a red carpet for Harper's Bill C-51?
2015: To frac and prevent a Lethbridge-style unified "NO!"? 'Embarrassing' new Taber bylaw outlaws swearing, restricts public assembly. To Synergize with Harper's Bill C-51?
2015: Citizen Frac Awareness Group vs State of Pennsylvania Terror Listing "Without Evidence" Lawsuit Settles while Steve Harper's Expanded Terror Listing Powers are "almost certainly unnecessary"
2015: RCMP pushes for new law to get Canadians' private information without a warrant. Who's pushing the RCMP?
2015: How rampant is child abuse by RCMP officers? "Worst case of abuse police have seen." Canada's environmental activists seen as 'threat to national security', Police, security agencies describe green groups' protests, **petitions** as 'forms of attack'
2015: Exclusive by Miles Howe: Military missed opportunity for peaceful end to 2013 New Brunswick fracking protests, Internal documents show repeated Warrior Society requests for negotiating assistance denied
2015: Did Harper's thugs spy on more than 160 protests, community events, demonstrations May 2014 – Feb 2015? Protests tracked includes vigil, 'peace demonstration'
While Supt. Mark Fenton awaits the results of his discipline hearing, few police officers have been held accountable for the mass arrests and "kettling" during the G20. The only officer to be criminally convicted for his actions that weekend, Const. Babak Andalib-Goortani, will not serve any jail time. 
2010 Ontario in Harper's Canada: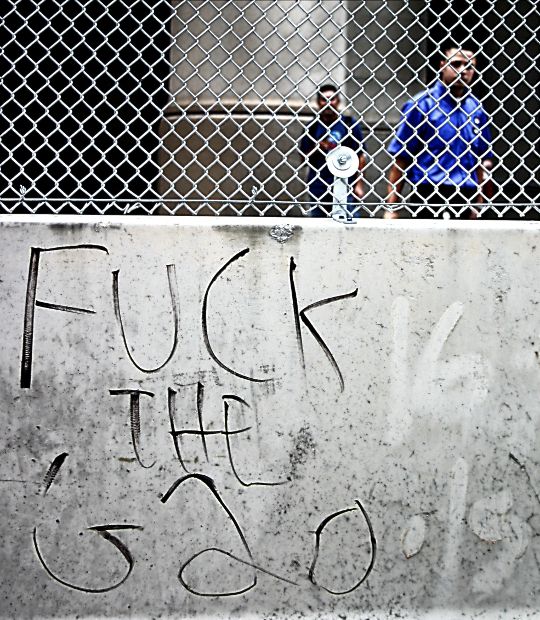 Photo by Zoltan
I Prefer V8
Posted by Zoltan (Toronto, Canada) on 24 June 2010 in Documentary & Street and Portfolio.
So the big G8/G20 deal is about to go down here, and I got a taste of the clampdown after snapping this graffiti on the security perimeter surrounding Union Station (yeah, we have one of those, too).
Basically there are huge fences and barricades all over downtown, and lots and lots of cops. Swarms of them, actually. So I wasn't too surprised when a security guard, whom you can see through the fence here, came over and asked what I was doing.
A block later I was surrounded by a semi-circle of six police who asked to see my photos and took down my particulars.
Ultimately no big deal, but I was slightly offended/amused when one cop asked "when was the last time you were in trouble with the law?" When I replied "never" he repeated it back to me in a disbelieving tone: "Never? Canada-wide? You've NEVER been in trouble?"
Must have been my five o'clock shadow. The bad guys always have those in the cartoons.
2015: Paul Figueiras vs Police: 'This ain't Canada right now': G20 police violated Charter rights, Court of Appeal of Ontario rules
2015: MUST READ! Will Canadian cops become next victims of industry's water contamination and fraud? A dangerous new police "best practice?" RCMP members "drink the water" while "trying to understand the shale gas industry" and "educate" themselves. No word on if RCMP plan to try to understand, or investigate, the dangerous and rampant fraud associated with oil and gas industry's widespread frac contamination, or the number to call if families need RCMP "water taster" to come taste their water after it's been frac'd, as companies, regulators, and research councils try to cover it up, while lying to the public (including the police) that now toxic and explosive water is "common, normal, and safe"
2016: CRIME Child-sex tourism continues to rise in Canada and abroad: two year study. "In Canada, indigenous women and children are especially vulnerable and are often moved around to be exploited near oil rigs"
2016: Back up your blogs & websites! BC political blogger Laila Yule blog & twitter account hijacked online after posting on Site C Dam
2016: "Corruption … At A Gallop." Ex-Justice Minister Peter MacKay urges: "Respect the Rule of Law" while the RCMP, Encana, AER, Alberta and Harper governments busily break it?
2016: Family begs Alberta NDP government for help & compensation, two years after fleeing farm poisoned by Baytex. Alberta Energy Regulator (AER) investigates explosion at shut-in Baytex wellsite, When will AER investigate Encana intentionally & illegally frac'ing Rosebud's drinking water aquifers in 2004, when will Alberta government file criminal charges?
2016: CEPA, Canada's main environmental law isn't working. Of course it isn't, the oil and gas industry is largely exempt while emissions of the most harmful chemicals are on the rise. Live in a frac field? Hold your breath, don't drink the water.
2016: Must Read, Robin Mathews' Best Yet: British Columbia And Imperial Globalization. Happy Rape Canada Day!
2016: Canada Revenue Agency owes taxpayers a general legal "duty of care," but not AER to citizens harmed by the regulator's gross negligence, fraud and cover-up of illegal fracking? CRA not allowed to intimidate, threaten us, but AER is, including in bad faith, falsely labeling us as terrorists and violating Charter rights?
2016: Who are CSEC, CSIS Working for? Oil Companies & the fraudulent, lying, Charter violating, "No Duty of Care," legally immune, ex-Encana VP led AER? Harper's Communist China?
2017: Robin Mathews: From Harper to Trudeau, The Saga of Corruption in Canada Continues. False News. False Newsmakers. Untroubled Power. The Supreme Court of Canada publishes lies too
2017: A Room Full of Liars & Fascism in Action in Canada: Ever get frac'd? Listen to Steve Harper? Rebel Media? Read Supreme Court of Canada rulings? Minister Public Safety & Emergency Preparedness Ralph Goodale affirms "The Royal Canadian Mounted Police's (RCMP) use of the major crime technique."
2017: Welcome to Canadian "justice" in Hell: CSIS officials and Federal Justice Dept lawyers being taught to tell the truth and share information with courts!
2017: "Unf*ck the system." Alberta's Neanderthal "Justice" system assaults sexual assault victims. "The judge in this troubling case was none other than former Deputy Justice Minister Ray Bodnarek, a PC loyalist appointed as a judge by former PC Justice Minister Jonathan Denis who himself resigned under troubling allegations of domestic violence." Commenter: "So who exactly is the crown protecting by blocking the publication of the victim's name?" Another commenter: "My guess…..the 'system'. It stinks and it's all because of the judges & lawyers."
2017: "Amanda Korody/John Nuttall/RCMP." Open Letter from Robin Mathews to BC Attorney General Suzanne Anton, PM Justin Trudeau, Attorney General Jody Wilson-Raybould, Complaints Commission for the RCMP, The Public Prosecution Service of Canada and The Civilian Review
2017: Albania's deputy prime minister declares villagers with homes damaged by Canada's Bankers Petroleum to get full compensation. What do frac harmed in Canada get? Regulator fraud & cover-up; bullying, intimidation & harassment by authorities, even RCMP; secrets & lies; cowardly elected officials enabling more harms; AER violating Charter rights with Supreme Court of Canada fabricating "facts" for the AER
2019: Canada's RCMP keep on violating the law, along with oil and gas companies and their enabling law-violating regulators, while Supreme Court judges lie to enable the enabling.
2019: Oh Canada! RCMP as vile and demented as our legal system? 'Creepy and unsettling': Activist voices concerns over her RCMP profile
2019: new National Security & Intelligence Review Agency (NSIRA) members announced: Outgoing NDP MP Murray Rankin, Q.C. (Chair) & U of Ottawa prof Craig Forcese; Multi-hatted watchdog will have full access to virtually all information held by federal govt. Why? To give to Israel and multinational corporations, and abuse innocent Canadians with?
2019: 'A shocking violation of free expression': Civil liberties groups release 'Protest Papers,' call on CSIS for more transparency. Pfffft! As if oily politicians, RCMP & courts will let that happen!
2019: Albertan Stewart Shields to elected officials with article by Andrew Nikiforuk: When Indigenous Assert Rights, Canada Sends Militarized Police
2019: Unlawful arrest near Houston of Unist'ot'en guest: "Today the RCMP have arrested the person complying with the injunction and not those breaking it." Meanwhile, 800-900 man camp, to last 3-4 years, approved in residential area on Wet'suwet'en territory south of Houston, by Board of Regional District of Buckley-Nechako (previously denied, partly because of TC Energy's lousy communication with the public)
2019: Premier Jason Kenney gives oil & gas industry $30 million gift from taxpayers to attack concerned citizens courageous enough to speak out, Gives not one penny to fix Rosebud's drinking water aquifers frac'd illegally by Encana, covered-up by "No Duty of Care" AER
2019: AER/ICORE/Jim Ellis Hanky Panky & Deregulation Tried to Go Global. Is CAPP et al making Ellis take the fall for Neil McCrank, EUB Boss (before it became AER)? McCrank authorized spying on innocent Albertans, **initiated spreading AER's evil, lies & propaganda globally**, was boss when EUB violated Ernst's charter rights and refused to make it right. "I wonder what's worse for the average Albertan…. A vicious STD, or the AER? It's a toss up."
2019: Who needs ICORE! EUB trained deregulation – for free. It was the "Brotherhood of regulators," says ex-EUB Chair Neil McCrank, who enabled the Caroline Cover-up and Encana illegally frac'ing Rosebud's drinking water aquifers, with the "regulator" abusing it's power, punishing Ernst instead of the company; was Chair when EUB incorporated the notoriously evil Synergy Alberta; authorized the "repulsive" spying on innocent Albertans that made gov't change it to ERCB; etc., etc.
2019: Who orders a new hearing for a Supreme Court of Canada ruling where 9 justices knowingly published a lie and sent it to the media? Who "slaps" Justice Rosalie Abella for knowingly lying in her ruling and belittling the applicant?
2019: Nasty! Canadian courts describing "individuals as exhibiting 'vexatious-style' behavior without formally designating them as a vexatious litigant." Is that how Supreme Court of Canada Justice Rosalie Abella gets away with ruling AER found Ernst to be "vexatious litigant" when evidence proves AER found Ernst to be a "criminal," 7 years later, a terrorist – all without charges, evidence, trial or due process? With AG Jody Wilson-Raybould saying & doing nothing about Canada's top judicial farce?
2019: CAPP/Kenney's Snitch Submission Email for $2.5 Million "McCarthy style witch hunt" of courageous concerned citizens, to help polluting, job-decimating, billion $ profit-taking, largely foreign-owned multinationals. The Inquiry lies, says not linked to Kenney's war room even though inquiry is reportedly paid for out of war room's budget! Inquiry Commissioner Steve Allen is industry-biased of course: Was Director of Compton Petroleum, chaired Compton's Audit Committee (company with a greedy sordid sour history)
2019: How many Canadian judges work from the bench for the oil and gas industry, even American corporations, violating civil Canadians' Charter rights? Justice Kenneth Affleck clearly coddles Trans Mountain
2019: Violation of court order in Trans Mountain appeal 'attack on the rule of law,' judge says. Rule of Law in Caveman Canada? What Rule of Law? Oh Ya! For the Rich! Oh Ya! Industry's! Oh Ya! Law-violating politicians'! Oh Ya! Charter-violating regulators! Oh Ya! Protecting rapists and pedophiles while re-victimizing victims making how many boners under the bench?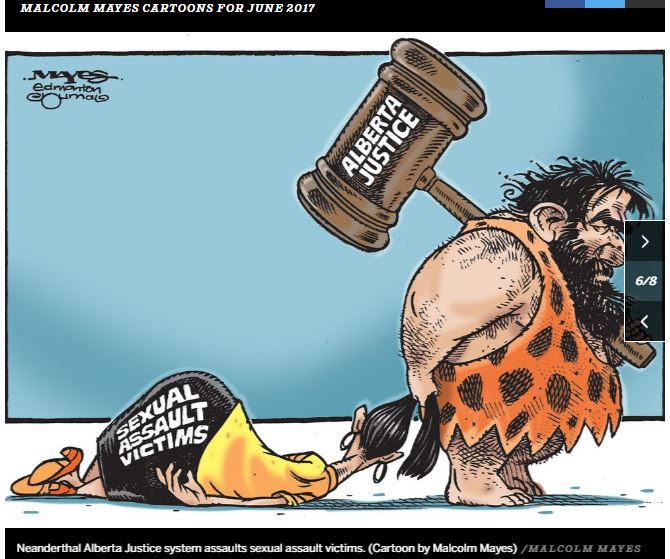 2019: "It's the judges!" enabling rape and murder of women. No kidding. In Canada too.
2019: Canadian Clusterfuck! SNC Lavalin happily pleads guilty to escape most charges. *Justice* is pissed on again. When will Gwyn Morgan (ex SNC Lavalin Chair, ex Encana CEO) be held accountable for the crimes under his leadership? And why is Canadian media glorifying perfidious ex-AG Jody Wilson-Raybould?