The Court of Appeal Decision with yellow hilight on the most important parts of the ruling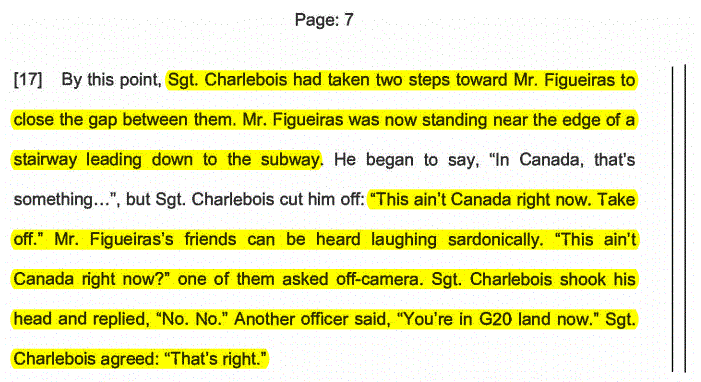 'This ain't Canada right now': G20 police violated Charter rights, court rules, By targeting protesters for searches and not letting them proceed, York Police violated Charter rights in June 2010, the appeals court decides by Marco Chown Oved, March 30, 2015, The Toronto Star
In a decision being hailed as a victory for civil liberties, the Court of Appeal has ruled that a group of G20 demonstrators who were prevented from approaching the security fence unless they submitted to a search had their Charter rights violated.
"It's a victory for peaceful demonstrators," said Kiel Ardal, one of the lawyers who argued the case. "We hope that police change their behaviour because of this ruling."

The altercation between protester Paul Figueiras and a group of York Region police on June 27, 2010, gained notoriety thanks to a video posted to YouTube in which Sgt. Mark Charlebois says: "This ain't Canada right now … There is no civil rights here in this area."

…

Snaps from the ruling
This isn't Canada anymore by mikesmusings, September 13, 2010. Now > 620,000 views
In his suit, Figueiras asked for no money, just a declaration that his rights had been breached.
Last year, a Superior Court judge denied his claim, but that ruling was overturned by a three judge Appeal Court panel in a decision released Monday.

"The actions taken by Sgt. Charlebois and his team were not reasonably necessary and had little, if any, impact in reducing threats to public safety, imminent or otherwise," wrote Justice Paul Rouleau, on behalf of justices Katherine van Rensburg and Gladys Pardu. "The respondents violated Mr. Figueiras's common law right to travel unimpeded on a public highway, and … they also violated his Charter right to freedom of expression."
On the Sunday of the G20 weekend in June 2010 — the day after "Black Bloc" protesters smashed windows and set police cars on fire — Figueiras and a group of friends headed downtown with a sign and pamphlets advocating veganism and animal rights. They were stopped by a group of York Region Police officers at the corner of King St. W. and University Ave. and told that they could not proceed unless they allowed their bags to be searched. [Harper & Big Oil's Canada? Why do they hate the Canadian Charter of Rights and Freedoms so much?]
When Figueiras declined, the commanding officer, Charlebois, put his arm around him and said: "You don't get a choice."
Charlebois then pushed Figueiras away and told him to "get moving."
For this, the judges ruled that Charlebois had also committed battery.
Even though it took almost five years to obtain, Figueiras says the ruling was worth the wait.
"This case is not just about my rights; it's about the rights of all Canadians," he said. The police "abused their powers to intimidate and to bully peaceful demonstrators during the (G20) summit, and I just wanted to do something to try and ensure that these types of abuses don't happen again."
While the decision's significance shouldn't be overstated because it was based heavily on context, it still constitutes a victory for individual liberties in Canada, said Osgoode Law School professor Alan Young. "In the last 20 years, there's been a gradual increase in police powers … This is a little bit of a retreat and more reflective of a fundamental view of what our rights are," said Young, who wasn't involved in the case. "Just because you have security concerns doesn't mean you can infringe upon people's Charter rights." [Is this why Harper and Big Oil need Bil C-51?]
The Court of Appeal judges ruled that Charlebois wasn't acting under orders and had arbitrarily decided that suspected demonstrators were to be searched.
The previous Superior Court ruling had compared the situation to the searches conducted at airports or courthouses. However, the Appeal Court judges disagreed, because Charlebois didn't search everyone and only targeted protesters. [How often has the EUB/ERCB/AER violated the Charter rights of Albertans? How often has the regulator violated Charter rights of oil patch scientists living in explosive risk in their homes from an oil company illegally fracturing drinking water aquifers?]
"Stops that target an identifiable group must be 'carefully scrutinized' … The basis for targeting would-be demonstrators, as a group, is weak and does not, in my view, rise to the level of reasonable suspicion," Rouleau ruled, adding:
"We want to be safe, but we need to be free." [wow~!]

…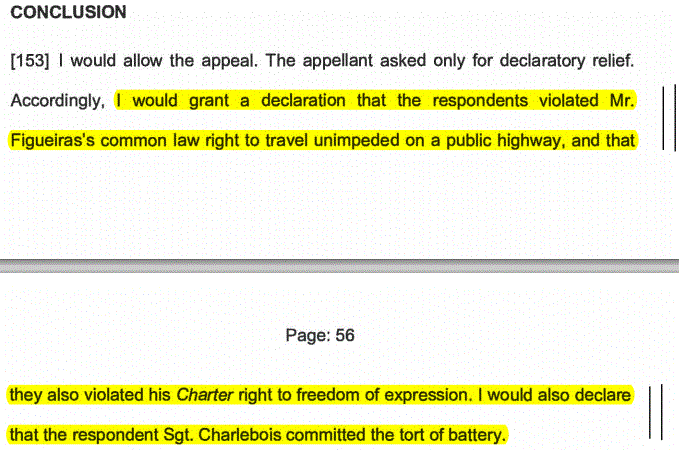 While Supt. Mark Fenton awaits the results of his discipline hearing, few police officers have been held accountable for the mass arrests and "kettling" during the G20. The only officer to be criminally convicted for his actions that weekend, Const. Babak Andalib-Goortani, will not serve any jail time. [Emphasis added]
[Refer also to:
2010 Ontario in Harper's Canada: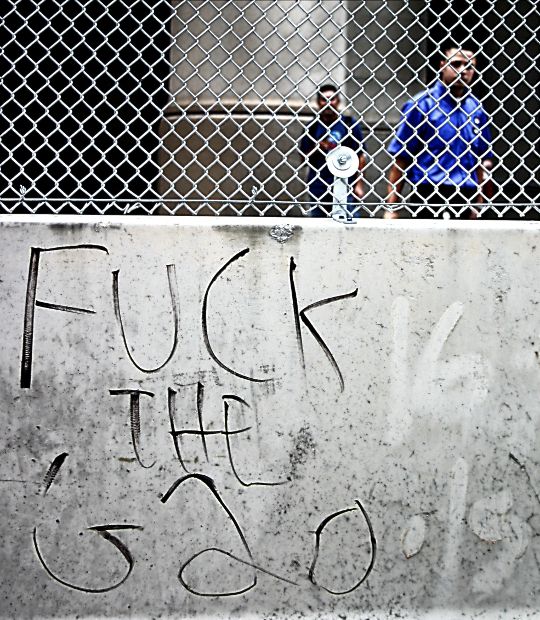 Photo by Zoltan
I Prefer V8
Posted by Zoltan (Toronto, Canada) on 24 June 2010 in Documentary & Street and Portfolio.
So the big G8/G20 deal is about to go down here, and I got a taste of the clampdown after snapping this graffiti on the security perimeter surrounding Union Station (yeah, we have one of those, too).
Basically there are huge fences and barricades all over downtown, and lots and lots of cops. Swarms of them, actually. So I wasn't too surprised when a security guard, whom you can see through the fence here, came over and asked what I was doing.
A block later I was surrounded by a semi-circle of six police who asked to see my photos and took down my particulars.
Ultimately no big deal, but I was slightly offended/amused when one cop asked "when was the last time you were in trouble with the law?" When I replied "never" he repeated it back to me in a disbelieving tone: "Never? Canada-wide? You've NEVER been in trouble?"
Must have been my five o'clock shadow. The bad guys always have those in the cartoons. [Emphasis added]
2009 Aberta in Harper's Canada:

February 12, 2009: Following a CTV W5 National News segment of Ernst's explosively contaminated well water and the ERCB's Charter violating treatment of her in 2005, "undercover" Royal Canadian Mounted Police with Canada's anti-terrorist squad arrive warrant-less at Jessica's home in Rosebud to interrogate. EnCana, Alberta Environment and the ERCB had been served legal papers two months previously.
More information, including video clip: The Intimidation of Ernst: Members of Harper Government's Anti-terrorist Squad Intimidate and Harass Ernst after her Legal Papers were Served on Encana, the EUB (now AER) and Alberta Environment
"I've been accused of bad taste, and I'll go down to my grave accused of it and always by the same people, the ones who eat in restaurants that reserve the right to refuse service to anyone."
"I'm sorry I haven't been funny. I am not a comedian. I am Lenny Bruce."
…
"Lenny Bruce died from an overdose of police"
phil spector