Former Mountie faces child sex charges stemming from 1960s by The Canadian Press, August 7, 2015, The Globe and Mail
Nunavut RCMP have charged a former Mountie with sex offences involving a child that stem back to the 1960s. The charges follow a complaint filed by one person about alleged sexual assaults in Cape Dorset, a hamlet near the southern tip of Baffin Island. Police say Lauren McKiel, who is 78, is charged with rape, indecent assault and having sex with someone under 14. He is to appear in Iqaluit court on the charges on Sept. 14. RCMP say McKiel held the rank of superintendent when he retired.
[Refer also to:
2015: Did Harper and the oil and gas industry order RCMP/CSIS/Snipers to attack innocent mothers and grandmothers, and set aflame stripped police cars in New Brunswick to discredit all Canadians concerned about frac harms and lay a red carpet for Harper's Bill C-51?
2014: Elsipogtog man says RCMP officers visited home with questions about Facebook comment
2014: RCMP ignore "volley of gunfire" to concerned citizen's home but warn government and industry: "Environmental extremists pose 'clear and present criminal threat' to Canada's energy sector – more likely to strike at critical infrastructure than religiously inspired terrorists." Canadian and Australian oil and gas lobby groups warn: Industry operations "impact aquifers" and "contaminate water resources" as pre-determined "bullshit" investigations, cover-ups and court rulings fix everything. No word if "religiously inspired terrorists" plan to retire because of the intense competition
2014: Complaint filed over alleged illegal searches of private information on Northern Gateway pipeline opponents by RCMP, CSIS and handing the information over to oil companies and Canada's national energy regulator
2014: Meet ASSIST: Alberta's very own Spy Agency, "Alberta Security and Strategic Intelligence Support Team;" Did ASSIST break into Carmen Langer's home and steal his files?
Communications Security Establishment Canada (CSEC) illegally spied on Canadians; Harper government insisted CSEC never spied on Canadians; Spy agency's work with CSIS, RCMP fuels fears of privacy breaches
Probe of Canadian spy agency CSEC found 'serious breaches' of ethics code
1999: Alberta Energy Corporation, became Encana, CEO Gwyn Morgan defends company conspiring with RCMP for staged bombing of a gas well
Below posted February 16, 2013:
Canada's environmental activists seen as 'threat to national security', Police and security agencies describe green groups' protests and petitions as 'forms of attack', documents reveal by Stephen Leahy, February 14, 2013, The Guardian
Monitoring of environmental activists in Canada by the country's police and security agencies has become the "new normal", according to a researcher who has analysed security documents released under freedom of information laws. Security and police agencies have been increasingly conflating terrorism and extremism with peaceful citizens exercising their democratic rights to organise petitions, protest and question government policies, said Jeffrey Monaghan of the Surveillance Studies Centre at Queen's University in Kingston, Ontario. The RCMP, Canada's national police force, and the Canadian Security Intelligence Service (CSIS) view activist activities such as blocking access to roads or buildings as "forms of attack" and depict those involved as national security threats, according to the documents.
Protests and opposition to Canada's resource-based economy, especially oil and gas production, are now viewed as threats to national security, Monaghan said. In 2011 a Montreal, Quebec man who wrote letters opposing shale gas fracking was charged under Canada's Anti-Terrorism Act. Documents released in January show the RCMP has been monitoring Quebec residents who oppose fracking. "Any Canadians going to protest the Keystone XL pipeline in Washington DC on Sunday had better take precautions," Monaghan said. In a Canadian Senate committee on national security and defence meeting Monday Feb 11 Richard Fadden, the director of CSIS said they are more worried about domestic terrorism, acknowledging that the vast majority of its spying is done within Canada. Fadden said they are "following a number of cases where we think people might be inclined to acts of terrorism". Canada is at very low risk from foreign terrorists but like the US it has built a large security apparatus following 9/11. The resources and costs are wildly out of proportion to the risk said Monaghan. "It's the new normal now for Canada's security agencies to watch the activities of environmental organisations," he said. Surveillance and infiltration of environmental protest movement has been routine in the UK for some time. In 2011 a Guardian investigation revealed that a Met police officer had been living undercover for seven years infiltrating dozens of protest groups.
Canadian security forces seem to have a "fixation" with Greenpeace, continually describing them as "potentially violent" in threat assessment documents, said Monaghan. "We're aware of this" said Greenpeace Canada's executive director Bruce Cox, who met the head of the RCMP last year. "We're an outspoken voice for non-violenceand this was made clear to the RCMP," Cox said. He said there was real anger among Canadians about the degradation of the natural environment by oil, gas and other extractive industries and governments working for those industries and not in the public interest. Security forces should see Greenpeace as a "plus", a non-violent outlet for this anger, he argued. "It is governments and fossil fuel industry who are the extremists, threatening the prosperity of future generations." [Emphasis added]
Ottawa RCMP and wife charged with keeping 11-year-old imprisoned in basement by Meghan Hurley, February 14, 2013, Ottawa Citizen
An RCMP officer accused of beating and sexually abusing a child hung his head in the prisoner's box as a Crown prosecutor outlined the horrifying allegations against him during his first appearance in an Ottawa court Thursday. The 41-year-old Mountie and his 34-year-old wife are accused of aggravated sexual assault, failing to provide the necessaries of life and forcible confinement after a child abuse investigation. The Mountie was remanded into custody until Friday, when he is expected to be examined by a psychiatrist. According to police sources, the charges come after an 11-year-old was found wandering an Ottawa neighbourhood, starving and dehydrated. The child is believed to have been confined with shackles and handcuffs in a basement for several months. The child's injuries are still being assessed, sources say. … Ottawa police said the officer was arrested Tuesday after an investigation at his residence. He is charged with three counts of aggravated assault, three counts of assault with a weapon, and one count each of aggravated sexual assault, failing to provide the necessities of life and forcible confinement. The woman is charged with three counts of aggravated assault, two counts of assault with a weapon, and with failing to provide the necessaries of life and forcible confinement.
As of Wednesday the man was suspended with pay from his service as an RCMP officer and an internal investigation was underway, said Cpl. Lucy Shorey of RCMP A Division. The officer has also not been on active duty since May of 2011. Shorey said she could not give details about why the man hasn't been on active duty, how long the man has worked for the RCMP or in what capacity for several reasons, including wanting to protect the identity of the youth involved.
RCMP officer and wife face multiple charges in child abuse investigation by The Canadian Press, February 14, 2013, The Globe and Mail
Watchdog says RCMP's problem is bullying, not sexual harassment
In order to protect the identity of the victims, names of the couple have not been released, police say. Nor will they say how many children were involved. "There is more than one but we're not (saying) how many," said Ottawa police acting Staff Sergeant Francois D'Aoust. A police official, speaking on condition of anonymity because the person isn't authorized to speak publicly, said the investigation was launched after an 11-year-old child was discovered wandering in a residential neighbourhood. It's believed handcuffs were used to keep the child for months in the basement of a house, the source said.
Ottawa Mountie, woman back in court on child abuse charges by CBC News, February 15, 2013
Police sources told CBC what police found was "the worst case of abuse police have seen." … The accused officer stood silently in court on Friday, staring at the floor and clutching a white piece of paper. He was remanded into custody after his appearance and he will appear again by video link on Tuesday. The woman, wearing a grey sweatshirt and a white scrunchie in her hair, appeared in a separate courtroom Friday afternoon by a video link. She was remanded into custody as well, and she will also appear in court via video link on Tuesday. The names of the accused have not been released to protect the identity of the victims, police said. There is also a court-ordered publication ban on the names of the accused and victims. … Ottawa police Supt. Tyrus Cameron said police are concerned anything revealing the identity of the victims would "re-victimize" them. "They are victims of horrific abuse," said Cameron. … The RCMP said the officer has been on leave since May 2011, but the reason for that is under a court-ordered publication ban.
Police sources also told CBC News the man worked for the force's counter-terrorism unit.
The officer was suspended with pay Wednesday, RCMP said. The RCMP is also performing its own internal investigation to determine if the officer had complied with the code of ethics.
RCMP to meet with authors of damning report alleging abuse of aboriginal women and girls (with video) by Lori Culbert, February 14, 2013, Vancouver Sun
Researchers behind a report that claims B.C. Mounties abused aboriginal girls and women say the level of fear among interviewees was shocking. The RCMP says it wants to get to the bottom of the allegations. The RCMP will meet Friday with authors of a damning new report that accuses some police officers of harshly mistreating native women and girls in northern B.C. "There are some very serious allegations, clearly, brought forth in that report," Chief Superintendent Janice Armstrong told reporters at a news conference Wednesday.
"That's going to be part of the discussion that I'll have with them on Friday: We need to get to the bottom of those allegations." The report by Human Rights Watch, a respected New York-based watchdog, contains unproven allegations by several northern B.C. women and girls who say they were abused physically or sexually by police. The lengthy report does not name the accusers, saying they fear retribution from police if identified.
Armstrong said Human Rights Watch posed questions to the RCMP five months ago about their research, but she insisted police can't investigate the accusations if they don't have names of the women or the officers. "It is impossible to deal with such public and serious complaints when we have no method to determine who the victims or the accused are," Armstrong said, adding that complaints can be made against police without fear of retribution. Prime Minister Stephen Harper and B.C. Justice Minister Shirley Bond also called on Human Rights Watch to share more information with police about the allegations of abuse. But the women and girls who allegedly suffered abuse at the hands of RCMP officers don't trust the justice system enough to reveal their names, said Asia Czapska of the Vancouver-based group Justice for Girls. "Women and girls very much fear coming forward with this information," said Czapska, whose group works with impoverished young women in B.C. Justice for Girls was the catalyst for this report. It asked Human Rights Watch in 2011 to investigate long-standing concerns about degrading police treatment of aboriginal girls in the north. "Every Canadian should be outraged by this report … None of this abuse should be happening," Czapska said. "The police are stating at this point that they are taking this report seriously, and we hope that that will be seen in their actions." Czapska will attend Friday's meeting with the RCMP, and hopes police brass will commit to implementing some of the recommendations in the report.
The main recommendation is for the federal and B.C. governments to participate in a national commission of inquiry into alleged abuse of aboriginal girls and women by some members of the RCMP. That recommendation was backed Wednesday by Assembly of First Nations Chief Shawn Atleo, who said an inquiry is necessary to understand "how we got to where we are today, and how we move forward to address root causes and better ensure safety and protection of all of our loved ones." For now, the federal government has asked the Commission for Public Complaints Against the RCMP to look into the allegations in the report.
Bond, whose riding is in Prince George, said she is "deeply concerned if there are allegations of this nature against RCMP officers in northern British Columbia." But she stressed Human Rights Watch researchers must share names with an independent third party so the cases can be investigated properly by police. Mavis Erickson, a Prince George lawyer and women's rights advocate, assisted Human Rights Watch researchers by liaising with victims in the north. She understands why the women are afraid to reveal their names, but hopes something will compel them to come forward in the future — just as residential school survivors eventually spoke publicly about the abuse they endured. "I'm not sure what it will take for First Nations women to come forward and feel confident to do that," said Erickson, who has worked with the Highway of Tears victims' families. "There is always the hope that the flood gates will open, because I'm certain there are a lot of women out there who haven't come forward out of fear."
The report found the RCMP is failing to protect native women and girls in Northern B.C., including in the infamous Highway of Tears case, in which 18 women and girls have disappeared or been murdered along three Northern B.C. highways. Human Rights Watch researchers spent five weeks in 10 northern B.C. towns last summer, interviewing 42 native women and eight native girls. [Emphasis added]
Those Who Take Us Away, Abusive Policing and Failures in Protection of Indigenous Women and Girls in Northern British Columbia, Canada by Human Rights Watch, February 13, 2012
Explosive new report alleges widespread RCMP abuse of Indigenous women and girls by Rabble staff, February 14, 2013, Rabble.ca
A new report by Human Rights Watch alleging widespread abuse by the RCMP against Indigenous women and girls was the subject of fierce debate Wednesday in Parliament. The 89-page report "described abusive treatment by police officers, including excessive use of force, and physical and sexual assault." "Those Who Take Us Away" details police failure to protect Indigenous women and girls in northern British Columbia in and around Highway 16 (known as the "Highway of Tears"), documents allegations of RCMP violence and abuse against Indigenous women, and calls on the government to convene a national inquiry into missing and murdered Indigenous women. In Question Period Wednesday, the Conservative government ignored calls from the opposition to call a national inquiry. Public Safety Minister Vic Toews said, "I would encourage anyone with information that bears on these matters to pass it along to the appropriate authorities." … "The high rate of violence against indigenous women and girls has caused widespread alarm for many years," Rhoad said. "The eyes of the world are on Canada to see how many more victims it takes before the government addresses this issue in a comprehensive and coordinated way." NDP MP Niki Ashton criticized the government's response to this latest report as "callous." "Families are hurting, communities are hurting and they want to see a commitment to action. That's why we're calling for an inquiry."
[Refer also to:
How Alberta Will Fight Fracking Folk Hero Jessica Ernst, In famous flaming water case, regulator to argue 'no duty of care' to landowners or groundwater
Plaintiff rejects energy board's 'ecoterrorist' accusation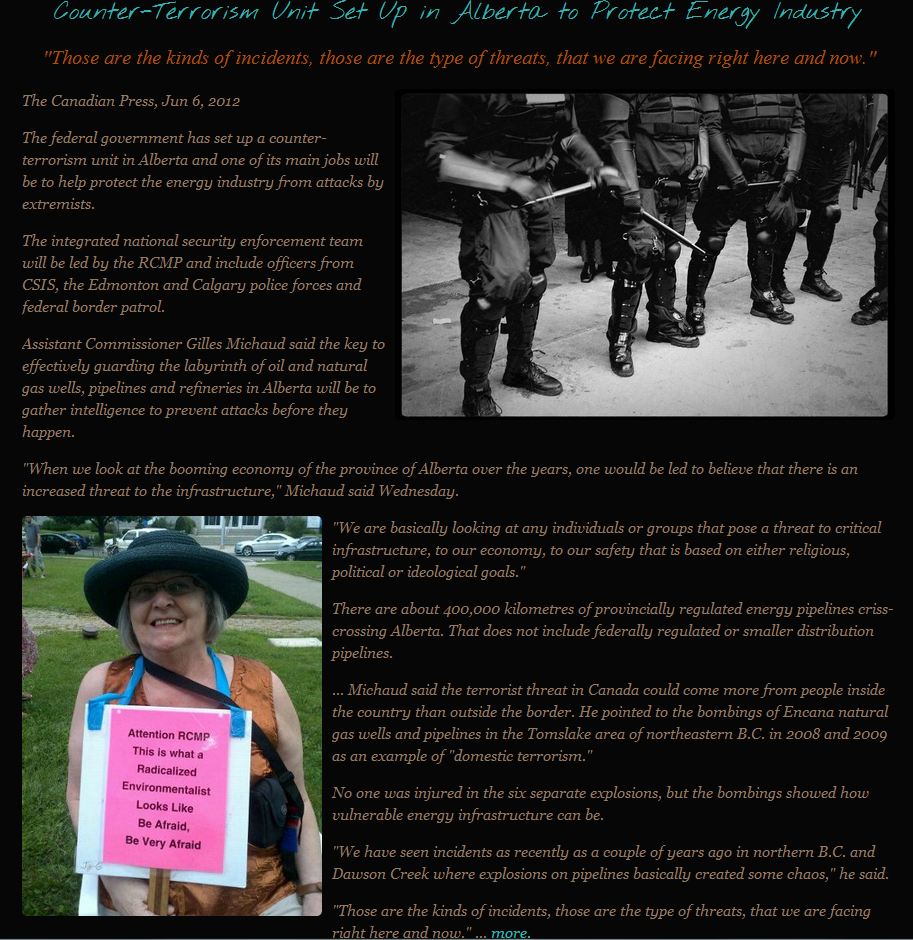 Counter-terrorism unit set up in Alberta to protect energy industry headline changed shortly after publication to Counter-terrorism unit set up in Alberta to help protect energy industry, public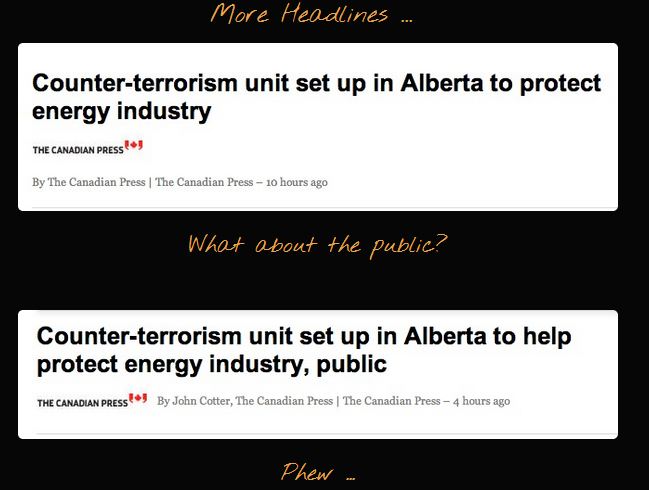 Counter-terrorism unit to protect Alberta energy industry
Shale gas: the RCMP and CSIS on high alert; Les fractivistes rendent la GRC nerveuse, RCMP and CSIS watching citizens concerned about hydraulic fracturing very closely
Lawyer's suspicions spy agency listened to client calls proven right
"I couldn't believe the degree to which the judicial process had been corrupted,"
Loud Bangs and Quiet Canadians: An Analysis of Oil Patch Sabotage in British Columbia, Canada
The Intimidation of Ernst