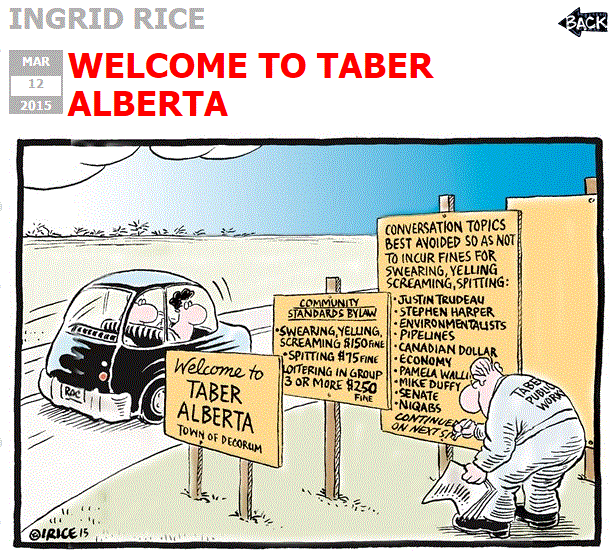 Kevin Bacon, your swagger and grit is wanted in Taber by Reid Southwick, March 11, 2015, Calgary Herald
Opponents fighting what they call draconian rules cracking down on public cussing and loud music in a southern Alberta town are looking for an ally to lead them through the trenches. They need a hero. And not just any big shot with grit and swagger. They need Kevin Bacon.
The Hollywood star had rescued a small town that banned dancing and rock music in the 1984 film Footloose. And there is no better man to save Taber, Alberta from the same sort of fate, according to 
a group hoping to attract Bacon's star power
. … "The small town from Footloose, they needed a hero. They needed Kevin Bacon, in a tank top," one of the group's members says in a YouTube video. "Mr. Bacon, the people of Taber, Alberta need a hero more than ever." 
They've released the video, launched a Twitter account and issued a public appeal to Kickstarter for help raising money to convince the famed actor to bust out his dance moves and help turn the tide in Taber. "Help us bring a big city kid to a small town who knows he has to win," the video says. [Or
Kenny Loggins
]
'Embarrassing' new bylaw in Taber, Alberta outlaws swearing, restricts public assembly by Robson Fletcher, March 9, 2015, Metro News
With a sweeping new bylaw, the southern Alberta town of Taber has outlawed swearing in public, instituted a nightly curfew on kids and teenagers, and granted local law enforcement the power to break up any assemblies of three or more people.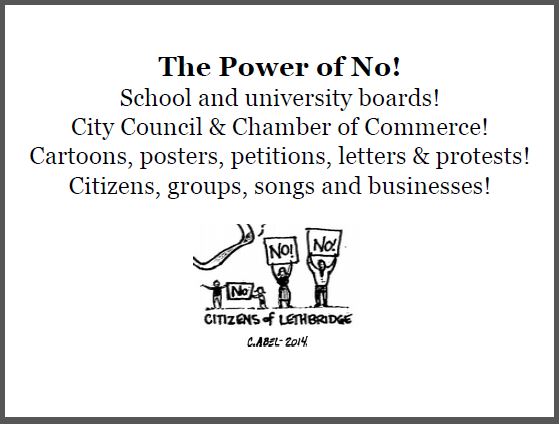 The new "Community Standards Bylaw" is clearly unconstitutional, said Lisa Lambert, a PhD candidate and instructor in political science at the University of Calgary, who lives in Coaldale, about 35 kilometres west of Taber. "Little towns get bad names because of this kind of nonsense," Lambert said. "This is so embarrassing."
The way the bylaw is worded, even whispering a curse word in public could land you a $150 fine, Lambert noted, while events like bake sales and car washes could be caught up under the "panhandling" definition.
There's "just no way" it would stand up to a Charter challenge, she added. [Why are Albertans intent on destroying their Charter Rights? Harper bribes? Harper threats?]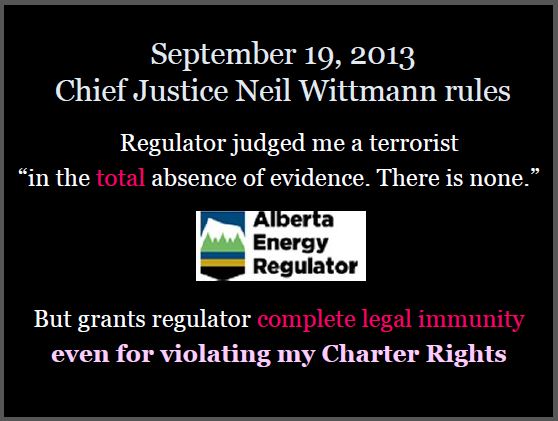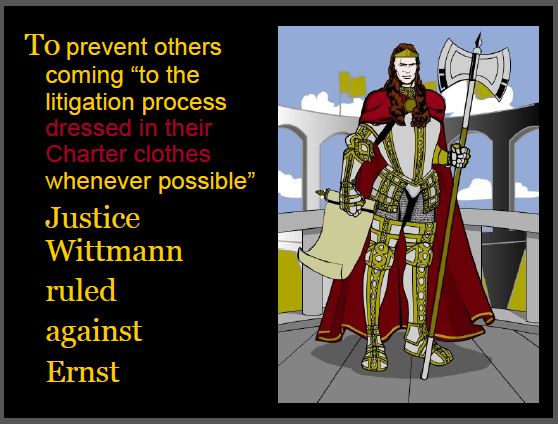 Taber chief administrative officer Greg Birch said the bylaw was drafted in part by the Taber Police Service "to provide for better and more consistent oversight, bylaw enforcement and policing of various matters," according to town council minutes.
Neither the Taber mayor, nor the police commission chairman, nor the lone town councillor to vote against the bylaw (which passed by a 6-1 margin) replied to interview requests Monday.
Mayor Henk De Vlieger offered tentative support for the bylaw, according to the local newspaper.
"I'm not saying this thing is perfect, but I think we should give it a chance and try it out, and let the police work with it," [Hitler's Alberta anyone?] he was quoted as saying in the Taber Times. "After a period of time, we might make some adjustments, but let's see how it works." [Let the fracing come on in? And when baby's bath burns her skin, Mum and Dad can't even swear about it at the local diner.]
Coun. Joe Strojwas was the lone voice of dissent on Taber council, according to the newspaper, raising concerns over several aspects, including the fines for graffiti that begin at $2,500 and escalate to $7,500 for a third offence.
"Generally, graffiti is done by 12 or 13 year old kids," Strojwas was quoted as saying. "Do I gather if they get caught doing that they get a $2,500 fine? Do their parents have to pay that?"
The bylaw defines a daily "curfew period" between 11 p.m. and 6 a.m. during which time anyone under the age of 16 is prohibited from being in a public place unless accompanied by a parent or guardian.
Exceptions to the curfew are made for minors who are "involved in an emergency" or travelling in a motor vehicle "from one point to another without any detour" or "acting in the interests of an employer or voluntary organization."
Adults are also prohibited from assembling in a public place in a group of three or more where a peace officer "has reasonable grounds to believe the assembly will disturb the peace of the neighborhood," according to the section of the bylaw that deals with "Assembly of Persons."
Taber is a town of 8,000 people located about 250 kilometres southeast of Calgary.
Slides added above from Ernst 2014 presentation in Lethbridge
Forget washing your mouth out with soap, Taber establishes $150 fine for potty mouths by Erika Stark, March 10, 2015, Calgary Herald
The Town of Taber's Community Standards Bylaw, passed last Thursday, states: "No person shall yell, scream, or swear in any public place."
The punishment for profanity? A $150 fine for the first offence. It's not clear which words would be considered swear words under this bylaw, or what languages the bylaw covers.
Other outlawed behaviours in the bylaw include spitting ($75) and graffiti — even if it's on your own property. "The consent of the property owner to place graffiti on the property shall not be a defence under this bylaw."
If you play the bagpipes or another loud instrument, you might also have to wander out of town. "No persons shall, during any period of the day allow, suffer or permit any electronic equipment, musical instruments, vehicles or any other devices to be sounded or used in any area of the Town of Taber, that may, or is likely, to disturb others," the bylaw says.
The town has also instituted "quiet hours" between 11 p.m. and 7 a.m.
Town officials didn't immediately respond to requests for comment.
Linda McKay-Panos, executive director of the Alberta Civil Liberties Research Centre at the University of Calgary, told The Canadian Press she's concerned with the legalities of the bylaw.
"My personal reaction was well, it's Taber," she said. "But my legal reaction was uh, oh. I don't think that's going to pass muster with freedom of expression and freedom of association."
"I think it's the culture of that place, but anywhere in Canada we have the protections of the Charter of Rights and Freedoms and (that includes) Taber."
The bylaw was put in place to "regulate and prohibit certain activities in order to prevent and compel the abatement of noise, nuisances, graffiti and public disturbances and to provide for a curfew for minors."
McKay-Panos, who teaches constitutional law at the University of Calgary, said the bylaw appears unconstitutional and would be unlikely to stand up in a court of law. [Like Harper's Bill C-51?]
"Especially the part about swearing in public. If I'm walking down the street heading to a store and quietly swear to the person beside me, I could be caught by the bylaw," she said.
"I think you could argue swearing is pretty close to the core of what we want to protect because it's either self-fulfilling speech or it's personal expression of an opinion. That is very closely guarded under the Constitution."
Other aspects of the bylaw are disturbing, added McKay-Panos. She noted there's also a section that allows police to order groups of three people or more to disperse — which goes against freedom of association.
The bylaw was adopted by Taber town council late last month and signed into law last week. It was also reviewed by the local police commission and Taber Police Service. … This isn't the first Canadian town to try to regulate its residents' standard of language: In 1994, the Village of Whistler banned swearing, making it the first Canadian municipality to do so.
Six Things Protesters Need to Know about Bill C-51, Preventative arrest? Secret police? Rights lawyers break down anti-terrorism law by Alyssa Stryker and Carmen Cheung, March 11, 2015, TheTyee.ca
At over 60 pages, Bill C-51 — the Anti-Terrorism Act — is a heavy read. The bill proposes a myriad of radical changes to Canadian law and to Canada's national security apparatus, many of which seriously jeopardize the rights and freedoms of Canadians while promising little improvement to public safety.
Canada's privacy commissioner, ex-CSIS officials, former prime ministers and international whistleblower Edward Snowden have all raised alarm about the bill's impacts on Canadians' freedom and privacy. Lawyers at the B.C. Civil Liberties Association have gone over the bill paragraph by paragraph, and we've outlined the parts of this document that concern us most.
1. Bill C-51 drastically expands the definition of 'security.'
When you think of being secure, you likely think of being safe from physical danger. But Bill C-51 defines security as not only safeguarding public safety, but also preventing interference with various aspects of public life or "the economic or financial stability of Canada." With this definition, a separatist demonstration in Quebec that fails to get a proper permit, a peaceful logging blockade by First Nations, or environmentalists obstructing a pipeline route [And filing lawsuits against the government and or oil and gas companies for law violations and harm?] could all be seen as threats to national security.
2. It gives the government too much discretion to pick and choose which individuals and groups to target for further scrutiny.
Bill C-51 gives the government the ability to designate an extraordinarily broad range of activities as potential security threats. The government claims it will use good judgment when deciding which individuals and groups constitute true threats. Whether or not a group is deemed a national security threat may hinge on whether their cause is politically popular or in line with the views of the government.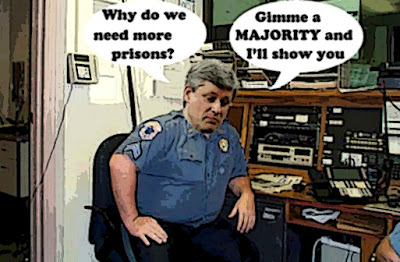 March 12, 2011: Harper plays a cop by Montreal Simon
3. It will severely chill freedom of expression.
It's unclear even to experts exactly what kinds of speech and protest activity may be considered threats to national security if the bill passes; the average Canadian has little hope of feeling confident that their legitimate political activity hasn't inadvertently crossed the line. Bill C-51's expansive language means many Canadians will likely choose not to express themselves — even in completely legal ways — rather than risk prosecution. Legitimate speech will be chilled, and our democracy will be worse off for it.
4. It will allow government institutions like Health Canada and the Canada Revenue Agency to share information about you with the RCMP.
The proposed Security of Canada Information Sharing Act (part of Bill C-51) would allow government institutions — including non-security-related institutions like Health Canada and the Canada Revenue Agency — to share information amongst themselves without a warrant if they believe the information may be relevant to national security [Or to help oil and gas companies and their enabling de-regulators like the NEB and AER kill lawsuits against them? And legalize AER's Charter violations? ].
Given that no one wants to be seen as responsible in case of a security breach, the default will be to share as much information as possible. Massive information sharing does not mean better security. Not only does this jeopardize the privacy of the individuals whose information is being shared, but it may actually make it harder for investigators to detect real security threats: when looking for a needle in a haystack, it hardly helps to add more hay.
5. Canada already has a troubling regime of preventative arrest and detention; Bill C-51 proposes to make it even worse.
Currently the Criminal Code permits the police to arrest, detain and impose restrictions (such as a curfew or travel ban) on someone who has never been (and may never be) charged with a crime if they have good reasons to believe a terrorist activity will be carried out if these actions aren't taken. Bill C-51 would lower the threshold for these actions to situations where the police believe that a terrorist activity might be carried out. It also doubles the amount of time an individual can be detained without charge. Innocent people could be arrested and detained on mere suspicion of future dangerousness.
6. It would give CSIS the power to act like a police force, while still allowing it to operate secretly as an intelligence gathering service.
Bill C-51 would radically redefine the role of CSIS to include the ability to act on — rather than merely to collect — security intelligence. This ignores the lessons of history. The 1960s and 1970s saw serious rights abuses undertaken by the RCMP under its "security intelligence" mandate. CSIS was created in the 1980s for the express purpose of separating Canada's intelligence agency from its police force.
As an intelligence agency, CSIS is permitted to conduct much of its work in secret, and the details of most of its activities are never revealed publicly. But that's precisely why CSIS should not be permitted to also operate as a police force: this secrecy means that rights violations by CSIS are more difficult to detect — and once detected, more difficult to remedy — than if they were the result of actions undertaken by law enforcement agencies.
[Refer also to:
2009: The Intimidation of Ernst: Members of Harper Government's Anti-terrorist Squad Intimidate and Harass Ernst after her Legal Papers were Served on Encana, the EUB (now AER) and Alberta Environment
February 12, 2009: The Intimidation of Ernst A segment of Ernst presentation at Cochrane, Alberta, September 10, 2011

February 12, 2009: Following a CTV W5 National News segment of Ernst's explosively contaminated well water and the ERCB's treatment of her, "undercover" Royal Canadian Mounted Police with Canada's anti-terrorist squad arrive warrant-less at Jessica's home in Rosebud to interrogate. EnCana, Alberta Environment and the ERCB had been served legal papers two months previously.