Exclusive: Natgas producer Chesapeake explores buying Southwestern Energy -sources by David French, October 17, 2023, Reuters
Oct 17 (Reuters) – U.S. natural gas producer Chesapeake Energy Corp (CHK.O) has approached Southwestern Energy (SWN.N), a peer valued by the stock market at $12 billion including debt, about a potential acquisition, people familiar with the matter said.
Were the two companies to combine, they would overtake EQT Corp (EQT.N) as the largest natural gas-focused exploration and production company in the U.S. by market value, at a time when shale companies are seeking scale and efficiencies.
Southwestern's shares ended trading on Tuesday up 8.3% at $7.33 on the news, at their highest finish in almost a year. Chesapeake's shares closed up 0.7% at $89.59.
Chesapeake's talks with Southwestern are preliminary, with no certainty the two sides will reach a deal, the sources said. Chesapeake could explore other potential acquisitions, and may end up pursuing a different target, the sources added.
The sources asked not to be identified because the matter is confidential. Chesapeake and Southwestern did not immediately respond to requests for comment.
An acquisition of Southwestern would be transformative for Chesapeake, which has been snapping up small rivals in the last two years. The two companies are neighbors; most of Southwestern's production is in Appalachia's shale formations and the Haynesville basin in Louisiana, where Chesapeake also operates.
The deal would also be a reversal of sorts. Southwestern acquired some of its acreage in West Virginia and Pennsylvania from Chesapeake for $5.4 billion in 2014.
In 2021, Chesapeake emerged from a bankruptcy which epitomized the boom and bust of debt-laden exploration and production companies that expanded aggressively in the shale patch. Since then, Chesapeake has been shedding oil-producing assets to focus on its competence in natural gas. It has a market value including debt of about $13 billion.
Kimmeridge Energy Management, the activist investment firm that pushed Chesapeake last year to move away from oil drilling and remains a shareholder with a 2% stake, welcomed the deal talks.
"A potential merger between Chesapeake and Southwestern aligns with our views on industry consolidation, given the high degree of operational overlap, opportunity for material synergies and valuation re-rating opportunity," Kimmeridge managing partner Mark Viviano said in a statement.
U.S. natural gas prices have been sluggish in recent months, as oversupply and warmer weather erode producers' profitability.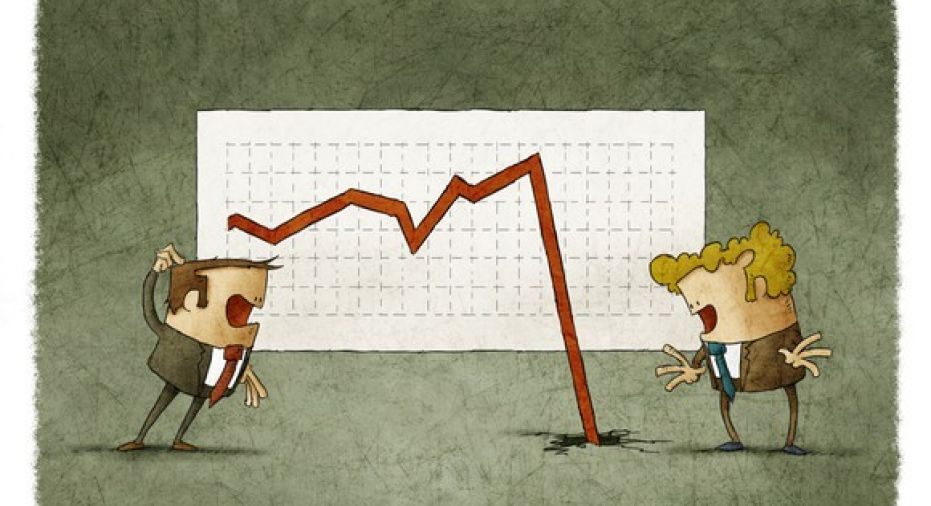 Some analysts expect prices to go up in the next few months, as a pick-up in U.S. natural gas exports creates more domestic scarcity.
Dealmaking in the energy-producing sector has been heating up as companies race to secure the most lucrative acreage. Exxon Mobil Corp (XOM.N) last week agreed to acquire Pioneer Natural Resources (PXD.N) for $60 billion in stock, placing a big bet on the Permian basin, the biggest U.S. oilfield.

Refer also to:
2021: Frac'er Chesapeake Energy Corp magically "shedding" $US 7.7 Billion in debt not good enough?
2021: Pennsylvania Supreme Court gives gas industry big victory, Rules in favour of frac royalty cheaters (Anadarko, Chesapeake), Kills Attorney General's anti-trust lawsuit. Jackie Root: "It just seems like ruling after ruling is coming down in favor of the oil and gas companies, handing them all the cards and all the money."

There are ample reasons why politicians beholden to oil and gas appoint the judges they do – in Canada too.

2021: And, the winner is … drum roll … Chesapeake (and the new ombudsperson). Attorney General Josh Shapiro settles with shyster frac company for $5.3 Million for royalty restitution for PA landowners. Who pays for the $7 Billion in magic money given to Chesapeake by the bankruptcy judge?
2021: Judge lets nasty frac'er escape bankruptcy, rules Chesapeake is worth $1 Billion more than the company does, sets free $7 Billion in debt, gives "big payday" to some, says to CEO Robert Lawler: "To remember that a lot of people have suffered a lot of pain for Chesapeake to have a second chance…."
2020: DEP data shows bankrupt Chesapeake drilling new wells; Did Chesapeake file for bankruptcy to avoid paying outstanding royalties owed and avoid paying fines for criminal charges possibly up AG Josh Shapiro's courageous sleeves? The company's timing is suspect.
2020: Evil law-violating frac'er Chesapeake Energy files for bankruptcy, owing $9Billion. How much magic money will the court give the frac'ers this time?
2020: The anatomy of a protest: Marie-Hélène Eddie, Moncton sociologist, researches New Brunswick frac protests for thesis at University of Ottawa
2019: Chesapeake Energy stock drops 47% in past two days! CHK drowning in $10 billion of debt, nearly five times more than the company's entire market value.
2016: New Brunswick extends fracking ban indefinitely & The Environmental Advisory Committee, established by PEI govt to create new Water Act, recommends banning fracking
2016: Oil & gas industry angry and impatient to frac New Brunswick; How impatient and angry would industry be if they were the plaintiff in the Ernst vs Encana lawsuit, now in its ninth year?
2016: Industry lobby groups urge New Brunswick to lift frac moratorium. What for? To contaminate drinking water, divide and conquer communities, poison land, families and air while companies frac and go bankrupt and then demand that citizens finance their bad gambling debts?
2015: Miles Howe and Annie Clair, cross country speaking tour, on struggle to protect New Brunswick land, water and rights from fracing
2015: New Brunswick voted today to prohibit fracking
2015: Did Harper and the oil and gas industry order RCMP/CSIS/Snipers to attack innocent mothers and grandmothers, and set aflame stripped police cars in New Brunswick to discredit all Canadians concerned about frac harms and lay a red carpet for Harper's Bill C-51?
2015: SWN Resources suspends drilling program in New Brunswick: "[T]he commitment to a moratorium has forced us to suspend our drilling plans and rededicate resources to projects in other jurisdictions"
2015: Chesapeake Energy Corporation Teams Up With Bankrupt GasFrac (Calgary) To Test Gelled (with what toxic chemicals?) LNG (Highly Dangerous) Fracking in Ohio
2014: New Brunswick: Five conditions will need to be met before government lifts moratorium on all forms of fracking
2014: Another frac lawsuit! 'Peoples Lawsuit' launched over shale gas, 18 citizens suing New Brunswick and federal governments and SWN Resources in bid to stop industry
2014: Louis LaPierre stripped of Order of Canada, Former head appointed to New Brunswick Energy Institute that promotes fracing misrepresented his academic credentials
2014: How to Fight Fracking, 9 resistance strategies from the frontline standoff in New Brunswick
2014: SWN Resources plans to drill exploratory wells in N.B., Provincial government should consult First Nations people first, says former leader
2014: Chesapeake faces new charges on Michigan leasing; Encana settled criminal charges by paying 5 times the maximum penality
2014: Another "documented" case! American Arbitration Association, Commercial Arbitration Tribunal, orders Chesapeake to pay Jacqueline Place of Terry Township, Bradford County PA, $60,000 for temporary methane contamination in water well after hydraulic fracturing
2013: Is there enforcement of New Brunswick's "toughest in the world" frac regulations? One month later, aquifer still broken due to SWN's seismic testing. Energy Minister Craig Leonard blames protesters
2013: Judge rejects Elsipogtog injunction application to stop SWN seismic testing for shale gas in New Brunswick
2013: Port Elgin New Brunswick bans fracking within village limits to protect its clean water supply
2013: Emergency Advisory: Mi'kmaq say, "We are still here, and SWN will not be allowed to frack." Sacred Fire blockade to begin at noon on Nov. 4
2013: Texas fracking company SWN Resources Canada Inc. sues Mi'kmaq warrior youth
2013: Shale gas is a boon for New Brunswick, Frac Pimp (Federal) Environment Minister Peter Kent says
2013: Fort Worth Sues Driller Chesapeake, Citing Millions in Lost Royalties
2013: Chesapeake sued for fixing prices, underpaying landowners
2013: 200 RCMP? Snipers descend on Mi'kmaq-led camp, children and Elders on site, Rexton, New Brunswick, Canada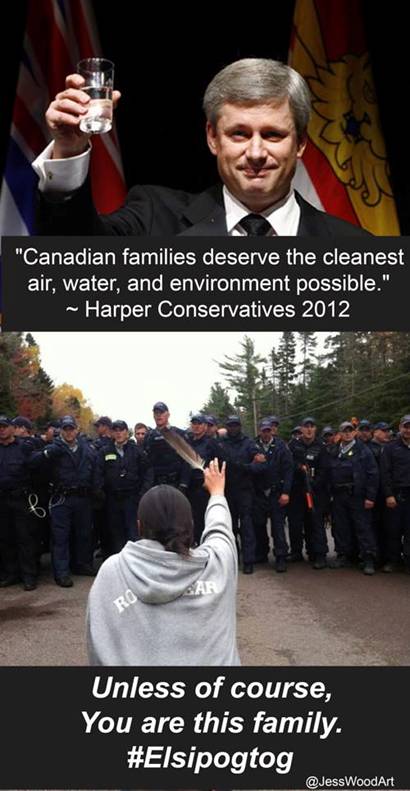 2012: How Fracking Could Ruin New Brunswick
2012: Anti Fracking Message given to Legislators, 400 Citizens from various parts of the province brave cold to show concerns about government policy on shale gas, New Brunswick to weigh in on shale gas development
2012: Potential health risks cited in New Brunswick Chief Medical Officer of Health report on shale gas industry
2012: Chesapeake, McClendon endure rocky year; Operators Take out Liens on Landowner Properties for Chesapeake's Unpaid Bills
2012: The New Brunswick government must address the "very serious concerns" that people have over fracing
2012: New Brunswick Chief Medical Officer of Health Dr. Cleary speaks out on shale gas report after government says it will be kept confidential
2012: Nova Scotia accepting fracking waste from New Brunswick
2012: New Brunswick Government Shale Gas Session, Dr. Angela LeGresley

Clip no longer available; I watched it numerous times when it was online. Astoundingly courageous statements by Dr. LeGresley.

"I made it known that I was a physician…I made my health concerns known and stood up despite being very intimidated surrounded by oil and gas industry people and politicians." …
"If they have an abundance of peer-reviewed studies, health impact assessments, etc., all the kind of things that would reassure me, and I need more than regulations to reassure me, I need, as a physician I need more than that…if they have this kind of thing, they should be giving it to me I think. They should be responding to my letters, they should be calling me." …
"I would just encourage them if they had that information to get a hold of me but, I know that most of the peer-reviewed information has only started in April 2011 and that's why we need a lot more of it, we need more studies, and that's why we cannot go forward right now. We need a moratorium. The Moncton City Hospital physicians have voted for a moratorium." [Standing ovation] … "You probably already know that The [New Brunswick] College of Family Physicians have also voted for moratorium and I would be willing to say that there are going to be more physicians following this." …
"Try to get answers, I'm not sure how to get them to respond…." …
"We need health impact assessments, not just environmental impact assessments, there is only one that I know of, and that was in Colorado." …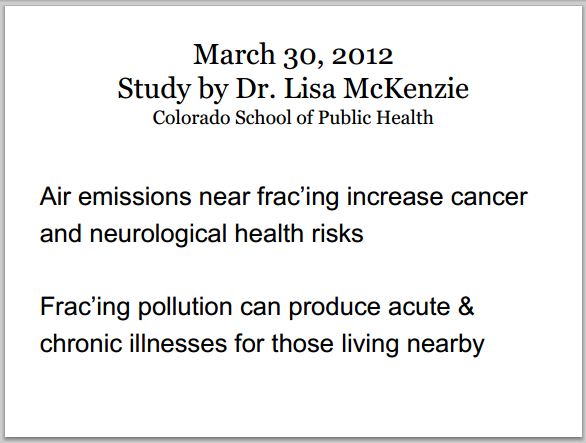 "I think the people have spoken." …
"It's not just a few little wells, they need to frac a lot" …
"I will sleep well at night, knowing that I spoke up."
2011: Chesapeake Energy Issued Record Gas Drilling Fine For Water Contamination In Pennsylvania