For leading Encana to illegally and intentionally frac into a community's drinking water supply (injecting 18 million litres of frac fluid), as CEO, Gwyn Morgan (currently on the Board of the heinous lying Fraser Institute, previously head honcho of the law-violating SNC Lavalin), needs to be stripped of his Order of Canada too.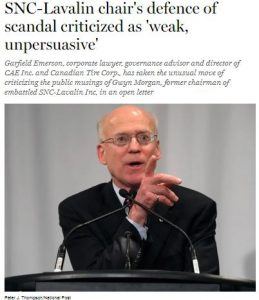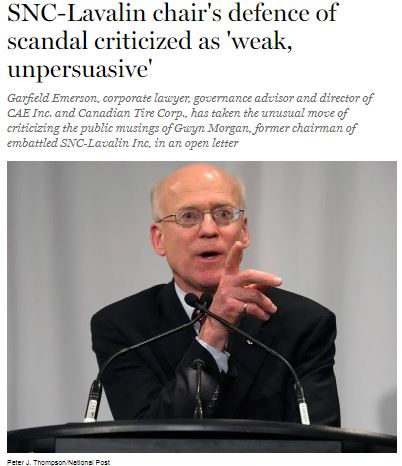 Louis LaPierre stripped of Order of Canada, Former head of New Brunswick Energy Institute misrepresented his academic credentials by CBC News, June 13, 2014
Louis LaPierre has been stripped of the Order of Canada. The former head of the New Brunswick Energy Institute resigned last year, after he admitted he had misrepresented his academic credentials. "Notice is hereby given that, further to his own request and the Governor General's subsequent approval, the following appointment to the Order of Canada has been terminated: Louis LaPierre," a notice in the Canada Gazette issued on Friday states.
Only six other people have ever been removed from the Order of Canada, which is Canada's highest civilian honour and is awarded by the Governor General to recognize significant achievements and remarkable service. A seventh resigned his appointment. Most of those who have been stripped of the Order have been people convicted of a criminal offence. Governor General David Johnston approved LaPierre's termination on May 16, according to the Gazette.
Claimed to hold PhD in ecology
LaPierre, a former professor emeritus at the University of Moncton, had served as an adviser to various federal and provincial panels over the years, including the Energy Institute, which was formed to study [and deceptively promote] shale gas development in New Brunswick. His biography said he had a doctorate in ecology from the University of Maine, but it turned out to be a doctorate in education from Walden University in Minnesota.
LaPierre resigned from the various positions he held on Sept. 18, 2013, two weeks after Radio-Canada raised questions about his academic credentials. The Governor General's office had declined to discuss LaPierre's case at that time, citing privacy reasons.
A member of the Order of Canada had argued last fall that LaPierre should be removed from the Order for his "very, very serious breach of trust." Paul Gendreau, a professor emeritus at the University of New Brunswick in Saint John, who was honoured with the award in 2007, told CBC News he planned to write to the Governor General to express his concerns.
The rules for the award indicate that any member of the public can complain if they feel that a member of the Order of Canada has conducted themselves in a way to undermine the credibility or integrity of the Order.
The Alward government has maintained LaPierre's credentials controversy did not taint the work he did on the shale gas file. Science was never part of LaPierre's job on shale gas, officials said. [What the frac is that supposed to mean?  Officials, industry, and regulators across Canada state it's all about science!]

Prominent industrialist James K. Irving had also stepped forward in defence of LaPierre through a letter to the editor printed in the Irving-owned New Brunswick Telegraph-Journal and Moncton Times & Transcript. "While I understand the disappointment, I firmly believe the measure of this man is more than his academic credentials," Irving stated in the letter "I have known Dr. Louis for almost 25 years. He is a person who has consistently cared about New Brunswick, Acadie, and yes, the environment." [Working under cover of deception and lies is good measure of a man?]
…
Those who have been removed from the Order of Canada are:
Conrad Black (2014).
Garth Drabinsky (2012).
Steve Fonyo (2009).
T. Sher Singh (2009).
David Ahenakew (2005).
Alan Eagleson (1999).
Dr. Bernard Norman Barwin, an Ottawa doctor, resigned his appointment last year over professional misconduct. [Emphasis added]
[Refer also to:
Order of Canada winner, head of NB Energy Institute and promoter of frac'ing, Louis LaPierre, lied about Ph.D and M.Sc.
Liberals slam environmental funding of New Brunswick shale gas study, MLA Chris Collins says pitched idea not what trust fund is for
May 22, 2006: Eminently Unsuitable Nikiforuk on Gwyn Morgan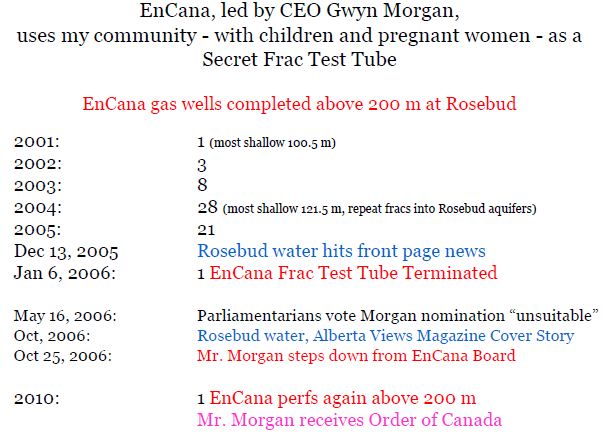 Slide from Ernst Presentations