Prof Dan Shugar@WaterSHEDLab Jun 1:
Over the past 48 hrs in Alberta, we've had the announcement of new 1.4 GW solar installation and the elimination of 1500 jobs from an oil and gas company. The writing is on the wall. We need to do better at transitioning our economy and workforce to the reality of what's coming.
Countries now get it:
cut energy bills, improve health and fight climate change in one go. Fast, faster.
Aidan Theroux@aidan_theroux Jun 2:
Ottawa is not cutting O&G jobs. O&G companies are cutting O&G jobs. Suncor waited until after the election to announce this, so now they get to enjoy the UCP's tax handouts while employing less Albertans. It's a win for the execs and big shareholders. A loss for everyone else.
Oil Sands Major To Slash 1,500 Jobs by Charles Kennedy, Jun 02, 2023, Oilprice
Suncor, the Canadian oil sands major, will cut 1,500 jobs this year as it seeks to turn its financial fortunes.

Fucking insane greed. The company was/is making $billions but $billions are not enough. They want it all. Now. Instant riches, forever.

A spokesperson for the company said the cuts will affect both employees and contractors, Bloomberg reported. Employees were informed about the cuts

by email!!!! Cowardly and cruel like my ex lead lawyer Murray Klippenstein and his expensive lawyer-in-training side kick, Cory Wanless, quitting my case after more than a decade and nearly half a $million spent

, the spokesperson also said.
With the job cuts, Suncor would be able to slash costs by some $400 million, according to the company's new chief executive, Rich Kruger, as cited by CBC News.
"Staffing reductions will occur at all levels of the organization and will be based on both performance and business need. As we do this, we will eliminate work, critically looking at what we do, why we do it, how we do it and the value

for the rich, while further escalating our devastating pollution and harms that spread globally

it adds," Kruger said in a message to employees cited in the CBC report on the news.
According to company data cited by CBC, Suncor had 16,558 employees as of the end of 2022, which was down from 16,922 a year earlier.
Bloomberg noted in its report that Suncor has been under pressure from shareholders to improve its financial performance and share price.

but never improve clean up or prevention of pollution and devastation. Workers get slashed, next up to the guillotine include worker safety of those remaining, neighbouring communities and the environment.

Suncor's latest quarterly financial report showed higher earnings than expected by analysts but much lower on an annual basis.
Rich Kruger took the helm of Suncor in early April and promised to streamline the oil sands operator's business into a "simpler and more focused organization".

Like this?: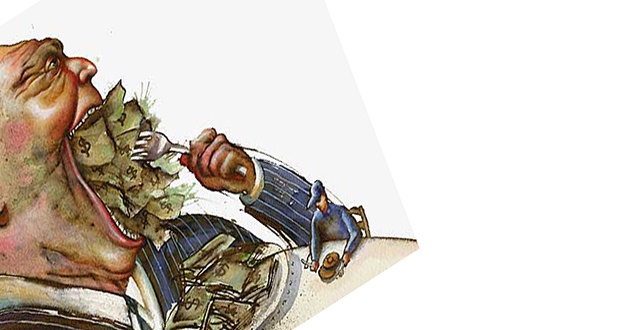 At the same time, however, the company is expanding, production-wise. Earlier this year, Suncor struck a deal with French supermajor TotalEnergies to acquire its entire Canadian oil sands portfolio for over $4 billion as demand for oil encourages production expansion.
In further evidence of the strength of that demand, ConocoPhillips refused to waive its right of first refusal on one of Total's oil sands projects and instead used it to acquire the whole operation in Surmont.

Compare to another greed-rotted corporate example, they're everywhere, especially in Caveman Canada:
Cenovus (Encana/Ovintiv spawn): Taking COVID relief to keep workers working, greedily and cruelly laying off thousands instead.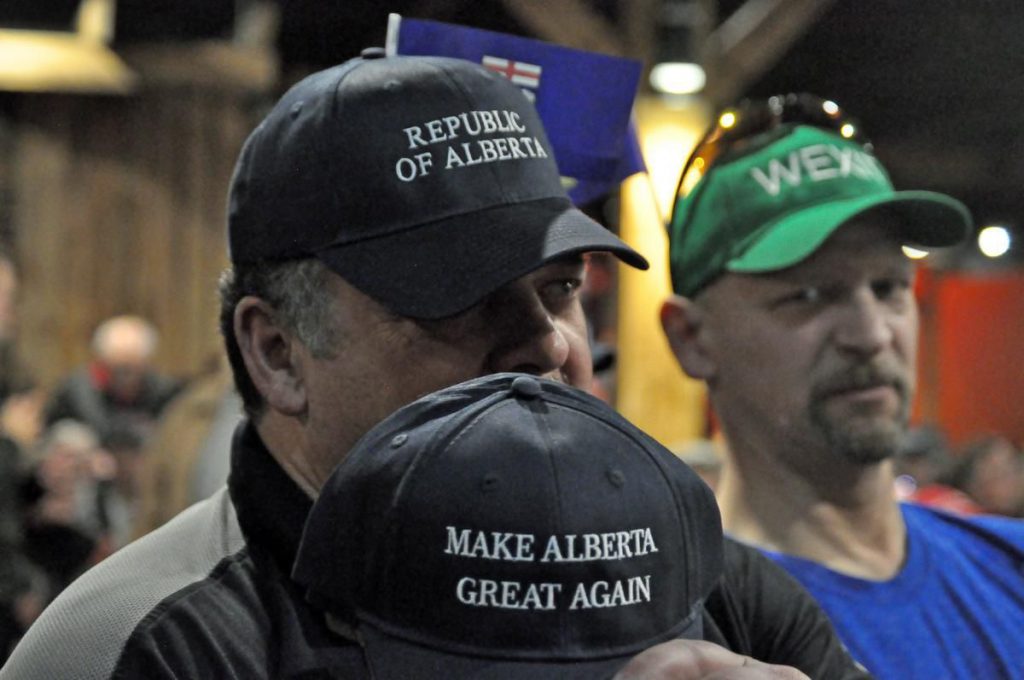 Of course, it's Trudeau's fault, holler Pierre Pepperhead, Jason Kenney, Danielle Smith, etc. and their con Klan to enrage Canada's Republican ignorant greedy fossil fool base.

MP Rempel Garner June 2, 2023:
"Instead, Justin Trudeau seems to be content to put Alberta energy workers out of work, while cutting the world off from a stable supply of sustainably and humanely produced energy."

Roaring laughter! There's nothing sustainable or humane about Canada's rape & pillage tarsands mining or SAGD.

infinite chimps (he/him)@SoupVessel Jun 2:
Is she capable of explaining how private layoffs in an industry that's actively cutting jobs because of automation is the fault of the federal government? Like, any attempt to connect those dots anywhere?
Marcel Schoenhardt@mschoenhardt Jun 2:
Can they just ONCE lay blame for cutting jobs on the greedy company who wasn't content with $27B in gross profit and had to fire 1,500 people so their profits go even higher? The sooner people realize O&G companies don't care about workers, only money, the better.
Ian Phillipchuk@protagorist Jun 2:
Damn you Suncor CEO checks notes Justin Trudeau.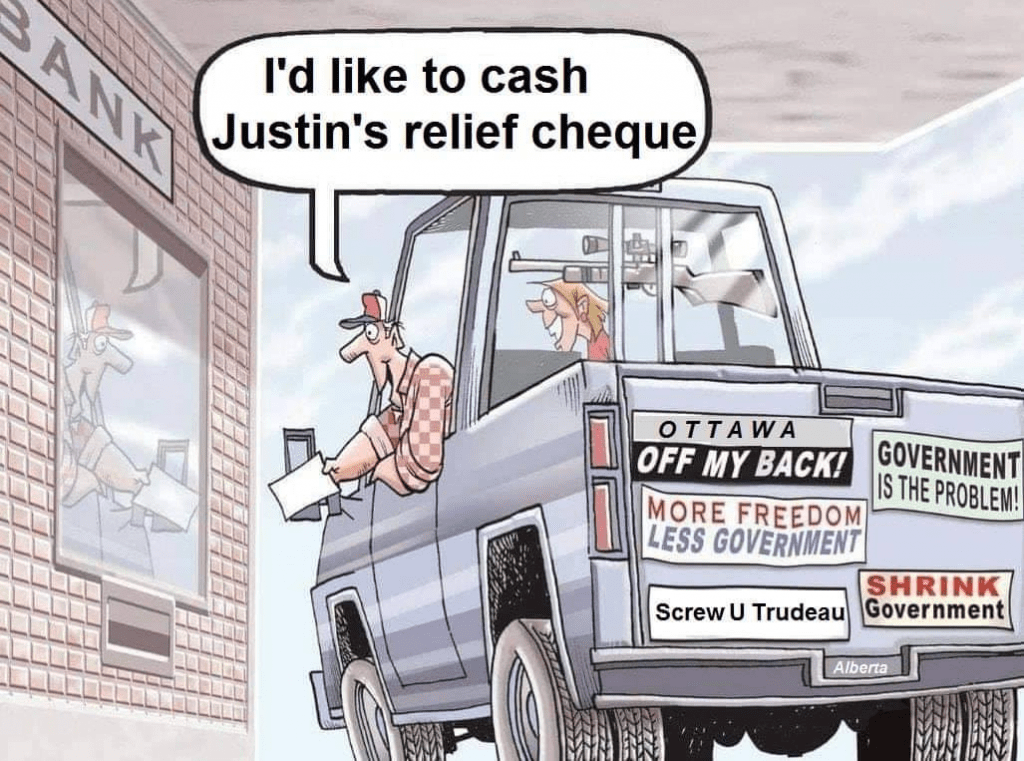 Vile: Job killers Ovintiv (American, previously Encana) and Cenovus (previously Encana) get pandemic relief, Canada Emergency Wage Subsidy
Greedy Sods in Alberta Beg Trudeau for Half a Billion Dollars to Clean Up Oil's Dirty Underware but Not One Penny to Help Frac'd Families & Fix Frac'd Aquifers
Calgary-based Cenovus Energy to lay off upward of 2,000 workers
Cenovus Energy sells royalty lands for $3.3 billion in cash after illegally fracturing Rosebud's drinking water aquifers (then Encana), and getting away with it
"Poor" Cenovus (Encana spawn) buying most of ConocoPhillips Canadian Assets for $17.7 Billion
etc.
etc.
etc.

Think mostly foreign-owned multinationals give a shit about a livable planet; you; your job; your 3 hungry kids; global vanishing food and water supply; raging out of control wildfires getting bigger and more frequent; devastating floods and hotter and hotter heat domes; polluted air, ocean, land, night sky and space; beauty, wildlife, song birds, fish, etc. decimated by corporate greed?
Of course not.

Bankruptcy plan to let Cenovus/Husky "legally" escape clean-up, aided by taxpayer-funded courts? Cenovus (Encana spawn), buys Husky for $23.6 Billion, "including debt" (financed by Canada Pension Plan and AIMCo?); Will kill jobs Kenney promised would increase when he gave industry $Billions in tax breaks, mega corporate welfare, tax super holiday and citizen-financed propaganda (war room and Steve Allen's witch hunt).
Kenney's $4.5 billion in corporate tax cuts obviously not enough to feed the greed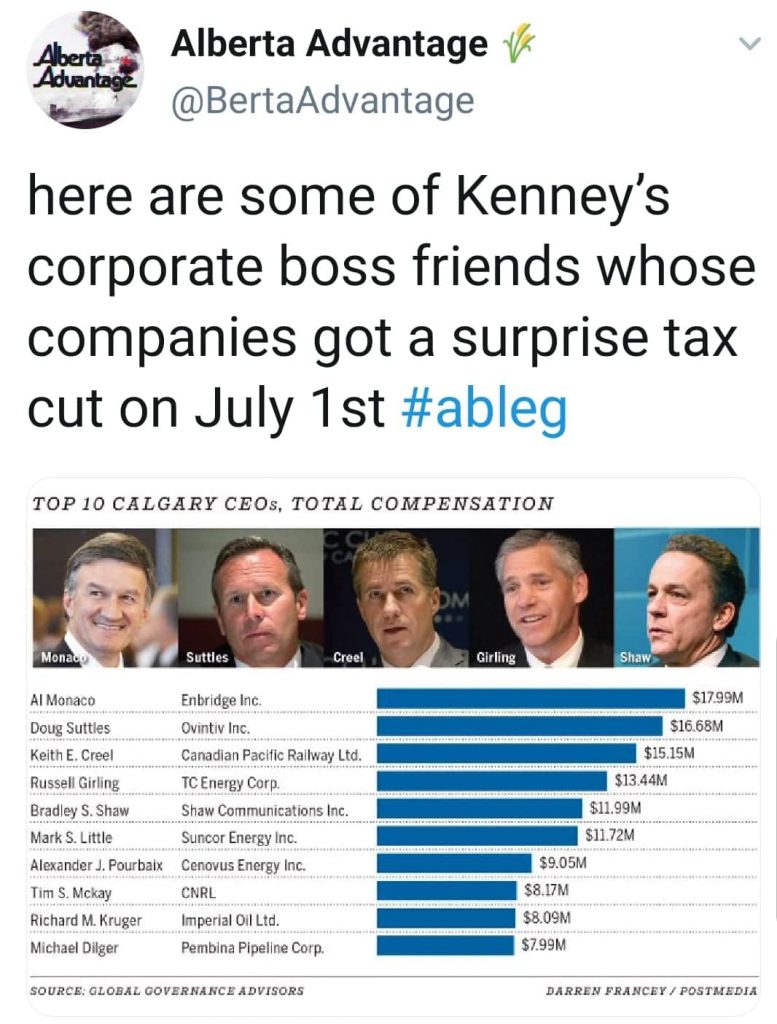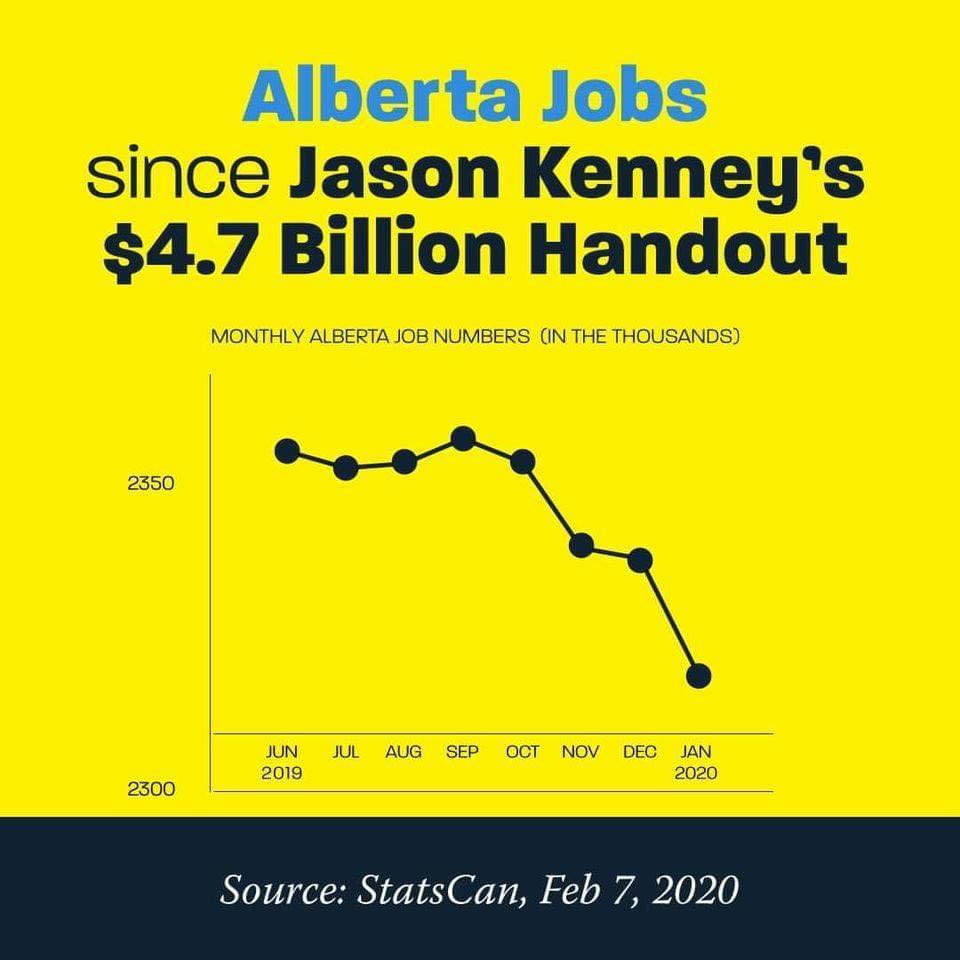 Jason Kenney gives multi-billion dollar profiting companies a taxpayer-funded war room to abuse citizens concerned about industry's rampant life-threatening pollution: Suncor tarsands revenue up from $11.2 to $12 billion between 2017 and 2018 when companies whined about how hard it was to operate in Canada; CNRL boosted its revenue from $7.1 to $11.5 billion
In Texas, energy companies cut nearly 6,000 jobs over past four months. In western Canada, Husky cutting hundreds of jobs, most cuts in Calgary. Kenney's $4.5 billion in corporate tax cuts obviously not enough to feed the greed.
Kenney goes a beggin' to Trudeau (while blaming him for Alberta's decades of oil patch mismangement) for mega cash & tax cuts to give yet more $billions in corporate welfare to billion dollar profit raping oil patch; Kenney & CAPP want Canadians (and their heirs and their heirs and their heirs, etc.) to be forced to pay for oil & gas industry's rape & pillage & pollution of Alberta.
Encana/Ovintiv Greedy Frac'ing Bloodbath Continues, Kills More Jobs After Promising Not To.
Canada, the world's stupidest "petro" (fascist) state: Oil giants pay billions less tax in Canada than abroad
Will Albertans ever learn? Canada's biggest oil producers, including Cenovus, hoarding near-record pile of cash
Fossil fuel companies are job killers (and contaminate families, health, security, food, water, air, land, food and communities)
"Kenney the job killer." Lyin' thugs Steve Harper, Jason Kenney & Ralph Klein, etc. etc. etc., decimatin' jobs, pensions, regulations, health & education to give $Billions to $Billion-profiting oil & gas companies (mostly foreign-owned), while hangin' Canadians with pollution, infrastructure devastation, clean-up & health harms.
Analyzing Alberta's "gooey delusion of perpetual oil revenue." Robyn Allen: Globe and Mail columnist Robyn Urback sends wrong message characterizing Albertans as helplessly bullied, "Jobs are disappearing because oil producers have accelerated their strategy of displacing workers with technology." … "Big Oil seems to have decided Alberta's males are disposable."
"Global oil and gas industry is automating and digitizing heavily to cut costs." Around 7,000 fewer workers on Alberta oil and gas drilling rigs compared to 2018: ATB Financial
Jason Kenney's (CAPP et al's) War Room swamped by fightin' mad Albertans falling for lies & propaganda instead of looking honestly at industry's greed-induced "de-manning" (aka automation) killing jobs & causing their suffering