Tells us all we need to know:
Frac Company Trican Donates $5 Million to Fight Childhood Cancer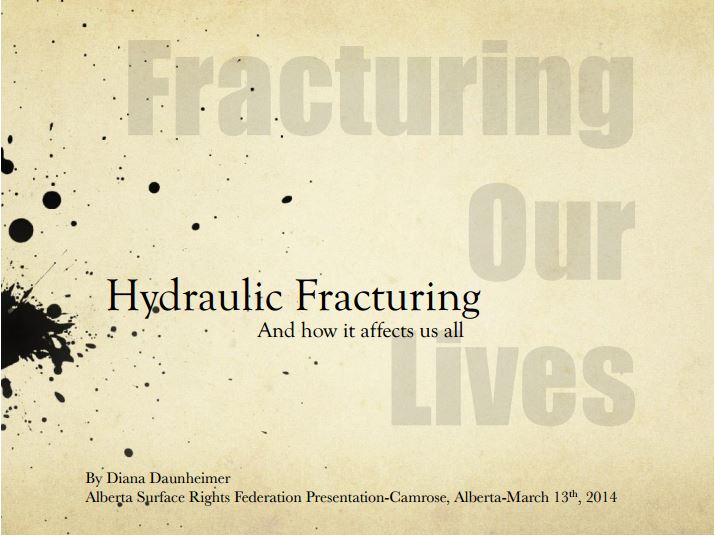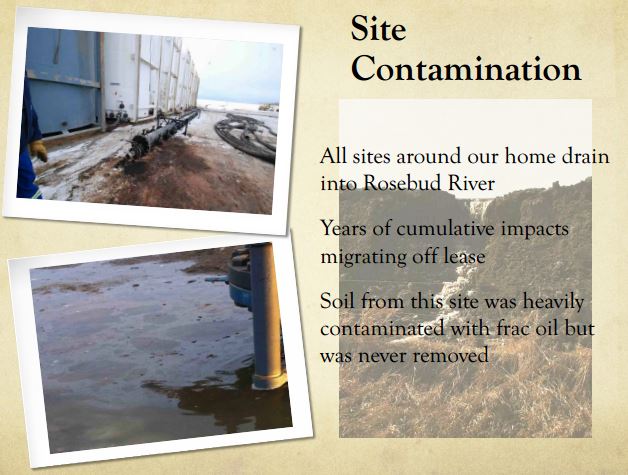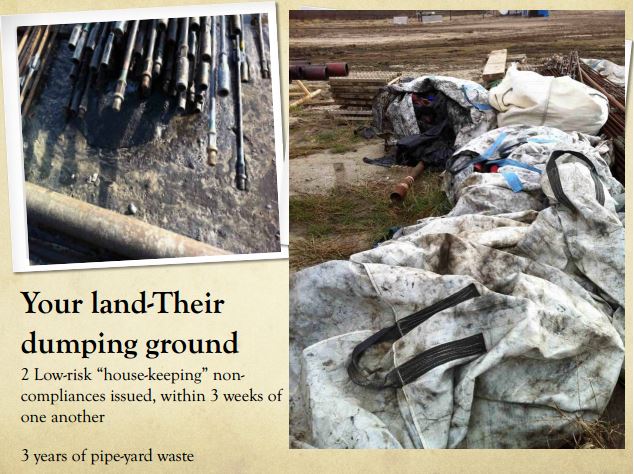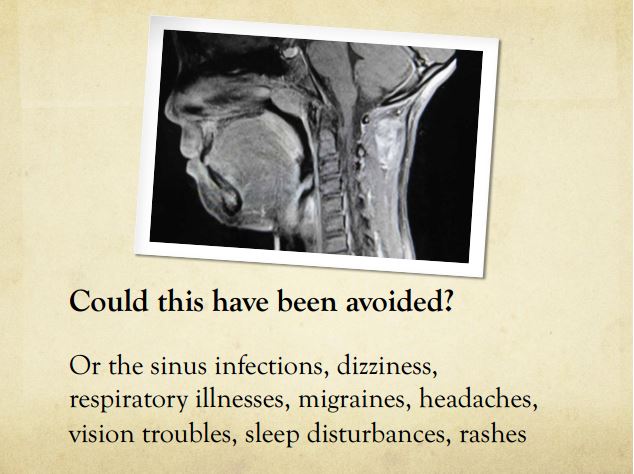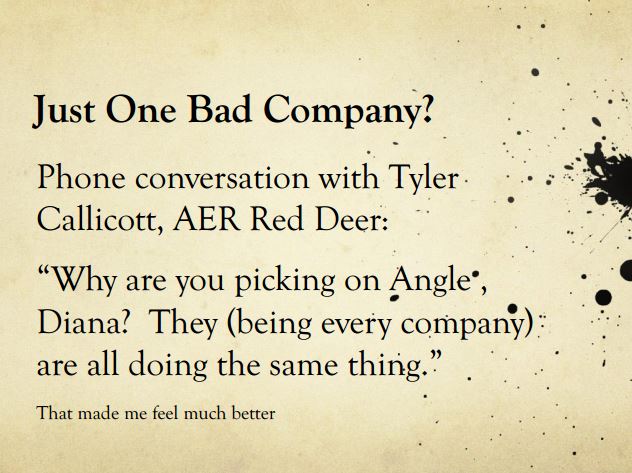 Frack and Ruin: the rise of Hydraulic Fracturing; Inflammable tap water, cancer threats and earthquakes: probably coming soon, near you
Hormone-disrupting chemicals found in ground and surface water at fracking sites, Peer reviewed study of fracking sites in Garfield County Colorado finds chemicals linked to infertility, birth defects and cancer
Promised Frac Prosperity for All? Albertans (frac'd more than anywhere else in Canada) face longer wait times for cancer surgery that rank among worst in Canada, report says
Alberta's tar sands leading source of air pollution in North America, Tens of thousands of people living within reach breathing elevated levels of fine particles linked in previous studies to lung cancer, cardiovascular disease, diabetes
Washington County family members tell state to 'fix' their cancer study by Reid Frazier, Oct 8, 2019, State Impact PA
The families of several people diagnosed with a rare form of bone cancer in one Washington County School District told state health officials to update their data at a public hearing Monday night.
They were angered by the state's report that there was no cancer cluster in the district, and urged the state to look more closely at whether pollution from the region's natural gas industry may be playing a role in a number of recent cases.
"My brother's dead — someone up here has got to speak the truth," Carla Marrato Cumming told the health officials.
Marrato Cumming's brother Luke Blanock died in 2016 of Ewing sarcoma.
She said the department should study whether pollutants from fracking in Washington County had anything to do with the recent cases.
"In the last couple years, fracking is what's come around this area, not only Washington county, but Westmoreland and Greene, and Fayette," she said.
The disease afflicts 250 people a year in the U.S. and has no known environmental causes.
Blanock's is one of six known cases of the disease in the past decade in the Canon-McMillan School District.
But three of them weren't tallied in the Department of Health study. In one case, a patient's address was misidentified, and two new cases from 2018 weren't included in the data the state used.
State Department of Health officials explain a cancer study to Washington County residents.
Alison Cobb told the officials they need to include the case of her husband David, who was diagnosed with Ewing sarcoma last year.
"Until this is fixed, we get a clean report on environment and you're including all the patients…I don't think we're backing down," she said. "You guys have to come to the table and do your jobs protecting our health, protecting our children's health."
Sharon Watkins, the state's chief epidemiologist, said the state's findings could change next year, when the 2018 data is added.
But right now, she said there's no proof a cancer cluster exists.
"We're not quite there yet," Watkins said. "We may be (there) with 2018 data. [By excluding cases! That's some mighty frac'd science!] (But) I still won't know why there is an increase."
Watkins said even if the state were to find a cancer cluster, determining a cause is exceedingly difficult.
A number of environmental groups urged the state to put a halt to fracking while the state studies the recent cases.
State Rep. Tim O'Neal (R-Washington County) said he didn't think that was a good idea.
"I certainly don't think there's any evidence out there right now that we need to take a drastic step to ban an industry that has driven significant growth, economic prosperity throughout our region," O'Neal said. "Let's face it — at this point in Washington County, thousands of people are employed by the industry. Banning that overnight would eliminate thousands of jobs."
O'Neal said there was "no evidence we're aware of that directly links this to fracking," though he agreed that "there's certainly a coincidence" between when fracking began in Washington County and the Ewing's cases.
Marcellus Shale coalition president Dave Spigelmyer said in an emailed statement, "(O)ur industry empathizes with those battling cancer. We fully support and appreciate the work of independent medical experts and public health professionals who share our commitment to promoting science-based analysis of these very serious matters."
O'Neal and Rep. Jason Ortitay (R-Washington County) helped secure a $100,000 grant for UPMC to study the genetics of Ewing's patients, but the study does not look at environmental causes.
The health department's report found that between 2005 and 2017, rates of Ewing sarcoma were three times higher than expected in the school district, which includes a former radium and uranium plant in Canonsburg. The old Standard Chemical Company site, where more than 200,000 tons of contaminated waste are buried, has polluted groundwater nearby and is monitored by the Department of Energy.
Canon-McMillan is also in one of the busiest natural gas areas in the state. More than 1,800 deep shale gas wells have been drilled and fracked in Washington County, the most of any county in the state. A network of pipelines, compressor stations, and processing plants has sprung up to handle that gas.
Concerns below by Cathy Lodge, Bulger, PA, Robinson Township in Washington County, near McDonald, Pa.
In light of the recent rising cases of Ewing Sarcoma in the youth of this area, is this plant a good thing for the region? Robinson Township is faced with a new proposal. Beech Hollow Energy wants to build a 1000 megawatt natural gas power plant here.
With so much Marcellus develop in the area and two massive cryogenic plants two miles away in Smith Township, do we really need a gas power plant to add to the pollution? Not only would this plant bring our area more pollution causing a health risk, we may all see a decrease in our property values.
Members of the Robinson Township Board of Supervisors and Planning Commission are making money off this project with easements for the applicant's pipeline pathway. In addition to an easement, supervisor Roger Kendall's land will be used for construction of Dew Point Heaters to increase the heat capacity for the plant. How can these boards approve a massive project for the township when they have a vested interest in it?
Comment by Bob D to the article below:
The high school is 5 miles downwind of the first Marcellus shale well fracked 15 years ago, the first of a growing gas patch of wells and compressors stations in NW Washington County, all upwind of the school. Add to that the biggest source of pollution, a huge cryogenic gas plant just 3 miles upwind of the school. Then you have the Arden Landfill 5 miles to the southwest, which takes radioactive fracking waste and sends the hot leachate to the sewer plant by the fairgrounds for discharge into Chartiers Creek, which runs through Canonsburg not far from the school.
So pick your poison, from BTEX's to secret frac chemicals to water soluble radioactive waste to endocrine disruptors, and you will find that area is in the bullseye of fracking pollution.
Is pollution causing childhood cancers in Canon-McMillan? by David Templeton and Don Hopey, Oct 7, 2019, Pittsburgh Post-Gazette
Environmental organizations on Monday called for studies to determine whether environmental exposures may have caused multiple cases of Ewing sarcoma and other cancers among children and young adults in the Canon-McMillan School District in Washington County.
They presented their concerns at a press conference held prior to a Department of Health meeting at the Canon-McMillan High School.
Sara Rankin of the Southwestern Pennsylvania Environmental Health Project said the organization "heard loud and clear from residents" during a public meeting in June "that they want to know if something in their environment is contributing to these high rates of cancer."
"Currently, neither we nor the Department Health can definitely answer that question," she said just before a meeting during which the Health Department explained why six cases of Ewing sarcoma, a rare childhood bone cancer, don't constitute as a cluster.
"What we do know is that southwest Pennsylvania has been inundated by shale gas development, an industry that emits 55 compounds which are either known, probable, or possible carcinogens into our environment," she said, adding that no level of exposure to carcinogens is considered safe.
The news conference also included the Better Path Coalition, which advocates for clean, renewable energy; Food & Water Action focused on food, water and climate change problems; and Physicians for Social Responsibility-Philadelphia.
"There is now abundant scientific evidence showing that shale gas development ('fracking') harms the health of people by polluting the air they breathe and the water they drink with fumes and chemicals known to be toxic to humans," said Dr. Ned Keyter, a retired pediatrician from Peters and member of the physicians organization. The sixth edition of its compendium last spring found that 84% of more than 1,700 peer-reviewed scientific studies and reports "reveal the enormous damage being done to the health of Pennsylvania residents and communities."
"It is now clear that more than enough scientific medical information exists for Gov. [Tom] Wolf and Health Secretary [Rachel] Levine to take precautionary measures protecting public health by calling for a halt on shale gas extraction in Pennsylvania until a thorough, unbiased and transparent investigation is completed on the high rates of rare childhood cancers, including Ewing sarcoma," he said.
The Marcellus Shale Coalition has said that no study directly links shale gas operations with 10 mostly rare cancers affecting 10 preschoolers and students in the Canon-McMillan School District, Washington County, including one death.
David Templeton: email hidden; JavaScript is required or 412-263-1578. Twitter: @templetoons. Don Hopey: email hidden; JavaScript is required or 412-263-1983. Twitter: @donhopey.
Refer also to:
Human Health Risk Assessment of Air Emissions from Development of Unconventional Natural Gas Resources by Lisa M. McKenzie et al, Colorado School of Public Health, University of Colorado, March 19, 2012.
Results: Residents living ≤ ½ mile from wells are at greater risk for health effects from NGD than are residents living > ½ mile from wells. Subchronic exposures to air pollutants during well completion activities present the greatest potential for health effects. The subchronic non-cancer hazard index (HI) of 5 for residents ≤ ½ mile from wells was driven primarily by exposure to trimethylbenzenes, xylenes, and aliphatic hydrocarbons. Chronic HIs were 1 and 0.4. for residents ≤ ½ mile from wells and > ½ mile from wells, respectively. Cumulative cancer risks were 10 in a million and 6 in a million for residents living ≤ ½ mile and > ½ mile from wells, respectively, with benzene as the major contributor to the risk.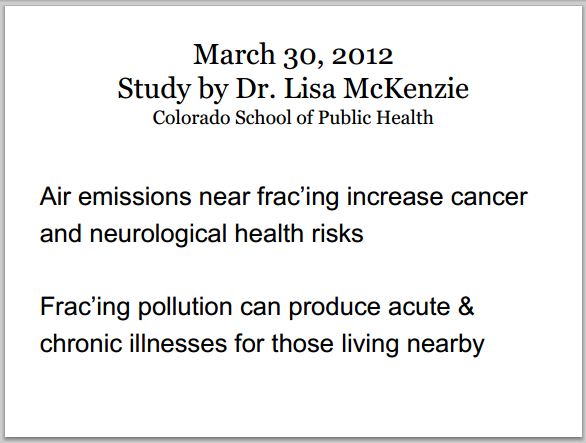 First Study of Its Kind Detects 44 Hazardous Air Pollutants at Gas Drilling Sites, With gas wells in some states being drilled near schools and homes, scientists see a need for better chemical disclosure laws and follow-up research
Methylene chloride, a toxic solvent not reported in products used in drilling or hydraulic fracturing, was detected 73% of the time; several times in high concentrations.
2012: An exploratory study of air quality near natural gas operations
2010: Natural Gas Operations from a Public Health Perspective
For many years, drillers have insisted that they do not use toxic chemicals to drill for gas, only guar gum, mud, and sand. While much attention is being given to chemicals used during fracking, our findings indicate that drilling chemicals can be equally, if not more dangerous.
***
This post is for the frac'd children of Pennsylvania, with special thanks to Bob Donnan.