Greene leads state in child cancer admissions, report states by Rick Shrum, Oct 1, 2019, Greene County Messenger
All cancer diagnoses are daunting, but they are especially horrific when the disease is detected in children. And, according to a report released today, that is happening frequently in the state.
The Pennsylvania Health Care Cost Containment Council found that, over a three-year period (2016-18), 8,827 Pennsylvanians age 17 and under were hospitalized with a cancer diagnosis. That translates into an average of eight children per day.
PHC4 also compiled specific numbers and rates for counties, and Greene had the highest rate in the state over those three years – 76.0 cases per 10,000 children. (The Greene County Department of Human Services did not return telephone calls seeking comment.)
Washington County (47.8), where a higher-than-expected incidence of Ewing's sarcoma has been reported, ranked 13th with 47.8 cancer cases per 10,000 residents 17 and under. (Pennsylvania children treated for cancer at out-of-state hospitals were not included.)
Fayette (35.3), Allegheny (34.4) and Westmoreland (37.8) had rates comparable with one another. PHC4 listed figures for 62 of the state's 67 counties; they were not compiled for the other five because of low volume.
PHC4 is an independent state agency that collects, analyzes and reports on the cost and quality of health care in Pennsylvania.
This is Childhood Cancer Awareness Month, and Joe Martin, PHC4's executive director, said releasing the information now "helps to raise awareness on how Pennsylvania children are affected by cancer. Examining cancer-related issues is always sobering, but particularly so for this age group."
Although it has the highest rate over the study period, Greene had a comparatively low number of children cancer cases, 55. More densely populated Washington had 194 cases; Westmoreland had 241; Fayette had 87; and Allegheny had 796, second most in the state behind Philadelphia (1,206).
Perry County, at 71.0, had the second-highest rate of cancer-related hospitalizations. Among Western Pennsylvania counties, Somerset (59.1) was third, Lawrence (51.5) was eighth and Bedford (49.8) was 10th. Pike (11.1) had the lowest figure statewide.
Other highlights of the study:
n There were 3,035 admissions in 2016, 2,840 in 2017 and 2,952 in 2018.
n At 31.7%, leukemias comprised the largest percentage of child cancer cases. (There were 2,794 overall.)
n More than 60% of children admitted were 9 and under (about 37% were under 5; 24% were 5 to 9).
n Percentage-wise, children under 10 were more likely to be admitted for leukemias; secondary (metastatic) cancer; brain and nervous system; digestive system; and kidney and urinary tract. Those 10 to 17 had higher hospitalization rates for bone, connective tissue and skin; Non-Hodgkin's Lymphoma; and Hodgkin's Disease.
****
Greene County has had some memorable toxic frac polluting events:
DUNKARD CREEK
VIDEO: Photos of the Fall 2009 fish kill in Dunkard Creek. Somewhere between 22,000 to 65,000 fish died, and 14 species of freshwater mussels were completely destroyed. Nearly every aquatic species along a 35-mile stretch of Dunkard Creek was wiped out. Was it Marcellus Shale drilling activities that were to blame? Many local residents believe so. The combination of water withdrawals, the introduction of golden algae, and the drilling wastewater dumping that took place at the Morris Run borehole could have easily combined to create the perfect storm — creating one
of the worst ecological disasters in the region's history. A wastewater hauler was later convicted of dumping gas drilling wastewater over a multi-county area, but he got lenient treatment from the judge, and the Pennsylvania's DA's office effort to stiffen his punishment was denied.
Chevron Appalachia LANCO 7H Well Explosion & Fire
VIDEO: Chevron Appalachia LANCO 7H well explosion and fire happened at dawn Tuesday February 11, 2014
In this video we see the well pad 5 days later, as Wild Well Control prepares to snuff the well after a few more days. One workman was killed.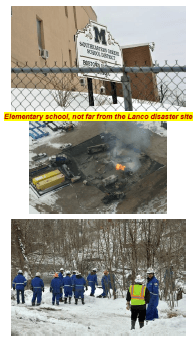 Neighboring residents were given coupons for a Free, special combo Pizza and 2-liter soda for their "inconvenience."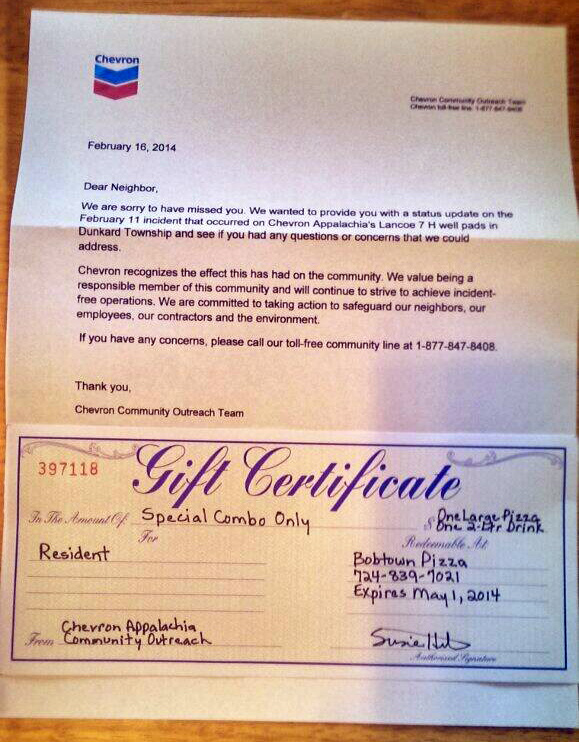 Refer also to: