Ineos launching legal challenge against SNP fracking ban, CHEMICALS giant Ineos is launching a legal challenge against the SNP's fracking ban amid claims the move is "unlawful" and a "misuse of ministerial power" by Tom Martin, January 9, 2018, express.co.uk
…
Mr Wheelhouse said: "We have taken a careful and considered approach to arriving at our preferred policy on unconventional oil and gas in Scotland.
"The Scottish Government's position was endorsed by the Scottish Parliament in October, subject to completion of a strategic environmental assessment, and follows detailed assessment of the evidence and consultation with the public." [Emphasis added]
Energy group Ineos to challenge Scotland's ban on fracking by Elisabeth O'Leary, January 9, 2018, Reuters
EDINBURGH (Reuters) – Energy group Ineos has applied to launch a legal challenge to the Scottish government's ban on onshore unconventional oil and gas development in Scotland, known as "fracking", arguing the ban was imposed unlawfully.
Scotland decided to outlaw fracking in October after a public consultation found overwhelming opposition to it. [But, the gov't only said they are outlawing fracking, they haven't actually done it yet, so why the lawsuit by Ineos? To scare the government into not legislating to outlaw frac'ing?]
However, Ineos said that decision flew in the face of other expert reports conducted several years earlier [before the masses of research papers were peer-reviewed and published showing endless harms] which concluded that shale gas could be produced safely and has applied for a judicial review.
The application will be heard at the Court of Session, Scotland's supreme civil court, and the company expects a decision on whether there is a case to be heard within a couple of months, INEOS Shale operations director Tom Pickering told Reuters. [Companies get legal action instantly; citizens harmed by frac'ing are made to wait ridiculously and rudely long times, by the system and judges]
"We've invested money within the petroleum license regime (…) with planning permissions in place, and all of the (investment) backdrop was supportive," he said. "The first point is to understand whether or not the decision is lawful, and once we understand that, we can consider any compensation." [There's no legislation banning frac'ing in Scotland. What's the court going to review?]
Ineos called the ban on fracking "a major blow to Scottish science and its engineering industry," [The company, and others, better get used to it, as more and more science and engineering is finding expensive damages, and serious pollution, harms and risks caused by frac'ing]
It said it had concerns about the legitimacy of the ban and alleged serious errors in the decision-making process, adding there had been a failure to adhere to proper statutory process and a misuse of ministerial power.
Scotland imposed a moratorium on fracking, the process of fracturing underground shale rock to release gas and oil, in 2015. That decision was extended last autumn after a large survey of public opinion, in which 60,000 people took part, found 99 percent opposed fracking. [Extending a moratorium is not the same as legislating a ban. It will be interesting to see how the court fiddles this one]
However expert opinion consulted as part of the government's report also found that the regulatory framework was "largely in place" to control the potential environmental impacts.
Ineos said that, having attracted investment for fracking, the ban would mean the Scottish government had to compensate the companies concerned.
"If Scotland wants to continue to be considered as a serious place to do business, then it cannot simply remove the policy support that attracted that investment in the first place without proper procedures being followed and without the offer of appropriate financial compensation," Pickering said.
Scottish government energy minister Paul Wheelhouse, said:
"We have taken a careful and considered approach to arriving at our preferred policy on unconventional oil and gas in Scotland." [Emphasis added]
[Refer also to:
2017 08 19: Scotland Frac Consultation: Nearly 90% of respondents want frac ban. 95% agreed fracking poses "too many risks relating to pollution of the earth, water and air, and increased seismic activity", only 4% disagreed
2016 11 19: Compendium 4.0 Released, More than 900 Studies Showing Overwhelming Harms Caused by Unconventional Oil & Gas Development. Doctors Call for Halt to Fracking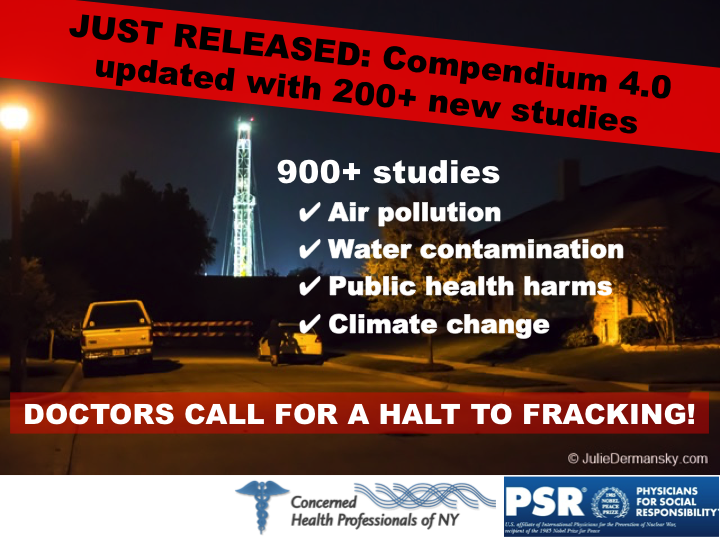 2015 10 13: Frac Trickery & Loopholes in Scotland: Thousands joined hands in stand against test drilling announced by govt one day after govt announced moratorium ]