Thousands line bridge in protest after gas drilling test go-ahead by Stefan Schmid, October 12, 2015, The National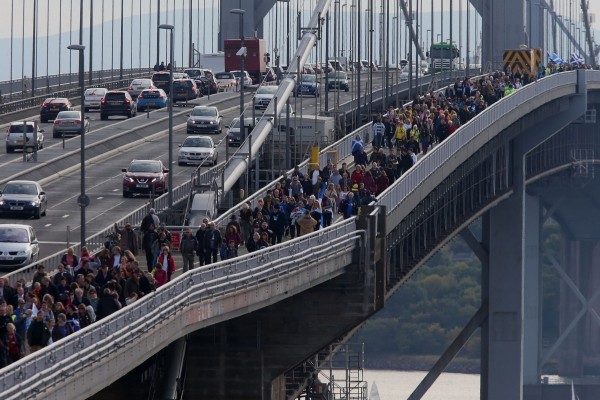 Though the Scottish Government announced a moratorium on UCG but it was announced a day later that test drilling would be allowed to take place
Thousands of people joined hands along the Forth Road Bridge yesterday to take a stand against new gas-drilling tactics in Scotland.
Joining hands from one side of the two-and-a-half kilometre bridge to the other, protesters from all over Scotland and further afield gathered to form the human chain, as car horns tooted in support and a bagpiper played.
Signs with messages such as Don't Drill Our Land and "Dinnae dae it Nicola, it's no worth it," were held aloft at both ends of the bridge, before protesters braved the winds howling down the river.
The protest was held in opposition to the practice of Underground Coal Gasification (UCG), using chemicals pumped into coal seams to extract gas, that has been proposed in the area.
Although the Scottish Government had announced a moratorium on the drilling just last week, it was announced a day later that test drilling would be allowed to take place, something organisers said drove people back into action.
Bus-loads of people had also travelled from northern England to show solidarity with the demonstrators, including the Knitting Nanas from Lancashire and a Green Party group from Sunderland, who joined the locals on the bridge. Support came from the road as well, with hundreds of cars beeping their horns and shouting supportive messages.
The group Bikers for Independence couldn't resist joining in, their engines roaring as they rode their bikes past the thousands gathered.
The demo also reached activists on the other side of the world. In the Australian island of Tasmania, a group of locals from a town called Forth lined a much smaller bridge, flying banners in support of the protest.
Juliana Muir, an organiser with the group Our Forth Portobello, who were heavily involved in organising yesterday's event, said it was "fantastic" to see support from so many people, but said that the struggle is only just beginning.
"This is a social movement. People aren't waiting for permission to act and to get the message out there that these industries aren't wanted," Muir said.
"We don't need to do test drilling to tell us things that communities all over the world are already telling us. Communities aren't going to allow this to happen here, there is no social licence.
"We thought we might get a break after the moratorium was announced, but now we have to look out for planning applications for the test drilling."
Lewis Akers was another of those on the bridge, and said that yesterday's protest was a great change from previous ones. Akers, a RISE activist in Fife, said: "A protest like this is quite unique, and it has quite a lot of symbolic meaning.
"There is nothing more boring than standing outside an empty building chanting for half an hour so it felt really quite special today.
"I think the Scottish Government need to be held to account, and we need to show we don't want fracking anywhere in Scotland. The moratorium was a step in the right direction but it's not enough."
Many present raised concerns about the news that Ineos have been given the go ahead to start test drilling for unconventional gas in Scotland.
The test drilling programme, which will last 18 months, will lead to a report being published on the risks and benefits fracking may bring, which is likely to be very influential in future votes on the subject.
Director of Friends of the Earth Scotland Richard Dixon was at yesterday's event and said: "I think that test drilling is a very dangerous potential loophole, as the public are being told there is a moratorium, but it seems someone could turn up at the end of your garden and start drilling a hole."
He added: "I think the government have made a mistake to allow anything to happen while a moratorium is in place."
Ineos, who just yesterday purchased their first 12 oil fields in the North Sea, have a licence to drill for shale gas over an area of 700 square miles in central Scotland.
Ineos bosses remain confident that the ban will be lifted, saying that they still "remain supportive" of the Scottish Government. The Scottish Government imposed the temporary ban last Tuesday.
[Refer also to:
2015: How harmful is fracing to human health and water and air quality? Very. Commentary by Dr. Anthony Ingraffea on existing peer-reviewed, published science and new CNA report
2015 10 09: Scotland widens fracking moratorium
2014: Scotland: Fracking warnings in Midlothian, fracking disturbs 8-11 times more land area than conventional drilling
2013: Fracking Coalbed Methane in Scotland: Dart 'desperate' to revive Airth plan
2013: Shale gas fracking 'worth £5bn to Scotland'
2013: Scottish Environment Protection Agency (Sepa) probing methane leakage at Dart Energy coal-bed methane wells
2013: Secret Scots fracking plans by Australian energy company Dart
2012: Fracking poised for green light in Scotand, Lucrative tax breaks to spur boom in shale gas in UK, 'Fracking' exploration could affect 60 per cent of UK, despite safety fears ]