Added Oct 21, 2020: Ooopsie Daisy! What ever will Mike Pence, Amy Coney Barrettt and her "secretive faith group" People of Praise et al, the Klan in the Trump House, US Supreme Court and Senate, KKKenney's UCP and O'Toole's Con Party of Canada etc. do now?
Pope Francis backs same-sex civil unions, Pontiff's endorsement likely to further enrage his conservative opponents in Catholic church [and many in positions of power in Canada, the USA, etc.] by Harriet Sherwood, Oct 21, 2020, The Guardian
… [The Pope] said: "Homosexual people have a right to be in a family. They are children of God and have a right to a family. Nobody should be thrown out or be made miserable over it. What we have to create is a civil union law. That way they are legally covered. I stood up for that." …
Father James Martin, a prominent Jesuit who has argued that the church should be more welcoming to LGBT people, wrote on Twitter: "Pope Francis's support for same-sex civil unions is a major step forward in the church's support of LGBTQ people. It is in keeping with his pastoral approach to LGBT people, including LGBT Catholics, and sends a strong signal to countries where the church has opposed such laws."
A spokesperson for António Guterres, the secretary-general of the United Nations and a devout Catholic, said the pope's comments were "a very positive move". Guterres had "spoken out very forcefully against homophobia in favour of LGBTQ rights, that people should never be persecuted or discriminated against just for who they love," they added.
The Ozanne Foundation, which advocates for LGBT equality in religious settings, welcomed the pope's comments, saying: "This will bring hope to millions of lesbian and gay couples around the world, and will enable them to know that they have the pope's blessing to be in a family, and indeed to have a right to a family. …
Tweets by African American Policy Forum @AAPolicyForum, Oct 22, 2020
This is as good a time as any to remind people that, in a recent dissent, Amy Coney Barrett wrote that the right to vote and serve on juries belonged "only to virtuous citizens." Her opinion also suggests that all civic rights are subject to virtue-based exceptions.

Unsurprisingly her opinion makes no mention of how such "virtuous citizen" restrictions were used after the Civil War and the passage of the Reconstruction Amendments to deny African Americans the right to vote.

At a time when the right to vote is under extreme attack, we should be critical of those who endorse outdated notions rooted in white supremacy as a justification for denying millions of Americans the right to vote.

The full opinion (which concerns whether someone convicted of a felony can prohibited from owning a firearm), as well as Judge Barrett's dissent and her tangent regarding the right to vote can be found here: http://cdn.cnn.com/cnn/2020/images/09/21/rssexec.pdf
Chris@chrismccarthyvt Oct 22 Replying to @AAPolicyForum
This is why she had no business being on the Supreme Court
Donna Dozier Gordon@Dulce979 Oct 23 Replying to @AAPolicyForum
This is utterly disqualifying.
***
As an appellate court judge, Barrett – who is expected to be confirmed to the supreme court on Monday – recused herself from cases involving four Shell entities because her father worked at Shell Oil Company as a lawyer.
Industry experts and lawyers have expressed concern – and doubt – whether Barrett would recuse herself from the cases again once she joins the court, in part because there are no rules for supreme court justices that would force her to do so.
Pressed on the matter in written questions by Senator Sheldon Whitehouse, a Democrat from Rhode Island, Barrett would not commit to recusing herself from cases in the future.
"The question of recusal is a threshold question of law that must be addressed in the context of the facts of each case," she wrote. "As Justice Ginsburg described the process that supreme court justices go through in deciding whether to recuse, it involves reading the statute, reviewing precedents, and consulting with colleagues. As a sitting judge and as a judicial nominee, it would not be appropriate for me to offer an opinion on abstract legal issues or hypotheticals."
Barrett has not recused herself in the past from cases involving the oil industry's most powerful lobby group, the American Petroleum Institute, even though her father was an "active member" of the group's subcommittee of exploration and production law as recently as 2016, and twice served as its chairman.
Environmentalists have already expressed alarm at Barrett's handling of environment-related questions at her confirmation hearing, in which she refused to accept science that shows humans are dangerously heating the planet and said she could not opine on the issue of climate change because it was a "very contentious matter of public debate". She separately stated that she did not hold "firm views" on climate change.
Her views are behind even most mainstream Republicans, many of whom have stopped denying climate change and instead begun to downplay its impacts or suggest that a free market and new technology will be enough to fix the problem.
In the very likely event that she is confirmed, Barrett's decision about whether she will recuse herself from cases involving Shell given her conflict will be known relatively soon because the supreme court recently agreed to hear a case in which the city of Baltimore is suing major oil companies, including Shell, for damages related to the climate crisis.
"Judge Barrett's evasions last week and in responses to our questions for the record may be what Senate Republicans needed to jam this nominee through for their big donors, but that's no good for a court that must be seen as giving every litigant a fair proceeding and impartial ruling," said Whitehouse.

Pfffft! There's never been any such thing as "fairness" in American or Canadian courts. The judicial and legal industries are inaccessible for the vast majority of citizens in North America, for reasons of time and cost alone, never mind the political con artists that appoint our judges and make sure the courts are unfair and biased.

"As the Senate rushes headlong to get her confirmation done before the election, we are left to wonder whether she will recuse herself in matters involving Shell subsidiaries, or the American Petroleum Institute, once in a court with no code of ethics; particularly where her evasions on climate change aligned with industry propaganda."
At the heart of the Baltimore case – whose outcome will probably influence similar legal challenges in a dozen other lawsuits across the country – is the question of whether cities and states can seek damages through state laws for harms due to the climate crisis, which they blame on the companies.
According to Scotusblog, the case before the supreme court is centered on a narrow and technical procedural matter about federal law. But the handling of the case by Barrett will nevertheless be closely watched, in part because another conservative justice, Justice Samuel Alito, recused himself from the case.
Of 16 lawsuits from state and local governments who want the courts to hold oil and gas companies accountable for the effects of the climate crisis, 13 name Shell.
Jean Su, energy justice director and attorney at the Center for Biological Diversity, said if Barrett does not recuse herself on cases involving the company "it is a true reflection of the unraveling of the ethics of that court."
"If you now have the supreme judicial branch and judges who completely flout pretty cut and dry ethical rules, you are discrediting the judiciary very heavily," Su said. "It'll be a sign that the highest court in the land is political."
Helen Kang, a law professor and director of the Environmental Law and Justice Clinic at Golden Gate University School of Law, said that if Barrett has recused herself previously "unless there has been a change of circumstances, it appears that she should recuse herself".
THE REPUBLICAN CABAL by Bobscaping, Oct 22, 2020
… As Republican cabal actions come full circle, we learn that Supreme Court nominee Amy Coney Barrett's daddy worked for Royal Dutch Shell, and also chaired a committee at the American Petroleum Institute (API). While she has listed SHELL on her recusal list, there isn't any mention of API, our country's biggest oil lobby. She has also hedged on questions about the proven science behind climate change. Go figure! … While everyday Americans suffer under the daily worry of having food and shelter, US Senate Republicans devote more time to ramrodding through this Supreme Court nominee to stack the court, than they do getting a desperately needed relief package for the American people. …
Supreme Court nominee Amy Coney Barrett on Tuesday declared that she does not have firm views on the existence and threat of climate change. The court is preparing to hear a climate case involving fossil fuel giants, including Shell Oil, where her father spent much of his career.
With major climate cases pending before the high court, Barrett was asked by Republican Sen. John Kennedy if she had thought about climate change. She responded: "I've read about climate change. I'm certainly not a scientist. I mean, I've read things on climate change. I would not say I have firm views on it."
Less than two weeks before the confirmation hearings, the Supreme Court agreed to hear an appeal by Royal Dutch Shell and other oil giants that are being sued by cities and states for the climate damage those companies created. Shell and the others are asking justices to allow the case to be heard in federal court.
In 2018, Inside Climate News reported that "internal company documents uncovered by a Dutch news organization show that the oil giant Shell had a deep understanding, dating at least to the 1980s, of the science and risks of global warming caused by fossil fuel emissions."
Barrett's father, Michael, has written that "most of my legal career was spent as an attorney with Shell in New Orleans."
"Recusal Itself Is a Legal Issue"
In her Senate questionnaire, Barrett produced the recusal list that governs her tenure on the Seventh Circuit Court. That list includes Shell. She wrote of the list: "The Seventh Circuit employs an automatic recusal system to help identify potential conflicts for the judges. Each judge maintains a recusal list, and a computer program flags potential conflicts against that list."
On Tuesday, when Barrett was asked by Democratic Sen. Patrick Leahy about whether she would recuse herself from any potential Supreme Court cases involving disputes over the 2020 election, she said, "I commit to you to fully and faithfully apply the law of recusal and part of that law is to consider any 'appearances' questions."
In a separate exchange, Barrett said: "Recusal itself is a legal issue. You know there's a statute, 28 U.S.C. § 455, that governs when judges and justices have to recuse; there's precedent under that rule. Justice Ginsburg, in explaining the way recusal works, said that it's always up to the individual justice, but it always involves consultation with the colleagues — with the other eight justices. So that's not a question that I could answer in the abstract."
"She Will Make an Excellent Associate Justice"
The upcoming climate case is particularly important for the fossil fuel industry as it seeks to ward off a wave of climate litigation.
In a 2013 article titled, "Why Civil Defendants Want To Be In Federal Court: Judicial Vacancies," trial attorney Max Kennerly wrote that federal courts "place express limits on the amount of discovery available" and are "more prone to grant motions to dismiss (and motions for summary judgment) than state courts."
In April, the US Chamber of Commerce waded into the Shell case that's now pending before the Supreme Court, filing an amicus brief in support of the oil companies. The chamber, the nation's largest business lobbying group, endorsed Barrett's confirmation late last month and quickly began "mobilizing its resources and lobbying lawmakers and businesses across Washington" to put her on the court, according to Axios.
"America's free enterprise system depends on the fair application of the law

"Law" created by the rich to serve the rich while pissing on the rest of us and the environment. I see Ms. Barrett as just another white privileged, pro big oil big money, anti-civil & human rights (unless the human is white, male and rich), racist, misogynist agent of evil.

, and the U.S. Chamber of Commerce has no doubt that Judge Barrett will treat all litigants — including the business community — fairly," Chamber president Thomas J. Donohue said. "She will make an excellent associate justice."

I have no doubt she will treat litigants unfairly. Corruption, racism, misogyny, sexism, gross unfairness, revictimizing victims and worse thrives in Amercan and Canadian judicial industries. Trump and his ultra rich handlers know Ms. Barrett will fit right in.

Chevron, which is one of the other oil companies petitioning justices to move the case to federal court, donated more than $3.2 million to the chamber between 2015–18, according to data compiled by the Center for Political Accountability.
***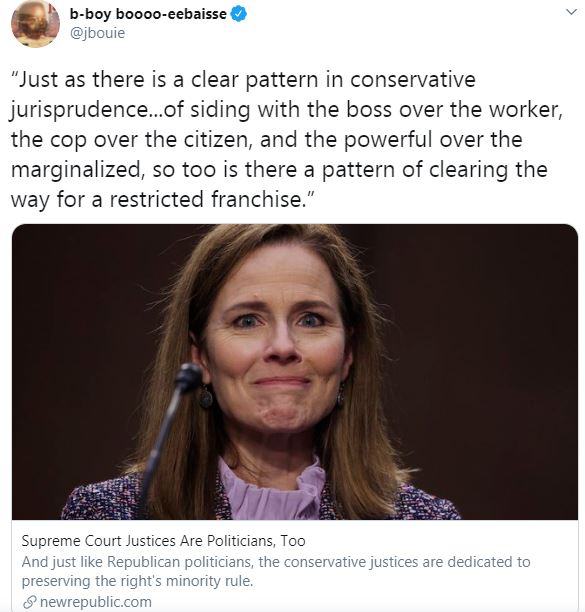 A few tweets in respone to the above tweet:
NaiveBetweenTheSleeves@Not2daytho Replying to @jbouie Oct 14:
"…media does the legal profession a massive & completely unearned favor by taking its claims about how lawyers & judges decide cases at face value, rather than seeing them for what they are: pretexts for the exercise of power." News personnel should read Law & Society research.
Johnryan@Onejohnryan Oct 15:
Media benefits from courts corporate ideology (i.e. corporations are people.) Until we #EndCorporatePersonhood MSM will continue to carry the corporatists court's water.
Biden/Harris 2020@Andrew_LeGrand Replying to @jbouie and @Susan_Hennessey:
"The media does the legal profession a massive and completely unearned favor by taking its claims about how lawyers and judges decide cases at face value, rather than seeing them for what they are: pretexts for the exercise of power." So true.
Joe Joe@Ibi1kanobi Oct 14 Replying to @jbouie and @MalcolmNance
2021 onwards will be like the 1920s with [Barrett] in SCOTUS

Cartoons by Michael de Adder, brilliant as ever
Imagine the cumulative judicial junk now on the US Supreme Court and watch the rights of the not rich, People of Colour, minorities, women and the environment vanish.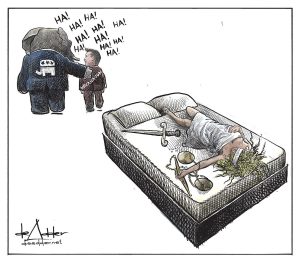 More de Adder here
Supreme Court Justices Are Politicians, Too, And just like Republican politicians, the conservative justices are dedicated to preserving the right's minority rule by Alex Pareene, Oct 14, 2020, New Republic
If you have been watching Amy Coney Barrett's Supreme Court confirmation hearings for insight into how the nation's highest court will interpret the law once she sits on the bench, you should shut them off now. It is a nominee's job to obfuscate about her beliefs and intentions, the Republicans' job to pretend they admire her for her prudence, not her utility to their movement, and the Democrats' job … well, no one, least of all they, can agree on what their job actually is.
The entire charade is insulting to the intelligence of any reasonably well-informed viewer. We won't get an answer to what Amy Coney Barrett wants, so maybe we can look for an answer to the question of why the Republicans want Amy Coney Barrett.
Two Politico stories published last week sum up the stakes of this particular presidential campaign. The first asked whether Democrats were "losing the battle over voter suppression," describing their efforts to expand ballot access, roll back voter ID laws, limit targeted misinformation campaigns, and give Americans the right to vote by mail.
Reporter Maya King wrote that the Democratic effort to defend ballot access for their Black and Latino supporters involves "a combination of lawsuits to prevent disenfranchisement and a messaging blitz" to educate voters on how to ensure that their votes are correctly cast and counted.
Of course, messaging can only go so far to counter, for example, understaffed polling places that open late, broken voting machines, or a national slowdown at the post office. For that, Democrats are going to the courts: "More election-related lawsuits have been filed this year than in the last two decades, according to the Stanford-MIT Healthy Elections Project, which is tracking the cases." (You really do have to feel some sympathy for everyone at the Stanford-MIT Healthy Elections Project. At this particular moment, it seems a bit like working for the Healthy Crowded Basement Spitting Contests Project.)
In her article, King ably noted the successes and setbacks Democrats have seen in courts across the country. But for some insight into how their efforts to combat voter suppression could play out, it helps to read the other Politico story I mentioned. That one, by Josh Gerstein, was headlined: "The murky legal concept that could swing the election."
That concept is something called the "Purcell principle," based on a term coined by law professor Rick Hasen in 2016. The principle, as articulated by Gerstein, is that "federal judges should generally refrain from causing confusion by changing voting rules in the lead-up to an election." The key word there is "generally." Because the actual Purcell principle is that judges should do so only so long as it leads to outcomes the judges prefer.
The principle is useful primarily as a reminder of how skilled conservative judges and lawyers are at inventing neutral-sounding terms for their political maneuvering.
In principle, Purcell is merely an acknowledgment that state officials know better how to conduct elections in their states than federal judges. In practice, whenever lower federal courts rule that certain barriers to voting are unfair or unreasonable and should be lifted, most of the higher court's conservatives decide to use the Purcell principle as a rationale to reimpose those barriers. (The principle, as Gerstein details at length, is currently being tested in the Supreme Court, where the eight sitting justices are weighing whether to reverse a Pennsylvania State Supreme Court decision requiring that ballots mailed by Election Day still be counted, even if they arrive after Election Day. The supposedly federalist nature of the "Purcell principle,"along with the fact that it is supposed to address only last-minute rules changes, would conveniently evaporate if the court decided to overturn a state-level court decision made nearly a month ago.)
As Gerstein noted in his Politico piece, the flurry of Democratic lawsuits aimed at protecting voting rights, and the fact that the Supreme Court will be involved in deciding at least some of them, present an "exquisite dilemma for Chief Justice John Roberts, who is famously leery of politics." It may be true that Roberts is personally "leery" of what he considers politics, but he has decided to make a career as a professional politician. Doing politics is his job.
The court these days almost openly engages in horse trading, negotiating not over the finer points of legal interpretation but over what the outcome of its decision will be. Its overt politicking presents a challenge to legal experts whose salaries depend on their ability to interpret the law, in all its glorious complexity, for us plebeians: To explain any legal "doctrine" these days is only to explain the justification that a few partisan individuals use, or plan to use, to rule the way they wish to rule.
The media does the legal profession a massive and completely unearned favor by taking its claims about how lawyers and judges decide cases at face value, rather than seeing them for what they are: pretexts for the exercise of power.
If you were to assume that Supreme Court justices work backward from their preferred outcome in any given case, feeling around for ways to justify their opinions, you would probably have an easier time explaining the court's actions than anyone attempting to apply some neutral-sounding principle. In fact, most court observers are already operating on that assumption, that these robed sages are in fact mere grubby politicians, even when they claim that John Roberts is eager to protect the legitimacy of the court.
Protecting the "legitimacy" of the court just means protecting its power.
Roberts wishes to legislate from his perch; his conservative colleagues represent a threat to that desire only because they are so nakedly partisan and consequentialist that they may force some future Democratic government to alter the court's form or reduce its power. The invocation of doctrines and principles can only go so far when, as Hasen has written, the court refuses to explain or justify its actions when it reviews emergency stay or injunction requests in election cases. Yesterday, in an unsigned order that did not deign to explain itself, the Supreme Court allowed the Trump administration to halt the census.
Just as there is a clear pattern in conservative jurisprudence—whether or not it drapes itself in terms like "originalism" or "textualism"—of siding with the boss over the worker, the cop over the citizen, and the powerful over the marginalized, so too is there a pattern of clearing the way for a restricted franchise, a pattern of advancing minoritarian rule and of allowing legislators to choose their electorates.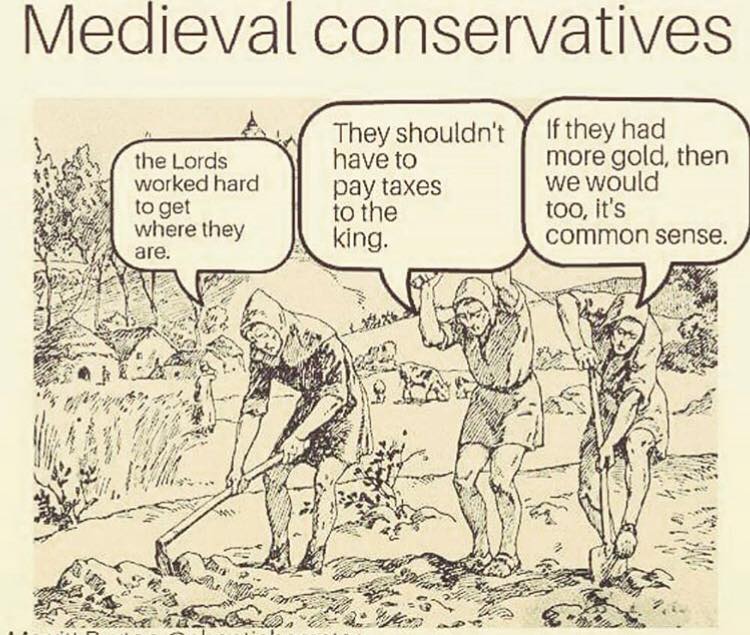 This is why no detail of Amy Coney Barrett's biography matters, really, more than her work for George W. Bush's legal team in the contested 2000 election. Bush v. Gore was raw partisanship lightly draped in legal justification. It was a signpost for the future of American jurisprudence.
The courts were deciding whose votes would count, in order to protect the ability of their political allies to win elections, so that they could go on to install a durable majority of unaccountable magistrates on the nation's highest court.
Those magistrates are now about to be able to implement an unpopular agenda unfettered by democratic backlash. Barrett's confirmation may be inevitable. Once it happens, Democrats should consider their options for disenfranchising her.
With her confirmation all but inevitable, how bad will Barrett be? It's hard to say for sure – but it doesn't look good.
Amy Coney Barrett's America is a terrifying place
So that's that then. The confirmation hearings are over and it is almost inevitable that Amy Coney Barrett will be confirmed as a supreme court justice before the November election. Barrett will shift the supreme court from a 5-4 conservative majority to a 6-3 super-majority, a move that could fundamentally reshape America. Goodbye civil rights, hello Gilead.
You've got to hand it to the Republicans really; they get things done. They don't care about being called hypocrites. They don't care about ignoring Ruth Bader Ginsburg's dying wish that she not be replaced until after the election. They don't care about common decency. They don't care about democracy. They just care about power – and they will do whatever it takes to get it.
So just how bad will Barrett be? Could her confirmation mean the end of Roe v Wade and the federal right to an abortion in America? Is marriage equality in danger? Is it possible she could criminalize birth control? Is America on its way to becoming a Divine Republic? Are we going to look at The Handmaid's Tale and realize it was a documentary?
It's hard to say for sure. Barrett said little of substance during the hearings, repeating over and over again that she would follow the law not her personal convictions. Which, it's worth reiterating, are religious and regressive. People of Praise, the Christian community where Barrett previously served as a "handmaid" (the not-at-all creepy term they used for female leaders), for example, is anti-abortion and expels members for gay sex.

Do they expel members who rape children or enable rape of children by priests? Does the club expel members who batter and/or murder their wives and children?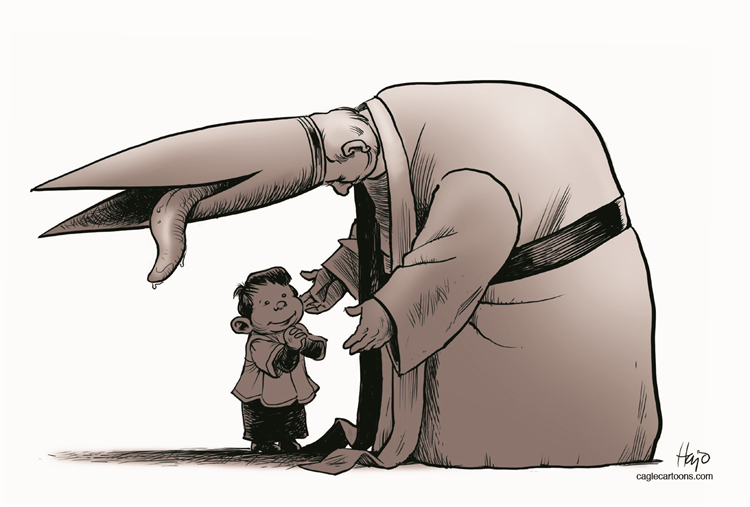 "Leave Barrett's religion out of it!", many on the right have said. I would be very happy to if it were clear that Barrett would leave religion out of her work. But it's hard to feel confident that is the case. Barrett has, after all, worked for the Alliance Defending Freedom (ADF), America's largest anti-LGBTQ legal organization. She taught a class at five different sessions of the ADF's legal fellowship program, which is designed to train Christian lawyers "to foster legal systems that fully protect our God-given rights".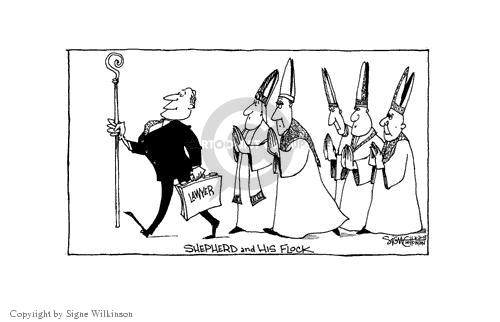 Despicable! Law Society of Ontario *knowingly* licences convicted pedophiles, knowingly gives pedophiles protected easy access to children
Barrett repeated that she doesn't "have an agenda" throughout the hearings – but the ADF very clearly does. As the Christian Science Monitor recently noted: "If Judge Barrett is confirmed, it would represent a culmination of decades long efforts by the conservative Christian legal movement to move from the periphery of the legal world into the mainstream."
The few things Barrett did say during the hearings also don't bode well. She admitted, for example, that she doesn't view Roe as a "super-precedent": cases that are so well-settled that no one would seriously push for their overruling. This, coupled with her judicial record, which shows a commitment to reducing abortion access, means Roe could be in real trouble.
Barrett's comments – or, rather, lack thereof – on same-sex marriage and birth control were also telling. Barrett refused to give an opinion on how Obergefell v Hodges, the 2015 ruling legalizing same-sex marriage, or Griswold v Connecticut, a case regarding birth control, were decided. That's particularly concerning as Justice Clarence Thomas, joined by Justice Samuel Alito, recently gratuitously attacked Obergefell as having "ruinous consequences for religious liberty".
"This goose is cooked," Cory Booker said as the Barrett hearings wound up. It certainly is – but there's still hope that our civil rights aren't completely done for. It's possible Biden wins by a landslide and the Democrats get control of the House and Senate. This would give them the ability to expand the supreme court. The question is, will they actually do this? In a town hall event on Thursday, Biden said he'll let us all know sometime before election day. In the meantime, maybe it's worth researching how to immigrate to Canada.

It's the same legal-judicial-political (and rape/pedophile-enabling) scam in Canada. No wonder too many lawyers work hard manipulating their clients – and the public – to never spotlight dirty judges, with some punishing their clients if they do. How does society clean itself of our dirty judges and others in positions of power, if no one shines the light on them?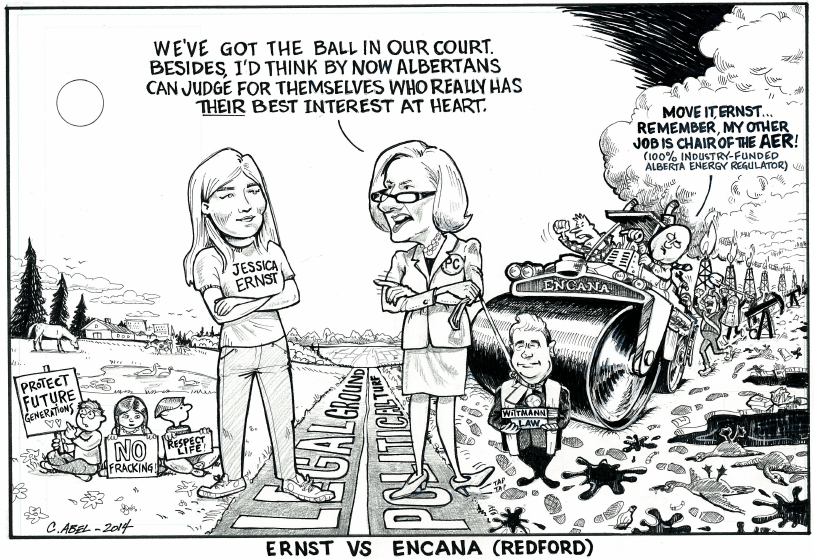 ***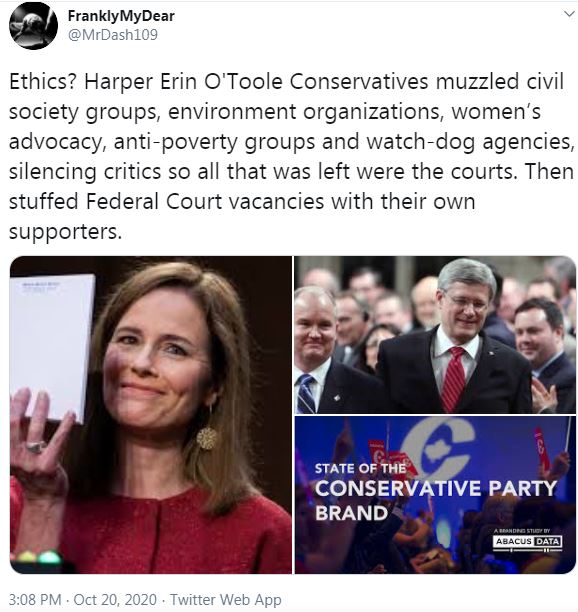 Gillian Hnatiw, Canadian lawyer, female: "Fundamentally, the law is about power – who has it, who gets it, and how they are allowed to wield it. … Yet evidence of misogyny remains all around us. Lest anyone forget, there is a self-confessed sexual predator in the White House. … In Canada, we're not faring a whole lot better…. All of our political leaders are men."
Why wasn't Nova Scotia legal profession's most infamous sexual predator and Premier, Gerald Regan, disbarred? Simple: 1) He was a man in Caveman Canada; 2) He was a lawyer in Caveman Canada; 3) He was in a position of power in Caveman Canada; 4) "Justice" is not available for raped women (or the environment) in Caveman Canada, just expensive lawyers.
Law Society of Ontario a Pedophile Ring? Racism, misogyny *and* enabling sexual abuse of children? Ottawa lawyer, John David Coon, in custody for sex crimes against four-year old daughter of one of his clients. Law Society documents reveal they gave Coon licence to practise law despite knowing of his prior criminal conviction for sexually assaulting another child
CRIME Child-sex tourism continues to rise in Canada and abroad: two year study. "In Canada, indigenous women and children are especially vulnerable and are often moved around to be exploited near oil rigs"
Pfffft! What rule of law? Canadian courts have proven that law-violating oil & gas companies are above the law, along with their law-violating, enabling "regulators" and trespassing racist thugs, the RCMP
New in Canada: Federally appointed judges' expenses to be made public for first time, But judges are objecting and get away with pissing on the rule of law and lying in rulings. Why would they heed a law ordering them to disclose expenses that we pay for?
Supreme Court of Canada in the cover-up business too? Top Court signs pact to keep records of deliberations secret for at least 50 years; Reserves right to keep some secret forever
Is this because Supreme Court of Canada wants Ernst and others concerned about the court's charter-damaging and lying ruling in Ernst vs AER to be long dead before Justice Abella's drafts and deliberations of her ruling, and where she got her fabricated facts from (AER's outside counsel Glenn Solomon perhaps, or maybe Encana/Ovintiv) are "accessible" to the public?
And to hide that corporations via politicians control our judicial industry and instruct our judges how to rule and how to defame citizens trying to protect the public interest?
G20 Class Action Settles. Another lawsuit Murray Klippenstein took on years after he took on Ernst vs Encana and did not abruptly quit like he did on Ernst. Comment by a rural Albertan: "Murray sawed off a deal that protects the status quo. Justice Rosalie Abella should be proud of her boy."
Dear J Rosalie Abella and Germany: Is it "justice" and "a fantastic work ethic" for a Supreme Court of Canada judge to lie in a ruling and damage our Charter of Rights and Freedoms?
Nasty! Canadian courts describing "individuals as exhibiting 'vexatious-style' behavior without formally designating them as a vexatious litigant." Is that how Supreme Court of Canada Justice Rosalie Abella gets away with ruling AER found Ernst to be "vexatious litigant" when evidence proves AER found Ernst to be a "criminal," 7 years later, a terrorist – all without charges, evidence, trial or due process? With AG Jody Wilson-Raybould saying & doing nothing about Canada's top judicial farce?
Who orders a new hearing for a Supreme Court of Canada ruling where 9 justices knowingly published a lie and sent it to the media? Who "slaps" Justice Rosalie Abella for knowingly lying in her ruling and belittling the applicant? Certainly not the Canadian Judicial Council!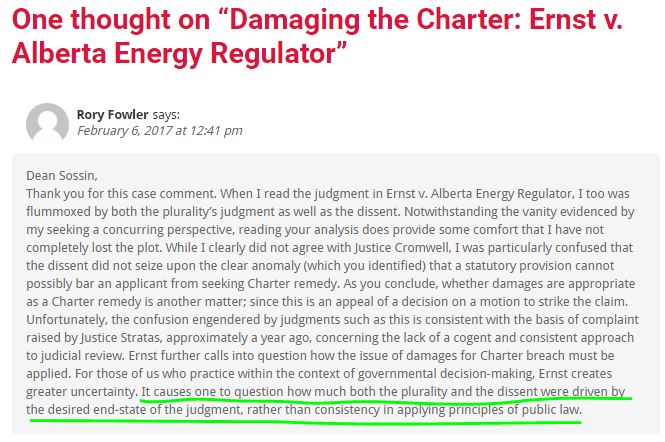 Damaging the Charter: Ernst vs Alberta Energy Regulator by Lorne Sossin, Dean Osgoode Hall Law School, York University. Comment: "It causes one to question how much both the plurality and the dissent were driven by the desired end-state of the judgment, rather than consistency in applying principles of public law."
7/9 of the Supreme Court judges that heard and ruled in Ernst vs AER were appointed by Steve Harper. He also appointed and moved around, the two Alberta case management judges.
The Rule of Law: One for the rich and or 'well connected' (nudge, nudge, wink, wink) and another for the average 'Joe'. Edmonton lawyer Shane Stevenson facing drunk driving causing death charges at centre of major lawsuit against him and Dentons Law Firm. Lawyers working drunk is common. How many judges work drunk? What's the relationship between ordering gags (to cover-up crimes by the rich) and addiction?
UCP piling on rot in Alberta's already rotten judicial industry. Perfect person for KKKenney-Harper Team vetting judge appointments, someone who can't remember: "Former finance minister Pat Nelson, who served under premier Ralph Klein, said she can't remember who from Alberta Justice called to recruit her, nor can she recall who conducted the 'short' interview with her or if she was asked to provide references."
Appointment of judges politically biased in Alberta, critics say, Process favours candidates with ties to the PC party
In Alberta And B.C.: Stephen Harper Destroying The Rule Of Law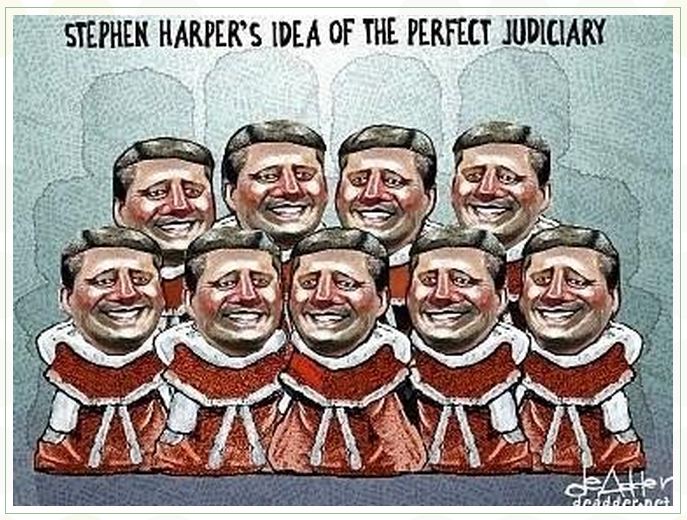 Brilliant Michael de Adder at his absolute best.
Fracking: Feds Throw Wrench in High Profile Lawsuit, Judge suddenly promoted; plaintiff Ernst sees strategy to 'delay and exhaust.'
Judicial Tragedy: U.S. District Judge William Alsup wanted to "stick to the science" and avoid politics, presided over standing room only tutorial on climate change, but let big oil off using politics. Science is on humanity's side, the law is not.
Investigation finds one of Australia's most powerful men, "Sex Pest" former high court judge, Dyson Heydon, sexually harassed judicial clerks and women lawyers – WHILE HE WAS TOP JUDGE!
"Law Society of Ontario taken over by 'right-wing, fundamentalist religious zealots?'" Taken over by the catholic church to better protect and feed its sex-crazed, child-abusing "celibate" priests? Do white privileged people think loading up on religious self-righteousness and the church will hide the law society's pedophilia? It's not working.
"Unf*ck the system." Alberta's Neanderthal "Justice" system assaults sexual assault victims. "The judge in this troubling case was none other than former Deputy Justice Minister Ray Bodnarek, a PC loyalist appointed as a judge by former PC Justice Minister Jonathan Denis who himself resigned under troubling allegations of domestic violence." Commenter: "So who exactly is the crown protecting by blocking the publication of the victim's name?" Another commenter: "My guess…..the 'system'. It stinks and it's all because of the judges & lawyers."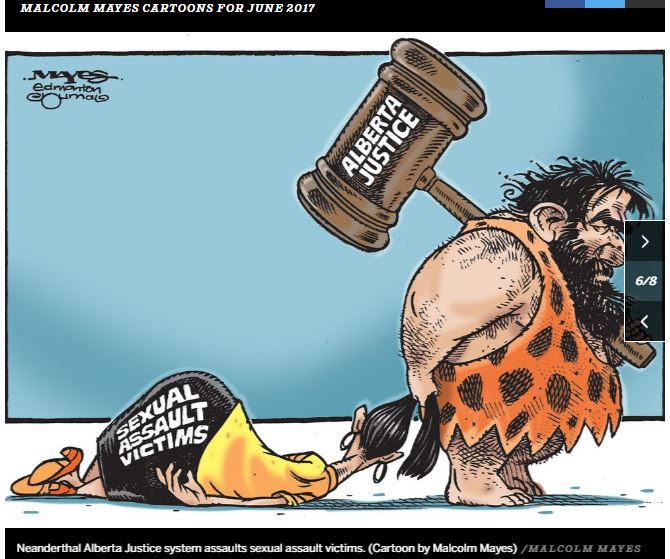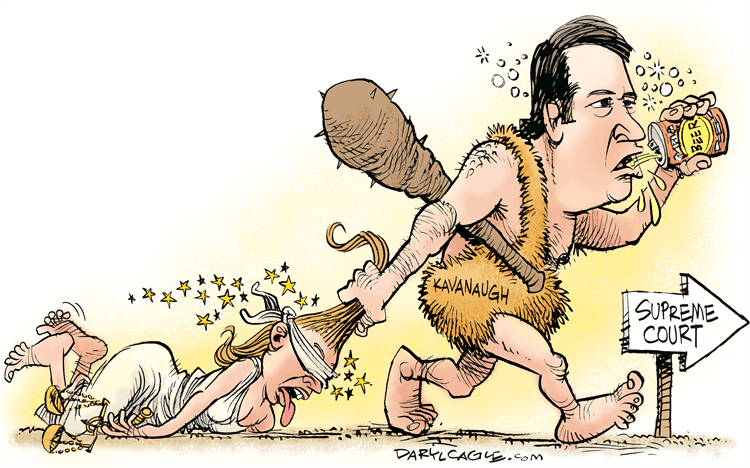 "Rule of Law" or "Rich White Man Law?" US Senate (controls Supreme Court nominees) created to represent the rich: "…to protect the minority of the opulent against the majority." John A. MacDonald, 1st thug PM on why Canada needed an appointed Senate: "We must protect the rights of the minority, and the rich are always in fewer number than the poor."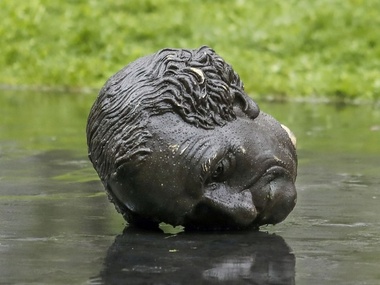 ***
Definition of Politics: Poli in latin meaning many, and tics meaning blood-sucking parasites.
Anonymous
***
Law is politics, people. Never forget.
Emmett Macfarlane, Poli Sci Prof, UWaterloo. Constitutional Law, Public Policy & Cdn Politics
***

It's a sweet loop. Corrupt politicians appoint corrupt judges to make sure law-disregarding politicians stay out of prison ensuring more dirty judges are appointed to the bench.