Pissing on Reconciliation, Alberta Premier Jason Kenney calls First Nations "Fringe Groups" and spews rule of law while he remains under investigation for breaking it. Law Prof Heidi Matthews: "'Rule of law' is a conservative talking point."

Imagine if law-violating, polluting, community, family, health and home harming oil and gas companies were persecuted the same way women are! The "Rule of Law" is a misogynistic caveman's ass.
WATCH! RCMP spill 500 liters of diesel few hundred metres from river, leave it a week to contaminate deeply 3:38 Min by Wet'suwet'en Access Point on Gidimt'en Territory, June 3, 2020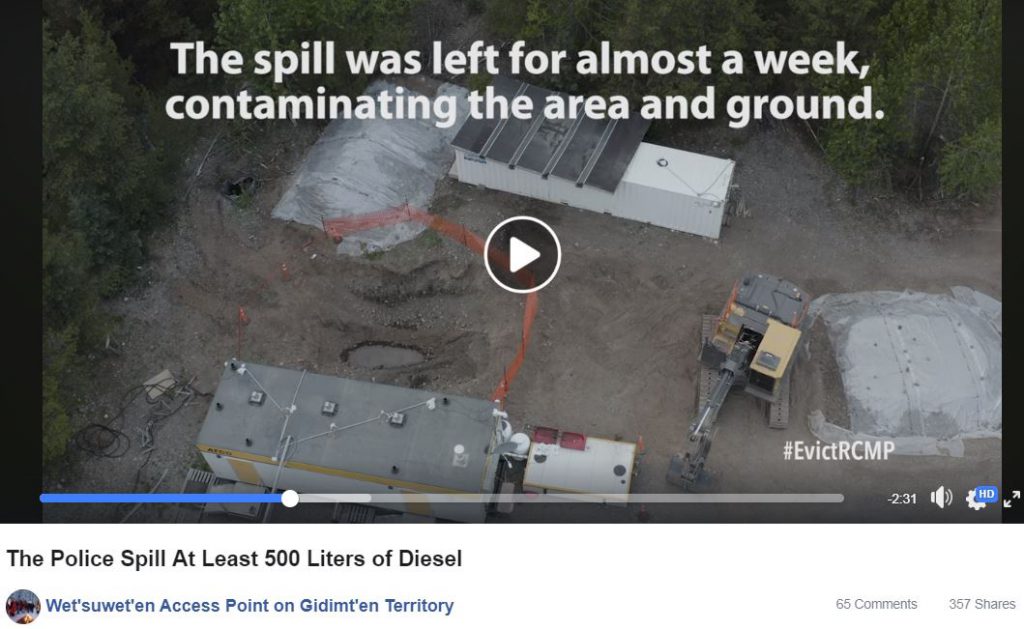 The RCMP were scheduled to vacate the Community Industry Safety Office (CISO) in March of this year.
Removal of the temporary detachment (CISO) was a precondition for discussions between the Hereditary Chiefs and the provincial and federal governments.
They have continued to trespass and not act in good faith while facilitating genocide on our territories.
We expect them to remove the detachment as they have proven clearly they cannot be responsible for the safety of our territory and our people.
The B.C. Prosecution Service has announced it will not be laying criminal charges against any of the people arrested by the RCMP during enforcement of the Coastal GasLink injunction in northern B.C. in February.
In announcing that Crown was not moving forward with criminal contempt charges, Coastal GasLink lawyer Carrie Kaukinen told the court her client would follow the Crown's lead end its civil contempt proceedings.
Justice Marguerite Church said Friday's case conference would mark the end of contempt proceedings.
"I am of the view that in light of the submissions I've heard today that the public interest does not lend itself to further contempt proceedings," she said.
At the same time, she noted the seriousness of the matters they were discussing.
"Court orders, particularly such as the one in this case, uphold the rule of law and allegations with respect to breach of those court orders are serious matters," she said. 

Does the judge believe herself?

The injunction arrests in Wet'suwet'en territory happened over a span of five days, sparking protests and blockades across the country by those who were showing solidarity with the hereditary chiefs of the Nation who continue to oppose the pipeline project.
The court granted Coastal GasLink an injunction on Dec. 31, 2019 and instructed named defendants and others they could not block or impede the roadway or prevent the company and contractors from doing work in the area.
RCMP made arrests at four different sites along the Morice Forest Service Road, ending at the Unist'ot'en Healing Centre at the road's 66 kilometre mark.
A total of 28 people were arrested but only 22 had files sent to Crown Counsel for criminal contempt consideration, according to Crown Prosecutor Trevor Shaw.
The Unist'ot'en Camp posted a statement on social media expressing relief.
Wets'uwet'en hereditary chiefs oppose the pipeline being built through the Nation's traditional territory and have stated that entering the territory without their consent is a violation of Wet'suwet'en trespass law.
"Protecting my territory is not criminal," Freda Huson, Chief Howilhkat of Unist'ot'en, was quoted in the statement.
She was among those arrested outside the healing centre on the last day of the RCMP's enforcement operation.
"Industry and government is criminal for breaking all the environmental laws. They're the ones that should be charged."

I agree and think the judge also needs to be charged for spewing baloney in court! Even cartoonists know there's no rule of law in Canada when it comes to oil & gas & politicians stealing from seniors to give to banktrupting, public health harming frac companies.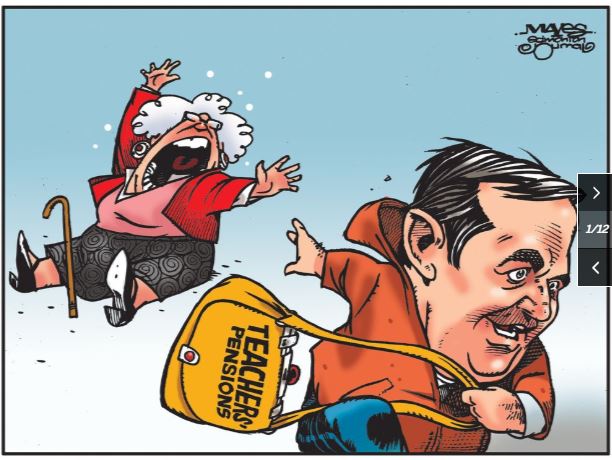 The Unist'ot'en Camp statement said there are many other people who were arrested at solidarity actions across the country who still face charges that aren't related to the Coastal GasLink injunction. More than 100 people were arrested at blockades and other sites of protest across Canada.
"We are forever grateful for the solidarity and support from our relatives and allies," the post stated.
Factors in not laying charges
Shaw said factors that went into the B.C. Prosecution Service making the decision not to proceed with criminal contempt charges included no further breaches of the injunction being reported to police since February and "the absence of violence when the individuals were arrested."
The B.C. Prosecution Service also factored in the memorandum of understanding agreed to by Wet'suwet'en hereditary chiefs, the province of B.C. and Canada.
Shaw said there was no evidence found by police that linked those who were arrested with the damage to a bridge on the Morice Forest Service Road or the "dangerous devices placed in the area."
However, in its filing to the court, the B.C. Prosecution Service wrote "should further evidence come forward about dangerous conduct, potential liability under s. 247 (traps likely to cause bodily harm) or other provisions of the Criminal Code could be considered."
Martin Peters, the lawyer for 27 of the people arrested, said he was pleased by the outcome from the case conference on Friday.
He said one of the important pieces touched upon in court was the ongoing process between Canada, B.C. and the Wet'suwet'en regarding the Nation's rights and title.
"I have to believe that this will add to reconciliation and hopefully a negotiated result all around, including the matter of the pipeline," he said.
While contempt proceedings have now concluded, the Coastal GasLink injunction remains in place and construction of the natural gas pipeline is ongoing.
Peters said the opposition of his clients to that construction remains.
"As to the manner of which that opposition goes forward, is really in their hands."
Refer also to: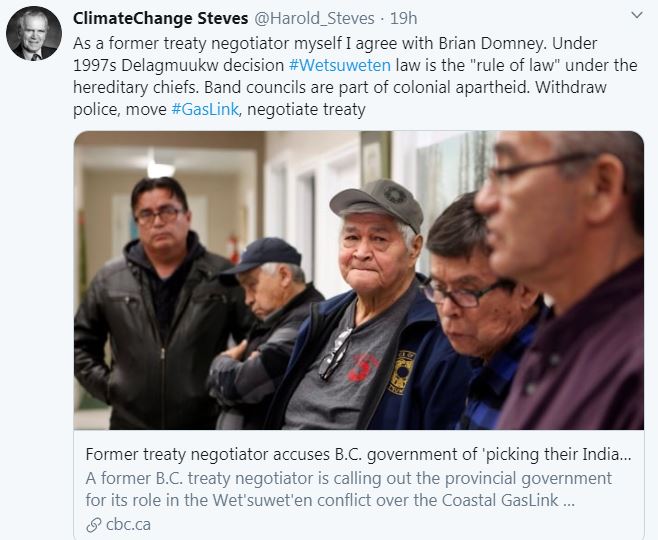 "This is totally wild." Coastal GasLink's final Technical Data Report for their pipeline being rammed through Wet'suwet'en territory rejected by B.C. Environmental Assessment Office due to omission of significant economic, environmental, social and health impacts. Where cumulative impacts evaluated? What will Trudeau, Horgan, Scheer, Kenney, CGL and RCMP do now? Apologize on their knees? Kanenhariyo Seth LaFort: "When you ask for the rule of law, then you have to follow it yourself. You cannot remove people from their own lands at the end of a gun. A crime has been committed, and the RCMP are the criminals."
Terrorism by Royal Canadian Mounted Police (RCMP) against Land & Water Protectors in 2013 in New Brunswick, in 2020 in BC, and at Ernst's home in Alberta in 2009. "The people who filed the complaint in 2013 have yet to see the report…a seven-year delay in justice is unacceptable." Ridiculous delays, including by our courts, are common in No Rule of Law Canada.
To enable profit-raping & pollution by the oil & gas industry, Canada's politicians pimp the rule of law, while they, industry, the rich, our courts and regulators piss on it, us, our rights, our families and communities.
Rule of Law Kaput in Canada? It is in Alberta & BC. David Climenhaga: "Indigenous Canadians have been lied to, betrayed and abused so many times their forbearance and patience with those of us of immigrant stock is truly remarkable."
RCMP Mobilizing Officers to Houston, NEBC, Intensifying Harassment of Camps. RCMP are lying, as usual, "saying one thing and doing the exact opposite." BC Premier John Horgan: "The rule of law needs to prevail." Whose? White Privileged Rich Man's Law? Oil & Gas Industry's Law? Racists' Law?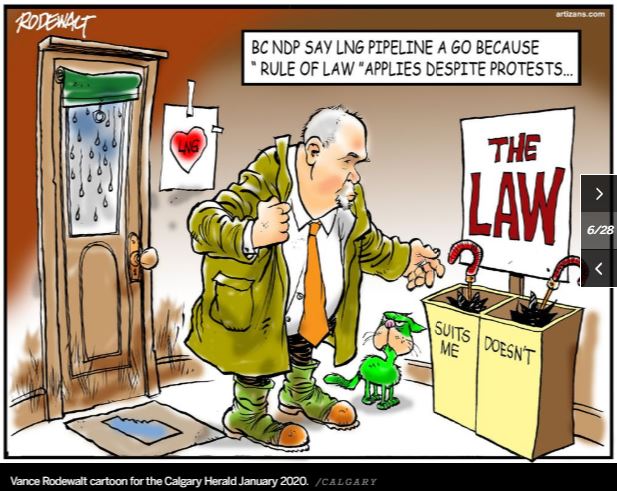 The Rule of Law: One for the rich and or 'well connected' (nudge, nudge, wink, wink) and another for the average 'Joe'. Edmonton lawyer Shane Stevenson facing drunk driving causing death charges at centre of major lawsuit against him and Dentons Law Firm. Lawyers working drunk is common. How many judges work drunk? What's the relationship between ordering gags (to cover-up crimes by the rich) and addiction?
All Eyes on Wet'suwet'en: International Call for Week of Solidarity! Canada's "Rule of Law" exposes it's public interest harming, corporate interest protecting, dark underbelly – again. Thank all that is good: ***Unist'ot'en evict Coastal Gaslink from their Territory*** and Hereditary Chiefs of all 5 Wet'suwet'en clans reject BC Supreme Court Justice Marguerite Church's decision, which criminalizes Anuk 'nu'at'en (Wet'suwet'en law)!
Violation of court order in Trans Mountain appeal 'attack on the rule of law,' judge says. Rule of Law in Caveman Canada? What Rule of Law? Oh Ya! For the Rich! Oh Ya! Industry's! Oh Ya! Law-violating politicians'! Oh Ya! Charter-violating regulators! Oh Ya! Protecting rapists and pedophiles while re-victimizing victims making how many boners under the bench?
"The [legal] system's not broken; the system was built this way." Of course it was! Just like it was built to piss on the poor, women, the environment and the Rule of Law itself
Rule of law in Canada? Most unlikely, except to enable corporate abuse, greed & pollution; protect the rich, lying judges & lawyers, corrupt politicians & law violating regulators. Newfoundland and Labrador trying to jail journalist Justin Brake for doing his job, judge pathetically enables the abuse of process; Maureen Killoran, Encana lawyer in Ernst vs Encana, seeks outrageous injunction for Kinder Morgan, judge shows obvious bias for the company
"Corruption … At A Gallop." Ex-Justice Minister Peter MacKay urges: "Respect the Rule of Law" while the RCMP, Encana, AER, Alberta and Harper governments busily break it?
Attorney General of Canada "Breaks rules in Court. All. The. Time." Fails to File Statement of Defence within 30 days. In Ernst vs Encana, Encana filed Statement of Defence more than 2 years late; Alberta Environment more than 3 years late; AER never filed, with their lawyer Glenn Solomon bragging about it.
In Alberta And B.C.: Stephen Harper Destroying The Rule Of Law
Top the above primo rule of law enabling oil patch pollution and public health harms with Canada's Supreme Court intentionally publishing lies and smears in a ruling when there's documented evidence of AER breaking the law to enable documented law violations by Encana (now Ovintiv).
"Rule of Law" when it comes to the oil, gas and frac industry in Canada is nothing but a vulgar judicial and political farce.