Hydraulic Fracking Challenged by Jan Rose, December 28, 2013, in Policy & Politics, Green Action News
Jessica Ernst Appeals Court Ruling, Oil patch consultant challenges decision granting Alberta Energy Regulator immunity from damage claims by Andrew Nikiforuk, December 21, 2013, TheTyee.ca
"The Alberta Court of Queen's Bench has ruled that in this case, the energy regulator is virtually untouchable — that the ERCB cannot be sued for violating the constitutional free speech rights of a private citizen, and in fact, cannot be sued no matter how badly the regulator behaves," said Murray Klippenstein, lawyer for Ms. Ernst. "Ms. Ernst thinks this is wrong. She believes that Albertans deserve much better from their energy regulator. This is why Ms. Ernst is appealing." … "I have now seen what justice is in Alberta and I have no faith in it," Ernst told The Tyee. "But I see that as no reason to give up and no reason not to file an appeal. The breach of my Charter Rights is important to all Canadians and this fracking industry wants to take away all of our rights and so does the Harper government."
"When you are at war — you don't throw down your shield and sword and run. You have to defend our constitutional rights. I think we are going to win. It's just so important."
[Refer also to:

December 10, 2013: Notice of Appeal to the Court of Appeal filed and served on the defendants.
December 19, 2013: Alberta Court of Appeal approved Ernst's proposed schedule with minor changes. The approved schedule is as follows:
January 10, 2014 – Appellant to file and serve Appeal Record
February 5, 2014 – Appellant to file and serve Appellant's materials
March 24, 2014 – ERCB (name changed to AER) to file and serve the ERCB's materials
May 8, 2014 – Court of Appeal Hearing (Calgary)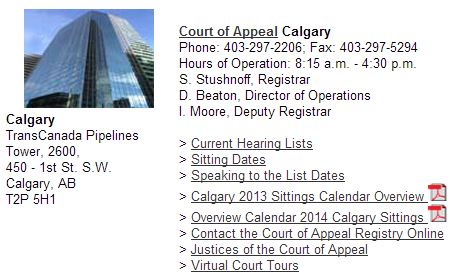 Canadian Courts Dismiss Protection for Owners of Polluted Lands & Waters, A horrible decision against Jessica Ernst, Landowner, Rosebud, Alberta, Canada
Freedom of Expression Before Environmental Regulators?
Judge stops Encana's US-record frack wells in Michigan
Farmer Jeff Locker and his wife considering suing Encana Corp, preferring judge and jury over Wyoming state and regulator officials; three state reports on Encana and water contamination delayed to 2014
Ecojustice, on behalf of Sierra Club BC and the Wilderness Committee, files lawsuit at B.C. Supreme Court, alleging BC's Oil and Gas Commission and Encana violating the Water Act
Hormone-disrupting chemicals found in ground and surface water at fracking sites, Peer reviewed study of fracking sites in Garfield County Colorado finds chemicals linked to infertility, birth defects and cancer
Alberta family, the Daunheimers near Didsbury, suing Angle Energy for $13 million for causing harm to health, property, financial status, personal safety and water
Unanimous Ontario Court of Appeal decision: Ecuadoreans can seek Chevron damages in Canada and Chevron's two Canadian subsidiaries ordered to pay $100,000 in costs
Lubicon First Nation files lawsuit against Calgary-based PennWest over fracking ]