I don't believe what Teck wrote in their letter withdrawing the project. I expect Teck knows there's not an investment firm in the world that would have funded their tar mine, emissions/climate protection promises and unified Canada or not. I also expect Teck was waiting for Trudeau to give the company $billions like he gave Kinder Morgan, but, Trudeau knew if he did, Canadians would have ripped up the rails from coast to coast to coast, and burned no rule of law parliament down. Teck is pulling a cry baby. It's amazing to watch how many intelligent people are falling for Teck's letter.
Adequate climate response is not the AB NDP's fake climate leadership plan that promoted fossil fuels and heavily subsidized frac'ing and that, for obvious reasons, industry loved. Adequate response is to disallow new tarsands projects (mines & SAGD) entirely not start massive new ones like Teck wants, and wind down existing ones but first make companies clean up – completely and appropriately which few are willing to do. Why? Because heeding the law costs money, and fossil fuel companies have proven they take and destroy, never give (other than lots of bribes) and do not like to heed the law. I walked reclaimed parts of the tarsands that companies, workers and politicians brag about – they're a massive failure.
The tarsands pollute too much (air, land, water, communities and politicians – at all levels) and harm too many species, including us.
Investors have educated themselves. They now know fossil fuel companies lie as standard practice, including to investors, and don't give a damn about the environment, climate, or life – or investors! Tarsands companies and our "regulators" still don't even know how to clean up the massive toxic waste lakes already existing. And Teck wanted to make more?
Think of the many billions of dollars saved by us taxpayers not having to subsidize another massive tarshit mine and pay to clean up after it, never mind pay the costs of the pollution harms.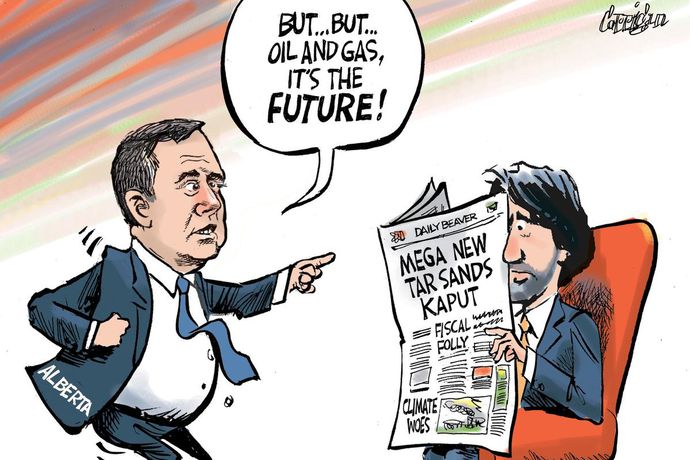 2020 02 29: It's the future cartoon by Patrick Corringan in Toronto Star
Frontier oil sands mine might not be built even if permit issued, CEO concedes by The Canadian Press, Jan 29, 2020, BNN Bloomberg
The CEO of Teck Resources Ltd. says it's "anyone's guess" as to whether the federal government will allow his company to build the proposed $20.6-billion Frontier oilsands mine in northeastern Alberta.
But Don Lindsay says the lengthy process of getting a permit to build the project near Wood Buffalo National Park didn't cost much and is worthwhile even if the Vancouver-based company ultimately decides not to go ahead with construction.
On Tuesday, federal Environment Minister Jonathan Wilkinson linked approval of the mine with provincial efforts to help Canada meet its climate goals and added the government has the right to delay its decision, which is expected before the end of February.
Critics have pointed out that the mine designed to produce 260,000 barrels of oil a day for more than 40 years won't be profitable unless North American oil prices are above US$75 a barrel, which is more than US$20 higher than current prices.
A federal-provincial review last summer determined that the mine would be in the public interest, even though it would be likely to harm the environment and the land, resources and culture of Indigenous people.
Speaking on a webcast from a CIBC investor conference in Banff, Alta., on Wednesday, Lindsay agreed that price is one of three potential issues that could derail the project.
"We'll see what the cabinet does," he said in response to a question.
"We've told the government that for it to be developed, we need three P's: The first is the pipeline has to be finished, not just started, finished. We need a partner. [Taxpayers?] We need price."
As Teck shelves $20B oilsands project, Kenney puts blame on Ottawa, For the Kenney government…it was the Sunday night slaughter — sudden news that Teck Resources has cancelled its $20-billion Frontier oilsands mine by Don Braid, Feb 23, 2020, Calgary Herald
Stephen Carter – Decide Campaigns@carter_AB
So is this "rapid response war room" a weekdays only thing?
I mean, poor @jkenney is out spinning this #Teck #frontier thing all by himself.
Poor guy. [ROARING LAUGHTER! BRILLIANTLY FUNNY! THANK YOU!]
Frontier was never going to happen. Economics over politics. As it always was.
ableg #abpoli #ucp
8:56 PM · Feb 23, 2020
Teck withdraws application for Frontier oilsands mine…., Announcement came hours after Alberta announced it struck deal with First Nations over project by Sarah Rieger, Feb 23, 2020, CBC News
Refer also to:
Alberta Minister of Red Tape Reduction, Grant Hunter, proclaims UCP to give itself 'a giant enema.' Excellent news! UCP is full of shit and needs a good clean out.
Vital warning for AIMCo by Bank of England Governor Mark Carney: Pension funds could be hit by 'worthless' fossil fuels
CNBC's Jim Cramer: "I'm done with fossil fuels … they're just done. We're starting to see divestment all over the world. … It's going to be a parade that says, 'Look, these are tobacco and we're not going to own them.' … Younger people don't want to own them. The dividends are great…but you can tell that the world's turned on them. It's actually happening really quickly."
Horrific. Terrible. Abysmal. The worst. Terms equity analysts are using to describe investors' attitude toward energy stocks!
In "clean" Canada you say? Teck's new profit-sucking, "let it dry," wait for rain – lots of it, dust suppression toxic waste dumping technique?
2019: Teck reportedly rakes in $12 Billion in revenue 2017-2018; Teck, Suncor, CNRL take top spots in annual ranking of mining company revenues
1980 photo of Teck Cominco on the Columbia River, Trail BC by Frederick John Spencer: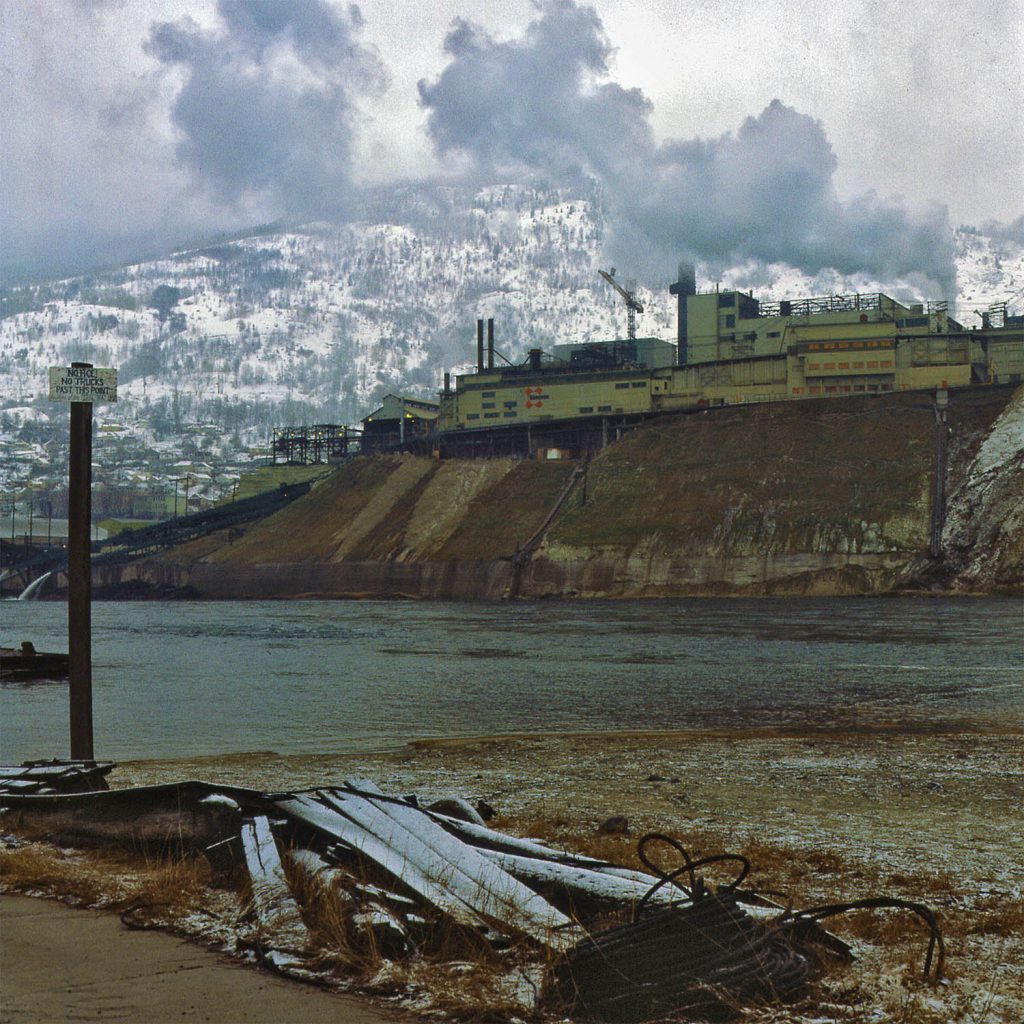 Why is Alberta continuing to licence costly headaches to known big brute polluters and law violators such as Teck?
Another polluting Canadian corporation thinks it's above the law? Of Course! Because Canada's "world-class" regulators wait for rain and look the other way!
Snap below of comment to Andrew Nikiforuk article on Ernst's lawyers, Cory Wanless and Murray Klippenstein, quitting her lawsuit: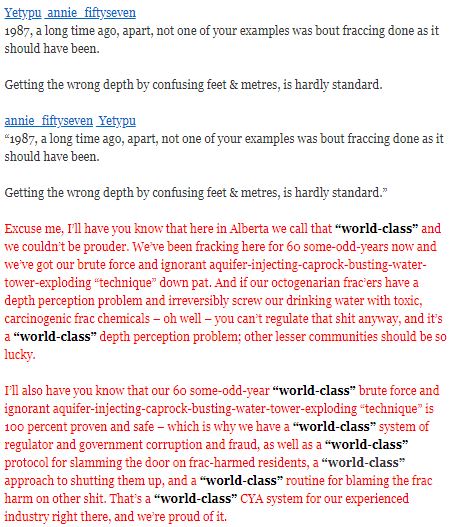 Teck will continue to fight U.S. judgement even though U.S. Supreme Court denied hearing Teck's appeal
2016 08 2016: U.S. judge orders Teck Resources to pay aboriginal group $8.25-million Will Teck pay? Highly unlikely.
2016 04 04: Confederated Tribes of Colville Reservation Can Seek $9.2 Million in litigation fees and costs for their claim against Canadian Mining Company Teck for dumping pollutants into Columbia River
2016 03 01: Teck Metals fined $3.4-million for polluting B.C.'s Columbia River
2014 02 01: Teck Resources confirms spilling 25,000 liters of caustic soda into Columbia River in B.C.
2013 01 17: Teck to appeal Washington river cleanup ruling
2012 12 15: Teck liable for Columbia River clean-up in Washington state, judge rules
2012 09 12: Teck Resources Admits Polluting Columbia River For 100 Years