Are the feds really going to allow polluting, law violating, disrespectful Teck to pollute more?
Another polluting Canadian corporation thinks it's above the law? Teck will continue to fight U.S. judgement even though U.S. Supreme Court denied hearing Teck's appeal
Lying and stealing are next door neighbors.
Proverb
Refer also to! 2019: Teck reportedly rakes in $12 Billion in revenue 2017-2018; Teck, Suncor, CNRL take top spots in annual ranking of mining company revenues, still Teck refuses to pay court order against the company
1980 photo of Teck Cominco on the Columbia River, Trail BC by Frederick John Spencer: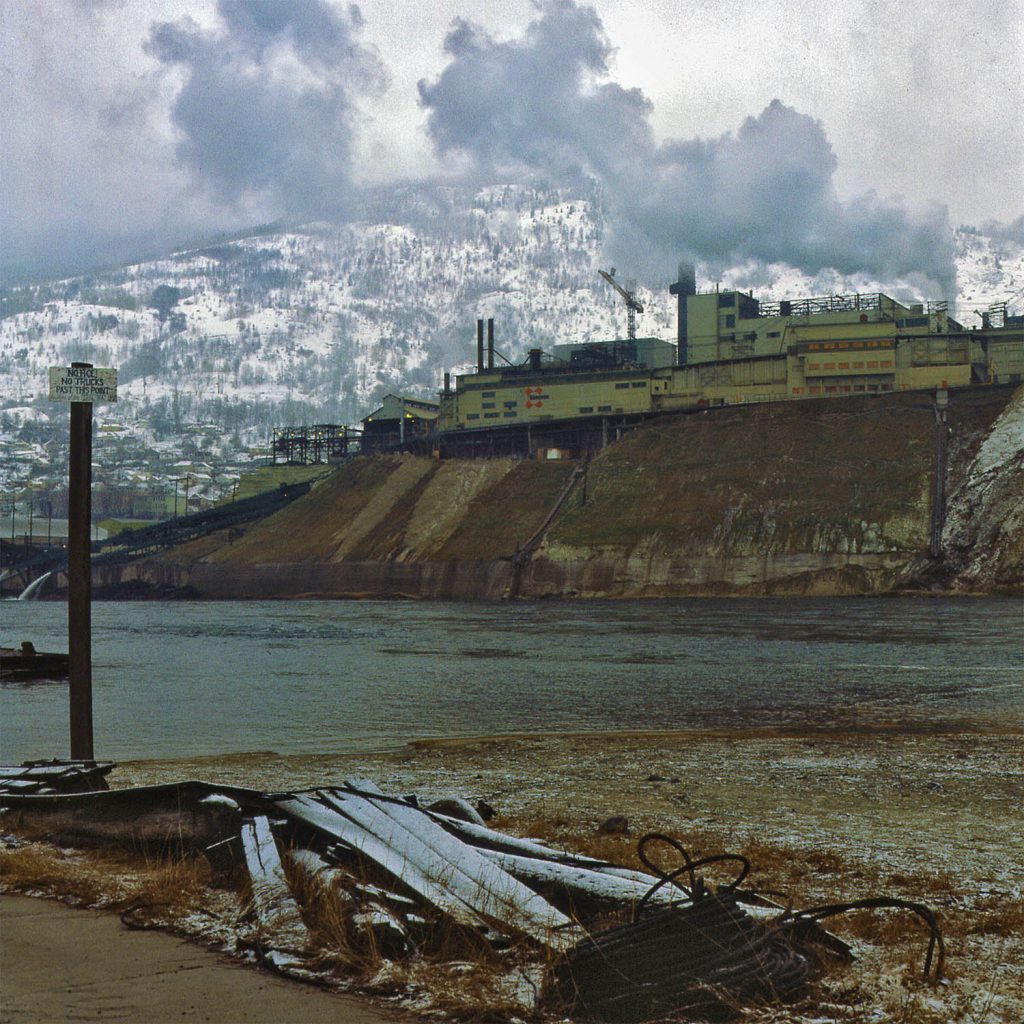 Environmental concerns could dash Teck's hopes of building massive oilsands mine, The macro economic outlook for heavy oil demand – and the oilsands in particular — has improved dramatically by Geoffrey Morgan, July 29, 2019, Calgary Herald
CALGARY – Regulators have recommended the federal government approve Teck Resources Ltd.'s massive new oilsands mine that could help reverse a trend of declining investment in the heavy oil formation, though analysts have been skeptical new mining projects can ever be built in the play given emissions limits and stringent regulatory reviews. [What bullshit is that! Stringent? It's all just known song and dance. Many companies ignore the laws and regulations in Canada, especially so in Alberta with "regulators" and eager syergizers bending over backwards to enable the law violations and pollution]
The Canadian Environmental Assessment Agency and the Alberta Energy Regulator announced late Thursday they were recommending Environment and Climate Change Minister Catherine McKenna approve Frontier, a massive new oilsands mining project by the Vancouver-based miner, with the capacity to produce 85,000 barrels of oil per day by 2026, with future phases taking total output to 260,000 bpd by 2037.
While the two agencies determined the project was in the public interest, they also withheld approvals for parts of the project on Big Creek, a waterway in the area, and made its approval contingent on 62 different conditions.
A statement from McKenna's office said that if the minister decides the new oilsands mine will result in significant adverse environmental impacts, then she would refer a decision on the project to the wider Liberal cabinet.
That could be a likely outcome given the CEAA and AER joint-review panel recommended the project be approved despite finding "there will be significant adverse project and cumulative effects on certain environmental components and indigenous communities."
The environmental think tank Pembina Institute pointed out in a release the mine would contribute six metric tonnes of new carbon emissions annually in Alberta, where current emissions sit at 80Mt and there is an existing 100Mt emissions cap in the oilsands, though United Conservative Party Premier Jason Kenney campaigned on scrapping that cap imposed by former NDP premier Rachel Notley.
"We asked the panel to ensure regulations are in place to credibly enforce the 100 Mt limit before another project puts a shovel in the ground," Pembina Institute's Alberta director Duncan Kenyon said in a note. [More synergy crap from Pembina, enabling the abuses to go on and on and on. Designed to Fail: Why Regulatory Agencies Don't Work ]
The project is large by any measure and analysts have speculated that Teck, which has a market cap of $15.7 billion, could seek other partners [Or will the feds give Teck the missing billions the company needs, make taxpayers pay to pollute and destroy the environment?] on the estimated $20.6-billion Frontier mine, — the first greenfield mining project to break ground in Canada since the oil price collapse of 2014 and subsequent long decline in investment in the sector.
Teck was recently a joint-venture partner alongside Suncor Energy Inc. and Paris-based Total SA on the $17-billion Fort Hills oilsands mine, which started last year but had received the green light well before the oil price decline of 2014.
At the time, Fort Hills was speculated to be the last greenfield oilsands mining project built in the play.
"Any further decisions on the project will depend on factors including our review of the Joint Review Panel report, the outcome of the regulatory process, which is not expected to be completed until the first quarter of 2020, market conditions, and other considerations," Teck spokesperson Chris Stannell said in an email.
"They learned a lot from Fort Hills,"Kevin Birn, IHS Markit vice-president
If Teck proceeds with the Frontier mine, it would provide new data on how far capital costs have been reduced in the oilsands mining business since the oil price collapse, said IHS Markit vice-president Kevin Birn, noting that he expects to see lower capital cost figures.
"They learned a lot from Fort Hills," said Birn, who authored a report for IHS Markit in April showing that capital costs in oilsands mining have declined 35 per cent. Now, a greenfield oilsands mine can provide a return at US$65 per barrel West Texas Intermediate oil prices, compared with US$100 per barrel in 2014.
In addition, he said the macro economic outlook for heavy oil demand – and the oilsands in particular — has improved since 2014 as traditional sources of heavy oil such as Venezuela and Mexico have seen production declines, the Canadian dollar has deflated relative to the U.S., and the value of oilsands input costs such as natural gas has fallen.
As a result, Birn expects to see additional oilsands production from mining projects, though it's still unclear if any company will undertake the risk of building a greenfield mine.
"Will mining output increase over time? I think so," he said.
Last week, the AER also approved an extension of the Mildred Lake oilsands mine, operated by Syncrude Canada Ltd., to replace the declining reserves of the company's current North Mine, which may be depleted by the mid-2020. The extension project, consisting of two new open pit mining areas, would extend the life of the Mildred Lake mine by 14 years.
Syncrude, a joint venture led by Suncor and Imperial Oil Ltd., is one of the original oilsands mining operations in the area and is not looking to expand its production within the project.
Subject: A we still licencing costly headaches??
Date: Fri, 26 Jul 2019 11:13:55 -0600
From: Stewart Shields <email hidden; JavaScript is required>
To: email hidden; JavaScript is required, email hidden; JavaScript is required, goodale <email hidden; JavaScript is required>, email hidden; JavaScript is required, email hidden; JavaScript is required
CC: Alberta NDP <email hidden; JavaScript is required>, Doreen Mueller <email hidden; JavaScript is required>, ENV Minister <email hidden; JavaScript is required>, Facebook <email hidden; JavaScript is required>, fishcreek <email hidden; JavaScript is required>, letters <email hidden; JavaScript is required>, Liberal Canada <email hidden; JavaScript is required>, Ministerial Unit <email hidden; JavaScript is required>, Ministre / Minister (EC) <email hidden; JavaScript is required>
I howled when I read that Teck Resources would be forced to monitor the pollution they produce?? What an obligation to hang on a bitumen producer?? What I couldn't gather from the story—is this to be a another plain old bitumen slurry plant intent on putting a bitumen slurry down a crude oil pipeline or are Teck going to properly upgrade the public's bitumen to a much pricier synthetic crude oil? This must be discovered prior to licensing—as well as final clean-up conditions?? Certainly Alberta will continue to license bitumen production plants that Alberta cannot now keep up with pollution payments– without the help from other provinces!!
If the intent for this Teck plant is to produce Western Canada Select I would be dead against it receiving a license—however if the intent is to produce a nice light synthetic crude oil with conditions that will have Teck do far more than monitor their pollution—it may be worth more than a casual review!! Synthetic crude oil can be refined in any oil refinery—but since upgrading must take place someplace during raw bitumen's life– it should be done at it's original sight to prevent the need of extra pipeline space and the exporting of polluting materials along with filthy raw sour bitumen!!
I have a huge problem understanding just what the panel mean when suggesting the mine will leave significant adverse effects—but it is still in the Public's Interest?? This sounds like there has been no effort expected of Teck Resources to mitigate the "significant adverse effects" their production will bring those in proximity to the mining area? Its this just a "Sorry"but the mine must proceed as proposed??
Stewart Shields
Oilsands mine in public interest despite 'significant adverse' effects: panel by The Canadian Press, July 26, 2019, Edmonton Journal
CALGARY — A federal-provincial panel says a proposed northeastern Alberta oilsands mine would be in the public interest, even though it would be likely to significantly harm the environment and Indigenous people.
Vancouver-based Teck Resources Ltd. aims to build the $20.6-billion Frontier mine near Wood Buffalo National Park in two phases.
Its total capacity would be 260,000 barrels of oil a day and Teck has said it aims to start producing oil in 2026.
The panel's report includes several dozen recommended conditions for Teck and the federal and provincial governments.
They include mitigating harm to wildlife, monitoring pollutants and taking feeback from nearby First Nations into account.
[What? How? Like this: "Thanks for letting us know another member of your community has died a terrible death from cancer caused by Teck's pollution. Our sincere condolences. Teck looks forward to your next feedback letter."]
The federal cabinet has until the end of February to make a decision.
"While the panel has concluded that the project is in the public interest, project and cumulative effects to key environmental parameters and on the asserted rights, use of lands and resources for traditional purposes, and culture of Indigenous communities have weighed heavily in the panel's assessment," said the report.
It said the project would likely result in significant adverse effects to wetlands, old-growth forests and biodiversity, as well as to Indigenous people in the area.
"The proposed mitigation measures have not been proven to be effective or to fully mitigate project effects on the environment or on Indigenous rights, use of lands and resources, and culture."
But the panel also said that over the project's projected lifespan of 41 years, the federal government could expect to reap $12 billion in taxes and Alberta could rake in $55 billion, with another $3.5 billion in municipal property taxes.
[Note the key word "could." This word does not mean "will." Are the numbers fabricated fancy to feed the greed of Albertans so as to minimize opposition to the horrific abuses this project will cause?]
Given the mine's long life, environmentalists have raised concerns about who would pick up the tab for the eventual cleanup in the event Teck couldn't [COULDN'T? OR REFUSES TO? NOTE CROSS REFERENCES BELOW] pay for it.
To that end, the panel recommended Alberta complete its review of a mine financial security program to ensure taxpayers wouldn't be ARE left on the hook.
Environmental groups have also questioned how allowing the mine would square with Canada and Alberta's plans to cut greenhouse gas emissions. Teck estimates the mine will emit 4.1 megatonnes of carbon dioxide a year.
Oilsands megaprojects have fallen by the wayside in recent years as the industry deals with low oil prices, high costs and uncertain prospects of new export pipelines.
Refer also to:
2016 04 04: Confederated Tribes of Colville Reservation Can Seek $9.2 Million in litigation fees and costs for their claim against Canadian Mining Company Teck for dumping pollutants into Columbia River
2016 03 01: Teck Metals fined $3.4-million for polluting B.C.'s Columbia River; Encana fined $0.0 for illegally fracing Rosebud's drinking water aquifers
2014 02 01: Teck Resources confirms spilling 25,000 liters of caustic soda into Columbia River in B.C.
2013 01 17: Teck to appeal Washington river cleanup ruling
2012 12 15: Teck liable for Columbia River clean-up in Washington state, judge rules
2012 09 12: Teck Resources Admits Polluting Columbia River For 100 Years