Refer also to! 2019: Teck reportedly rakes in $12 Billion in revenue 2017-2018; Teck, Suncor, CNRL take top spots in annual ranking of mining company revenues
Teck Resources confirms chemical spill into Columbia River in B.C. by The Canadian Press, February 1, 2014, The Globe and Mail
Teck Resources is confirming that its smelter in Trail has spilled up to 25,000 litres of a chemical solution into the Columbia River. Spokesman Richard Deane says the solution likely contained sodium hydroxide which the plant uses to de-mineralize feed water for the smelter's boilers. Sodium hydroxide is in an industrial cleaning agent also known as lye or caustic soda and can cause severe skin burns and eye damage. Deane could not say if a harmful amount of the chemical was drained into the river. Deane says the solution was accidentally drained to a domestic sewage plant leading to the river instead of getting treated. B.C.-based Teck Resources is facing a class-action lawsuit in the United States on allegations unrelated to this spill that its smelter in Trail has polluted the Columbia River. A woman from Washington state says pollutants released into the water as recently as March, 2011, are to blame for her breast cancer and other health problems.
Teck Cominco Metals owns and operates the integrated smelting and refining complex at Trail, British Columbia. The complex's major products are refined zinc and lead. It also produces silver and gold. germanium dioxide, indium, cadmium and copper compounds as metal co-products, along with a variety of sulphur products and ammonium sulphate fertilizers. (Handout) [Emphasis added]
1980 photo of Teck Cominco on the Columbia River, Trail BC by Frederick John Spencer: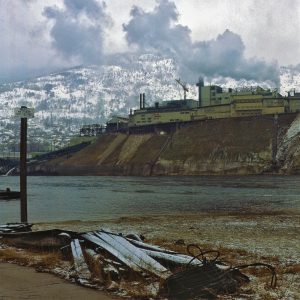 Teck Resources Admits Polluting Columbia River For 100 Years; Damage To Be Assessed
Teck to appeal Washington river cleanup ruling
Teck liable for Columbia River clean-up in Washington state, judge rules