Another polluting Canadian corporation thinks its above the law?
Lying and stealing are next door neighbors.
Proverb
Refer also to! 2019: Teck reportedly rakes in $12 Billion in revenue 2017-2018; Teck, Suncor, CNRL take top spots in annual ranking of mining company revenues, still refuses to pay court order against the company
Teck will continue to fight U.S. judgement, U.S. Supreme Court denied hearing Teck's appeal last week by Sheri Regnier, June 18, 2019, BC Local News
Teck will fight a U.S. judgment ordering the company to pay $8.25 million to the Colville tribes.
Teck's stance follows a recent decision by the U.S. Supreme Court to deny hearing the company's appeal to a lawsuit filed by the Confederated Tribes of the Colville Reservation.
"We are disappointed by the decision," Teck spokesperson Chris Stannell told theTrail Times.
"And will continue to vigorously defend the litigation, which is expected to continue for several more years."
The case dates back to 2016 when an American district court judge found in favour of the Colville tribes that Teck cover the group's bill stemming from litigation regarding historic pollution and costs related to investigative studies of the Columbia River.
That ruling was upheld in the U.S. Court of Appeals in September 2018.
"While we believe that the application of U.S. environmental laws to industrial facilities in Canada is wrong in principle," Stannell continued. [Corporation above The Rule of Law?]
"We have consistently said that if there are real risks to human health or the environment associated with historic emissions from Trail Operations, either in Canada or in the U.S., Teck will take appropriate steps to address them." [Who believes corporations anymore?]
Teck has spent over US$90 million, to date, on studies of the Upper Columbia River in the United States, he said.
"And the results, to date, indicate that the water is clean, the fish are as safe to eat as fish in other waterbodies in Washington State, and the beaches are safe for recreation, other than those affected by contamination not associated with Teck."
A comment to the article:
Matt Wolohan
I have lived on The Columbia for the past 37 years next to Black Sand Beach. Thank you, Teck for doing the right thing and removing the slag and replacing it with sand. Since then, you can go down to that same beach and see slag. You've done 1/10th of 1% of the work to clean up your effluent that you dumped into the river at a rate of 600 tons a day for 90+ years! Our property has high levels of lead and arsenic and I don't think I will likely ever see cleanup that does this most valuable resource the treatment it deserves. I have no problem with what you do, but how you do it. Just like any good neighbor, if you make a mess, you clean it up. Do your job. Be a responsible neighbor.
400-plus vehicles written off since acid spill on B.C. highway last year, says ICBC by The Canadian Press, Feb. 16, 2019, The Star Vancouver
TRAIL, B.C.—British Columbia's public auto insurer says about 450 vehicles have been written off since sulphuric acid spilled along a busy commuter route near Trail, B.C., in two incidents last spring.
The Insurance Corp. of B.C. says there have been more than 4,450 claims received in the wake of the spills but the vast majority of those vehicles were not damaged.
It says it is still in the early stages of a lawsuit but no trial date has been set.
The spills happened on April 10 and May 23, 2018, when tanker trucks owned and operated by Westcan spilled sulphuric acid from Teck's plant in Trail along a stretch of highway near the city.
ICBC filed a notice of civil claim against Teck Metals, Teck Resources, Internaitonal Raw Materials, Westcan, the Regional District of Kootenay Boundary, the City of Trail, two drivers and the provincial government in October.
Most defendents have filed responses denying responsibility.
The insurer alleges that it has incurred "extraordinary expenses" in investigating and addressing the "enormous volume of claims resulting form the spills, and says the defendents failed to warn the public to avoid the highway. [Is Teck a responsible reliable company?]
It also claims the acid was not properly secured and the facility and tankers weren't properly inspected.
When the spills happened, ICBC alleges there was no prompt response, posted warnings or restriction on public access, and the defendents failed to reduce the risk of future spills.
ICBC is seeking costs and damages.
But Teck alleges that ICBC was not obligated to compensate the owners of damaged vehicles under comprehensive or collision insurance and any such payments were voluntary, while Westcan says RCMP should have diverted traffic.
The city says it has no responsibility for road maintenance, including responding to hazardous spills.
The regional district says that while it has an emergency response agreement with Teck, it doesn't consider hazardous spills an emergency.
Teck Resources confirms chemical spill into Columbia River in B.C. by The Canadian Press, February 1, 2014, Updated May 11, 2018, The Globe and Mail
Teck Resources is confirming that its smelter in Trail has spilled up to 25,000 litres of a chemical solution into the Columbia River.
Spokesman Richard Deane says the solution likely contained sodium hydroxide which the plant uses to de-mineralize feed water for the smelter's boilers.
Sodium hydroxide is in an industrial cleaning agent also known as lye or caustic soda and can cause severe skin burns and eye damage.
Deane could not say if a harmful amount of the chemical was drained into the river.
Deane says the solution was accidentally drained to a domestic sewage plant leading to the river instead of getting treated.
B.C.-based Teck Resources is facing a class-action lawsuit in the United States on allegations unrelated to this spill that its smelter in Trail has polluted the Columbia River.
A woman from Washington state says pollutants released into the water as recently as March, 2011, are to blame for her breast cancer and other health problems.
****
1980 photo of Teck Cominco on the Columbia River, Trail BC by Frederick John Spencer: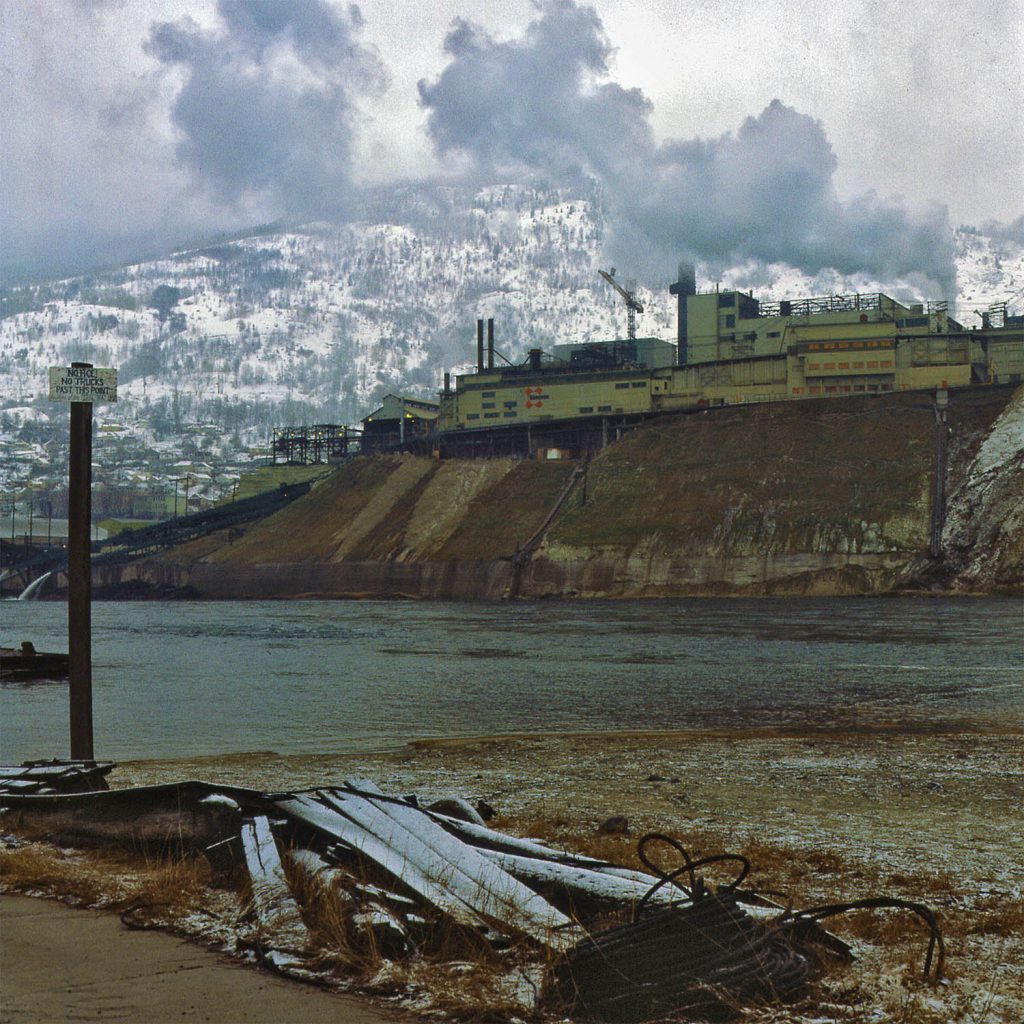 2016 04 04: Confederated Tribes of Colville Reservation Can Seek $9.2 Million in litigation fees and costs for their claim against Canadian Mining Company Teck for dumping pollutants into Columbia River
2016 03 01: Teck Metals fined $3.4-million for polluting B.C.'s Columbia River; Encana fined $0.0 for illegally fracing Rosebud's drinking water aquifers
2014 02 01: Teck Resources confirms spilling 25,000 liters of caustic soda into Columbia River in B.C.
2013 01 17: Teck to appeal Washington river cleanup ruling
2012 12 15: Teck liable for Columbia River clean-up in Washington state, judge rules
2012 09 12: Teck Resources Admits Polluting Columbia River For 100 Years; Damage To Be Assessed