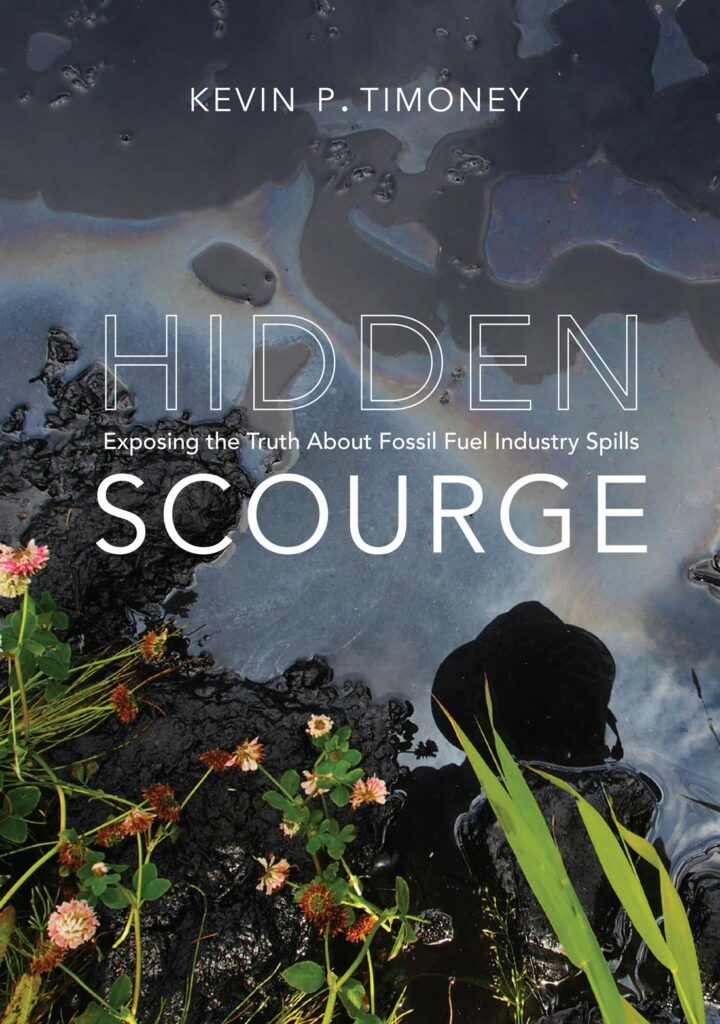 Hidden Scourge: Exposing the Truth about Fossil Fuel Industry Spills by Kevin P. Timoney (McGill-Queens University Press), Press Release Oct 12, 2021
A six-year investigation into the impacts of fossil fuel production in western North America
Hidden Scourge takes the reader on a journey behind the firewall of disinformation to uncover scientific truths about crude oil and saline water spills and the covert cumulative impacts of the fossil fuel industry on ecosystems and society. The book began when the author noticed a suspicious pattern in data reported by the Alberta Energy Regulator. For tens of thousands of spills, recovery volumes exactly matched the reported spill volumes. In short, the data were too good to be true. And so began a search for the scientific truth about spills.
In western North America crude oil and saline water spills occur daily and cause permanent damage to ecosystems that remains largely hidden from public view. Using environmental incident data from over 100,000 spills in western North America, Hidden Scourge evaluates the truthfulness of regulatory reporting with original analyses and field observations, peer-reviewed scientific data, industrial and government reports, interviews, and documents obtained under freedom of information. The investigation exposes rampant destruction of biodiversity, persistent soil contamination, failed reclamation, thousands of undocumented spills, fraudulent data, and disinformation.
Hidden Scourge grounds existential debates about climate and ecological crises in evidence of how hydrocarbon-based economies change the ecosystems where fossil fuels are extracted. The result is a legacy of permanently damaged landscapes that burden future generations with uncertainty and cost. The science is clear: the production and use of fossil fuels has caused global-scale ecological and atmospheric damage that presently endangers life on the planet. Regulatory and government capture by the fossil fuel meta-organization has resulted in the pervasive undermining of the public interest, our democratic institutions, and our ability to respond to the global climate crisis.
Hidden Scourge shows that disastrous mismanagement of the fossil fuel industry and the Covid pandemic are part of a larger story. The author observes: "As the Covid public health disaster in Alberta demonstrates, whenever captured governments and regulators ignore science and fail to protect the public interest, bad things happen."
Readers Comments:
"Oil and gas spill carbon into the atmosphere when consumed, heating the planet – unless they spill on the way to the refinery, in which case they do grave damage to particular parts of the earth and the people on it. This is a remarkable investigation that should open many eyes, and perhaps many hearts." Bill McKibben, author of The End of Nature and co-founder of 350.org.
"A remarkable work by a tenacious scientist, Hidden Scourge is an important exposé of the enormous scale and dreadful effects of oil industry spills and the dysfunctional regulatory culture that enables them." Kevin Taft, author of Oil's Deep State: How the Petroleum Industry Undermines Democracy and Stops Action on Global Warming – in Alberta, and in Ottawa and Shredding the Public Interest: Ralph Klein and 25 Years of One-Party Government.
"Hidden Scourge is a painstaking, demanding investigation into fossil fuel industry spills and the associated regulatory regime. It details an arrogance and lack of accountability that must be rectified in order to save future generations from inheriting a troubling, toxic legacy." Ian Urquhart, Professor Emeritus, University of Alberta and author of Costly Fix: Power, Politics, and Nature in the Tar Sands.
Hidden Scourge is supplemented by a free online appendix of documentary evidence, discussion, data, maps, and analyses (available from: https://escholarship.mcgill.ca/concern/books/hx11xk518?locale=en).
Kevin P. Timoney is a senior ecologist and author of the award-winning The Peace-Athabasca Delta: Portrait of a Dynamic Ecosystem (University of Alberta Press) and Impaired Wetlands in a Damaged Landscape: the Legacy of Bitumen Exploitation in Canada (Springer). He lives in Ardrossan, Alberta.
Contact: Dr. Kevin Timoney, press enquiries: [email protected]
***
Available in hard cover and paperback on Amazon.ca and Amazon.com, in libraries and book stores, including Pages on Kensington and Chapters-Indigo.

Refer also to:
2017: AER gets failing grade for efforts to acquire, report accurate scientific data! Alberta "guessing" when it comes to spill recovery. "AER failure to protect the environment." AER "off the scale in terms of believability…." Researcher Dr. Kevin Timoney sums up his forensic investigation: "Persistent, pervasive danger to society and ecosystems."
2016: Alberta averages two crude oil spills a day for decades and all the AER can do is "urge" companies to improve detection of pipeline leaks? When is AER going to "urge" Encana to fix Rosebud's frac'd aquifers?