RCMP Officers Plead Not Guilty in the Death of Dale Culver, Two officers made their first court appearance six years after the Wet'suwet'en man's death by Amanda Follett Hosgood, June 7, 2023, The Tyee
Two RCMP officers charged in the death of Dale Culver appeared briefly for the first time in a Prince George courtroom Tuesday morning where they entered not guilty pleas.
Cst. Paul Ste-Marie and Cst. Jean Francois Monette have been charged with manslaughter. At Tuesday's court appearance, both elected to be tried by judge and jury in B.C. Supreme Court. The date for a preliminary hearing, which is expected to take about two weeks, will be set later this week.
The court appearance comes six years after Culver, who was Wet'suwet'en and Gitxsan, died during an altercation with RCMP officers in downtown Prince George. The case has met with various delays, including a high case load at B.C.'s police oversight body.
The court appearance had initially been set for March and then May, but in both cases was rescheduled at the last minute.
Culver's family has expressed frustration with the process, describing a "horrendous" and "protectionist" justice system at a news conference earlier this year.
"It's been a pretty tough six years," Culver's aunt, Virginia Pierre, said in March. "There's something wrong here. We really need justice for Dale and for other victims who died at the hands of the RCMP."
The BC Prosecution Service announced in February that it would proceed with criminal charges against five RCMP officers involved with Culver's death. In addition to the two manslaughter charges, three officers are charged with attempting to obstruct justice.
B.C.'s Independent Investigations Office

Any expert, agency or authority that needs to call itself "independent" is anything but

, which investigates all police incidents that result in serious harm or death, launched its investigation after Culver died on the evening of July 18, 2017. According to reports by the police watchdog, the RCMP said it responded to a call of a man "casing" parked vehicles in downtown Prince George at about 10:30 p.m. on the night Culver died.
The officers alleged that Culver attempted to flee by bike and was then pepper sprayed while being taken into custody. He collapsed and died shortly after, according to the IIO.
The IIO filed its first report to Crown prosecutors in July 2019. It suggested that police use of force and "allegations of obstruction of justice in relation to the deletion of video from a civilian phone" needed to be considered in Culver's death.
Nearly a year later, in May 2020, the IIO announced an expanded report had also been shared with the BC Prosecution Service.
Three additional RCMP officers, Cst. Arthur Dalman, Cst. Clarence Alexander MacDonald and Sgt. Bayani Eusebio Cruz, were charged with attempting to obstruct justice. They have not yet appeared in court.
In a statement issued after Tuesday's appearance, Culver's cousin, Debbie Pierre, said the family travels over 800 kilometres for each scheduled court appearance. She said they were disheartened to learn that the three officers facing obstruction charges will not appear until July 25.

Also intentional to bankrupt the harmed, and or loved ones of the harmed, and to abuse our already abused trust, hearts and souls, and finances.

"We attend these hearings to see how these officers will plead, but once again we are disheartened due to the latest delay. We keep going back home without answers," she said.
The family also said it was disappointed that the officers accused of manslaughter appeared remotely. Lily Speed-Namox, Culver's daughter, said she wants a formal, in-person apology from the men accused in her father's death.

Why It Took Six Years to Charge Officers in Deadly RCMP Incident
"Since day one, I have wanted to look the RCMP who killed my dad in the eyes. I want to watch them defend themselves and their decisions," she said. "I want these RCMP officers to look me in the eye and apologize for killing my dad."
Representatives with the British Columbia Assembly of First Nations, B.C's Family Information Liaison Unit, BC Civil Liberties Association and Pivot Legal Society also attended Tuesday's appearance.
The RCMP has previously said that four of the officers charged in Culver's death remain on active duty while one officer is on administrative leave for unrelated reasons.

Intentional, Racist Caveman Canada, operating as intended in colonial white-privileged raping murdering hell.

Dates for the pre-trial hearing will be set Thursday morning, 9:30 a.m., in Prince George.
Counsel for the RCMP officers will be seeking a publication ban on evidence presented at the hearing.

I expect our colonial courts will give the RCMP whatever they demand and will let these five officers off after much huffing and puffing and pretend "justice" – to keep Canada's racism raping "strong and free."

Manslaughter carries a maximum sentence of life imprisonment.

Refer also to: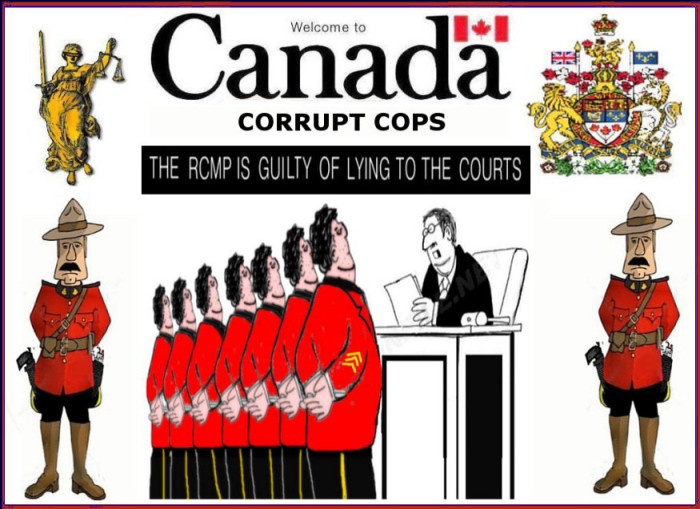 New low for racist Canada: Police & RCMP enable white supremacists shitting & pissing on the rule of law and intimidating/assaulting residents for days while Alberta UCP negotiates with terrorists
RCMP: Oil & Gas Industry's mafia
RCMP told Ernst they "don't do surveillance" when she refused them entry into her home without a warrant while trespassing on her land, lying and trying to terrify her silent after she served legal papers on Encana/Ovintiv, AER & Alberta gov't.
Oil & gas friendly spy agency, CSIS, that for years, "relied on legal doctrine of Crown immunity as defence against criminal liability," chastised in court yet again, for pissing on the rule of law. Better tell our lying Supreme Court of Canada judges; murdering illegally spying police; RCMP illegally operating as mobsters for Encana & AER trying to scare frac-harmed plaintiffs into silence and violently arresting innocents to enable oil & gas profits; too many criminal, lying politicians (that appoint our judges or become judges); lying "justice" lawyers; lying, rule-violating public
Canada's racist legal industry rots & lies on: Alberta lawyer Leighton Grey (posted Black Lives Matter 'leftist lie' video), resigns. Picked by racist Kenney's racist UCP to be on racist committee to pick racist judges? Grey was lawyer for Clayton Boucher, imprisoned after racist RCMP found baking soda in his home.
Pissing on Reconciliation, Alberta Premier Jason Kenney calls First Nations "Fringe Groups" and spews rule of law while he remains under investigation for breaking it. Law Prof Heidi Matthews: "'Rule of law' is a conservative talking point."
Industry's and misogyny's loyal Royal Canadian Mounted Police (Terrorists?): "Screw the Rule of Law"
'A shocking violation of free expression': Civil liberties groups release 'Protest Papers,' call on CSIS for more transparency. Pfffft! As if oily politicians, RCMP & courts will let that happen!
RCMP Mobilizing Officers to Houston, NEBC, Intensifying Harassment of Camps. RCMP are lying, as usual, "saying one thing and doing the exact opposite." BC Premier John Horgan: "The rule of law needs to prevail." Whose? White Privileged Rich Man's Law? Oil & Gas Industry's Law? Racists' Law?
New National Security & Intelligence Review Agency (NSIRA) members announced: Outgoing NDP MP Murray Rankin, Q.C. (Chair) & U of Ottawa prof Craig Forcese; Multi-hatted watchdog will have full access to virtually all information held by federal govt. Why? To give to Israel and multinational corporations, and abuse innocent Canadians with?
Did Harper and the oil and gas industry order RCMP/CSIS/Snipers to attack innocent mothers and grandmothers, and set aflame stripped police cars in New Brunswick to discredit all Canadians concerned about frac harms and lay a red carpet for Harper's Bill C-51?
2016: "Corruption … At A Gallop." Ex-Justice Minister Peter MacKay urges: "Respect the Rule of Law" while the RCMP, Encana, AER, Alberta and Harper governments busily break it?
RCMP pushes for new law to get Canadians' private information without a warrant. Who's pushing the RCMP?
RCMP ignore "volley of gunfire" to concerned citizen's home but warn government and industry: "Environmental extremists pose 'clear and present criminal threat' to Canada's energy sector – more likely to strike at critical infrastructure than religiously inspired terrorists." Canadian and Australian oil and gas lobby groups warn: Industry operations "impact aquifers" and "contaminate water resources" as pre-determined "bullshit" investigations, cover-ups and court rulings fix everything. No word if "religiously inspired terrorists" plan to retire because of the intense competition
Complaint filed over alleged illegal searches of private information on Northern Gateway pipeline opponents by RCMP, CSIS and handing the information over to oil companies and Canada's national energy regulator
Shale gas: RCMP and CSIS on high alert; Les fractivistes rendent la GRC nerveuse, RCMP
Pfffft! What rule of law? Canadian courts have proven that law-violating oil & gas companies are above the law, along with their law-violating, enabling "regulators" and trespassing racist thugs, the RCMP
Alberta Energy Corporation (became Encana) CEO Gwyn Morgan (also led Encana) defends company conspiring with RCMP for staged bombing of a gas well
… Police hoped to raise public anger about the vandalism by spreading false information about the well-publicized explosion. …