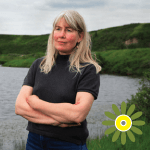 "How quickly will anti Canada, anti rule of law Premier of Alberta, "Dead Eyes" Danielle Smith, write a law to exclude Alberta from this new Miscarriage of Justice Review Commission Act (David and Joyce Milgaard's Law)? Alberta "Justice" is well known for its corruption, control by corporations and using the rule of law and the courts to harm the harmed and punish innocent people for daring to try to seek justice and or speak out. Worse, Albertans are known for voting for and re-electing dirty politicians, including those that prove themselves to be dirty ministers of "justice."
"Unf*ck the system." Alberta's Neanderthal "Justice" system assaults sexual assault victims. "The judge in this troubling case was none other than former Deputy Justice Minister Ray Bodnarek, a PC loyalist appointed as a judge by former PC Justice Minister Jonathan Denis who himself resigned under troubling allegations of domestic violence." Commenter: "So who exactly is the crown protecting by blocking the publication of the victim's name?" Another commenter: "My guess…..the 'system'. It stinks and it's all because of the judges & lawyers."
Medieval Conservatives: Alberta removes sexist slave title of "master" from court but not superiority titles of m'lord, his lordship and m'lady, her ladyship.
Alberta resident: "Didn't think it could get any worse than ex-Alberta 'Justice' Minister Jonathan Denis but appears our new Minister operates believing the Criminal Code of Canada and Charter of Rights are subservient to the Book of Mormon." Democracy Watch urges ethics commission to investigate Alberta Justice Minister Doug Schweitzer for clearly violating conflict-of-interest law. Authorities shattering the ball, as usual.
As expected, the rapist's future and "good family" privilege strikes again (systemic?): Judicial industry gives convicted serial rapist Matthew McKnight everything his defence asked for. Disgusting. Horrifying. He'll likely be out in 2 years or less, free to rape again and again and again. "I'm saddened for the victims of McKnight who also became victims of Justice Sulyma."
2021: Finally, "a non/racist justice and jury in Alberta," Bradley Barton found guilty in 2011 death of Cindy Gladue
'This Hour Has 22 Minutes' Sketch: "Judges: a danger to Canadian women." This post includes many articles on horrifying misogynistic Canadian (Caveman) judges
PS What do civil litigants defamed and harmed by Canadian judges get? Nothing, just the same shit self regulation clients get when betrayed by their lawyers.

Liberals introduce 'Milgaard's Law' to create review process for wrongful convictions by The Canadian Press, February 16, 2023, The Globe and Mail
New legislation introduced in the House of Commons Thursday would make it easier and faster for people who may have been wrongfully convicted to have their cases reviewed.
Justice Minister David Lametti is also hoping it will make such reviews more accessible to women, Indigenous people and racialized Canadians.
The bill is dubbed "David and Joyce Milgaard's Law," named for the man who was released in 1992 after being wrongfully imprisoned for 23 years, and his mother who fought relentlessly to free him.

Why now? What the hell took so long for this?

"We need a system that moves more quickly, both for people applying as well as for victims and the process needs to be independent," said Lametti.

Faster for super tardy and dragged out judicial industry, where too often the judges are the bad guys with their delays and tardy rulings, will do what? How does speeding up super slow help?

The bill would establish an independent commission to review, investigate and decide which criminal cases should be sent back to the justice system.
Justice department officials told media in a briefing on the new law that a wrongful conviction review currently takes between two years and six years to complete, depending on the circumstances.
Under the new system, Lametti says there will be "more people dedicated" to working on wrongful conviction files.
The government says it is rare for miscarriages of justice to occur but a formal process to review such cases is needed.

Pffft. The feds need to investigate Alberta's wild wild west style of "justice" where innocent people are knowingly put in and kept in prison.

The government says applicants for a review would have to first exhaust all their rights of appeal before applying to the independent commission.
Susan Milgaard, David's sister, said she would say what her mother would say: "It's a glorious day, hallelujah."
She says when they were trying to get her brother's case reviewed, "nobody wanted to do anything to support getting David's application through."

I expect under this new law, nothing will improve. It's just more talk and promises to con Canadians into believing we have a "justice" system, which we do not. We only have terribly expensive law that primarily serves colonialism, rich white racists and rapists at the expense of the rest of us and our environment. And, to make us "trust" an untrustworthy monstrously abusive, unjust and unfair system.

More than once, the review was denied.

That won't change.

"That was three reviews we had to go through," she said. "That can't happen in the independent review board. That's the difference. And that's a lot of years for a lot of lives, not just the inmates, the families too."
Lametti said he promised David Milgaard he would "make the system better" when they met in 2019, before David's death in 2022.
It is not clear when the commission would start operating, how much it will cost or who its members will be, but Lametti says it will be made up of five to nine people with experience working in criminal justice.

I do not trust it, 0r any of those five to nine people, for one second.

James Lockyer, a lawyer who co-founded Innocence Canada and helped several people prove a wrongful conviction, including Milgaard, said he has been advocating for the creation of a commission to review cases for 30 years.
"To realize the importance of the commission is just to say to yourself, that if this commission had existed back in the early 1970s, it can safely be said it would have saved David Milgaard two decades, at least two decades, of those 23 years that he spent in prison," he said.

Maybe, but also, more likely, maybe not.

Lockyer said advocates had tried to get support for creating the commission under other governments and from other political parties.
He said the Liberals, NDP and Green party have all expressed support for its creation at times but "the Conservatives have never responded one way or the other."
Lametti said he is going to try to pass the law as fast as he can, and believes he has "good support" in both the House of Commons and the Senate.
NDP Leader Jagmeet Singh said Thursday his party will support the new law which should be enough to get it passed.
Lametti said members of the commission will provide funding for outreach programs and resources to support applicants during the review process, focusing on people with "limited means"
"When I look at the files that come to me, I see a clear pattern. The applicants are overwhelmingly white men, and our prison populations do not look like that," he said.

Raping Caveman Canada won't change, it's rich raping masters will not allow it.

"This tells me that the system is not as accessible to women or to Indigenous peoples or Black or racialized people who are disproportionately represented in our criminal justice system. We have to change that, some of these files go back decades."
Innocence Canada, the non-profit organization that advocates for the wrongfully convicted, says it has helped exonerate 24 people since 1993.
It's most recent success was getting a new trial for Robert Sanderson, a Manitoba man found guilty in 1997 of three counts of first-degree murder and sentenced to life in prison with no parole for 25 years.
His appeal was denied by the Manitoba Court of Appeal in 1999, but Innocence Canada took up his case and discovered new DNA evidence. Lametti ordered the Manitoba court grant Sanderson a new hearing earlier this week, saying there was likely a miscarriage of justice.
A few comments:
Fred8888:
this is a great development. Fans of JWR take note: she couldn't have cared less about these matters. Lametti is serving the country well.
475:
Finally. Nice tribute to name the law after David and his mother, but it would have been even better if Lametti had moved more quickly so that David would have seen it before he died.
RichardSharp1:
Lametti said "When I look at the files that come to me, I see a clear pattern. The applicants are overwhelmingly white men, and our prison populations do not look like that."
This justice minister is the real deal, an excellent choice by Trudeau after the petulant Wilson-Raybould. She has not been missed.

She was dreadful in her position, notably f*cking up MAID. Who was JWR really working for, Steve Harper and his extremist church?

Note the new bill is supported by the Liberals, the NDP and the Green Party. The Conservatives couldn't even bother to respond to enquiries
Dora13:
This is great! Too long in the making but what a great tribute to the Milgaard family. I do believe that this commission can, and hopefully will be a game-changer. Also, so nice to see a politician working hard and passionately for the greater good. Well done, Minister Lametti.

I wish I could trust it, or believe it will improve the racist misogynistic injustices rampant in our judicial industry, but I don't and expect my doubts will be proven correct in short order.

***
Teodora Pasca@teodorapasca:
This is huge. Wrongful conviction applications will be reviewed not by the Minister of Justice but by an independent commission with a specific mandate, hopefully making it easier & faster for people to clear their names.
This achievement is a credit to many, incl the amazing James Lockyer @LZZDefence
& @InnocenceCanada. The bill is named after David Milgaard, wrongfully imprisoned for 23 years, and his mother Joyce, who never gave up on his case. David passed away last year as a free man.
Minister of Justice introduces legislation (David and Joyce Milgaard's Law) to establish an independent Miscarriage of Justice Review Commission Press Release by Department of Justice Canada, February 16, 2023
Today, the Honourable David Lametti, Minister of Justice and Attorney General of Canada, introduced proposed Criminal Code amendments to establish an independent commission dedicated to reviewing miscarriage of justice applications. The new commission would replace the current ministerial review process. Under the Miscarriage of Justice Review Commission Act (David and Joyce Milgaard's Law), the new commission would review, investigate, and decide which criminal cases should be returned to the justice system due to a potential miscarriage of justice.

Humans will make up this new commission. Most humans are easily bribed and bought, rendering this commission corrupt before it even begins. And worse, I expect dirty gov'ts will make sure dirty lawyers are in charge of picking dirty commission members to ensure injustice remains Canada's rule of the day.

All people in Canada must have confidence that the justice system is there to protect them and that it can be trusted.

Caveman Canada will never be able to earn my trust as long as the supreme court of Canada's intentionally dishonest and defamatory ruling in Ernst vs AER remains uncorrected, misogynistic and racist judges continue to be cruel in courtrooms and rulings, publicly shaming the harmed to try to keep us silent, and as long as Canadians vote dirty politicians into power who appoint dirty judges.

While rare, miscarriages of justices sometimes occur and can be discovered long after the criminal court process has concluded.
In addition, Indigenous peoples, Black persons, and members of marginalized communities are overrepresented in the criminal justice system and can face greater challenges in navigating it.

Which will never change as long as racist Canadians vote racist politicians into power who later appoint racist judges to keep the racism and its injustices going strong. There are reasons why con politicians and fucker truckers are working so hard to farm ignorance, hatred and rage (keeps the citizenry voting for politicians that harm those that vote for them).

Establishing an independent commission would make it easier and faster for potentially wrongfully convicted individuals to have their cases reviewed. The commission would remove barriers to access, for Indigenous peoples, Black persons, and members of marginalized communities.

How? I do not see how that is possible in reality as long as ignorance, rage farming and hatred runs Canada, with Putin and GOP dark money, police and con politicians like "Dead Eyes" Smith, Doug Ford and Pierre Poilieve helping fucker truckers terrorists destroy public health so that American private-for-profit health care corporations take over.

Addressing miscarriages of justice more quickly will help mitigate the devastating impact they have on the potentially wrongfully convicted person, their family, victims, and improve access to the justice system.

I fail to see how this new legislation will improve access to/within our intentionally inaccessible judicial industry, especially as long as judges and lawyers continue to self regulate. Canada has too many corrupt and dirty self regulators of lawyers, and too many law violating lawyers and judges serve law violators, notably raping religions and oil, gas and frac companies.

The independent commission would review miscarriage of justice applications and decide whether to grant a remedy, such as ordering a new trial or new appeal. These applications would no longer be decided by the Minister of Justice.
Quotes
"Wrongful convictions are a matter of deep concern to me, and to many Canadians. Our government believes that a fair and equitable criminal justice system must guard against potential miscarriages of justice. "David and Joyce Milgaard's Law" is a critical step forward in establishing an independent review process to examine whether a miscarriage of justice may have occurred. An independent commission will help make miscarriage of justice reviews more efficient and make the process truly available to all who want to access it."

The Honourable David Lametti, P.C., Q.C., M.P.
Minister of Justice and Attorney General of Canada
Quick facts
The proposed new commission would not be an alternative to the justice system. Applicants would first need to exhaust their rights of appeal most likely killing them and running out their finances long before they get to try to access any remedy this new commission might provide. before requesting a miscarriage of justice review by the commission.
The commission would not decide whether an applicant is guilty or innocent. Rather, if the commission decides if a miscarriage of justice may have occurred and is in the interest of justice, it will grant a remedy, such as ordering a new trial or new appeal. Only the courts have the power to overturn a conviction.And Caveman Canada has way too many dirty racist misogynistic extreme religious in politics appointing same crap to our courts to make sure the rich white status quo keeps putting innocent people in prison, notably those the rich want to punish and or legally get rid of for daring to try to seek justice or speaking out.
Establishing an independent commission responds to calls from stakeholders and advocates for the wrongfully convicted, and follows the establishment of similar independent commissions in other countries, such as England, Wales and Northern Ireland, Scotland, and New Zealand. The creation of independent commissions in those jurisdictions has led to significantly more applications being made and more wrongful convictions being identified and remedied, compared to Canada.
In March 2021, the Minister of Justice appointed retired judges Harry LaForme and Juanita Westmoreland-Traoré to hold consultations and provide options on the formation of an independent commission. This included submitting a report to the Minister summarizing the input received during the consultations and providing options on the path forward.
The current criminal conviction review process is set out in Part XXI.1 (sections 696.1 to 696.6) of the Criminal Code and accompanying regulations.
The criminal conviction review process was last reformed in 2002 following public consultations, which resulted in changes that clarified the criteria for making an application, provided for subpoena powers, and expanded the reviews to include summary conviction offences.
These proposed amendments to the Criminal Code are a key step towards establishing an independent commission. The passage of legislation would need to occur before the commission could be established and begin its important work.
Related products
Associated links
Contacts
For more information, media may contact:
Diana Ebadi
Press Secretary
Office of the Minister of Justice
343-574-3446
[email protected]
Media Relations
Department of Justice Canada
613-957-4207
[email protected]

The thing David Milgaard (wrongfully convicted for rape & murder) wants you to know: "This can happen to you. Either you or your children."
"Utter disgust" at retired judge Brian Giesbrecht's "filth" telling us "to move on" from 215 Indigenous children found in unmarked graves at Kamloops Residential School. "He is the disease." A despicable Canadian Caveman. "I worry about how he may have injected his incredibly biased views against Indigenous people during his time as a judge in Manitoba. I am thoroughly disgusted."
Baking soda? Frac! Dirty lawyers (become dirtier judges?), dirty prosecutors and dirty RCMP abound. A disgusting horrifying read. I know from experience how terrible it is to be stabbed in the back by one's own lawyers (in my case, Murray Klippenstein and Cory Wanless), after paying them a fortune. Rotten lawyers know law societies serve their own, like AER serves polluters that pay AER's way.
Just how corrupt is Alberta Justice? Infuriating! Sickening! Welcome to Alberta's "Rule of Law." The Fifth Estate: The autopsy (part 1): What if justice got it wrong? "I did not kill my son. It was an accident."
Must watch, both parts! The Fifth Estate's "The Autopsy Part 2: What did Alberta "Justice" cover up?"
Tammy Bouvette, Intentional miscarriage of justice in Canada?
UCP piling on rot in Alberta's already rotten judicial industry. Perfect person for KKKenney-Harper Team vetting judge appointments, someone who can't remember: "Former finance minister Pat Nelson, who served under premier Ralph Klein, said she can't remember who from Alberta Justice called to recruit her, nor can she recall who conducted the 'short' interview with her or if she was asked to provide references."
Nasty! Canadian courts describing "individuals as exhibiting 'vexatious-style' behavior without formally designating them as a vexatious litigant." Is that how Supreme Court of Canada Justice Rosalie Abella gets away with ruling AER found Ernst to be "vexatious litigant" when evidence proves AER found Ernst to be a "criminal," 7 years later, a terrorist – all without charges, evidence, trial or due process? With AG Jody Wilson-Raybould saying & doing nothing about Canada's top judicial farce?
Who orders a new hearing for a Supreme Court of Canada ruling where 9 justices knowingly published a lie and sent it to the media? Who "slaps" Justice Rosalie Abella for knowingly lying in her ruling and belittling the applicant? Certainly not the judges' self regulating Canadian Judicial Council!
2007 McLean's Cover: "Lawyers are Rats" A top legal scholar and ex-Bay Street partner exposes the corruption of his profession. "Self-regulation is regarded with quasi-religious fervour."