"Alberta Justice" needs to be renamed to "Alberta C0rruption Services."
The Autopsy — Part 2: What did justice cover up? by The Fifth Estate, Jan 19, 2020. 28:30 Min.
Eight years ago, a review of autopsies signalled to Alberta's Ministry of Justice that it had a big problem on its hands. In Part 1 of The Autopsy, The Fifth Estate revealed how an expert pathologist review shook the foundations of murder cases in Alberta and that the provincial government kept that information secret for nearly a decade.
In Part 2, The Fifth Estate tells the inside story of how senior Alberta government officials ultimately abandoned their probe into miscarriages of justice while prisoners were left to serve out their time. The months-long investigation reveals additional questionable cases that Alberta Justice kept under wraps and examines who knew what and when.
Tammy Bouvette: "I'm broken, everything, my name, my children. … I am not a baby killer. … No one wanted to hear my side. … It's taken everything from me, my freedom, my whole self, everything."
James Lockyer, Lawyer Innocence Canada: "It's only an exoneration that will give them their name back."
***
Surely someone in judicial authority, somewhere, some day will gather their courage, silence their egos, risk their fat pay cheques and enormous pensions, and speak publicly against the many heinous obstructions of justice by Alberta Justice, apologize to the innocent people Alberta Justice harmed, and work at making it right.
But no, we get "Justice" in vile & corrupt Alberta style. Then head of the Alberta Crown Prosecution Service, now provincial court judge Greg Lepp deflects and lies?
Pure judicial evil, as evil as the Catholic church enabling its pedophile priests. Humanity needs to quit revering judges & priests, they don't deserve it.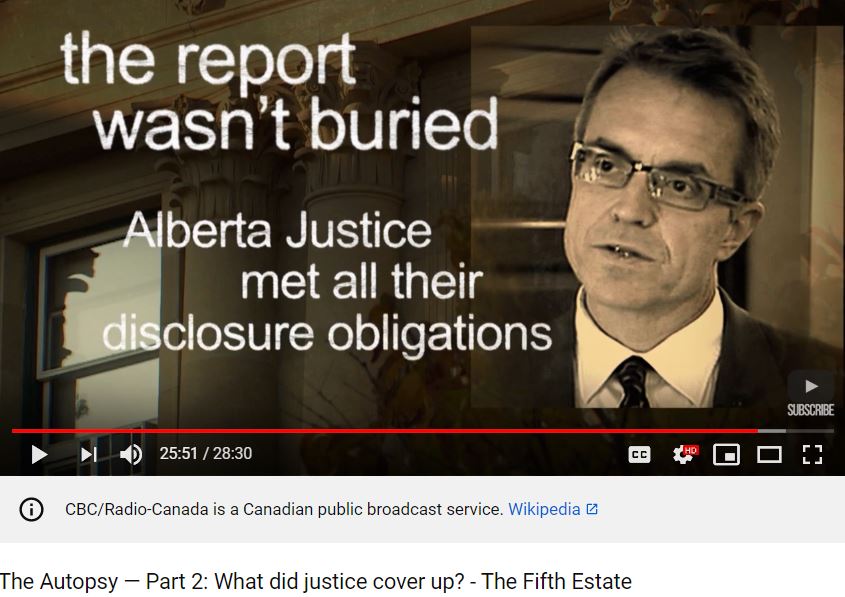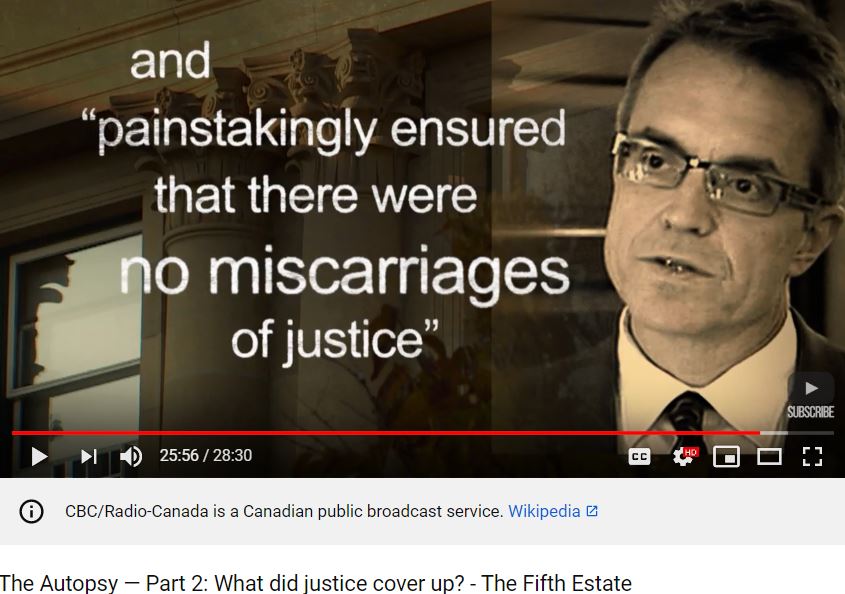 ***
The autopsy — Part 1: What if justice got it wrong? – The Fifth Estate
A few of the comments to Part 2:
Clutch Cargo
The minister of justice sounds like he could care less. The justice system destroyed these people. The system has shown themselves to be evil. These people need to be compensated.
No Limit Arcade
I don't even consider these Government Officials to be human, they are animals. … At what point do we finally demand criminal penalties for criminal negligence on the part of these officials?
IceXFoXx
These people were unjustly accused of crimes, but because they weren't wealthy they didn't have the means to get independent investigators. The law only works for the rich and those who can afford to pay their way out of trouble.
A battered body, neck abrasions and signs of a violent struggle.
When the RCMP first investigated the death of Preston Lochead at his home in Airdrie, Alta., in 2010, they called in the major crimes unit.
The body of Lochead, 36, was found in the basement of his home, next to an overturned table. His roommate told police he saw a man scurrying from the house after the discovery of the body.
Police suspected foul play, began interviewing witnesses and brought that man in for questioning.
But then came the autopsy.
Calgary medical examiner Dr. Evan Matshes told the RCMP that contrary to what they might have thought, Lochead died from cardiac disease.
And with no homicide, there was no crime to investigate.
The RCMP broke the news to Lochead's widow, Sally Wheeler.
"I was like, 'You've got to be kidding.' I was so shocked that this is what [the RCMP] was telling me," she said in a recent interview with The Fifth Estate's Mark Kelley.
Lochead's death is one of several cases that came under scrutiny in 2012. Alberta's Justice Ministry ordered a review of some of the autopsies done by a Calgary medical examiner after questions were raised about the accuracy of his findings.
Documents obtained by The Fifth Estate reveal that Alberta Justice commissioned that review, which exposed several potential miscarriages of justice.
Wheeler said the RCMP told her a few months after her husband died that the autopsy prevented them from laying charges. [Surely the RCMP trump medical examiners (and judges), notably if an examiner's or judges conclusions are out to lunch?]
"They mentioned that he had a blow to the head and a broken bone in his neck," she said. "But they couldn't take it any further because it hadn't been ruled a homicide and I was like, 'What?'"
Turns out Wheeler wasn't the only one to question the autopsy results.
Documents obtained recently by The Fifth Estate show that a second medical opinion from three expert forensic pathologists — written two years after Lochead died — differed from the original medical examiner's finding.
They wrote that Lochead's death was more likely a homicide by "strangulation."
Senior officials in the Alberta Justice Ministry received that report as part of a larger review of Matshes's autopsies, but the findings were buried in court files for several years until unearthed by The Fifth Estate.
WATCH AT LINK: The autopsy (part 1): What if justice got it wrong? by CBC The Fifth Estate, Jan 12, 2020. 30:22 Min. An autopsy tells the story of the dead but can also determine the future of the living.
Wheeler and roommate Jimmy Dean, who were both in the house the night of the death, say it was obvious to them from the beginning that Lochead was killed.
The evening started with Lochead acting as a Good Samaritan. He had gone out to pick up refreshments for an evening poker game and came back with two strangers he met at the store. The strangers claimed their vehicle had broken down at the side of the road.
Staying behind
Lochead, a friendly Maritimer and father of three whom Wheeler described as her "angel," wanted to make sure the stranded travellers would not freeze in the frigid November night.
Wheeler remembers the two men as Americans who spoke Russian. One of the men appears to have stayed late. [Is that why Matshes "erred" in his autopsy? Serving America in exchange for favours (eg easy work visa/citizenship) like so many Canadian politicians do?]
Dean went to bed early and woke up just before 7 a.m. to discover the body. He said when he was on the phone to 911, he heard movement in another room.
"That's when I seen this fellow standing in the hallway," Dean told The Fifth Estate. "I told him to stay and he opened the door and took off."
Dean and Wheeler said police later told them that the stranger from the hallway was hiding in an unlocked car down the road. The American was taken in for questioning and treated for injuries he claimed were sustained in a fight with Lochead.
Dean said the RCMP told him some of what the American said in the police interrogation. According to the suspect, a struggle began after Lochead began to have concerns about who the visitor really was.
"That's how the fight started because the guy didn't want to give Preston his ID," Dean said.
Allowed to go back to U.S.
Soon after the death, local news reports indicated that the RCMP were already getting signals from the medical examiner that it might not be ruled a homicide.
"Police are still awaiting Monday's autopsy results to determine if the struggle contributed to Lochead's death or if he died from natural causes afterward," the Calgary Herald reported.
According to Wheeler, the RCMP told her the American was eventually allowed to return to the United States.
Wheeler said the RCMP told her:"We're keeping an eye on him and we're in touch with the police down there."
But months later, Wheeler said, the RCMP told her that the finalized autopsy report meant they could not lay charges.
A later review of 14 of Matshes's medical files would include Lochead's autopsy. That review, commissioned by Alberta's Justice Ministry, stated that the medical examiner made unreasonable conclusions in 13 cases.
Why wasn't that guy brought back to Canada to face charges?- Sally Wheeler
Airdrie RCMP told The Fifth Estate recently that Alberta Justice did not provide them with the 2012 report pointing to the death as a homicide.
A major crimes investigator at the RCMP was assigned to check their old case file and did not find the report.
"There is no communication from Alberta Justice on this investigation," Airdrie RCMP spokesperson Cpl. Laurel Scott said in a recent email.
'Not aware of a formal review'
In their peer review report to Alberta Justice, the expert medical pathologists wrote that more "weight" should have been given to "strangulation" as the cause of Lochead's death.
"A homicide manner [of death] is more appropriate," the three pathologists wrote in their November 2012 critique of Matshes's original autopsy.
Wheeler is still confused about why nothing happened next. [Because it happened in Alberta]
"There was a fight, he's dead. It was so clear to me," Wheeler said. "Why didn't they reopen the case?"
Eric Tolppanen, now head of Alberta Crown Prosecution Service and then a senior justice official, declined an interview with The Fifth Estate. In a statement, he did not answer directly whether the expert review panel document was provided to the RCMP in Airdrie.
Tolppanen said that the RCMP were told that "this police file would benefit from additional peer review." [Where is the documentation (date, time of the call/chat and or copy of the letter/email) to prove that statement? Does Mr. Tolppanen have any credibility? Is he trustworthy enough to believe anything he says? I don't believe him.]
He said that the RCMP acted on that advice and later "sent the file to the Crown for review for possible charges."
Tolppanen said that Crown prosecutors determined there was "no reasonable likelihood of conviction." [How obnoxious, pathetic and cowardly, as is too often the Alberta "justice" way! That's very different than letting a murder suspect get away, claiming death by natural causes instead of murder]
'No communication'
However, the RCMP appear to dispute that version of events.
The RCMP agree that in 2015 they discussed the case with the Crown prosecutor who did not support laying charges.
However, the Mounties say they were not told about the expert peer review panel finding of a possible homicide.
"The RCMP is not aware of a formal review that was done on the [medical examiner's] autopsy report," Scott said in her email to The Fifth Estate.
Wheeler points the finger directly at Alberta Justice for not acting more quickly back in 2012 when they learned the death may have been a homicide.
"Why did nothing happen?" she said. "Why did it just stop there? So they determine he was killed, but then say 'Oh, I guess that doesn't matter?' That's not right."
Wheeler is calling on Alberta Justice to provide the documents to the RCMP so that they can reopen their investigation.
"Why wasn't that guy brought back to Canada to face charges?" she said.
Matshes declined repeated requests for an interview with The Fifth Estate. In statements to the CBC, he said he stands by his work. [Or because he doesn't want to jeopardize his millions of dollars in settle and gag he's negotiating for?]
In 2013, Alberta Justice agreed to set aside the report of the expert panel at his request. [!!!!!!!!!!!!!!!!!!!!!!!!!!!!!!!!!!!!] Matshes successfully argued he was not adequately consulted in the process and that the review was based on limited information. A judge signed off on that agreement in November 2013. [That judge needs to be investigated, and not by any Canadian judges or the judge-heavy Canadian Judicial Council!]
'Met the standard of care'
In a brief to the Court of Queen's Bench in Alberta, the justice minister said it was "integral to the administration of justice" that they continue to investigate the accuracy of Matshes's work and promised to hold a second review panel. [I've learned that promises by lawyers, including judges, in Canada are worthless, as worthless as promises by politicians and oil and gas companies.]
In a recent statement, Matshes said he was also cleared by an expert pathologist working for the Alberta College of Physicians and Surgeons in a related investigation.
"That expert reviewer, who was in possession of all of the evidence that I had at the time I certified the deaths, concluded that I met the standard of care in each case," he wrote. [That "standard of care" appears to be mighty shitty & corrupt, like what industry-impacted landowners get from the AER!]
I want somebody to apologize.- Sally Wheeler [ME TOO!]
The Fifth Estate has also obtained records from that college review. A complaint was made to the college in 2012 about the appropriateness of Matshes's dissections during some autopsies. The college ruled that Matshes was permitted to make those dissections.
The college forensic pathologist also concluded that homicide was a likely scenario in Lochead's death. [WOW!]
The college expert, whose name was redacted in the report acquired by The Fifth Estate, stated that although cardiac disease may have been a factor in the death, the ruling should have been "homicide," as the violent struggle precipitated any existing physical condition.
"If one determines that the cause of death was cardiac precipitated by the physical altercation, the manner becomes homicide," the college expert wrote.
'Blunt force injury'
The college's forensic pathologist also noted "evidence of blunt force injury" and "neck compression."
The college expert also contemplated the possibility of charges against the killer and noted that careful documentation of the injuries would be essential as the accused might try to argue self-defence.
"If charges were considered, a potential defence in this case would be self-defence. In such a case, documentation of all injuries to the deceased is essential," the college review wrote.
Today, Wheeler wants Alberta Justice held accountable.
"I want somebody to apologize to his family and to me and for all the people that cared about him," she said.
"They just looked at this information and decided it wasn't enough, it wasn't important enough. Well, Preston was damn important to us."
If you have tips on this story, email email hidden; JavaScript is required and email hidden; JavaScript is required, or call 416-526-4704.
Follow @harveycashore and @wardrachel on Twitter.
A few of the comments:
Gil Comeau Reply to @Jane Smith [Her comment not included, it was too rank]: So why are you defending Dr. Matshes and not the people whose lives were actually ruined? Poor Dr. Matshes with his 7 figure salary living in Texas while people went to jail… Give me a break.
Jamie Taylor
Most suspected homicides should never be left up to just one Coroner. Trials take years so bodies could be transported to different coroners and independent and blind analyses could be completed. Minimum 3. If not absolute consensus then more investigation is needed.
Jeff Christian
The biggest victim here will be public confidence in the capacity, honesty, and intent of criminal justice officials who make these decisions. It will only be restored if and when those involved are held personally responsible. Since many have moved on to judicial appointments, and more senior positions, the failure to deal with it will further undermine public confidence, in the belief that there is now a cover up in place. This is a sad thing for Albertans.
Manny Fredrick
Inept or malicious? in Texas, Dr Matshes was recently accused of harvesting organs from children's bodies without permission.
Maya Lee
There are far too many cases across Canada that resemble this case. The police investigation, the autopsy, the cause of death and no charges laid. Something stinks!!
Jack Robins
Maybe the pathologist could double as prime suspect!
Kevin Darroch
One could to go to the courthouse in Edmonton and check the records and or watch how the RCMP and at times the judiciary do their job as I was advised to do by an NGO official. It was and is shocking. Justice, really, not for some. Maybe the UN and Transparency International chould check into it and report what the find in goodwill.
Johnny Johnson
The Canadian justice system was never designed for justice. It's a self-serving racket with no public oversight whatsoever. Change will never come from within the justice system. It will have to be a political change. But don't expect the cons or the liberals to do anything for you. They designed this rotten burrow.
It's time for major changes in our judicial system, a self-serving racket that needs to be completely reformed from the bottom up for, by and of the people.
Jennifer Pugsley
Matshes needs to be in prison. This is unacceptable. [His enablers, including judges, in Alberta "Justice" need to be in prison too, as do many fraudsters and corporate crime enablers at Alberta Environment and AER.]
Michael Craine
No new news in this case! The medical and legal systems in Alberta and Canada have been dysfunctional for years. The politicians have no idea how to fix or even a desire to fix, their only solution is to throw more money at and hope it somehow fixes itself. Remember to vote next election folks, it's important, right…lol.
Johnny Johnson Reply to @Michael Craine:
Indeed. To think that we need to pay judges $300,000/year when countries like the UK, Australia and the US pay them no more than $100,000/year. Pilfering class of parasites.
Dave Ryan
So how could any medically trained professional ignore the fact that there was a neck bone broken and if strangulation was suspected ignore any skin abrasions around the neck area? Incompetence? [Corruption? Cumulatively growing evil from too much power?]
Dayna Corrine
What a terrible case of injustice..An error on our governments part. I bet the family won't get $25000 like the victims of the plane crash.. [Or the mega money the rich get from their politico friends they helped put into power, when their huge homes, built far too close to the edge of rivers, flood]
Glen Robert
How did this pathologist get his license? A box of Craker Jacks

Mark Mealing Reply to @Glen robert: The * jacks are his professional association.
Kevin Lacroix
Something very wrong if this pathologist can get away with this and the other poor reports that jailed innocent people. [and we are shown there is something very dirty and wrong in our legal system when Supreme court judges of Canada, knowingly and intentionally publish defamation of an application in their ruling, and include that defamation in the court's ruling summary the court sent to the media (which the media published, of course, mission to discredit complete), with the Canadian Judicial Council (just another judicial farce) enabling it.]
Refer also to:
2013: Appointment of judges politically biased in Alberta, critics say, Process favours candidates with ties to the PC party
Just how corrupt is Alberta Justice? Infuriating! Sickening! Welcome to Alberta's "Rule of Law." The Fifth Estate: The autopsy (part 1): What if justice got it wrong? "I did not kill my son. It was an accident."
A few of the comments to Part 1:
Autum Tear
My God, it always seems to happen to the less fortunate, scary and frightening, could happen to any one of us…
Liz H
Justice is about how much money you have. … Not many rich people in jail.
La Grams
What pisses me off, and makes the government WRONG is that they had this information and did nothing about it. Once you are found 'guilty' the government does NEVER want to admit it made a mistake
Theresa Mass
A 30 million $ threat silences and lets a corrupt examiner get away with horrid injustices…. cannot wait for part 2 & justice?
Don't Cry
The criminals that destroy lives are being paid hundreds of thousands of taxpayer $ each year.
K.H. Walker
It's not that the Canadian Justice system gets it catastrophically wrong so often, it's that it gets it catastrophically wrong while spending so much money and patting itself on the back all the while…
Elektric Skeptic
Alberta sucks for this. This is really upsetting.