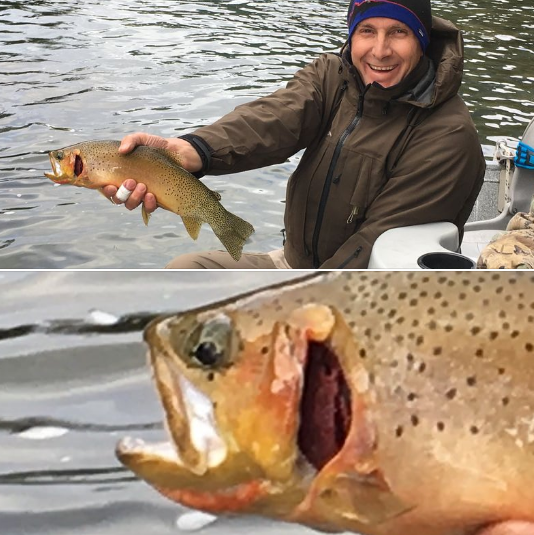 High River Alberta Mayor Craig Snodgrass with selenium poisoned cutthroat trout from Elk River, Fernie BC, polluted by Teck
On Aug. 13, Teck Resources petitioned Montana to rescind a rule brought in last fall that dramatically cuts acceptable levels of selenium in Lake Koocanusa, a reservoir crossing the U.S.-Canada border that takes water flowing from the company's mines in British Columbia.
"No credible evidence of harm based on fish tissue samples has been presented," says Teck's petition to Montana's Board of Environmental Quality.
Montana's new rules reduce allowable selenium concentrations to 0.8 micrograms per litre of water. B.C.'s current guideline is two micrograms per litre.

Typical Caveman Canada rape & pillage of our environment, water, public health, fish and wildlife by corporations

Montana officials have said those tougher restrictions on selenium are needed to protect waters shared by both countries.
Erin Sexton, a senior biologist at the University of Montana, said fish caught in U.S. waters show selenium concentrations high enough to damage their ability to lay eggs and reproduce.
"Selenium is far more toxic than we originally thought," she said.
She said the new levels were set through a rigourous process that began in 2014 and involved governments and agencies on both sides of the border, as well as First Nations, scientists and Teck.
B.C. should be matching Montana's move, Sexton said, pointing to a 2014 letter to state officials from the province's then-deputy minister of the environment.
"Should sound science and the results of the processes above identify a more appropriate target that is suitably protective of aquatic ecosystem health, then the province is committed to amending the long-term target of (two micrograms per litre)," the letter says.

There's that useless word again, that industry, gov't and regulators adore. Being committed does not mean doing, and in Canada, usually means "f*ck off" to those harmed, and or concerned.

"I haven't heard a good answer as to why (B.C.) hasn't met its commitments," said Sexton.
B.C.'s environment ministry is working on its own standard, with the Ktunaxa First Nation, which will protect aquatic and human health, said a statement provided by ministry spokesman David Karn.
"B.C. is working with (the Ktunaxa) on the process for public comment on the draft selenium water quality objective," he wrote in an email.
Teck says the science behind Montana's new rule is flawed.
"The new rule does not account for naturally occurring and background levels of selenium," its petition says.

Yup, good old nature, Canada's most notorious corporate polluter.

Teck also argues Montana's rule is invalid because state law requires the goal of any new regulation to be "achievable."
"(Montana regulators) recognized the inability of Montana to regulate work in Canada," the petition says.
The head of the state's Department of Environmental Quality told a December 2020 hearing on the selenium rules that he believed Montana's tougher requirement would influence B.C to follow along.
"What that does is put the pressure on British Columbia to indeed adopt their own standard which is aligned with us," said Shaun McGrath.
In an email, Teck spokesman Dale Steeves said the Montana level is unreasonable.
"The level set by Montana is the lowest freshwater standard in North America, is only applicable in this transboundary waterway and is below natural background levels in some upstream Canadian waterways," he wrote.
Teck has long struggled with selenium contamination from its mines in B.C.'s Elk Valley.
In March, the company was fined $60 million for that pollution, the largest fine ever levied under the Fisheries Act.

And way too small, as is always Caveman Canada's way, including by our courts that lean heavily towards polluter favouritism.

Teck says it has spent more than $1 billion since 2011 to address the problem and has budgeted another $755 million by 2024.
Teck's petition comes as both B.C. and Alberta weigh the effects of selenium, an element often found in coal deposits. The federal and provincial governments are considering plans from Teck for a major expansion to its B.C. coal mines.
Selenium has also been a concern in Alberta, where several companies have taken large coal exploration leases along the summits and foothills of the Rocky Mountains, the source of most of the province's drinking water.
Alberta regulators have already denied one proposed mine at least partly over selenium concerns, although that decision is under appeal. A committee is also canvassing the province for public input on how, or if, coal development in Alberta should proceed.
This report by The Canadian Press was first published Aug. 28, 2021.
Companies in this story: TSX:TECK.B

Refer also to:
(In Caveman Canada, fines, like commitments, are meaningless):
Failure to pay: $1.3B in fines dating back decades owed to provinces and territories, Hundreds of millions of dollars in fines for provincial offences go uncollected, sometimes for decades
Canada takes 9 years to fine Teck for contaminating waterways. Will Teck Pay? Given Teck's history, unlikely. Is this just another pretend to regulate to make Albertans stop protesting coal
Nothing baffling about Teck's river-polluting corporate practices
Teck does only smart thing possible given the pathetic economics and investors globally rejecting fossil fuels; Withdraws Frontier Tarshit project. Excellent, now Teck can clean up its toxic pollution in BC and heed court orders against the company. 

I expect it will just keep refusing and Canadian authorities will enable the refusals, as usual.

New Study: Dumping oil & gas drilling wastewater on roads provides little dust suppression, contains toxic chemicals harmful to public health, agriculture, aquatic life. (PS It's just about giving industry more corporate welfare via free waste dumping)
In "clean" Canada you say? Teck's new profit-sucking, "let it dry," wait for rain – lots of it, dust suppression toxic waste dumping technique?
Why is Alberta continuing to licence costly headaches to known big brute polluters and law violators such as Teck?
Another Settle & Gag to Keep Details Under Alberta's Toxic Rug? Prairie Mines & Royalty (previously Obed) Fined $4.5 Million For Spilling Toxic Waste, Contaminating Athabasca River; Encana Fined Nothing for Breaking the Law, Fracturing, Contaminating Rosebud's Drinking Water Aquifers
2014 02 28: Alberta regulator never inspected berm that burst at Obed mine toxic tailings pond, resulting in largest coal slurry spill in Canada
Court hearing today: CNRL to pay $500,000 for breaking the law ($425,000 to be given to U of C, how's that for Synergy Alberta control?). Encana gets fined nothing for breaking the law frac'ing Rosebud's drinking water aquifers; regulators get fined nothing for fraudulently covering up for Encana
"I'm actually outraged." With Alberta Court's blessings, Energy giant CNRL derails full public inquiry into foreign workers' deaths
Teck will continue to fight U.S. judgement even though U.S. Supreme Court denied hearing Teck's appeal
U.S. judge orders Teck Resources to pay aboriginal group $8.25-million
Confederated Tribes of Colville Reservation Can Seek $9.2 Million in litigation fees and costs for their claim against Canadian Mining Company Teck for dumping pollutants into Columbia River
Teck Metals fined $3.4-million for polluting B.C.'s Columbia River; Encana fined $0.0 for illegally fracing Rosebud's drinking water aquifers
Teck Resources confirms spilling 25,000 liters of caustic soda into Columbia River in B.C.
Teck to appeal Washington river cleanup ruling
Teck liable for Columbia River clean-up in Washington state, judge rules
Teck Resources Admits Polluting Columbia River For 100 Years; Damage To Be Assessed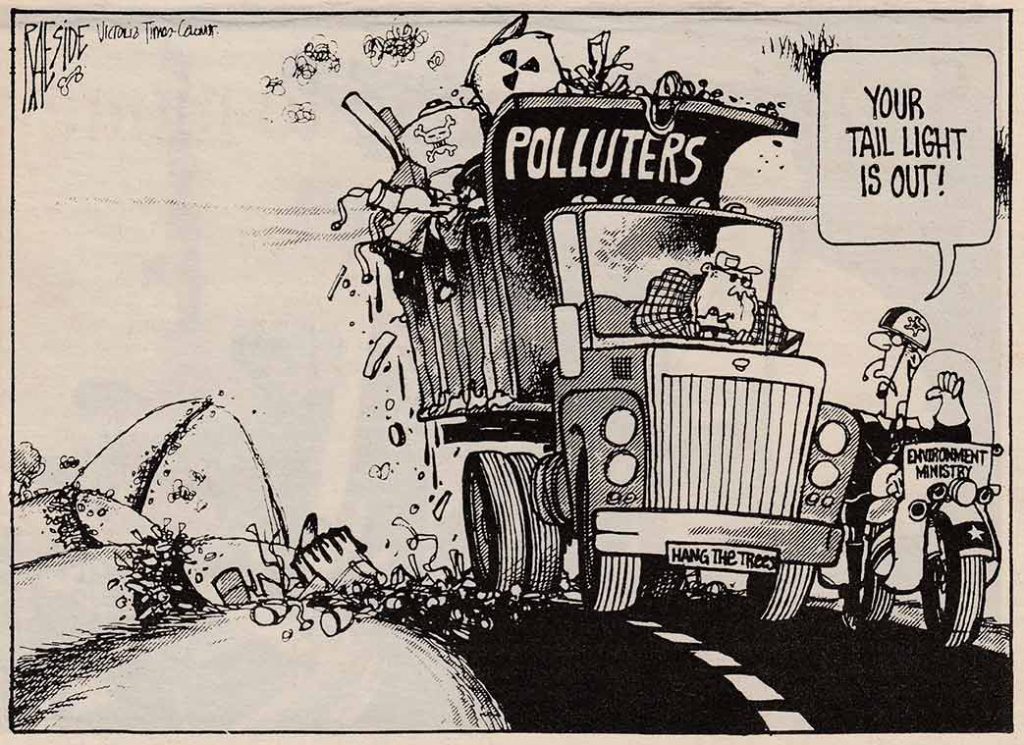 Cartoon in Victoria's Times-Colonist, many years ago