Oil crews stay on scene of drilling mud spill near Berthoud, Colorado officials say small amounts little oil included by Pamela Johnson, October 30, 2017, Reporter-Herald
Crews remained on scene Monday at an abandoned oil well that spilled about 300 barrels of drilling mud and small amounts of oil along a private driveway on Colo. 60 southeast of Loveland.
The well on private land in the 2500 block of East Colo. 60, which had been abandoned in 1984, began bubbling up the mix of mud and oil on Sunday. A resident on the property called the Loveland Fire Department, which then handed off the call to Berthoud Fire because the property is in the Berthoud jurisdiction.
Initial reports were that oil was spilling from the well, but state officials confirmed Monday that the spill was mostly drilling mud, which is a material used in the drilling process.
Fire crews and oil drilling companies that were working nearby stopped the spill before it could spread from the long driveway onto the highway. Extraction Oil & Gas Inc. and SRC Energy, both oil and gas companies out of Denver, removed the drilling mud with vacuum trucks and remained on site to remove any additional fluids that may spill.
Neither of the companies is responsible for the well, but both stepped up to help because they were in the area and had the equipment and expertise.
"We're glad we had some guys in the area and were able to help out," said Brian Cain, spokesman for Extraction, referring all inquiries on the incident to the Colorado Oil and Gas Commission.
The well, believed to have been drilled in the 1920s or 1930s, was capped and abandoned in 1984. Because there is no current operator for the "orphaned" well, the state oil and gas commission will be responsible for again plugging the well, noted Todd Hartman, spokesman for the Colorado Department of Natural Resources.
Hartman described the incident as unusual. He said that it was not determined as of Monday what caused the well to begin leaking.
The well remains listed as one of the 16,118 plugged and abandoned wells in Colorado. [Emphasis added]
Old well bubbles up, oil spills onto Colorado 60 near Berthoud by Pamela Johnson, October 29, 2017, Reporter-Herald
An old well that was capped in 1984 began spilling oil on Colorado 60 east of U.S. 287 on Sunday, and emergency crews used special equipment and dirt piles to keep it from flowing down the highway.
"It was just kind of bubbling up from the ground," said Lt. Justin Rupert of the Berthoud Fire Protection District.
A resident in the 2500 block of East Colorado 60 called for help about 9:10 a.m. on Sunday after seeing the oil spill at the edge of his driveway, running onto Highway 60. The Loveland Fire Rescue Authority first responded but then handed command over to Berthoud because of where the spill was located.
Initial reports were that about 4 gallons per minute were spilling, but when crews arrived, they believe it was actually an estimated 5 gallons to 6 gallons every minute. Officials did not know how much had spilled throughout Sunday.
"We don't know how much was left in the well," said Rupert. "It was almost like crude oil, and it could have been mixed with water." [Or frac fluid?]
Fire crews built "dirt berms" around the spill to prevent the oil from leaking down the road, and two gas companies, SRC Energy and Extraction Oil & Gas Inc., both of Denver, stepped in to help. Neither company owns the old well, but they volunteered to help [were they frac'ing in the area? Injecting waste? Water or CO2 injection for enhanced oil recovery? CO2 injection or experiments?] contain the spill on Sunday with heavy equipment, a load of dirt and special vacuum trucks to both remove oil and clean the surrounding dirt, according to information from Rupert.
"It's not their well," Rupert stressed. [SO WHAT!?  If they damaged, the pollution and harm is their's]
In fact, fire officials do not yet know the owner of the well. They contacted the Colorado Oil and Gas Commission, but records have not yet revealed who, if anyone, still owns the well.
Early reports are that it was drilled in the 1920s or 1930s and capped in 1984.
Whoever owns the well will be responsible for determining what is causing the seepage and stopping it from flowing, according to Rupert. If the well is abandoned, the state will step in, he said. [Emphasis added]
[Refer also to:
2017 09 21: Oklahoma Kingfisher County: At Least 450 Vertical Oil Wells Damaged By Horizontal Fracking. "Hundreds if not thousands of wells are being destroyed by horizontal frac jobs." How many oil & gas & drinking water wells damaged by fracking (vertical and horizontal) in Alberta?
2016 12 13: Harmful Levels Benzene, CO2 Detected at MidWest School Surrounded by 744 Active & Abandoned Oil Wells Within 1 Mile Radius, Including CO2 Injection Wells for Enhanced Recovery by Anadarko, Now Owned by Fleur de lis
This map shows wells in and around Midwest, Wyoming, based on information in the state oil and gas commission's database. …750 active and former wells within a 1 mile radius of the town. Wells that are being inspected in relationship to the leak near Midwest School are yellow (as of June 10, 2016), wells that are active are red, and wells that are plugged/abandoned are pink. Click on a well to see which company operates it.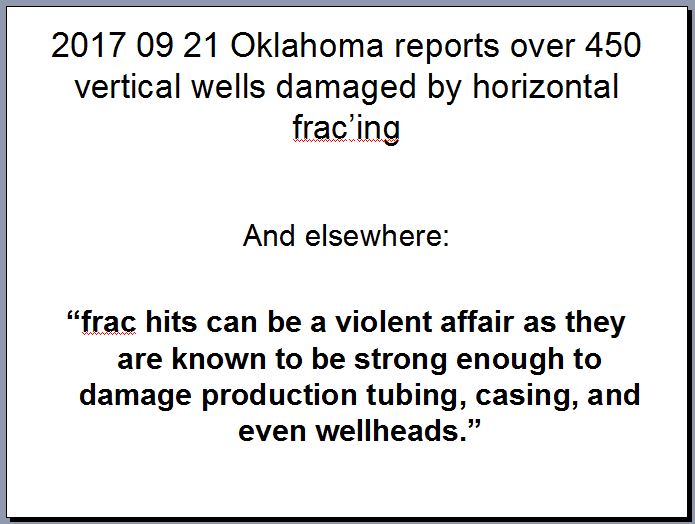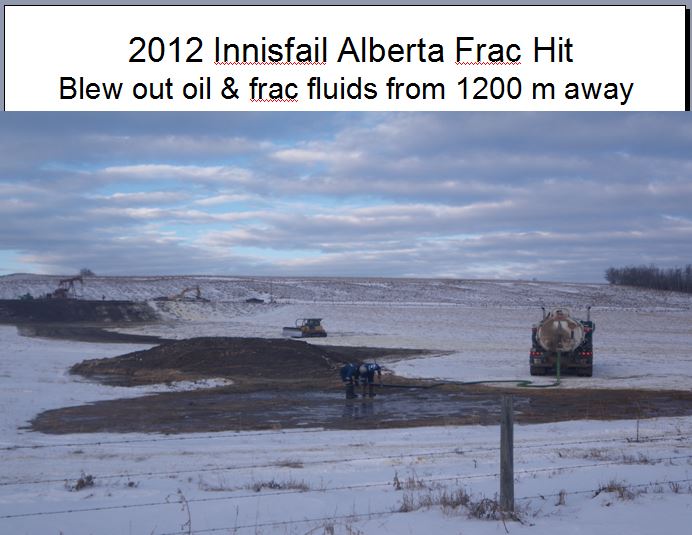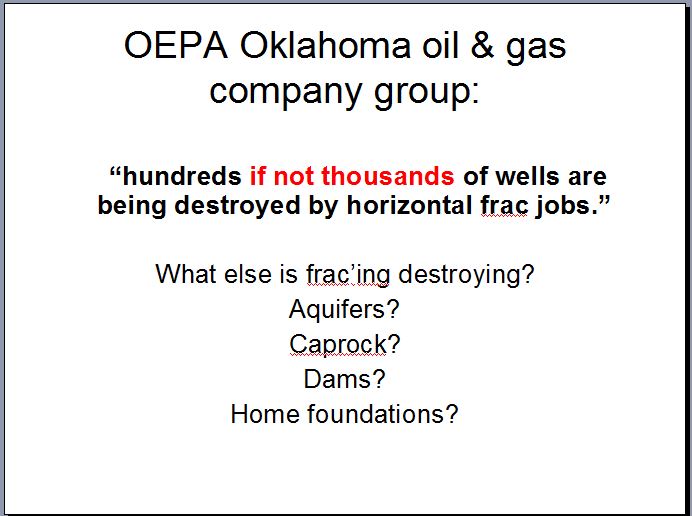 Slides from Ernst speaking events ]