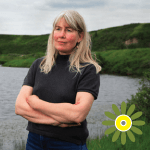 Much of the world no longer wants Alberta's toxic tarshit. The work camps, and at Site C, need to be closed until the pandemic ends so as to protect workers and public health.
Tarshit companies made billions and many oil and gas companies, including Encana-Ovintiv-Cenovus, hoard billions in cash. They can pay their workers and weather the storm, without handouts. Taking action helps combat fear. Close the camps.

1992 Far Side cartoon added April 24, 2020.
Need this before reopening after Covid-19 lockdown: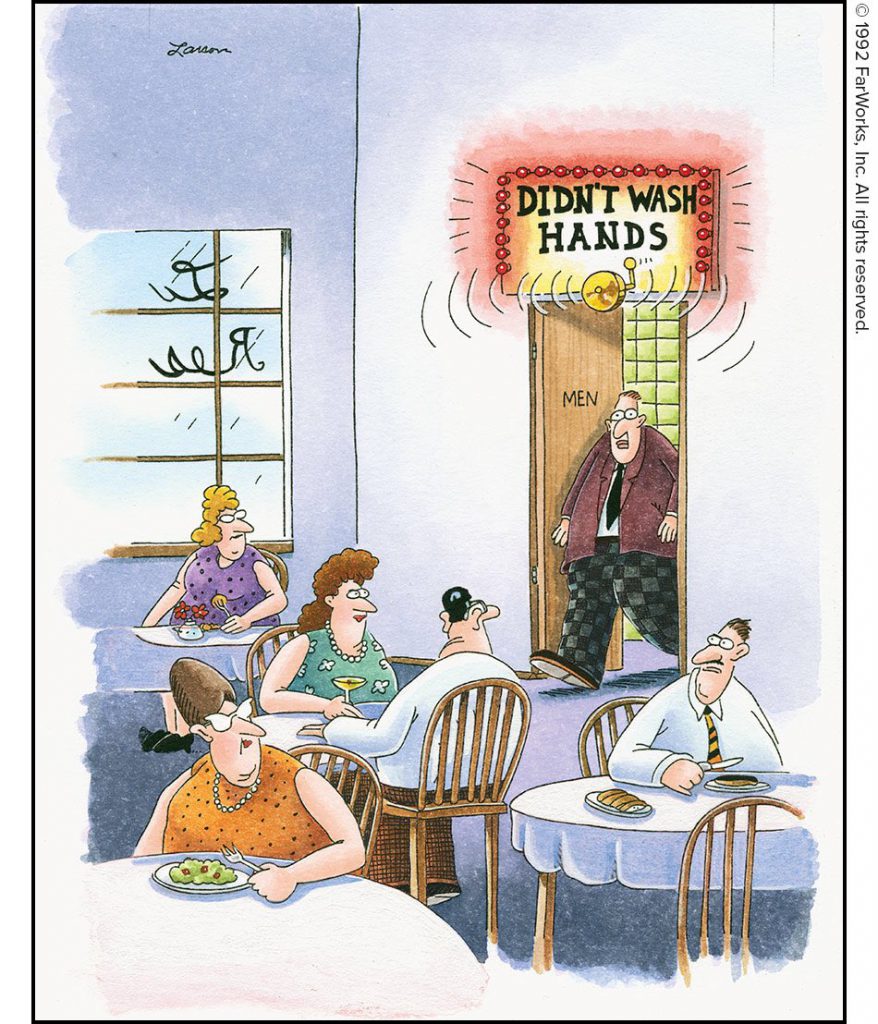 Yesterday, at 3:00pm, the John Horgan government issued a shocking statement. Rules designed to protect public health than banned "large gatherings" of 250 or more people were rescinded for all major construction projects.

STUPID COWARDLY (I expect the NDP's Oil & Gas & Koch Bro (aka super rich) Masters ordered this) BULLYING CRUEL BASTARDS! They're not only putting workers at risk, they're risking All Canadians!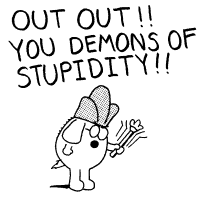 BC'S NDP, Notablly Horgan, need to study the death and new case stats and find a brain and some balls.

Almost immediately, the man camps constructing various parts of the LNG Canada megaproject began ordering their fly-in employees back to work. These employees are being asked to return to job sites with as many as 1200 workers, with a single mess hall and canteen, and barracks-style residences at close quarters. To get to and from work, every three weeks, they will be flying through YVR, one of only four airports in Canada open to international travel.
It was at that moment that a certain naïve argument about NDP governments was, finally, laid to rest: the belief that the reason New Democrats make pro-oil, logging and mining industry decisions is because they are somehow beholden to private sector trade unions and industrial workers. This is not the case. Because, with this announcement, they have informed British Columbians that there is no one about whose lives they care about less.
Had the NDP not done this, companies like Kiewit would have had to issue layoff notices to their workers. Those workers could then have successfully applied for Employment Insurance benefits and had their replacement wages funded from federal government coffers. In other words, not lifting this order would have cost the BC government not one cent and kept workers with their families under safer conditions.
Instead, they have chosen to plunge those workers, many very frightened, into a cesspool of viral transmission, out of which they will rotate once every three weeks to interact with their families and with airport workers. There is no question that people will die because of this move. Because if they quit their jobs, they will not be eligible for government assistance. Just like the Community Benefits Agreements that are being used to justify the project's pipeline, these are not voluntary decisions but decisions taken with a gun to the head, a knife to the throat: your choice: work in a giant infection zone or have your family thrown onto the street.
Why is that the choice? Well, because unlike the Republican government of Indiana, for instance, the BC NDP refuses to prohibit private landlords from evicting their tenants during the crisis. This act of extortion is not, in fact, happening all over the place. Somehow a Republican president, governor, senate majority and state legislative majority in the Midwest are outperforming the BC NDP in treating people who work with their hands with honour and care.
How we get here? The answer is simply, nostalgia. Today, when I was talking with an NDP stalwart on messenger, I suddenly got mad at myself. I said "this is like a bunch of black Republican activists in South Carolina complaining about how Newt Gingrich ruined the 'party of Lincoln.'"
In NDP offices all over Canada, there are framed portraits of Tommy C. Douglas, the father of Medicare and the patriarch of Canadian socialism. They are no different than the portraits of Abraham Lincoln, the Great Emancipator, that adorn the offices of Mitch McConnell, Mike Pence and a thousand other Republican legislators.
There is no question that the NDP were once the good guys, once the party of working people, the disabled, the poor, visible minorities. But, that was a really fucking long time ago, back in another century. Just like Abraham Lincoln, Charles Sumner, Frederick Douglas, Booker T Washington and Jackie Robinson are part of the Republican Party's past.
But it has been as long since the BC NDP publicly renounced that heritage as it was between the nomination of Barry Goldwater on a pro-segregation platform in 1964 and Newt Gingrich's ascent to Speaker of the House. In between, there had been Nixon's "Southern Strategy," Reagan's "welfare queens," the Drug War, "Willie" Horton and a host of other crystal clear messages about who the GOP were.
We can do the same in BC.
On March 10th, 1989, the BC NDP's leader Mike Harcourt announced that the "NDP no longer believes in the redistribution of wealth." In October 1993, Harcourt unleashed the "BC Benefits" package of welfare reforms that increased homelessness in BC from 11000 to 27000 in eighteen months, that prohibited refugees both from working and receiving social assistance, the slashed welfare rates and capped the number of people who were permitted to be disabled at the same time.
In 1996, the BC NDP won re-election promising to take its (later found to be unconstitutional) policy of a three-month residency requirement for welfare and apply it to the education of newcomers' children. They shelved the policy after the election. In 1999, they ended local district teacher bargaining and created the Public Sector Employers Council process that has inflicted unconstitutional austerity programs on BC schools for a generation.
In 2009, the BC NDP ran on an election platform called "Axe the Tax," opposing North America's first carbon tax and leavened with chequebook populism about how it would help people "keep money in their pockets." Elsewhere in Canada, the Ontario NDP proposed the creation of a new ministry of austerity that would find new government cutbacks to make at a rate of $300 million per year.
It is no wonder that John Horgan gave $6 billion in new fossil fuel subsidies to companies like Royal Dutch Shell. Let's remember that, less than six months after becoming premier, he told media he felt it was his civic duty to turn against social movements that backed the party.
I have focused a lot of attention on how Horgan is the guilty party, or how our collective leadership is, but really, the guilt belongs to every one of us who worked from 2001-17 to put this stagnant, corrupt, confused institution back in office. As I have written elsewhere, the real question is why social movements continued backing the NDP for more than a generation after they made it crystal clear who they were.
We are just as ridiculous as those half-dozen bewildered elderly professional suburbanites who are wheeled out to tell CNN how baffled they are, as moderate, freedom-loving Republicans at what has happened to their party since the days of Dwight Eisenhower, who integrated the schools in Kansas, a man who last governed at the same time as Tommy Douglas.
As if the market crash threating their jobs wasn't stressful enough, workers in Canada's oil-sands are bracing for the coronavirus to upend life in the remote camps where they're lodged.
One suspected case among them is already haunting roughnecks who fly in from across Canada and live for weeks on end in barracks-like facilities built in the boreal forests and marshes of northern Alberta, which houses the world's third-largest crude reserve. Civeo Corp., a Houston-based company that provides lodging for workers in the Fort McMurray area near oil-sands mines, on Friday said one of its guests "has symptoms consistent with COVID-19, has been tested and we are awaiting results."
A widespread infection afflicting a workforce that grapples with long hours of physical labor in punishing cold

and horrifically toxic pollution 24/7. Covid-19 reportedly can severely affect the lungs and other organs. Polluted bodies limit healing ability and might seriously jeopardize survival. Some Covid-19 deaths of young men had underlying health conditions but even healthy young men are hospitalized needing intensive care, with not all surviving.

would also be a blow to producers already reeling from the fallout of the oil price war between Russia and Saudi Arabia. It would disrupt what's set to be the industry's heaviest maintenance season in five years. Thousands of temporary workers will be needed as producers like Suncor Energy Inc. and Canadian Natural Resources Ltd. shut equipment for repairs.

Send up all the UCP (Alberta gov't politicians and their spin meisters). They're not good for anything else but lying, wasting mega millions on stupid dishonest war rooms and witch hunts going nowhere but giving nearly a million dollars to Dentons lawfirm and decimating Alberta Health Care and Education.

Anxieties already are running high among workers, who often have their own rooms but share restrooms and cafeterias, providing many opportunities for the virus to go around.

And when the men go home on time off, spread the dreadful contagion to fellow travelers and their families and friends across Canada. Many carriers and spreaders of covid-19 show few or no symptoms. It would be most fascinating to study how many men, notably those up in huge work camps in the oil patch and Site C dam in BC, wash their hands appropriately throughout their work days, and when they get home.

"Most of the discussions in the lunchroom are based on what's going on with the virus, what's going on medically, what's going on financially, how bad are the markets down?" said a 43-year-old who lives in Albian Village Camp, which houses workers for a Canadian Natural oil-sands mine. He asked not to be named for fear of losing work at the site. "Are we going to get stuck here? Are there going to be flights home? Will we have jobs to come back to?"
Albian Village is adding hand-sanitizing stations, prepackaging workers' food instead of letting them serve themselves buffet-style, and spacing out the cafeteria tables, the worker there said.

Way too late, ought to have been done in January. Besides, hand-sanitizing stations and classes on the importance of hygiene and handwashing ought to have been in place when the camps were initially constructed.

ESS Support Services Worldwide, which runs that camp, didn't immediately return messages seeking comment. Canadian Natural said in an e-mailed statement that it has implemented precautionary measures across its camps and will continue to strengthen them at the advice of public health officials.

Again,way too late.

In Civeo's camp, where the suspected case was reported, anyone who has traveled internationally won't be allowed in the facilities for 14 days after a return, sanitizing measures are being enhance and screening and quarantining procedures are being implemented.
Workers also are afraid that if they're infected, they'd face weeks quarantined in their rooms, which the worker estimates are only around 200 square feet, or roughly 20 square meters.
"These rooms are pretty small," he said. "It's not like being at home. If you get quarantined here, it would be pretty hellish."

Wrap up your selfishness. Two weeks in a small room is nothing if thousands of Canadians are spared from getting and spreading the virus with some dying! Think for a minute!

Workers have also watched warily as governments have implemented increasingly stringent travel restrictions, threatening their ability to get home. The Albian worker would be able to drive 14 hours to his home in British Columbia in the event of a total shutdown of Canada's air transportation, but his coworkers who live 5,000 kilometers (3,100 miles) away in Canada's Atlantic provinces of New Brunswick and Nova Scotia wouldn't be so lucky.
According to a 2018 census, there were 74 temporary workers' dwellings in the Regional Municipality of Wood Buffalo, the sprawling northern Alberta region that houses the oil sands deposits. The region's so-called shadow population of temporary residents who live outside of the municipality but who are employed in the region for at least 30 days a year was 33,000, according to that census.
Suncor, Canada's largest integrated oil company, is working with the companies that run its camps on a variety of safety measures, said Erin Rees, a company spokeswoman. Camps are conducing more frequent and deeper cleaning of high touch-point areas like door handles, posting security outside of cafeterias to make sure everyone uses hand sanitizer before entering and switching cafeterias from self-serve to full service style so that fewer people come into contact with the food, she said.
While the worker in Albian Village said the camp operators are doing everything they reasonably can to protect workers, they might ultimately be fighting a losing battle.
"If it's coming in, it's coming in," he said. "There's no stopping it once it's here."
Same article also published in JWN Energy: Oilsands workers brace for 'hellish' outbreak in remote camps by Bloomberg, March 23, 2020

Refer also to:
Air Pollution and Cancer Spikes linked in Alberta; Alberta's Oil Legacy: Bad Air and Rare Cancers, Sickening carcinogens now saturate Industrial Heartland, study finds
New peer-reviewed, published study by Lisa McKenzie et al, U Colorado School of Public Health: Childhood cancer linked to nearby oil and gas activity; People ages 5-24 diagnosed with acute lymphocytic leukemia more likely to live in areas with a high concentration of oil and gas activity
New Study: Alberta's tar sands leading source of air pollution in North America, Tens of thousands of people living within reach breathing elevated levels of fine particles linked in previous studies to lung cancer, cardiovascular disease, diabetes Which do poorly when infected with Covid-19.
Bravo! Prevent Cancer Now calls out AER's Health Fraud! "The AER has no jurisdiction for human health, and Alberta is famed for a chill against the medical community linking ill health to petrochemicals."
New Study: Emissions may be two to three times higher, some pose cancer risk; Environmental health risks of Alberta tarsands probably underestimated
Several families taking Baytex (Alberta oilsands company) to court over toxic emissions; Buyout packages allegedly silence Albertans struck with industry-related cancer
Buyout packages allegedly silence Albertans struck with oil and gas industry-related cancer
New study on diesel pollution: "There is strong evidence that particulate matter (PM) emitted mainly from diesel road vehicles is associated with increased risk of heart attack, heart failure, and death." Ever wonder why so many get sick when the oil & gas industry invades your home & community? Air pollution cost Canadians $36 Billion in 2015 alone!
Oil and gas industry pollution travels hundreds of kilometres, No wonder Harper is muzzling Canadian scientists
2015: Alberta premier Rachel Notley tells business leaders energy industry must clean up its act. Do energy industry business leader terrorists give a damn about Alberta or Albertans? Did the industry clean up? No. It never intends to, no matter how many hundreds of billions of dollars pollution-enabling gov'ts wastefully give the industry.
The Coronavirus Explained & What You Should Do by Kurzgesagt – In a Nutshell, March 19, 2020.
Show your children, friends and Elders, notably those who poo poo this virus as just another flu.